CU golfers Schalk, Webster finish 1-2 on Buffs' home course in Colorado National Women's Amateur
By Gary Baines – 10/4/2020
In a tournament that ended on Oct. 4, it was 10-4 and over and out for the competition as a couple of University of Colorado golfers finished atop the scoreboard on Sunday at Colorado National Golf Club in Erie.
Playing on CU's home course — and the winner's longtime home facility — Buffs Hailey Schalk of Erie and Kelsey Webster of Boulder finished 1-2, respectively, in the inaugural Colorado National Women's Amateur, an event which featured a plethora of college players.
It should come as no surprise that a couple of CU golfers who live not far from the course should end up leading the way. After all, Schalk has played Colorado National an estimated couple of hundred times — her dad, Matt, is the PGA general manager at the course — and Webster has teed it up there on a few dozen occasions.
Whatever the case, Schalk and Webster were happy they went 1-2 and helped defend CU's home turf even when intercollegiate golf has been nixed by the Pac-12 Conference for the fall portion of the season due to Covid-19 safety concerns.
"That's awesome, especially with Kelsey," said Schalk, an 18-year-old freshman who graduated from Holy Family High School. "We're really good friends. It's good competition. It's good to see our players play well, even though we don't have a season right now (in the fall). It's always good to see us up there."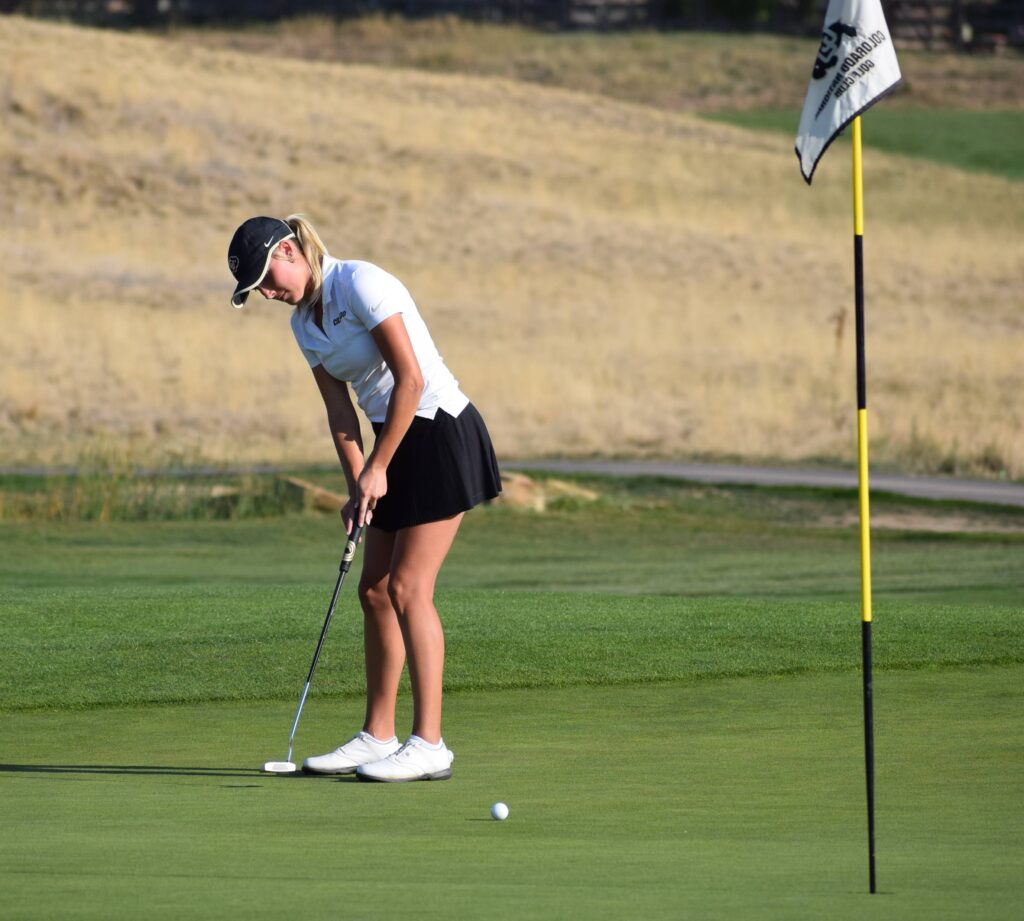 Added Webster, a 20-year-old junior and Fairview High School graduate: "I think it's awesome (for CU players to place 1-2). It's super exciting and promising for the future. Hopefully we can keep doing it in the spring. That would be awesome."
After opening with a 2-over-par 74 on Saturday and trailing by three, Schalk shot a bogey-free 5-under-par 67 on Sunday to finish at 3-under 141 for 36 holes. That was one stroke better than Webster, who birdied the last two holes, driving the green on the par-4 17th hole and two-putting, then sinking a 10-foot putt on No. 18.
All five of Schalk's birdie putts came from 10 feet and in, with the difference-maker being a 2-footer on No. 17 after hitting a wedge approach shot.
In all Schalk's times playing Colorado National, she's only shot one score better than Sunday's 67 — a 66 in qualifying for the IMG Academy Junior World Championships.
"I played really solid today," said Schalk, a three-time state high school individual champion and a former Junior Golf Alliance of Colorado Girls Player of the Year. "I played good yesterday too, but I just had a double (bogey) on one hole, which was kind of stupid. Today I didn't have a bogey and I putted really well. It was real solid."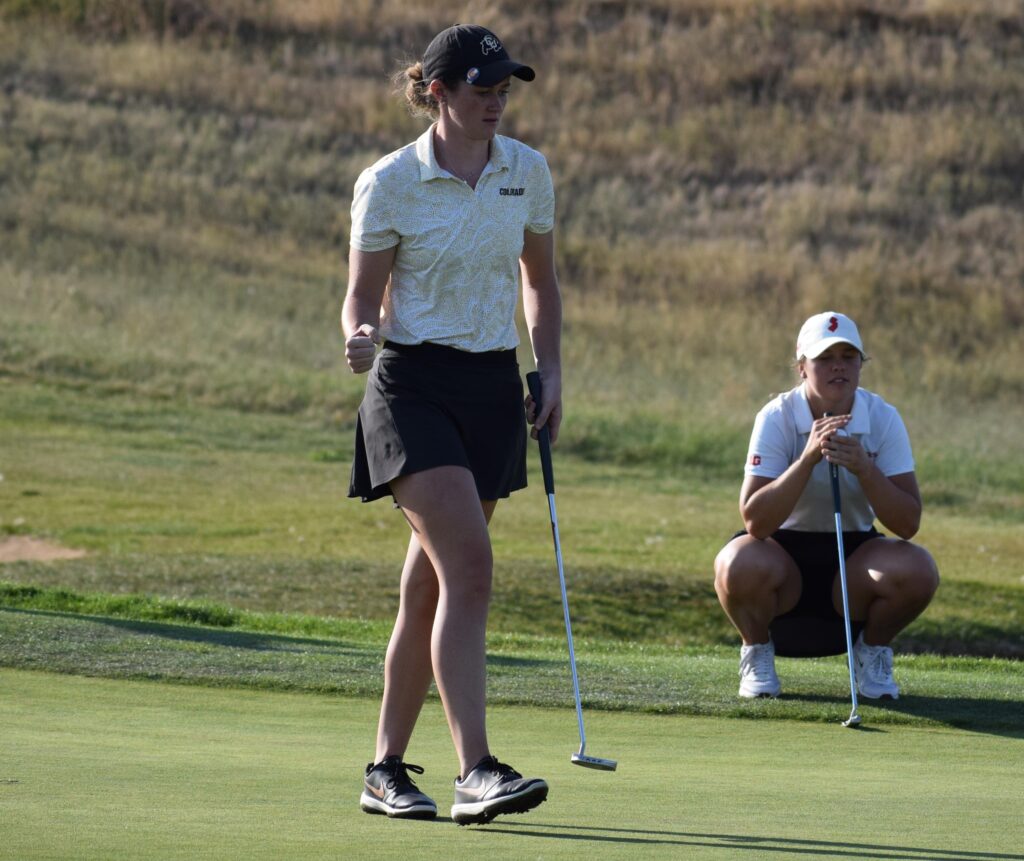 Webster posted four birdies and four bogeys on the day and played her last seven holes in 3 under par. Not bad for someone who hadn't competed in a tournament since the CGA Women's Match Play in mid-July.
"I'm excited about shooting a good score after not playing (competitively) in a while," Webster said. "We've been able to get some good practice in and I've been feeling good about it. This course has always really fit my eye. Wide open, bunkers is where I really do my best. I was excited that this (event) was here, and I'm glad I did well.
"It was actually a frustrating round (Sunday). Most of the day I felt like I was scrambling to scrape my pars together and was continuing to miss birdie putts like I did yesterday. But I was able to finish birdie-birdie, which was good and keeps me going for the future for sure."
While Schalk (141) and Webster (142) were the only golfers in the 43-player field to finish under par for 36 holes, Anika Varma of Roseville, Calif., a native of India, placed third at even-par 144 following a second-round 70.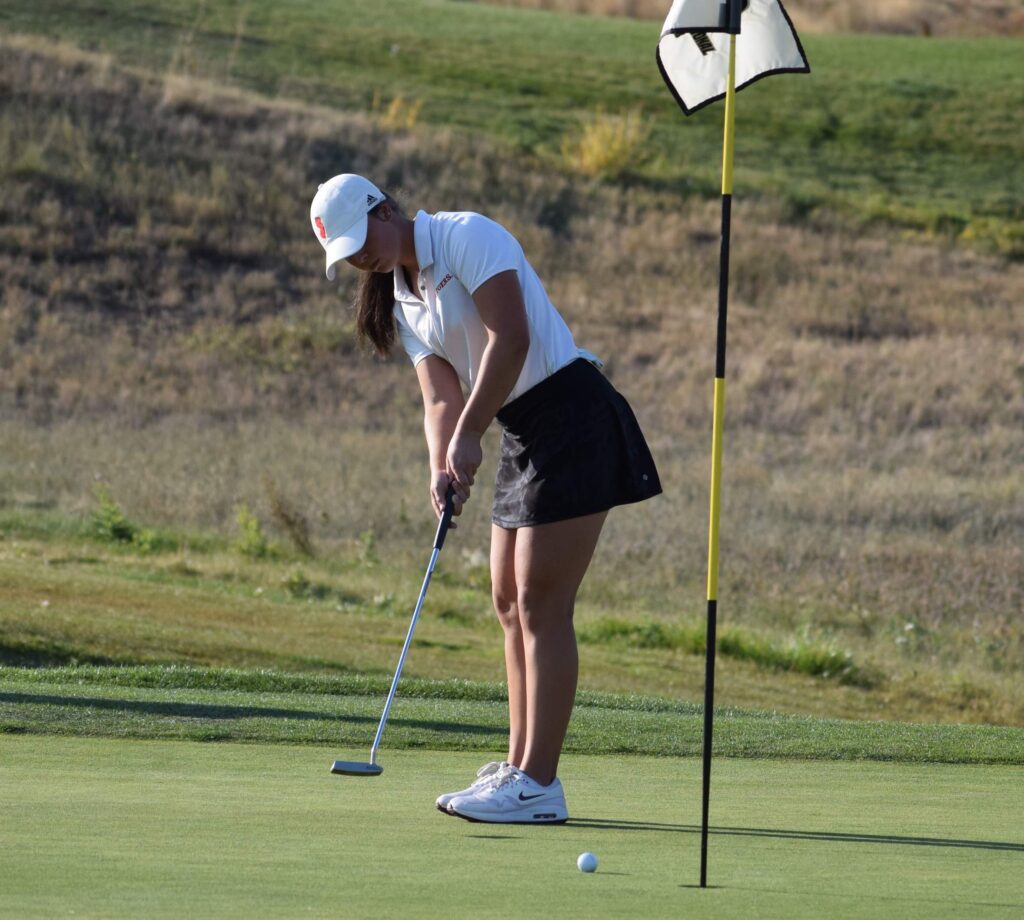 First-round leader Leigha Devine of Windsor tied for fourth place at 145 with Stanford freshman Sadie Engelmann after Devine closed with a 74 and Engelmann a 73.
Schalk has certainly been enjoying considerable success in tournament golf in recent months. In early August, she won an AJGA tournament in Canonsburg, Pa. Also in August, she teamed with former CU golfer Erin Houtsma to win the CGA Women's Brassie Championship, with Schalk's 30-foot birdie putt on the final hole making the difference. Then two weeks ago, Schalk paired with CU teammate Alisha Lau to qualify for the 2021 U.S. Women's Amateur Four-Ball Championship. Then came Sunday's victory.
"I'm playing a lot better right now," Schalk said. "I've kind of got it together. I'm putting well. Everything is going good, so I'm happy. I have some of my confidence back."
For all the scores from Colorado National Women's Amateur, which was conducted by The Cactus Tour, CLICK HERE.