Former Rolling Hills member Erling, of Pine Creek, shares 5A lead with Arapahoe's Dzengelewski; Mullen's Dino atop 4A leaderboard, while Aspen's Pevny setting pace in 3A
By Gary Baines – 10/5/2020
Being from Pine Creek High School in Colorado Springs, Wes Erling wouldn't seem to have a "home course" advantage for this week's 5A boys state high school tournament at The Club at Rolling Hills in Golden.
But he does.
Erling and his family now live in Colorado Springs and he plays out of The Club at Flying Horse, but in his younger years he was a fixture at Rolling Hills, where his family had a membership. Asked if he might have played more than a hundred rounds over the years at the course, he said, "It would be near a thousand, I think. During the summer when I was younger and had a bunch of friends, we'd come out here every day and play. Even twice (a day)."
Given that background, it should come as no surprise that the 15-year-old sophomore shares the 5A state individual lead after Monday's opening round at Rolling Hills. He and Arapahoe senior Graham Dzengelewski opened with 2-over-par 73s in windy conditions.
So how big an advantage does Erling have this week, given his extensive experience at Rolling Hills?
"It's a huge advantage on the greens," he said. "Some holes with the wind, they seem impossible. Having that advantage with putting and everything, that's what gave me the edge today."
Asked what his reaction was when he first heard the 5A state tournament was going to be held at Rolling Hills, Erling said, "It was like, 'Now I have a huge chance at throwing out a low number and maybe even winning.'"
Erling, a first-year member of the CGA's Hale Irwin Player Program at CommonGround Golf Course, was 4 over par through his first seven holes on Monday, but rebounded in a big way by shooting a 2-under 33 on the back nine, punctuating his round with a 10-foot birdie putt on No. 18.
"I feel great," said Erling, who shared the 5A Northern Regional title last month. "I couldn't be happier about how I played on the back nine and how I came back from the front nine. When the wind picked up, I just started playing really good. I hit shots exactly how I wanted to and made some putts in the end. I feel really good about today.
"I'm most proud of where I am mentally. A few bad holes on the front nine, I didn't let them get to me. I put them behind me and I shot 2 under on the back. I feel like that's where I'm best at this point."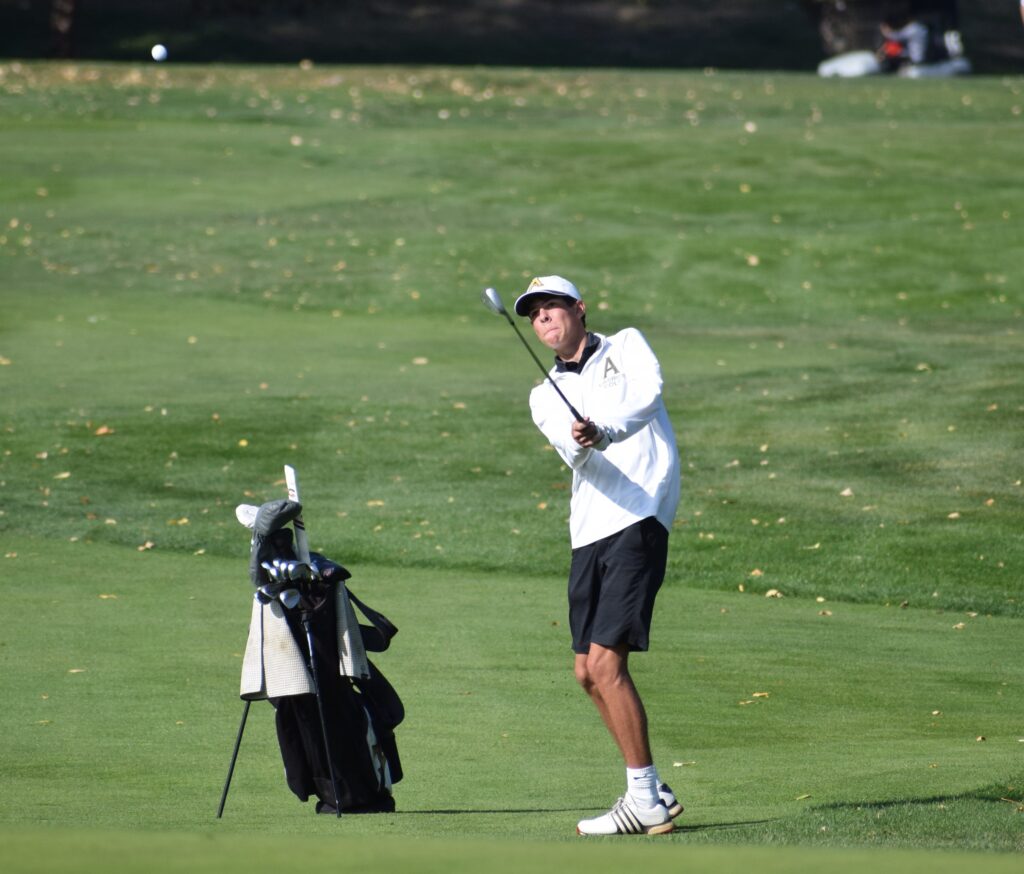 Meanwhile, Dzengelewski held the individual lead through much of round 1 at Rolling Hills. Of course, it didn't hurt that he started the state tournament with an eagle on his first hole, hitting an 8-iron from 162 yards and sinking a 7-foot putt for a 3 on the par-5.
He ended up posting a cool 3-under-par 33 on the front nine before leaking some oil on the back, where he made a double bogey, four bogeys and a 1-foot birdie putt on No. 14.
"I was talking to my coach and said, 'This is probably the best start I've had in a while.'" Dzengelewski said regarding his eagle. "It was pretty nice to do that and keep it going on the front. On the back I had some unfortunate bounces and made some bogeys. But that's going to happen at this course. It's tough and it was pretty difficult (with the wind).
"But to come out here and do this is pretty special."
And it left him in uncharted territory personally. Asked how many high school tournaments he's won, Dzengelewski said, "I've never won a tournament. I've gotten a couple of top-10s, but that's about it."
With that the case, how would it feel if he plays well in Tuesday's final round and emerges with the individual title?
"I've been working for this for four years now so it would be the best thing that's happened to me ever, I would say, if I get to win that trophy," he said.
Dzengelewski will be trying to become the second straight Arapahoe player to claim the 5A individual state championship as then-sophomore Will Kates did the honors last year.
But there will be plenty of competition on Tuesday as 20 players — including Kates — are between 2 and 7 over par after one round. Sharing third place at 74 after Monday's action were Charlie Flaxbeard of Cherry Creek and Lucas Schulte of Valor Christian.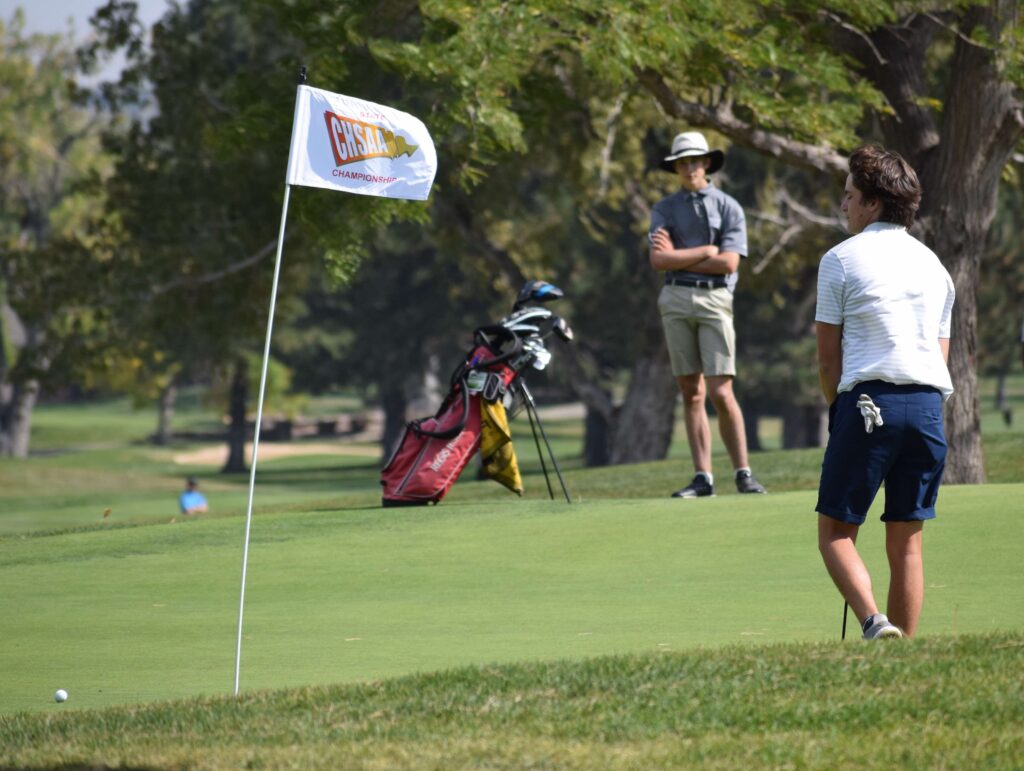 Arapahoe, which placed second at state — behind Fairview — last year, will take a one-stroke lead into the final round as the Warriors stand at 14 over par. And that's despite Matthew Wilkinson, the Colorado Junior Match Play champion, taking a triple-bogey 8 on the final hole on Monday as he was penalized two strokes for playing a wrong ball and took a stroke-and-distance penalty for a lost ball. Team-wise, the 8 probably didn't hurt Arapahoe much — if any — as Wilkinson wasn't one of the team's three counting individual scores on Monday, and he would have needed to shoot four shots better to lower Arapahoe's team total.
Valor Christian holds second place in the 5A team race, one behind Arapahoe.
One of the individual highlights of the day at Rolling Hills was a hole-in-one at the 219-yard 13th hole by Yusuke Ogi of Arvada West, who finished with an 87.
In the other boys state high school tournaments:
— 4A at Country Club of Colorado in Colorado Springs: The Country Club of Colorado proved very formidable on Monday's round 1 as just one player shot under 76.
Mario Dino of Mullen posted a 3-over-par 74 to grab a two-stroke lead in the individual competition. He was 1 under par through 11 holes, but bogeys on 12 and 15 and a double bogey on No. 17 cut into his advantage. Dino finished with three birdies on the day.
Five players share second place at 76: Noah Wagner of Pueblo West, Jordan Jennings of Montrose, Rhett Johnson of Mullen, Noah Keller of Coronado and Toby Salinas of Pueblo West.
At 18 over par, Mullen holds the 4A team lead by four strokes over local favorite Cheyenne Mountain. Three-time defending state champion Montrose is fourth, trailing Mullen by eight.
— 3A at Dos Rios Golf Club in Gunnison: Kent Denver, seeking an unprecedented 10th state high school golf team title, grabbed the team lead on Monday with a first-day total of 9-over-par 222. That's one better than Colorado Academy going into the final round.
The 3A state meet was the only one that featured sub-par individual rounds on Monday. Nic Pevny of Aspen, a fourth-place finisher at state last year, grabbed a one-stroke lead in the individual competition as he fired a 2-under-par 69 despite bogeying the final hole. Pevny made an eagle, four birdies and four bogeys.
Montezuma-Cortez sophomore Thayer Plewe opened with a 1-under 70 that included three birdies and two bogeys. Four players, including Kent Denver teammates Jeffrey Zhou and Jacob Dietrich, share third place at 72.

BOYS STATE HIGH SCHOOL LEADERS AFTER DAY 1

Class 5A At Par-71 The Club at Rolling Hills in Golden
TEAM
Arapahoe 227
Valor Christian 228
Cherry Creek 235
Fossil Ridge 235
Rock Canyon 235
INDIVIDUAL
Wes Erling, Pine Creek, 73
Graham Dzengelewski, Arapahoe 73
Charlie Flaxbeard, Cherry Creek 74
Lucas Schulte, Valor Christian 74
Colin Young, Valor Christian 74
Ty Nelson, Rocky Mountain 75
Hayden Woelk, LIberty 76
Jeff Nelson, Prairie View 76
Ryan Liao, Lakewood 76
Grant Juergens, Arapahoe 77
Luke Cushman, Castle View 77
Nick Fallin, Rock Canyon 77
Owen Cornmesser, Fossil Ridge 77
Ryan Occhionero, Regis Jesuit 77
Will Kates, Arapahoe 77

Class 4A At Par-71 Country Club of Colorado in Colorado Springs
TEAM
Mullen 231
Cheyenne Mountain 235
Pueblo West 238
Montrose 239
Ponderosa 240
INDIVIDUAL
Mario Dino, Mullen 74
Noah Wagner, Pueblo West 76
Jordan Jennings, Montrose 76
Rhett Johnson, Mullen 76
Noah Keller, Coronado 76
Toby Salinas, Pueblo West 76
Carter Surofchek, Cheyenne Mountain 77
Thomas Herholtz, Cheyenne Mountain 78
Hunter Swanson, Northfield 78
Jake Crawford, Eagle Valley 78
Levi Tichi , Durango 78
Jake Chesler, Frederick 78

Class 3A At Par-71 Dos Rios Golf Club in Gunnison
TEAM
Kent Denver 222
Colorado Academy 223
Sterling 228
Vail Mountain 230
St. Mary's 233
INDIVIDUAL
Nic Pevny, Aspen 69
Thayer Plewe, Montezuma-Cortez 70
J.T. Timmers, Colorado Academy 72
Connor Downey, Vail Christian 72
Jacob Dietrich, Kent Denver 72
Jeffrey Zhou, Kent Denver 72
Jack Pashel, Colorado Academy 74
Tayleb Schaefer, Sterling 74
Garrett Exelbert, Basalt 74
AJ Papajohn, Lutheran 75
Stewie Bruce, Vail Mountain 75
Trey Kuntz, Sterling 75