DU's Zanusso finishes in top half of field but fails to make 36-hole cut at Augusta National Women's Amateur
By Gary Baines – 4/1/2021
A little more than a year ago in a college tournament, Anna Zanusso made 11 birdies in a single round, shooting a women's NCAA-record-tying 61 in the process and eventually winning the event.
Thursday at the Augusta National Women's Amateur marked the other end of the spectrum in this fickle game we call golf. The University of Denver sophomore ended up with a goose egg in the birdies department. For the first two days of the tournament combined, she chalked up just two birdies, which hurt her cause considerably in her quest to make the 36-hole cut.
Zanusso finished in the top half of the 82-person field on Thursday at Champions Retreat in Evans, Ga., but fell one shot shy of a playoff that determined the last qualifier for Saturday's nationally televised final round at Augusta National Golf Club, home of next week's Masters.
The Italian, who won two individual college titles last season, tied for 35th place after rounds of 75-77 left her at 8-over-par 152. The five golfers at 151 played off to send the 30th player on to Saturday. 
In the meantime, all the competitors in the field will play a practice round at Augusta National on Friday.
"I'm extremely proud of how (Zanusso) represented DU and our program and university," Pioneers head coach Lindsay Kuhle said in a text on Thursday. "She is a competitor and class act, and to compete in this field is special and something she will always remember."
Zanusso's ball-striking wasn't the issue that kept her from advancing; it was on the greens. On Thursday, she finished with 14 pars, three bogeys and a double bogey on the 15th hole.
"Anna played very consistent the last two days and struck the ball very well — especially the first day," Kuhle said. "Unfortunately, she just didn't get many putts to fall. She misses a 6 footer on 16 and three-putted a 20 footer on 17 (making bogey in both cases) and missed a 12 footer on 18 the first round that could have changed the momentum and her confidence.
"Today she just didn't hit many shots close enough to convert birdies and it was more windy and challenging."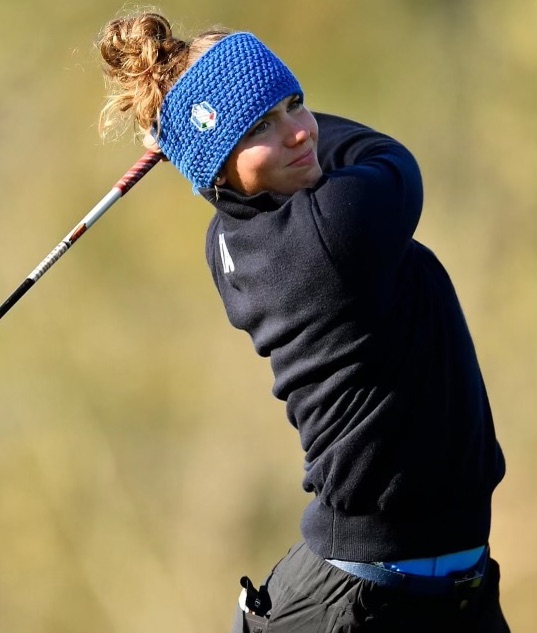 Indeed, only two player found themselves under par after 36 holes at Champions Retreat. Reigning U.S. Amateur champion Rose Zhang, a 17-year-old from Irvine, Calif., who's No. 1 in the women's World Amateur Golf Rankings, and Ingrid Lindblad of Sweden share the lead at 1 under par. Zhang has posted scores of 71-72, while Lindblad has gone 73-70.
Meanwhile, Texan Kennedy Swann, who won the 2018 CGA Women's Match Play title, also missed the 36-hole cut. She carded scores of 77-78 and tied for 51st place.
Last year's ANWA, to which Zanusso was also invited, was canceled due to Covid-19 safety concerns.
For all the scores from the ANWA, CLICK HERE.