Coloradan Charlotte Hillary adds to her stellar run with national sportsmanship award, playing a round with Rickie Fowler, and finishing 12th at Rolex Tournament of Champions
By Gary Baines – 11/28/2019
It's been quite a late summer and fall for Charlotte Hillary.
A win in an AJGA tournament for the first time and in a Junior Golf Alliance of Colorado major for the third time. Awards and honors galore, both locally and nationally. Signing her college letter of intent. Playing a round with one of the most recognizable players on the planet. And on and on.
Here's the rundown for the Cherry Hills Village resident:
— In early September, she won the AJGA Junior at Big Sky in Montana, marking her first victory in an AJGA event.
— In late September, she teamed with Hailey Schalk to qualify for the U.S. Women's Amateur Four-Ball Championship for the second time.
— In the early fall, she was named First Tee Volunteer of the Year by the Colorado Open Golf Foundation, in part for raising $38,530 — split between The First Tee of Green Valley Ranch and AJGA Achieving Competitive Excellence (ACE) Grants.
— In early October she was named the 2019 Girls Future Famer by the Colorado Golf Hall of Fame.
— In mid-October, she won the JGAC Tour Championship for the third time in three tries, in this case at her home course of Cherry Hills Country Club.
— Also at Cherry Hills, she was named the Girls Player of the Year by the JGAC.
— In mid-November, she formalized her commitment to Northwestern University by signing a letter of intent. The Kent Denver senior will start her college career next fall.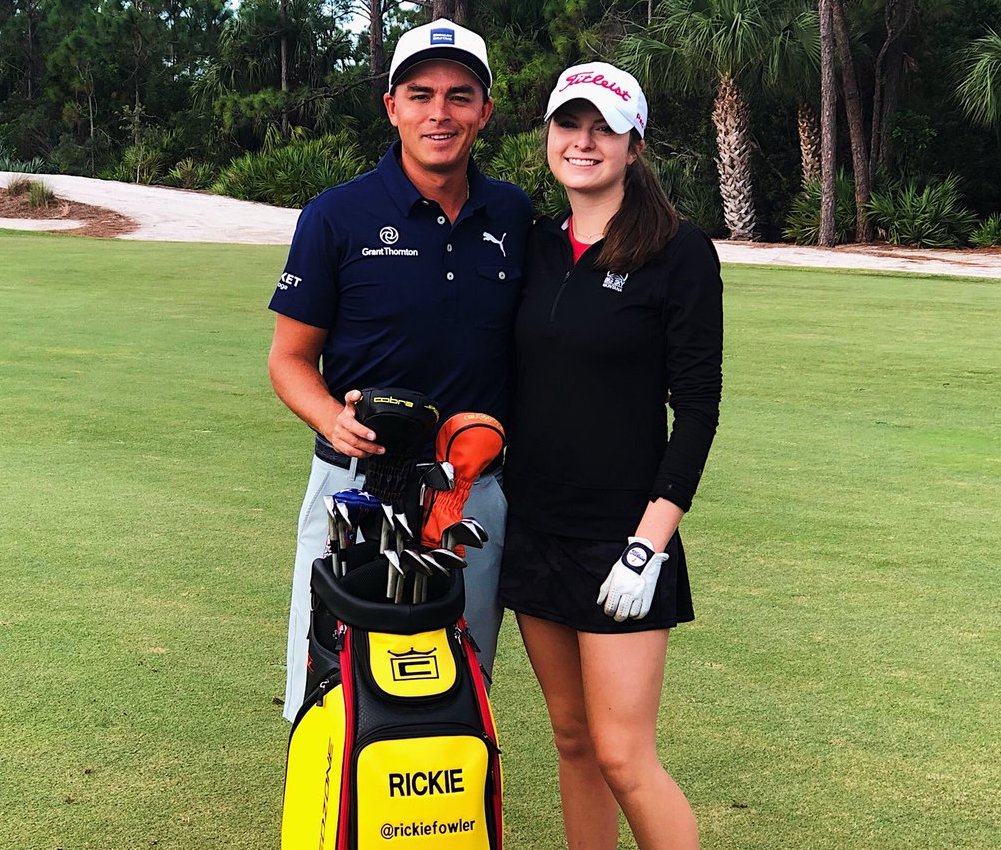 — Last week in Florida, because of her success regarding AJGA Leadership Links fundraising for The First Tee and the AJGA's ACE Grants program, Hillary had the chance to play golf in Florida with Rickie Fowler, one of the top 25-ranked players in the world.
— On Sunday in Palm Beach Gardens, Fla., she and James Roller of Oklahoma were presented the prestigious AJGA Jerry Cole Sportsmanship Awards. The award is given annually to junior golfers who best promote integrity and sportsmanship with their golf games, and who serve the game in an outstanding manner.
Hillary has been volunteering for The First Tee of Green Valley Ranch for two years, helping participating kids with their golf games as well as The First Tee's core values.

"What's really nice about Charlotte is that she chose us; we didn't go out and recruit her," said Kevin Laura, CEO of The First Tee of GVR. "She drives an hour each way to volunteer. It's not like we're in her neighborhood."
This year, Hillary raised more than $38,000 for The First Tee and the ACE Grants by soliciting pledges for every birdie or eagle she makes throughout 2019.
Hillary demonstrated her sportsmanship in April at the C.T. Pan Junior Championship in Texas, where she called a penalty on herself when she picked up her ball, mistakenly thinking the lift, clean and place rules from earlier in the tournament were still in effect. Hillary took the penalty despite no fellow competitor noticing the rules breach.

— Then this week, Hillary shared the lead after the first round and finished 12th out of a field of 72 on Thursday at the prestigious Rolex Tournament of Champions in Florida.
It was Hillary's second straight top-15 showing in the event as she placed 15th a year ago.
This time, the Kent Denver senior went 71-74-76-72 for a 5-over-par 293 total, which left her 18 strokes behind champion Rose Zhang, a Stanford-bound resident of Irvine, Calif., who won the girls division by 11 strokes. (Kelly Chinn of Great Falls, Va., prevailed on the boys side at 12-under 274.)
Over the course of four rounds, Hillary made 14 birdies, 15 bogeys and two double bogeys.