Schalk's clutch putt lands title for her and Houtsma in CGA Women's Brassie; Baroth/Diehl team falls just short despite Baroth's 2 eagles, including ace
By Gary Baines – 8/11/2020
Sometimes in sports, it takes something dramatic to overcome something apparently even more sensational.
Take the case of Tuesday's final round of the 70th CGA Women's Brassie Championship at Legacy Ridge Golf Course in Westminster.
The golf gods seemed to be smiling on the team of Julia Baroth of CommonGround Golf Course and Tabitha Diehl of the University of Denver Golf Club at Highlands Ranch.
Specifically, they seemed to favor Baroth, who made two eagles in the course of six holes. She chipped in from about 55 feet on the par-4 seventh hole. Then, to take it up a few notches, she made a hole-in-one from 107 yards on the par-3 12th.
The two eagles helped vault Baroth and Diehl from two strokes behind the leaders entering the final round, to two in front with four holes to play.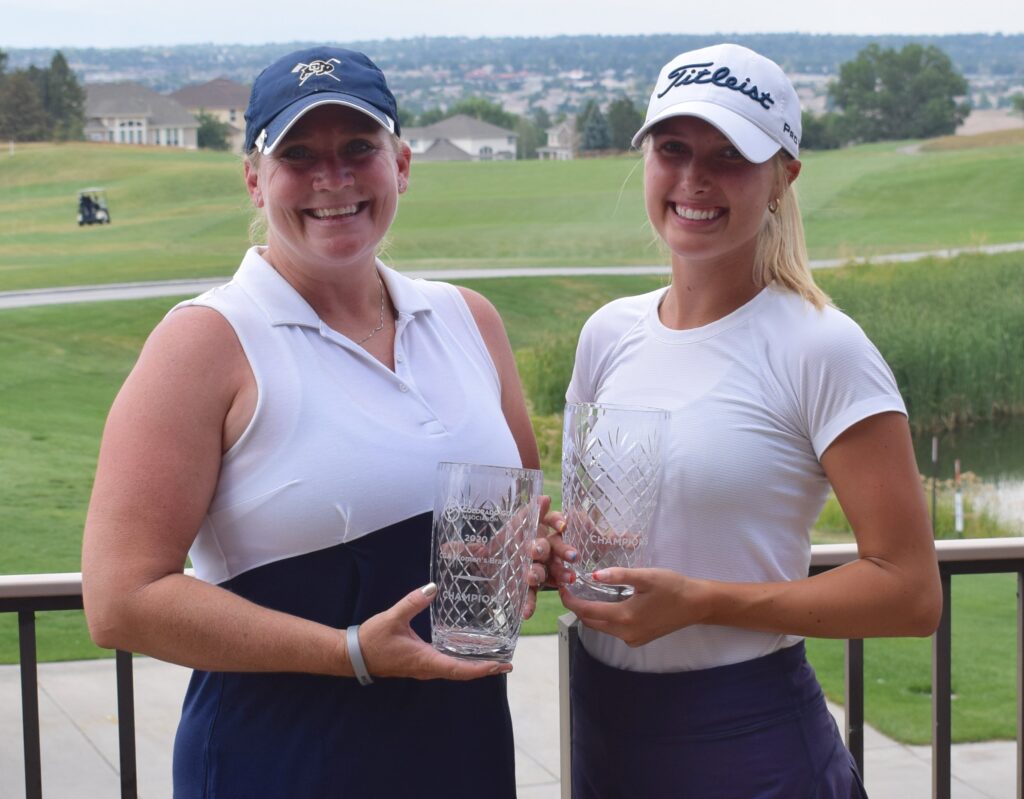 But first-round leaders Hailey Schalk and Erin Houtsma of Colorado National Golf Club weren't to be denied even it it took a picture-perfect finish to cap things off.
Schalk drained a 30-foot birdie putt on the final hole that barely crawled over the front lip of the cup to give her and Houtsma a one-stroke victory in the better-ball stroke-play event.
"I thought it was going to go in because we hadn't made a long putt all day," said Schalk, a future University of Colorado golfer who was teaming up with a former Buff in Houtsma. "I thought, 'This might be my chance. I can maybe make it.'
"It's definitely really cool to win like that. It's better than a normal, kind of boring way to finish. It's definitely more exciting. It's awesome to win with (Houtsma). We really wanted to win. Go Buffs!"
The twosome from Colorado National Golf Club never led in the final 11 holes until Schalk's putt on 18 fell.
"We had a lot of fun out there, and at the end of the day you can only do what you can do," Diehl said. "If you're beat by a great birdie putt on 18, then you're beat by a great birdie putt on 18.
"We played well, so when you get beat (while) playing well, there's not a lot you can do."
Houtsma, 40, and Schalk, 18, made only one best-ball bogey in two rounds — on No. 14 on Tuesday — and posted an 8-under-par total of 136 (67-69). They birdied two of the last four holes after being two strokes down, with Schalk sinking a 7-footer on 15 to go along with her 30-footer on 18. For the day, Schalk carded three birdies and Houtsma two.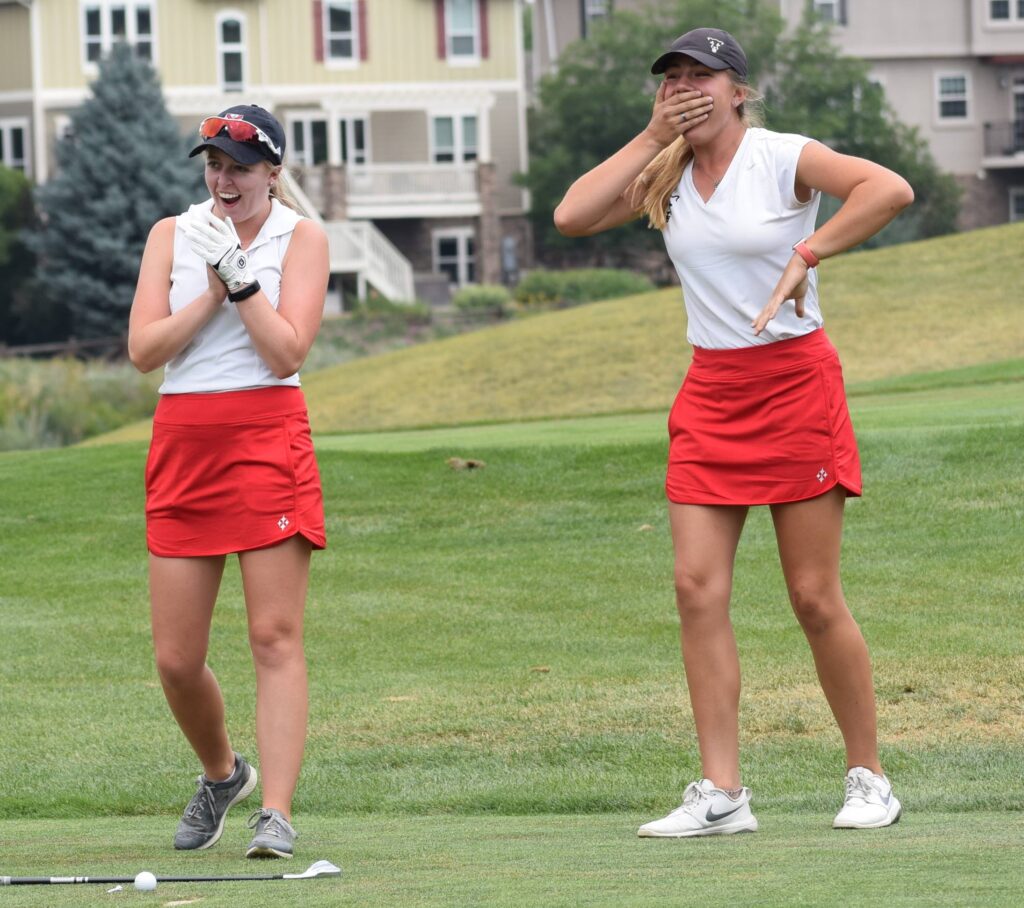 Baroth and Diehl, college golfers from the University of Colorado-Colorado Springs and Rhodes College in Memphis, respectively, recorded Tuesday's low round, a 68, to check in at 137.
Placing third in the championship flight's gross competition were Colorado Golf Hall of Famers Janet Moore and Christie Austin of Cherry Hills Country Club, who have won three Brassie titles together, with Austin having captured another three with other partners and Moore two with others. Moore and Austin finished at 147 after a 72 on Tuesday.
Despite not taking home a trophy on Tuesday, Baroth had a day to remember. She was 5 under par through 12 holes on her ball and finished the day at 69. But it was those two eagles that set the round apart.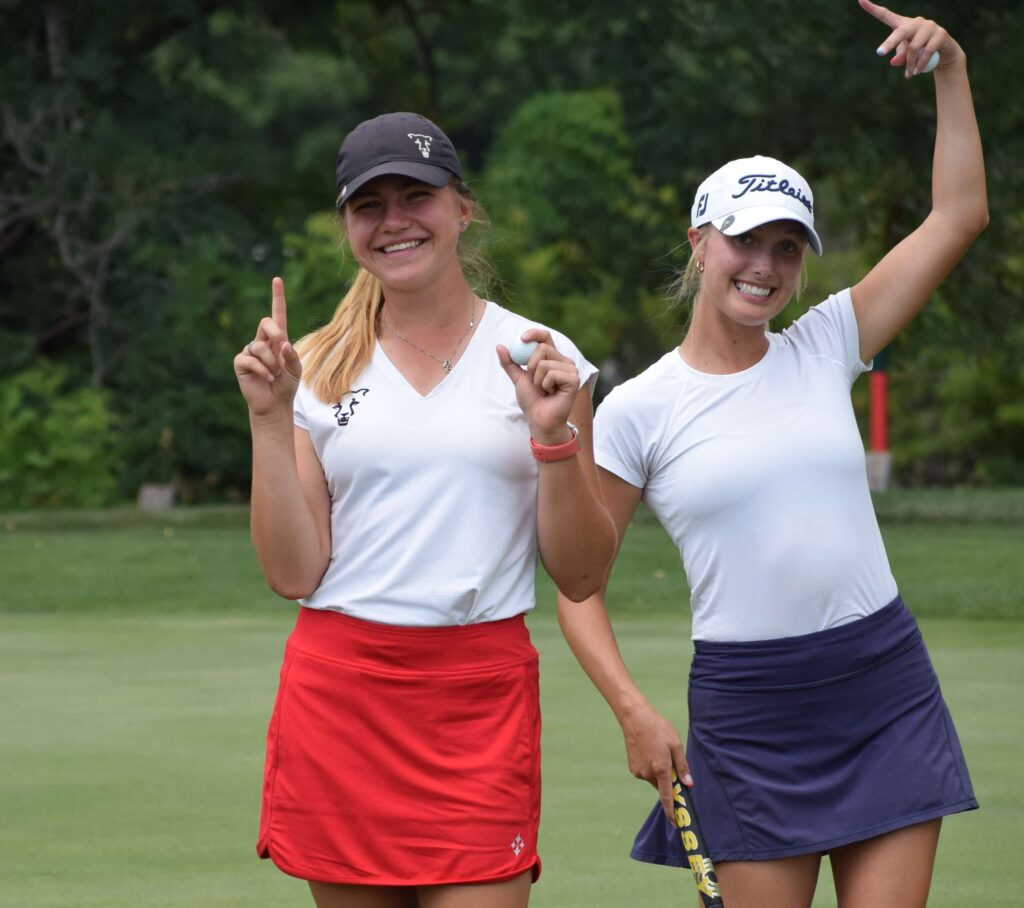 On No. 12, Baroth's hole-in-one — the second of her life, both coming in tournaments — came immediately after Houtsma had hit her tee shot to 2 feet from the hole (she made birdie).
"I've thinned both my holes-in-ones so that gives a whole new meaning to 'thin it to win it,'" Baroth said. "It was lucky. It pretty much sums up the game of golf: You get good breaks from bad shots."
Overall, despite coming up second overall, Baroth didn't have any complaints.
"I'm pretty happy we kept Erin and Hailey on their toes," she said. "They're really good competitors and everybody knows that Hailey is amazing, so just to get that close to them is awesome especially with this being the first time for us playing a team event (together)."
Baroth's ace gave her side a one-stroke advantage, and Diehl put them two ahead by making a 9-foot par putt on No. 14, the only hole of the tournament that Houtsma and Schalk recorded a best-ball bogey.
But Schalk's putter heated up down the stretch as she sank par putts of 7 feet on 15 (birdie), 10 feet on 16 (par), 15 feet on 17 (par, while Baroth/Diehl bogeyed) and 30 feet on 18 (birdie).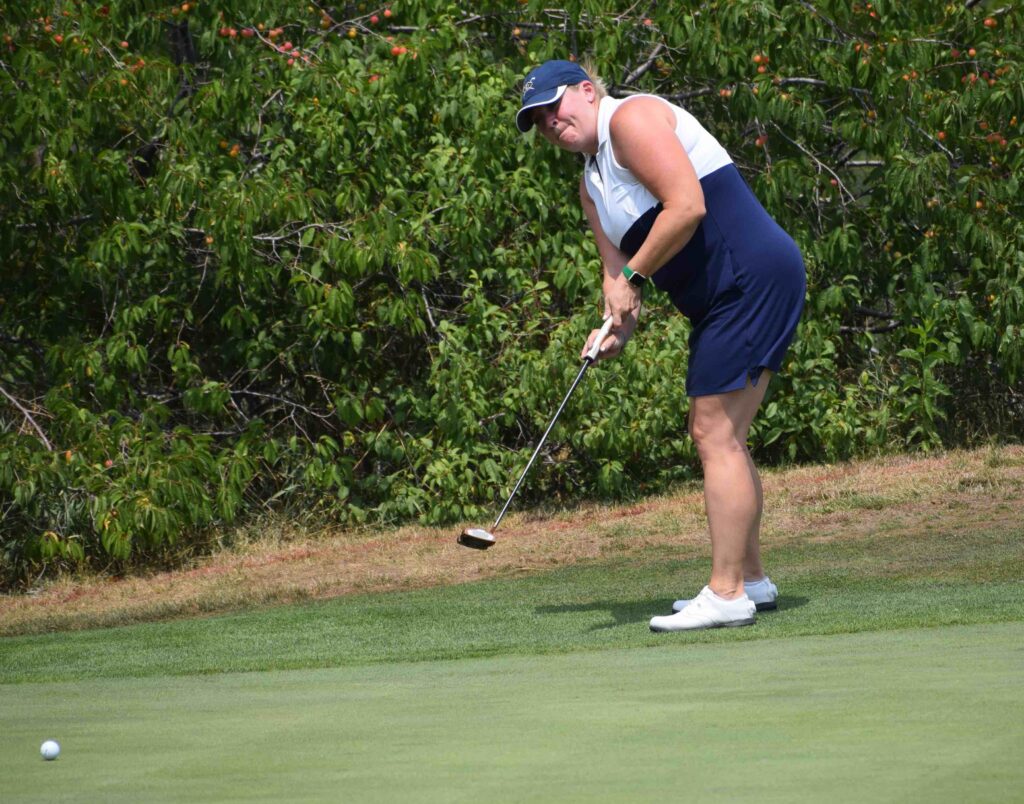 Asked if they wondered after Baroth's two improbable eagles if the golf gods might be against them on Tuesday, Houtsma laughed and said, "We had a nice long talk with the golf gods there for a minute. We were like, 'This is weird, but that's OK.'
"But I never felt like we were out of it. When (Baroth) made eagle on the front, it was, 'That's fine' because there's so many birdie opportunities out there and we were playing pretty good team golf. (Schalk) was taking a more aggressive line and I was taking a less aggressive line on par-5s and things like that, so I think we teamed it up well."
It's been a summer to remember for Houtsma, a former Colorado Women's Open champion who regained her amateur status in recent years. She ended up with two CGA titles — having also won the inaugural CGA Women's Mid-Amateur Stroke Play — and finished runner-up in the CGA Women's Match Play.
"I feel like I had a great season overall," she said. "I played well all summer. I don't know if I'll play in anything else the rest of the year so it feels good to end on a high note if this is it for me" for 2020.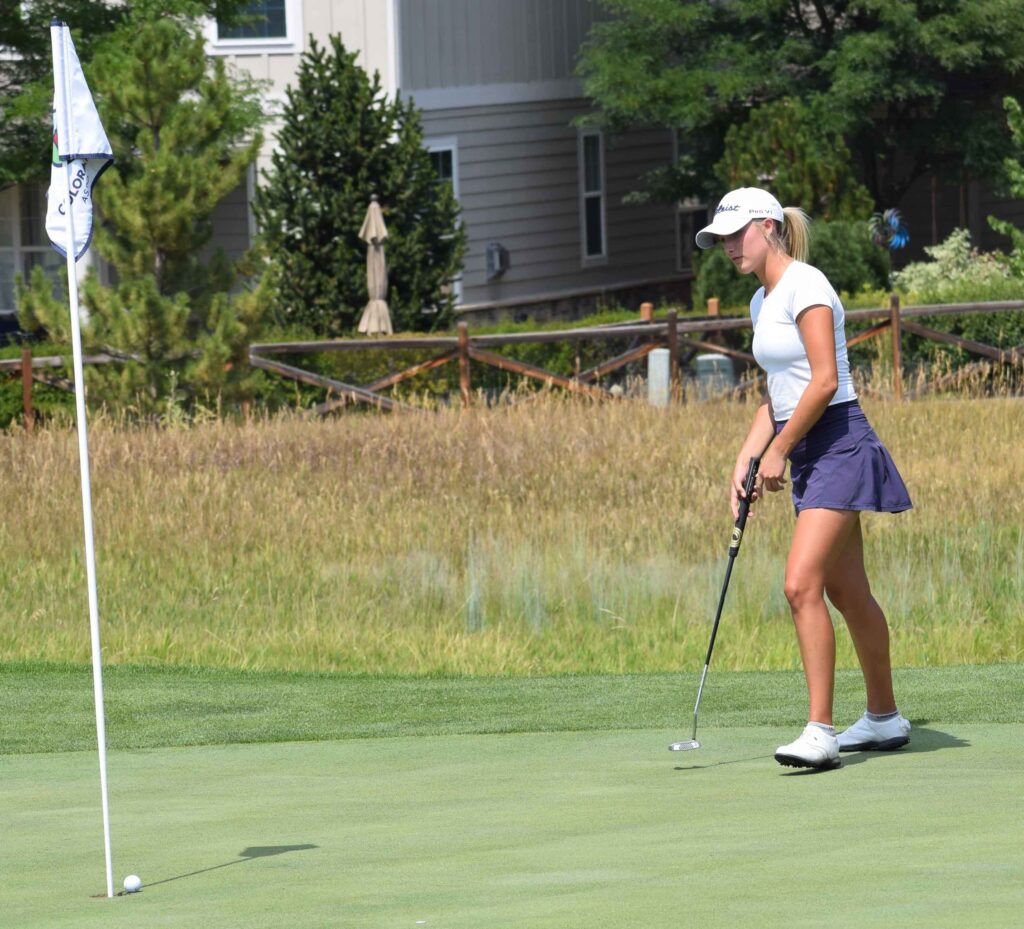 Meanwhile, Schalk has come on strong this month. The three-time state high school individual champion and former Junior Golf Alliance of Colorado Girls Player of the Year wrapped up her AJGA career last week with a victory in Pennsylvania. Then she claimed another trophy on Tuesday with Houtsma.
"I'm finally winning some tournaments, so it feels good," Schalk said. "I definitely have some of my confidence back so that feels really good."
Here are the low gross and low net scores for each flight from the Brassie:
CHAMPIONSHIP FLIGHT
— Low Gross: Erin Houtsma/Hailey Schalk 67-69–136
— Low Net: Jennifer Cassell/Alison O'Connor 65-69–134
FIRST FLIGHT
— Low Gross: (tie) Laura Wetzel/Cathy Garrick 79-77–156; Nancy Werkmeister/Annette Sulzman 79-77–156
— Low Net: (tie) Nancy Werkmeister/Annette Sulzman 72-68–140; Wendy Atkinson/Patricia Sato 65-75–140
SECOND FLIGHT
— Low Gross: Donna Edelen/Becky Finger 82-83–165
— Low Net: (tie) Tammy Voegele/Trudy Cocroft 67-73–140; Donna Edelen/Becky Finger 69-71–140
THIRD FLIGHT
— Low Gross: Leticia Overholt/Juli Renny 79-85–164
— Low Net: Leticia Overholt/Juli Renny 63-71—134
FOURTH FLIGHT
— Low Gross: (tie) Wendy Davis/Linda Utard 89-94–183; Margie Miller/Tammy Hitchens 89-94–183
— Low Net: Margie Miller/Tammy Hitchens 70-74—144
FIFTH FLIGHT
— Low Gross: Patricia Graham/Candi Coppola 94-96–190
— Low Net: Patricia Graham/Candi Coppola 72-73–145
For all the scores from the six flights, both gross and net, CLICK HERE.