Coloradans Nosewicz and Axlund see their runs end in round of 32 at U.S. Mid-Am, as does former UCCS golfer Olson
By Gary Baines – 09/17/2019
The sometimes-wild and largely-successful ride for Colorado residents Nick Nosewicz and Ryan Axlund at the U.S. Mid-Amateur came to an end at the same spot at Colorado Golf Club and by the same score, about 10 minutes apart, on Tuesday afternoon.
Shortly before, about 400 yards away, former University of Colorado-Colorado Springs golfer Jon Olson saw his run halted.
A day after Nosewicz, Axlund and Olson won a match at a USGA championship for the first time, they couldn't recreate the magic in the round of 32 on Tuesday.
Nosewicz, the 2015 CGA Match Play champion, was 2 up after 10 holes against Australian Lukas Michel, but lost four of the next five holes and fell 2 and 1.
Axlund never led against John Ehrgott of Peoria, Ill., but birdied 15 to get to 1 down. But he three-putted each of the last two holes in a 2-and-1 loss.
And Olson was 1 up through 15, but bogeyed 16 and 17 and lost 1 up when Jason Schultz of Allen, Texas sank a 7-foot birdie putt on the 18th.
If it's any consolation to the vanquished, both Michel and Schultz later in the day easily won round-of-16 matches to advance to the quarterfinals.
For both the Colorado residents who made the round of 32 in this national championship for amateurs 25 and older, their putting let them down on Tuesday.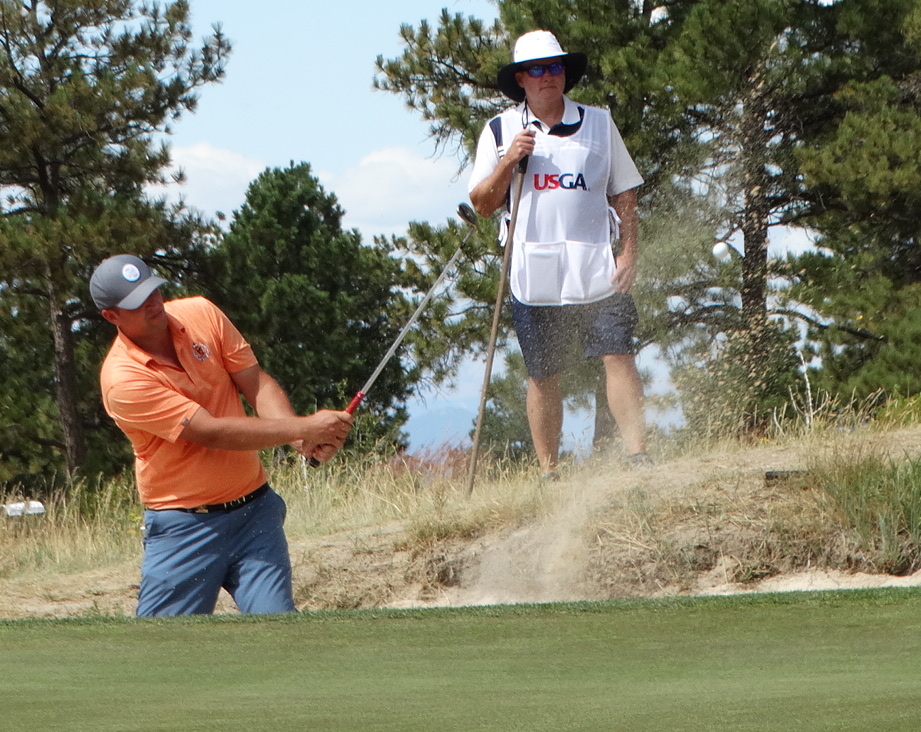 For his part, Axlund said he three-putted four times, including on the last two holes of the match.
"I was really happy with how I hit the ball today," the former pro from Englewood said. "The putter just kind of let me down. I three putted four times, and those two (on 16 and 17) really hurt.
"My speed was just off today. I had a hard time getting a feel for the greens. It happens. There are days like that. It was just unfortunate that it had to happen today."
As for Nosewicz, he said, "It wasn't meant to be. You get to the point where you prepare enough and you practice enough, and if it's meant to be, it's meant to be. It's just one of those (days) where the hole felt really, really small. The ball didn't want to go in."
After Nosewicz (pictured at top) led 2 up after 10, Michel won three straight holes to turn things around, with the last one coming when he left one shot in the bunker and holed his next one for a birdie. Another birdie on 15 put him 2 up, and Nosewicz couldn't turn things around from there.
"I think when you're at this level, 2 up means nothing," Nosewicz said of his mid-round advantage. "You hear of people who are 4 up and lose. I felt at 2 up like I was skating by.
"It was tough. I was kind of pressing a little bit. I didn't feel comfortable all day. It's disappointing. I would have liked to have played a little bit better — or at least committed to it. I feel like it took me seven holes to warm up. I didn't sleep real good last night."
But looking at the bigger picture, making it to the round of 32 was still pretty impressive for Nosewicz, especially considering that he needed to hole a 115-yard shot on the 18th hole on Sunday just to make match play.
"It's quite an accomplishment," he said of advancing to the final 32 out of 264-man field. "I mean, come on. I shouldn't even have been here. I got lucky on my birthday holing one. I'm fortunate to be here. I'm disappointed that (my run) didn't extend. But I'm 36 now. It's getting a little harder every day and every round."
Axlund never had the upper hand in his match, but rallied after being 3 down through 11 to cut the deficit to 1 down with a 2 1/2-foot birdie on 15. But he three-putted for par from long distance on the par-5 16th, resulting in a halve, then three-putted again on 17, losing the hole to Ehrgott's par.
"I actually felt like I hit the ball better today than I did in yesterday's (round of 64) match," Axlund said. "I just didn't get the putter going at all.
"But at the end of the day, the week was still really successful. I had a great week of golf. To make it this far was amazing. It was an awesome experience (competing in another USGA championship in Colorado). To get to play at this level was really fun. It was a great week."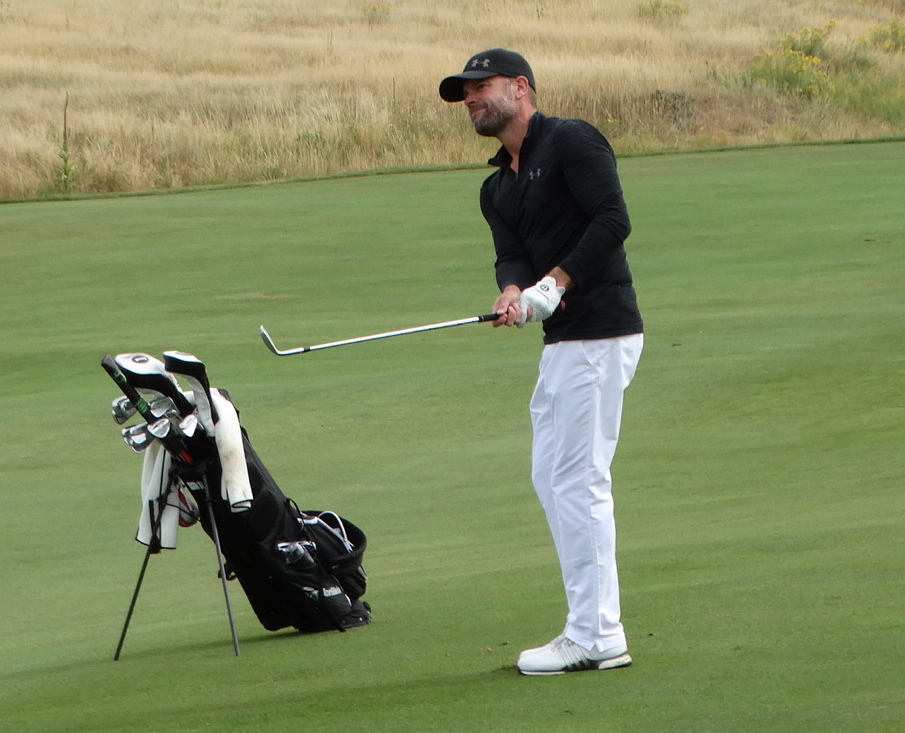 Olson, the Iowa resident who played his college golf at UCCS, had a match with Schultz in which neither player was ever more than 1 up. And after the two halved 10 of the first 11 holes, they alternated hole wins over the next five holes.
On the par-5 16th, with Olson 1 up, he hit a pitch from in front of the green to the diabolically contoured green, and he ball trickled off the putting surface and down a slope to the right of the pin. He failed to get it up and down and lost the hole with a bogey.
"I didn't hit a bad chip there, but it just rolled off the green," the former pro said. "It was crazy. But that's golf. It's not supposed to be fair all the time."
After both players bogeyed 17 — Olson left his par putt one revolution short — and Olson made a par on 18, Schultz drained a 7-foot birdie putt on 18 to advance.
"I feel positive," Olson said. "I got beat by a good player. I played really well. Sometimes you just get beat. That's part of the deal. It's like in the NCAA (basketball) tournament. Sometimes you get great games and both teams play really, really well. I think we were both under par today. What the hell. It it what it is.
"Jason didn't make a lot of mistakes, I didn't make a lot mistakes. I was happy with the way I played. I was under par every day out here."
And, win, lose or draw, like many of the other players, Olson loved his experience at the Mid-Am this week.
"It's an awesome golf course," he said of Colorado Golf Club. "If the people aren't great, it's not going to be an awesome experience. But the people were even better than the golf course, in my opinion. They're so welcoming. They want us here. They love every minute of it. They come out to watch. That's really special. For us, it's a really good opportunity to come out here and enjoy playing somewhere we typically don't get to."
Here's how players with strong Colorado ties fared at the U.S. Mid-Amateur:
TUESDAY'S MATCH PLAY ROUND OF 32
John Ehrgott of Peoria, Ill. def. Ryan Axlund of Englewood, 2 and 1
Lukas Michel of Australia def. Nick Nosewicz of Aurora, 2 and 1
Jason Schultz of Allen, Texas def. former UCCS golfer Jon Olson, 1 up
MONDAY'S MATCH PLAY ROUND OF 64
Ryan Axlund of Englewood def. Herbie Aikens of Kingston, Mass., 2 and 1
Nick Nosewicz of Aurora def. Troy Johnson of Maple Grove, Minn., 4 and 3
Paul McNamara of Dallas, def. Stephen Powers of Denver, 19 holes
Former UCCS golfer Jon Olson def. Dave Bunker of Canada, 2 and 1
WEEKEND STROKE PLAY
Advanced to Match Play
7. Former UCCS golfer Jon Olson 71-68–139
33. Ryan Axlund of Englewood 69-76–145
47. Nick Nosewicz of Aurora 74-72–146
59. Stephen Powers of Denver 76-71–147
Failed to Make Match Play
Michael Harrington of Colorado Springs 78-70–148
Charles Santaularia of Lakewood 76-76–152
Matt Call of Castle Rock 78-75–153
Charles Sahlman of Denver 82-73–155
Jay Livsey of Wheat Ridge 78-79–157
Steve Irwin of Golden 79-78–157
Kent Moore of Centennial 82-76—158
David Lysaught of Denver 83-79–162
Mitch Donald of Vail 86-85–171

For scores and pairings from the U.S. Mid-Amateur, CLICK HERE.