Hagestad only former USGA champ to make quarterfinals at U.S. Mid-Am — and only one of the top 10 seeds
By Gary Baines – 09/17/2019
They call it the Sweet 16, but only one USGA national champion got to taste that sweetness at this week's U.S. Mid-Amateur at Colorado Golf Club in Parker.
Eleven USGA champs began play on Saturday, and six of them advanced to the 64-man match play bracket. But just one of those — 2016 Mid-Am winner Stewart Hagestad of Newport Beach, Calif. — made it to the final 16. And Hagestad, the only mid-amateur on the winning U.S. team at this month's Walker Cup matches, won again on Tuesday afternoon to advance to the quarterfinals, which will take place on Wednesday morning.
Hagestad (pictured above) doesn't think there's anything to be drawn from all the former USGA champs being gone except him.
"Everyone is really good so you can't take anything for granted, so I just think it's happenstance," he said Tuesday evening.
Hagestad, seeded No. 7, is the only one of the top 10 seeds to make the quarterfinals. And there's as many players left who are seeded 33-64 as there are 1-32. Heck, one player who needed a playoff to make match play (63rd-seeded Nick Geyer of San Diego) is still alive in the bracket. Geyer is attempting to become just the third 63rd seed to win a USGA championship, and the first since Stephen Fox won the 2012 U.S. Amateur at Cherry Hills Country Club.
Hagestad, the No. 6-ranked amateur in the world, has had one of the more impressive runs to the Mid-Amateur quarterfinals, based on margins of victory. He's won his three matches so far at Colorado Golf Club by 4 and 3, 5 and 4, and 5 and 4.
Some of that is an indication of his good play, some of it is mistakes by his opponents.
"I've played solid for sure," he said. "But I've had some help from (opponents in) matches. They give you some bogeys on holes where you make pars. Nothing against anyone else, but I've played solid. And I guess they haven't had their best stuff. It's kind of a combination, but I've played well."
And Hagestad knows all about "it's not over until it's over", having won the U.S. Mid-Am title three years ago after being 4 down with five holes to play in the championship match.
"That's always in the back of your mind," the 28-year-old said. "And I've been hit by buzzsaws too. You want to close it out."
Hagestad, who was low amateur in the 2017 Masters and has played in the last three U.S. Opens, may have one other thing on his side. Colorado Golf Club, with its hilly terrain, isn't the easiest course to walk, and the golfers who advance to the semifinals will have played back-to-back 36-hole days by the end of Wednesday.
After Tuesday's two rounds, he said, "I'm going to go hit a few balls and then work out tonight. If you have a camera on me, I'll prove it. I'll stick to the routine.
"I've always felt like if we can get to the second leg of a 36-hole day, adrenaline kicks over. I feel like I'm in better shape now than I was in college (at the University of Southern California), so that's helpful."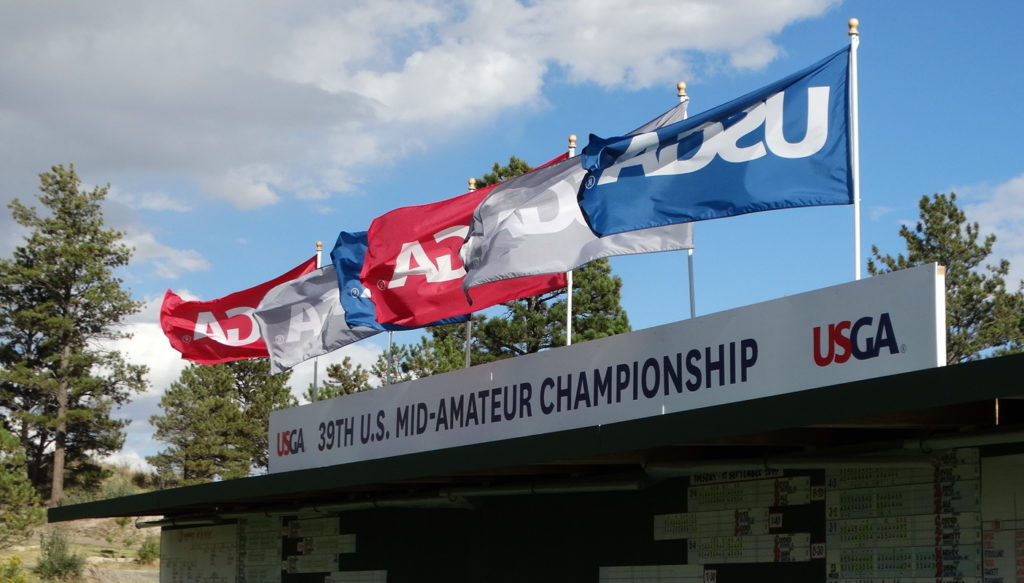 In addition, the wind kicked up substantially at Colorado Golf Club on Tuesday afternoon. If that continues on Wednesday and potentially on Thursday, that may also help Hagestad's cause.
"I loved it" when the wind increased, he said. "I was in England a week ago (for the Walker Cup) and it was blowing 50 (mph). I hit it lower — as far as Americans standards go. The fairways are relatively generous here and I'm not on the shorter side. I feel like those things definitely help.
"I would always prefer the golf course to be as tough as possible. You go to a U.S. Am or a U.S. Open, that's going to differentiate the best players in a hurry — not to say that I am (one of those) and others aren't. You want the golf course to be a challenge. You want it to be fair obviously, but you want it to identify the best player, the best thinker, the most patient and all the things that go into more than just hitting the ball."
Here are how the former USGA champions who made match play have fared on Monday and Tuesday:
— Stewart Hagestad (winner of 2016 U.S. Mid-Amateur): Won 4 and 3 (R64), Won 5 and 4 (R32), Won 5 and 4 (R16)
— Scott Harvey (2014 U.S. Mid-Amateur, 2019 U.S. Amateur Four-Ball): Lost in 23 holes (R64)
— Kevin O'Connell (2018 U.S. Mid-Amateur): Won 4 and 3, Lost in 19 holes (R32)
— Matt Parziale (2017 U.S. Mid-Amateur): Lost 4 and 3 (R64)
— Nathan Smith (2003, 2009, 2010, 2012 U.S. Mid-Amateur; 2015 U.S. Amateur Four-Ball): Lost 5 and 4 (R64)
— Todd White (2015 U.S. Amateur Four-Ball): Won 4 and 3, Lost 20 holes (R32)
Notable: Andres Schonbaum of Argentina, who lost in 19 holes at the quarterfinals of last year's Mid-Am to eventual champion Kevin O'Connell, avenged that loss with a 19-hole victory in Tuesday morning's round of 32. Schonbaum birdied the 19th hole from 50 feet to advance, then prevailed 2 and 1 in the afternoon round of 16. … The stroke-play medalist, Ben Warnquist of Gaithersburg, Md., also fell in the round of 32, 2 and 1 to Johnny DelPrete of Juno Beach, Fla., who later lost to Schonbaum. … Australian Lukas Michel, who beat Aurora's Nick Nosewicz in the round of 32 and Dan Ellis of Lansing Mich., in the round of 16, has made the quarterfinals in his first appearance in a USGA championship.
For scores and pairings from the U.S. Mid-Amateur, CLICK HERE.
*********
U.S. Mid-Amateur Championship: The Essentials
What: 39th U.S. Mid-Amateur Championship.
When: Sept. 14-19.
Where: Colorado Golf Club in Parker Sept. 14-19, and CGA-owned CommonGround Golf Course in Aurora Sept. 14-15.
Field: 264 of the world's top amateur players 25 years of age and older. The USGA accepted 4,751 entries this year, the second-most ever for this championship.
Spectators: Fans can watch the event free of charge.
Day By Day Schedule:
Saturday, Sept. 14: First round of stroke play at both courses.
Sunday, Sept. 15: Second round of stroke play, with competitors switching courses from Saturday.
Monday, Sept. 16: After playoff to cut the field to exactly 64 players, the first round of match play at Colorado GC.
Tuesday, Sept. 17: Round of 32 and round of 16 matches, both at Colorado GC.
Wednesday, Sept. 18: Quarterfinal and semifinal matches, both at Colorado GC.
Thursday, Sept. 19: 36-hole title match, at Colorado GC.
At Stake: In addition to the U.S. Mid-Amateur title, a spot in the 2020 U.S. Open and likely a berth in the 2020 Masters.
Yardage/Par for Each Course — Colorado Golf Club: 7,561 yards and par-72. CommonGround Golf Course: 7,470 yards and par-70.
Previous U.S. Mid-Amateur Held in Colorado: 1983 at Cherry Hills Country Club, where Jay Sigel won. Overall, this is the 33rd USGA championship held in Colorado.
Earlier Major Events Held at Colorado Golf Club: 2010 Senior PGA Championship, 2013 Solheim Cup.