2-time champ Colin Prater finishes with a surge to grab lead in CGA Amateur at RainDance National; Nick Nosewicz, eyeing sweep of 2023 CGA majors, shares second place with UNC's TJ Shehee
By Gary Baines – 7/29/2023
The 2023 CGA Amateur certainly isn't lacking for notable storylines heading into the fourth and final round at RainDance National in Windsor:
— There's leader Colin Prater of Cherokee Ridge Golf Course in Colorado Springs looking for his third CGA Amateur title — and fourth CGA open-age major — since 2016.
— There's Nick Nosewicz of Valley Country Club aiming for a sweep of the 2023 CGA open-age majors, having won his second CGA Match Play title in June. Even though players completed such season sweeps in 2020 (Prater) and 2022 (Connor Jones), they're relatively rare, having been managed just three times since 1985, with Steve Ziegler (2009) joining Prater and Jones in accomplishing the feat. Nosewicz trails Prater by one going into Sunday at RainDance.
— Should Nosewicz (39 years old) or Prater (28) win on Sunday, they'd be just the second mid-amateur golfer (25 and older) to capture the CGA Amateur title since Jonathan Marsico won in 2008, with Prater (2020) being the other.
Nick Nosewicz shot the low round of the tournament so far — a 68 — to move into second place.



— With TJ Shehee of Boulder Country Club sharing second place with Nosewicz, and Gage Messingham of The Club at Rolling Hills in fourth, two out of the lead, University of Northern Colorado golfers have two players in the top four through 54 holes.
— In all, just five players are under par through 54 holes this week, with Dillon Stewart of Ptarmigan Country Club (2-under 214) joining Prater (5 under), Nosewicz and Shehee (4 under) and Messingham (3 under). Suffice it to say it's been a formidable test at the CGA Amateur a year after Jones won with a 24-under total at River Valley Ranch in Carbondale.
RainDance, the longest course in North America when it opened last year (potentially stretching to 8,463 from the Tour tees, according to the scorecard), on Saturday was played at 7,762 yards. That's a long golf course, even for the top amateurs in the state. According to the scorecard, the rating and slope for those tees is a formidable 76.2/147.
Speaking of which, Fred Funk, winner of eight PGA Tour events and nine on PGA Tour Champions, has been on hand throughout the week at RainDance, often taking in the action at the CGA Amateur. RainDance is the first project for which Funk has served as course designer, working in conjunction with Harrison Minchew.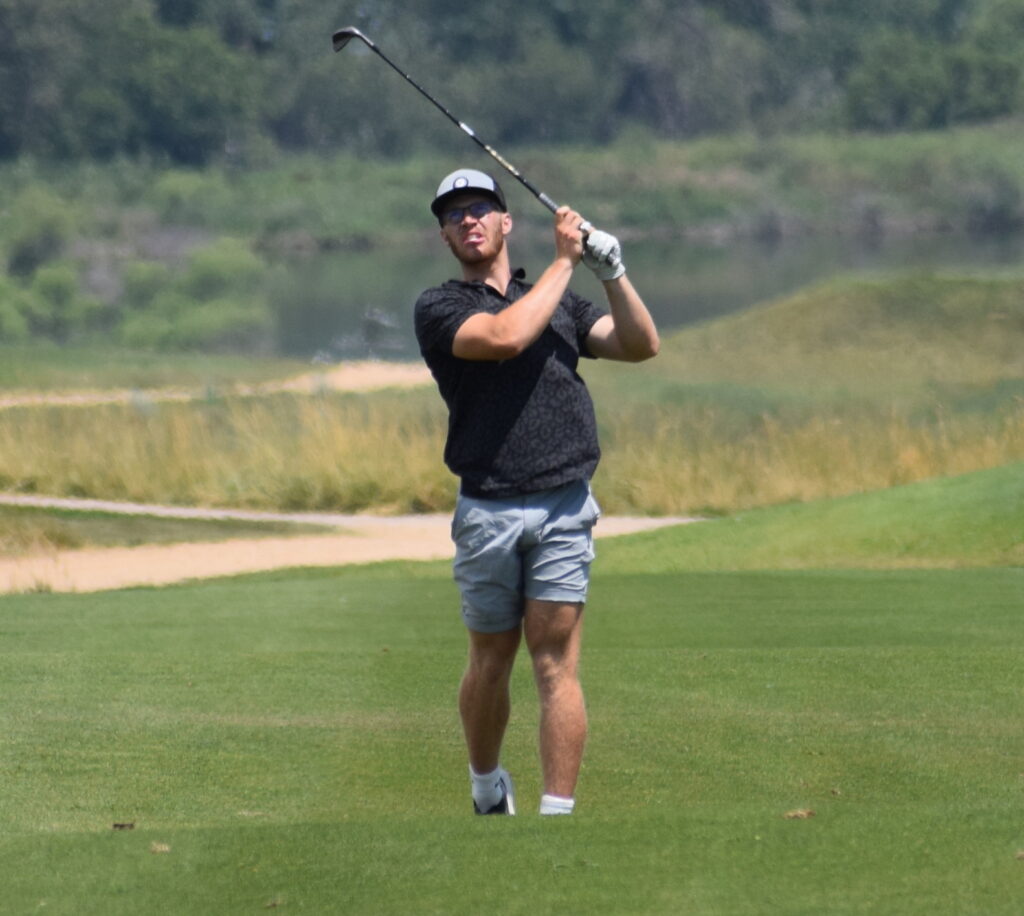 TJ Shehee, the runner-up in the 2023 CGA Match Play, hopes to emerge with the trophy this time.



— Three of the top six players on the CGA Amateur leaderboard after Saturday have qualified for next month's U.S. Amateur that Cherry Hills Country Club and Colorado Golf Club will host: Prater, Nosewicz and Pat Grady of The Ranch Country Club (even par after three days at RainDance).
— And finally, it should be noted that whoever wins on Sunday, they'll join a list of CGA Amateur champions who have gone on to win a combined 31 times on the PGA Tour, including five U.S. Opens, plus 47 times on PGA Tour Champions. Past winners of the event include Hale Irwin (three times), Steve Jones, Wyndham Clark, Bob Byman (three times) and Brandt Jobe.
Bottom line: It should be an interesting Sunday at RainDance.
Prater, who won the CGA Amateur in 2016 and '20 (along with the CGA Match Play in 2020), put together a big late-round surge on Saturday to grab the outright lead. He birdied the last three holes — and four of the last five — and completed his final 10 holes in 5 under par.
For the first three days of the tournament, the ninth-grade biology teacher at Cheyenne Mountain High School has played the front nine at RainDance in 4 over par and his back nine in 9 under.
Asked about the propects of winning a third CGA Amateur in eight years, Prater said, "Anytime you can put your name on the trophy, it's awesome. It would be really neat to do it in front of my little (daughter), even though she has no idea what's going on. That would be really cool. It's just neat because there's so many good players here in the state. To be able to beat them all over four days would be fun.
"But no one is going to give it to me. If I'm going to win this thing, I'm going to have to go take it."
The former University of Colorado-Colorado Spring golfer's five-birdie, two-bogey 69 left him at 5 under for the tournament and one ahead of Nosewicz and Shehee.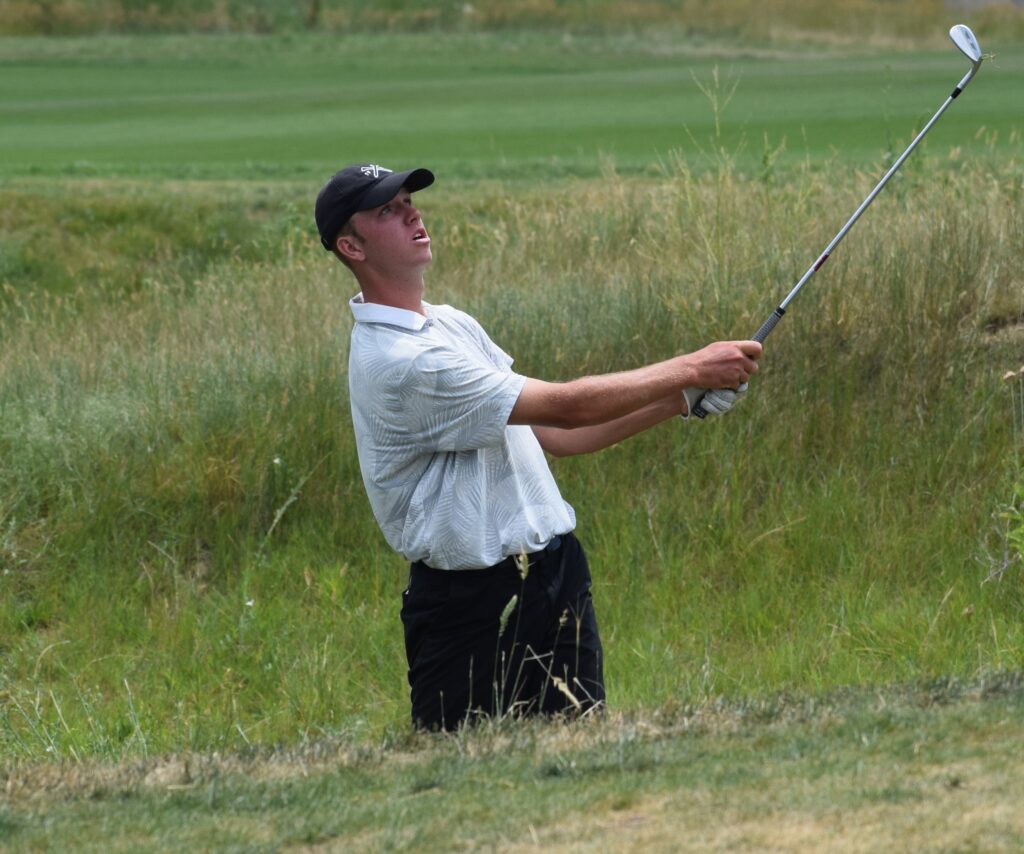 Gage Messingham, like Shehee a UNC golfer, has remained near the top of the leaderboard all week.



Nosewicz, who passed up an invitation to represent Colorado at the prestigious Pacific Coast Amateur in order to compete in the CGA Amateur, is looking to win the latter for the first time after capturing CGA Match Play titles in 2015 and '23.
On Saturday, Nosewicz posted the low round of this tournament week — a 4-under-par 68 that included six birdies and two bogeys. And he just missed a 5-foot birdie try on the final hole that would have given him a share of the 54-hole lead.
Regardless, the 39-year-old is in good position to potentially complete a sweep of the CGA majors for this year.
"I don't expect that — there's so many good players — but it would be nice, right?" he said. "Might as well go out on top and just kind of retire at that point (said while chuckling). You want to get the Tub Morris trophy — that's pretty important. I've come close.
"I've kind of been in this position before and kind of felt like it was someone else's to lose. Right now I feel like it's mine to win (he said before Prater took the lead by one). I feel like if I go out tomorrow and I play good golf, take care of the par-5s … I'm hitting it good. The (longer-term plan) is prepping for the U.S. Am, but this is a good tuneup. Obviously anybody can do it here. Whoever plays the best tomorrow is going to win it."
Meanwhile, Shehee — a former U.S. Amateur qualifier who finished runner-up to Nosewicz at the CGA Match Play last month — is in contention for a CGA major title again. On Saturday, the UNC golfer shot a 70 and played his final 13 holes in a bogey-free 3 under par. For the day, he carded four birdies and two bogeys.
Shehee's UNC teammate, Messingham, birdied the last hole Saturday to post a 72 and get within two of Prater. Another stroke back is Stewart, the Oklahoma State golfer who likewise shot a 72 on Saturday, but only after taking a double bogey on the par-5 18th. He went into the hole tied for the lead, but ended the day three back. The former national Junior America's Cup individual champion carded an eagle, three birdies, three bogeys and a double bogey en route to his 72.
Pat Grady, the 2006 CGA Amateur champion who regained his amateur status last year, shared the 36-hole lead, but bogeyed four holes in a five-hole stretch mid-round Saturday en route to a 75. He holds sixth place, five back of Prater.
Walker Franklin of The Ranch Country Club, who also shared the 36-hole lead (with Grady and Messingham), withdrew from the competition after posting a first-nine 43 on Saturday.
Prater, Nosewicz and Grady are all hoping to carry a strong performance this week into the U.S. Amateur Aug. 14-20.
"I'm kind of on a heater right now," said Prater, the medalist in the U.S. Am qualifier on Tuesday. "I'll tried to ride that momentum into Cherry Hills and Colorado Golf Club for sure."
As for Nosewicz, in just the last two months, he's won the CGA Match Play, qualified for the U.S. Am and now is in contention for the CGA Am title.
"It's been a great summer," he said.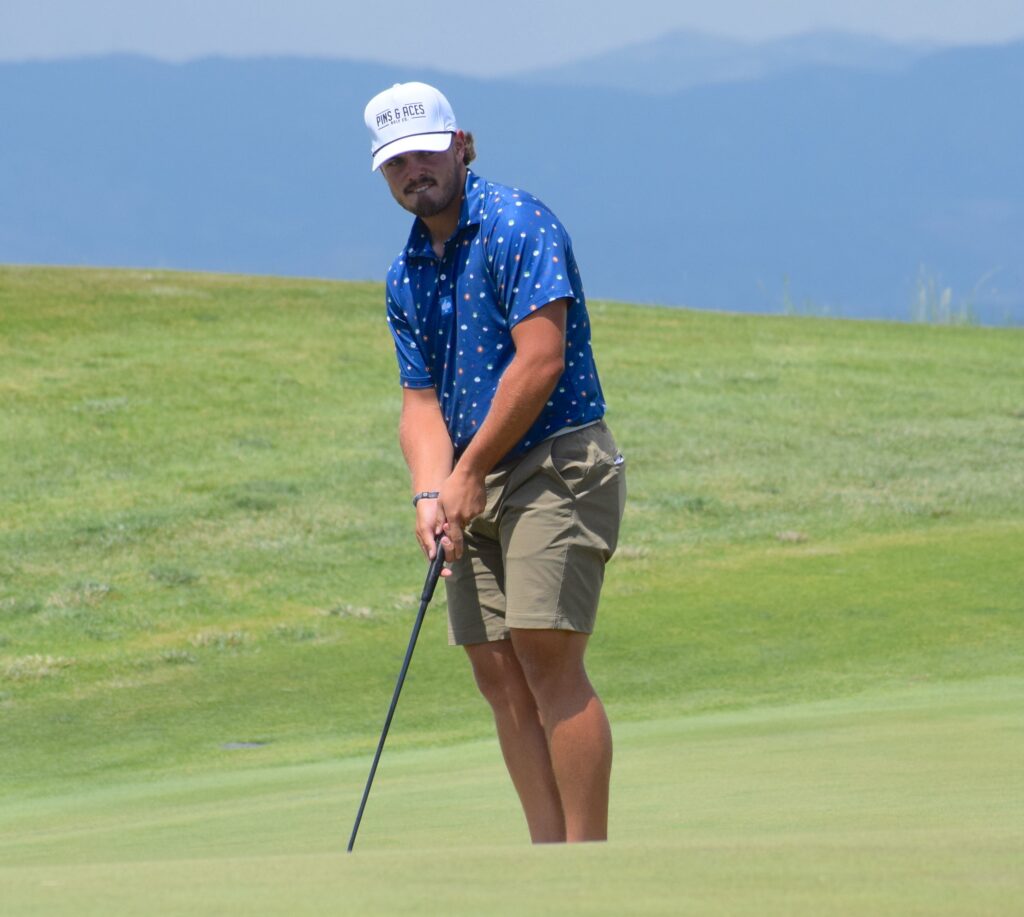 Dillon Stewart shared the lead on Saturday until a final-hole double bogey left him three back.



Meanwhile, many of the competitors are raving about the RainDance National venue that is hosting arguably its biggest competition in its young history.
"It's such a good golf course," Nosewicz said. "It's awesome. I wish it was closer (to his home in Aurora). This is as close to a USGA event as we've ever had (for a CGA championship). Last year I shot 15 under par (at River Valley Ranch) and finished sixth. This is a little different ballgame — a lot of 5-irons and 7-irons and 6-irons. They're doing a good job picking tee boxes. This is as close of a test as you're going to get to a big-boy USGA event."
Added Prater: "The golf course is phenomenal; it is amazing. It's one of the coolest golf courses I've ever played. It's deceivingly tight off the tee — it looks like it's open, but you still have to hit it in the right spots. Especially on the greens, you can hit a really good golf shot and be 40-50 feet away. The areas where you have to hit it to get it close are so small. It's just really fun. "
For all the scores from the CGA Amateur, CLICK HERE.

About the Writer: Gary Baines has covered golf in Colorado continuously since 1983. He was a sports writer at the Daily Camera newspaper in Boulder, then the sports editor there, and has written regularly for ColoradoGolf.org since 2009. He was inducted into the Colorado Golf Hall of Fame in 2022. He owns and operates ColoradoGolfJournal.com