Former junior phenom Dillon Stewart finishes strong to win CGA Amateur and end victory drought; 2-time champ Colin Prater, UNC golfers place 2nd; RainDance a big hit among competitors
By Gary Baines – 7/30/2023
With RainDance National having held its grand opening just over a year ago, there didn't figure to be many competitors in the 2023 CGA Amateur field who would have a notable home-course advantage for the state championship.
But that didn't turn out to be exactly true. And, as it happens, the golfer in the field who may have played the most pre-tournament rounds at the Windsor course turned out to be the guy who raised the Tub Morris trophy on Sunday.
Dillon Stewart, who is working at the course about three days a week this summer thanks to connections to RainDance pros Chris Williamson and Max Bigford, figures he's teed it up at RainDance about 30 times. And that experience may have played a factor in the 22-year-old — who lives about seven minutes away by car — claiming the title in the prestigious event.
"I think it helped a lot," said the Oklahoma State player, who's entering his fifth and final season of college golf. "I'm sure my yardage book looked a lot different than most of the guys who only played out here for one practice round. I know there are places you're not getting balls up and down — and (other) places that are really easy. That helped a lot, especially if I was out of position. I knew where to hit to make an easy 4 — or, worst-case scenario, 5. So I think that was a huge advantage.
"(Ptarmigan Country Club is) still technically home for me but I think I've played more rounds out here (this year) than I have there."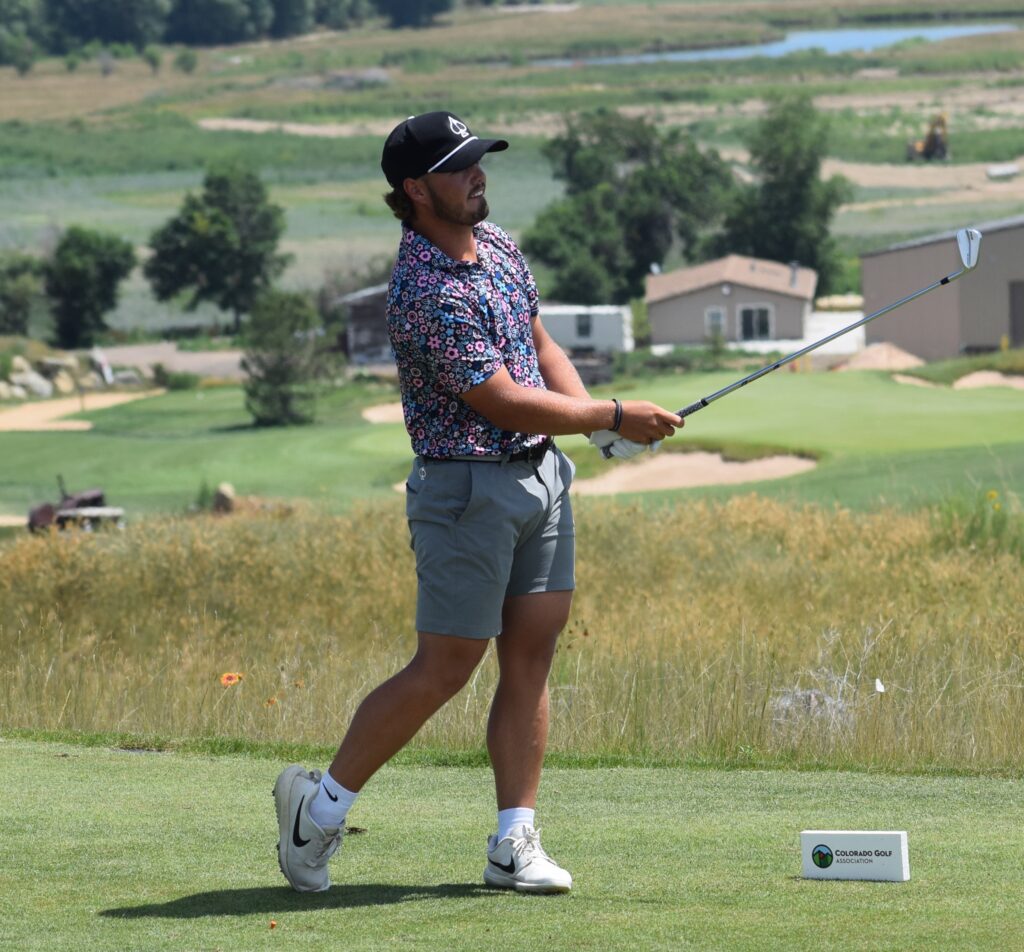 Stewart estimated he's played RainDance, which is only a year old, about 30 times.




Stewart, a former Junior Golf Alliance of Colorado boys player of the year, was a stellar junior golfer. In 2018, he won the individual title in the Junior America's Cup, which features some of the top junior golfers from the western U.S., Canada and Mexico, and he led Colorado to its first team title ever in the boys JAC. Also that year, he became the first Colorado boy to win the AJGA Hale Irwin Colorado Junior, and also earned a second AJGA title. IN addition, Stewart captured the 5A state high school individual championship and led Fossil Ridge to its first team title in boys golf. And he signed to play golf at college powerhouse Oklahoma State.
But since Stewart's high school/junior days, the spigot of success had been turned off. He finished runner-up to Connor Jones at the 2022 CGA Match Play and had been close in some other events. But, until Sunday, he hadn't been able to get his hands on a big-time victory in recent years.
"I haven't really been in the winner's circle since high school," he said. "I came close last year with (the CGA Match Play). It's just hard to win, no matter what field it is. There's a lot of good players from Colorado.
"So it feels good. I've been working my butt off at school and over the summer, and my game is trending in a really good direction."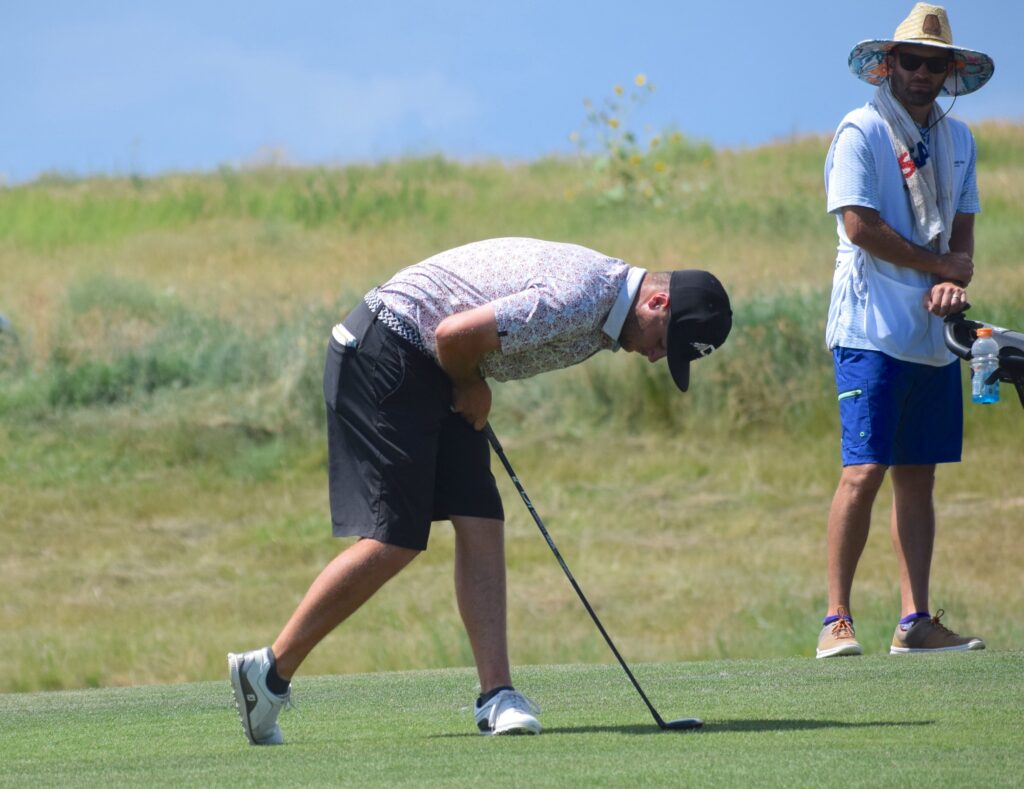 A poor second shot at the par-5 13th led to a string of four straight bogeys for leader Colin Prater on Sunday.



Stewart trailed much of the final round on Sunday, but he took advantage of four consecutive bogeys by leader — and two-time champ — Colin Prater of Cherokee Ridge Golf Course. After a double bogey on 15 — "Honestly I thought I was out of it after 15. I wasn't, thank goodness," he said — Stewart birdied two of the last three holes down the stretch, both par-5s. At both 16 and 18, he two-putted for birdie to emerge with the victory.
On the formidable test that was RainDance National, which played a little more than 7,700 yards on Sunday, Stewart closed with a 2-under-par 70. His 4-under 284 for the week was one better than Prater, who made birdie on 18 after just missing an 18-foot eagle attempt, and two University of Northern Colorado teammates. TJ Shehee of Boulder Country Club birdied the final three holes and equaled his runner-up finish from the 2023 CGA Match Play, and Gage Messingham from The Club at Rolling Hills eagled No. 18 from 15 feet. (Another UNC golfer, Westin Pals, carded a tournament-best 67 on Sunday to give the Bears three of the top sixth finishers at RainDance.)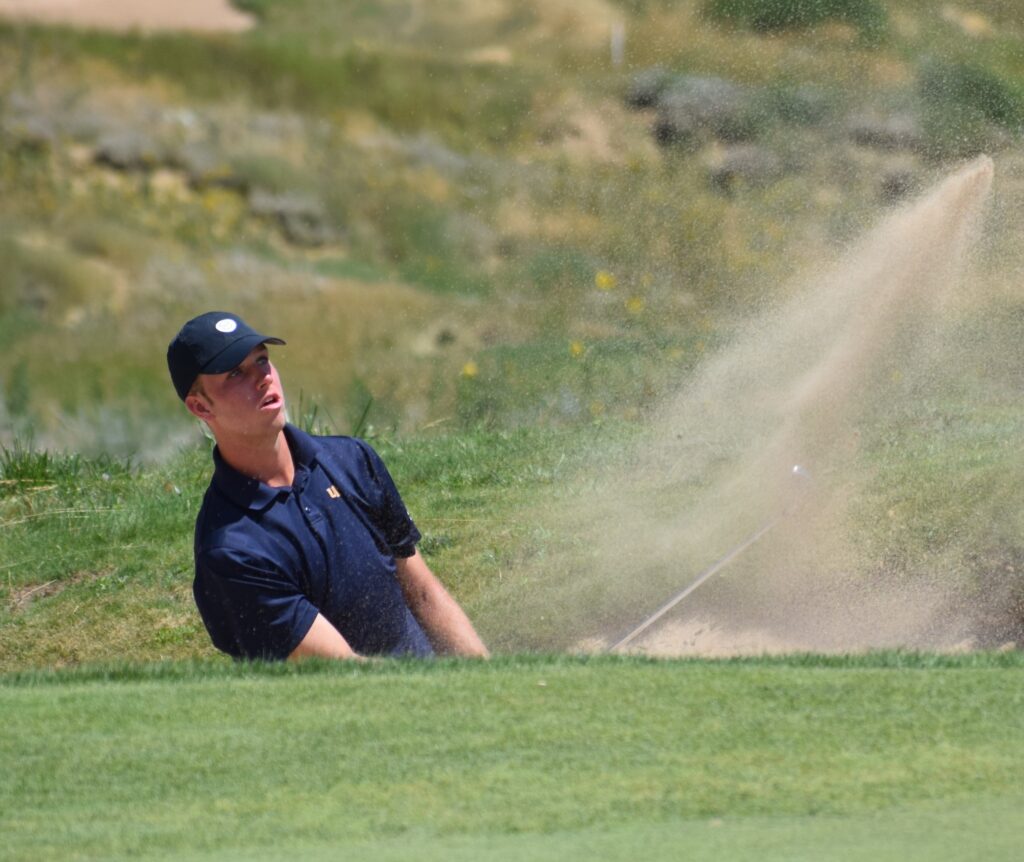 UNC golfer Gage Messingham was a constant on the leaderboard at RainDance.



"Losing by one doesn't feel good, but I still played good this week," the 19-year-old Messingham said. "I'm going in the right direction. It's very positive, especially going into the college season. It helps a lot."
Former champion Pat Grady, 37, chipped in for birdie from 80 feet on No. 12 as part of a run of four straight birdies and placed fifth despite a final-hole bogey.
Noting how much the leaderboard changed over the final nine holes, Grady said, "I was seven or eight out of it at one point." Indeed, going into No. 10, the former University of Colorado golfer trailed Prater by eight strokes.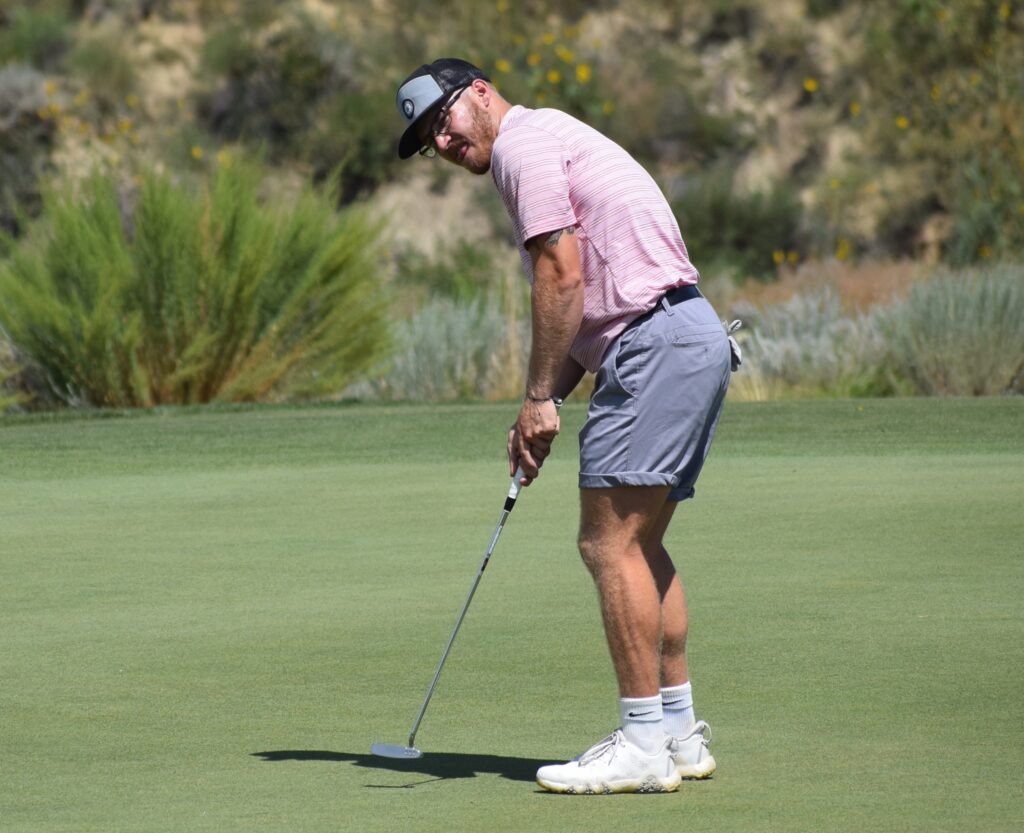 TJ Shehee finished runner-up in both the CGA Match Play and CGA Amateur this year.



Prater, winner of the CGA Amateur in 2016 and '20, held a two-shot lead at the turn on Sunday after chipping in for birdie on No. 9.
"But a couple of bad golf swings — and maybe an unlucky break or two — and you make a couple of bogeys and you lose," Prater noted.
The former University of Colorado-Colorado Springs golfer three-putted 12 for bogey, but his second shot on the 653-yard par-5 13th was particularly damaging. There, having hit a drive that split the fairway, he pushed a hybrid into the penalty area short and right of the green, leading to another bogey.
"It was just a really bad golf swing, and I just couldn't get the ship righted," said Prater, a high school biology teacher who has qualified for this summer's U.S. Amateur.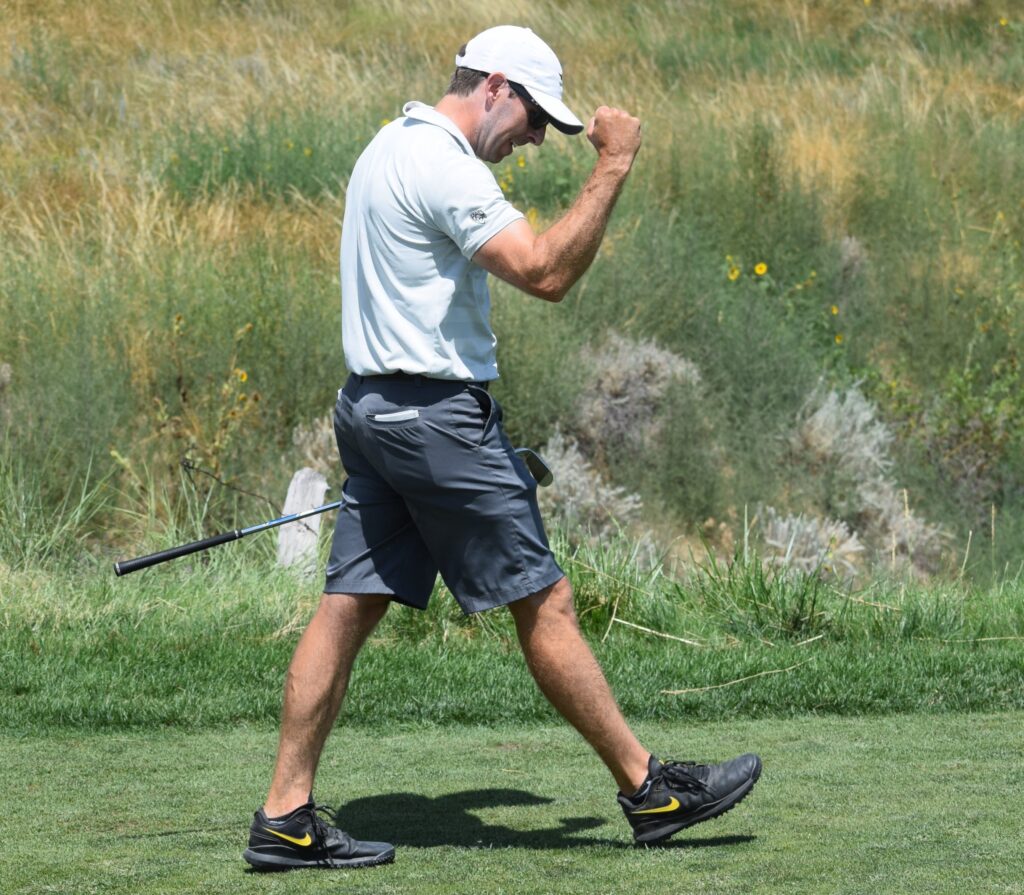 Pat Grady celebrates his long chip-in birdie on No. 12 on Sunday.



A tee shot into the sand on 14 led to his third straight bogey. On 15, he hit a very good long approach from a cart path, but his ball landed on a sprinkler head and went just over the green, leading to another bogey. And on 16, though he did make par to snap his bogey streak, he three-putted again.
Asked the last time he bogeyed four consecutive holes, Prater said, "Probably not this year.
"You have to go earn (the title); no one is going to give it to you. Dylan played a really good round of golf. The course was really, really tough today. The greens were concrete.
"But I can't be too upset. I gave myself 18 feet on the last hole for a playoff" but missed the eagle try.
As for Stewart, he admits, "I hate looking at scoreboards. I refuse to." So he left that duty to his caddie, David King, who also works at RainDance. And when King advised him on 16 tee that he was one out of the lead, "I just kind of refocused," Stewart said. "I did a good job of shoving 15 out the window and moved forward from there."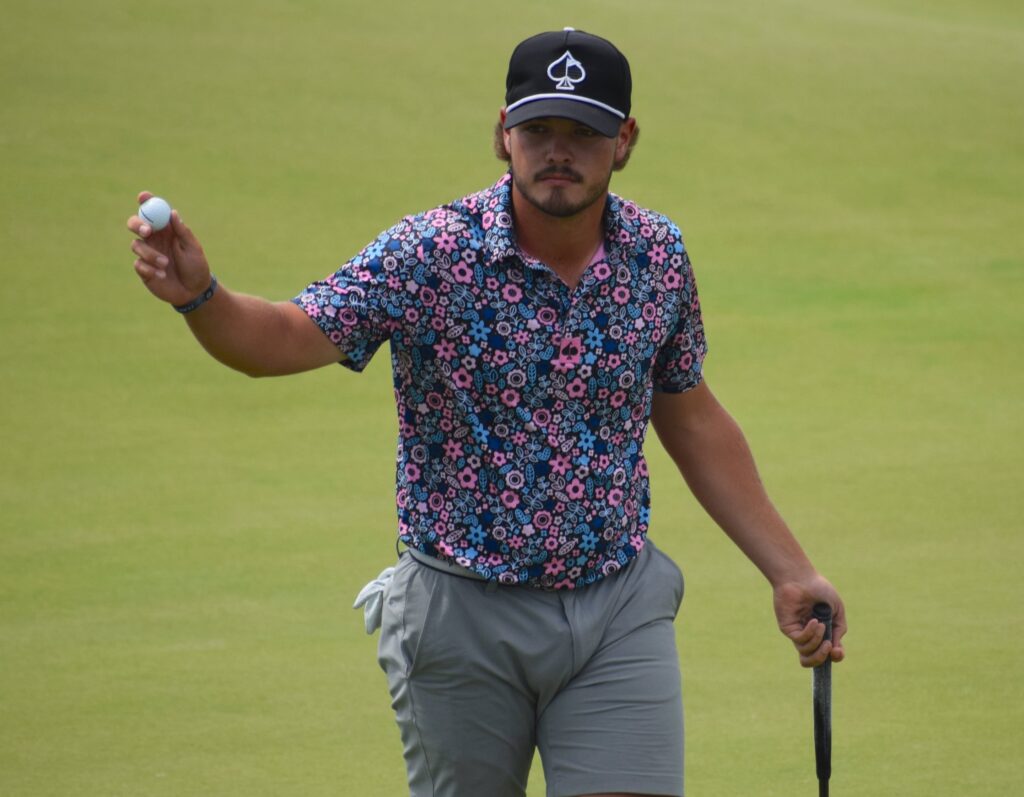 Stewart capped off his round with a two-putt birdie on 18 on Sunday.



And the two-putt birdies on 16 and 18 were enough to get him over the hump at what could be considered his second home course. Certainly Stewart had a significant following rooting him on on Sunday.
"My driver's usually my weapon; this week it wasn't," he said. "Today it was a lot better, but I hit a lot of balls into the junk. So my putter and my short game, the work I've been putting in saved me. So it feels really good to know that, even if I don't have my strong suits that week I can still post a good score and stick in it. It feels good to see the hard work pay off."
With Sunday's victory, Stewart joins a list of CGA Amateur champions who have gone on to win a combined 31 times on the PGA Tour, including five U.S. Opens, plus 47 times on PGA Tour Champions. Past winners of the event include Hale Irwin (three times), Steve Jones, Wyndham Clark, Bob Byman (three times) and Brandt Jobe.
This figures to be Stewart's last time competing in the CGA Amateur — at least for the foreseeable future — as he plans to turn pro shortly after Oklahoma State wraps up the 2023-24 college season.
For all the scores from the CGA Amateur, CLICK HERE.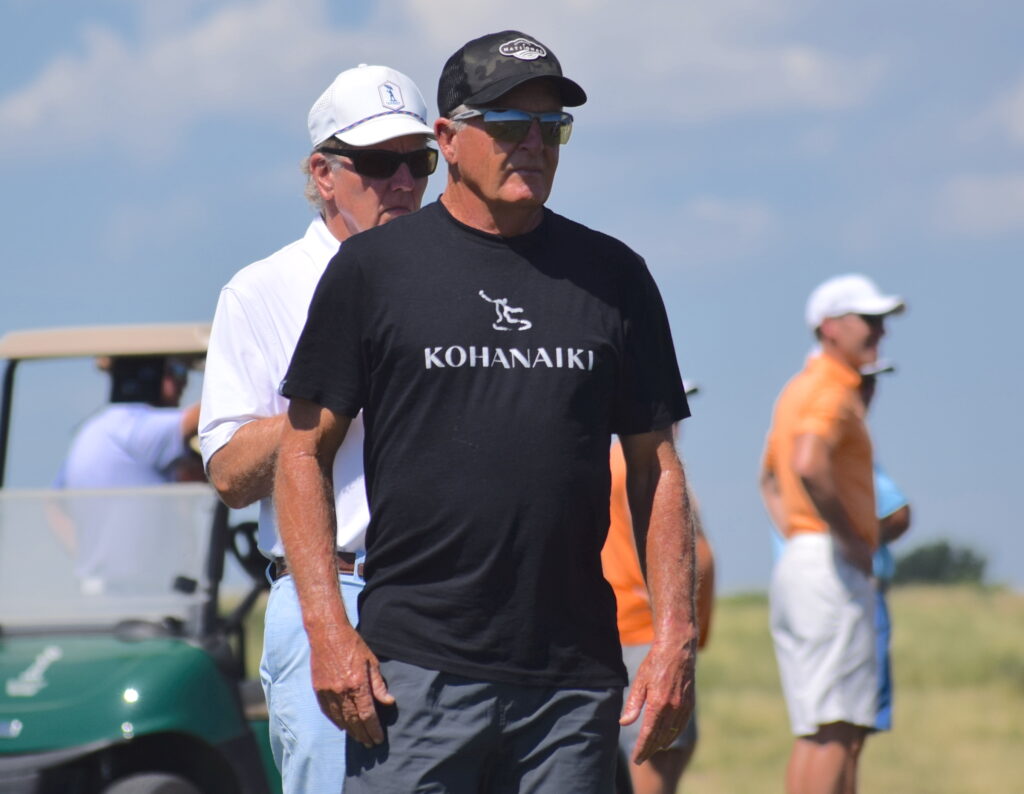 Fred Funk (foreground) and Harrison Minchew watched how their "baby", RainDance National, held up to the top amateurs in Colorado.

— Watchful Eyes for RainDance's 'Performance': Both Fred Funk, the golf design consultant at RainDance National, and Harrison Minchew, the course architect, followed some of the lead groups of the CGA Amateur for a time on Sunday. And both indicated they were happy how this week played out for RainDance as a test for the best amateurs in Colorado.
"It's playing hard. It's firm and fast," said Funk, winner of eight PGA Tour events and nine on PGA Tour Champions. "The scores are pretty high overall. But all the guys seem to be loving it."
Five players out of the original field of 84 ended up in red figures for the tournament. And Stewart won with a 4-under-par total for 72 holes.
"If you're not playing good, the course is going to eat you alive," Funk said. "If you're playing good, it rewards you. The guys that are hitting the ball the best are up at the top of the leaderboard. That's what I like. You want to identify the guy who's playing the best. This golf course is definitely going to do that. You can't fake it around here; it's hard. When the ball runs and runs and runs, it makes it harder, not easier."
While RainDance is Funk's first foray into design work, Minchew is a veteran of many such projects.
"I love it," Minchew said when asked his view of how RainDance played for the CGA Amateur. "I've been fortunate to design some tournament venues. The firm and fast conditions — we knew we could get it there, but it's real rewarding to see how it plays."
The folks at RainDance have made no secret of their desire to host a tour-type event at the site. The CGA Amateur provided helpful information in that regard.
"I can tell you, if we every had a tour event, with the big boys — or LIV or whatever — they're playing the tips (8,463 yards, the longest yardage for a course in North America)," said Funk, who said he was surprised how long the amateurs were hitting it. "But we'll jack it around based on wind conditions. That's another thing — we really haven't had windy conditions (for the CGA Amateur). That made it better. It would be a lot more difficult when the wind blows. You have wind and firm conditions, the way this course is designed, it's tough. I like seeing where the scores are. And I love hearing — they seem to be sincere — everybody loves the golf course."
If the CGA Amateur returns, Funk said he'd recommend the yardage be increased somewhat from the 7,700 to 7,800 yards it played this week.
As Funk mentioned, RainDance received some very positive reviews from players this week. Runner-up Gage Messingham was among the fans.
"I love this course," he said. "I think the design is great and the conditions too. I love the style of golf — firm, fast, hard, long. That's my style of golf."

About the Writer: Gary Baines has covered golf in Colorado continuously since 1983. He was a sports writer at the Daily Camera newspaper in Boulder, then the sports editor there, and has written regularly for ColoradoGolf.org since 2009. He was inducted into the Colorado Golf Hall of Fame in 2022. He owns and operates ColoradoGolfJournal.com