Ever-talented Zalatoris, who shared limelight with Kupcho at Wake Forest, grabs 2-shot lead at TPC Colorado Championship; Knous makes first cut in 13 months, and sinks 55-foot birdie putt to cap round
By Gary Baines – 7/2/2020
Will Zalatoris' most notable connection to Colorado might be that he played college golf at Wake Forest at the same time that Centennial State native Jennifer Kupcho did.
In fact, the two have the distinction of leading their respective Demon Deacon teams in stroke average for all four of their seasons — with three of them overlapping with one another: 2015-16, 2016-17 and 2017-18.
But the way things are going, Zalatoris may have another significant Colorado connection soon. The 23-year-old Texan, considered by many to be one of the most promising players currently on the Korn Ferry Tour, grabbed the midway lead on Thursday at the TPC Colorado Championship at Heron Lakes in Berthoud. And no one would be surprised if he would earn his first career KF victory on Saturday.
"Will has always had the greatest work ethic and his game is unbelievable," Kupcho, the LPGA Tour regular and 2018 NCAA women's individual champion, said via text to ColoradoGolf.org on Thursday. "I've never seen someone strike the ball so well. He's also a great competitor."
And the feeling is mutual.
Asked about Kupcho on Thursday, Zalatoris said, "She came down for the LPGA event in Dallas and stayed with my family. It's fun to be around somebody with the same goals and the same drive. She hits it 280 at sea level. (Sometimes) I'm only about five yards in front of her. It's been fun knowing her. She's been a stud forever."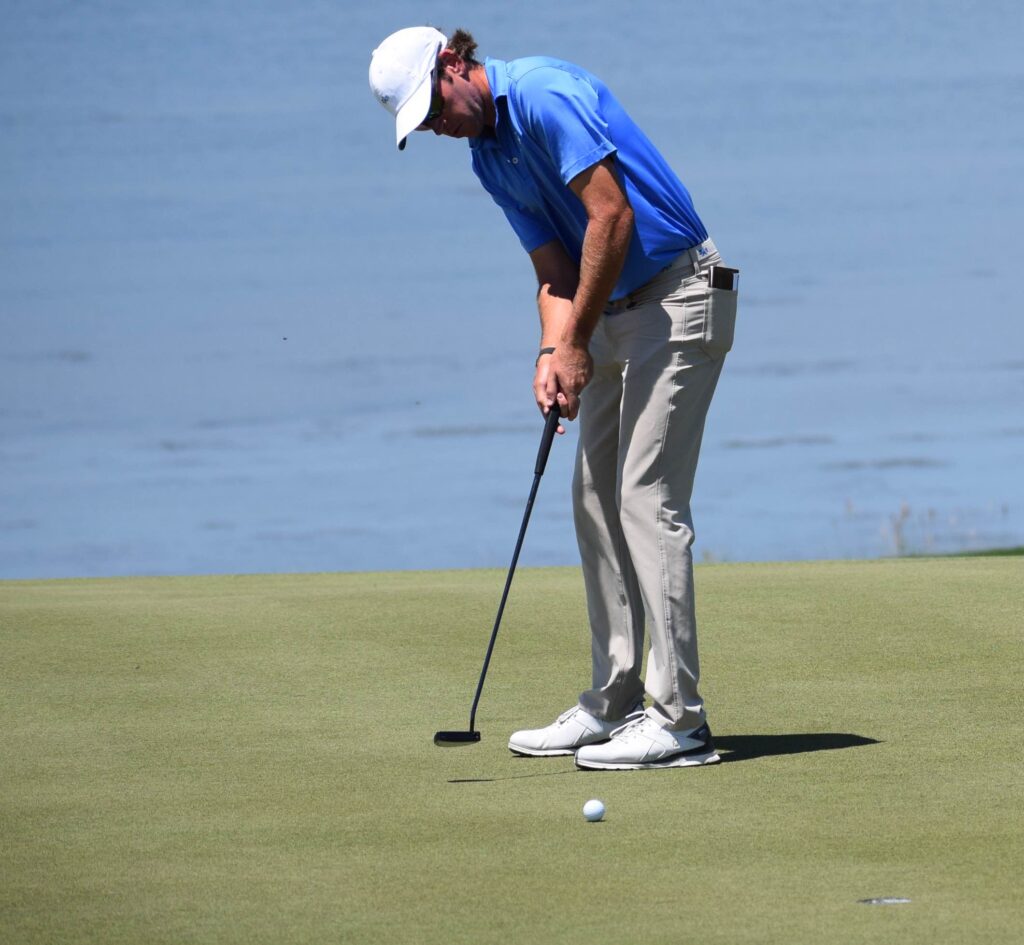 Despite a double bogey on his 17th hole on Thursday — where his tee shot bounced into a penalty area — Zalatoris birdied four of his last five holes and shot a second straight 5-under-par 67 at TPC Colorado, giving him a two-day total of 10-under 134. That's the same as last year's winner, Nelson Ledesma, had at the same point in the tournament. Zalatoris is two strokes ahead of Ben Kohler, Chase Johnson and Callum Tarren.
Though Zalatoris hasn't won on the Korn Ferry Tour, he's done about everything but. This year, he has five top-10s in eight starts, and in the three weeks since the circuit restarted, he's placed sixth, third and fourth and has shot over 68 just once in his last 14 rounds.
Zalatoris has long been a success story, having won the 2014 U.S. Junior Amateur and being a first-team All-American and Walker Cupper in 2017.
But he's taking his strong play to a new level recently.
"I've played really well the last three or four weeks, so it's nice to keep on keeping on," he said. "It's a new level of comfort. I've said it a lot. Last year it felt like every single week, I needed a top 25 to play the next week. This (2020-21 season), it's basically, 'Go win three times' (to earn an automatic promotion). I'm trying to get to the PGA Tour as fast as I can. In a weird way, it kind of frees me up."
Through two rounds, Zalatoris has carded an eagle, 11 birdies, one bogey and a double bogey.
"This place suits me really well," he said of TPC Colorado.
On opposite end of the spectrum as Zalatoris is Johnson, who is making just his second start ever on the Korn Ferry Tour. In fact, he wasn't planning to play at the TPC Colorado event at all — because he thought he was nowhere near making the field — until receiving on email on Saturday asking for his caddie's name. By Sunday he was in the field and had a flight booked.
"This is what we all work for," Johnson said. "We're out here trying to give ourself the best chance to win each week. It means a lot to me, especially with the conditional status I have, to give myself the chance to move up. That's what we work for, and I'm looking forward to the weekend for sure."
On Thursday, Johnson shot a 66. After an even-par score on his front nine (the back at TPC Colorado), he chalked up six birdies in posting a 30 finishing up.
Tarren matched Johnson't 66 to also check in at 136.
Two players matched the course record with 64s on Thursday — Kevin Roy (138 total) and John VanDerLaan (139).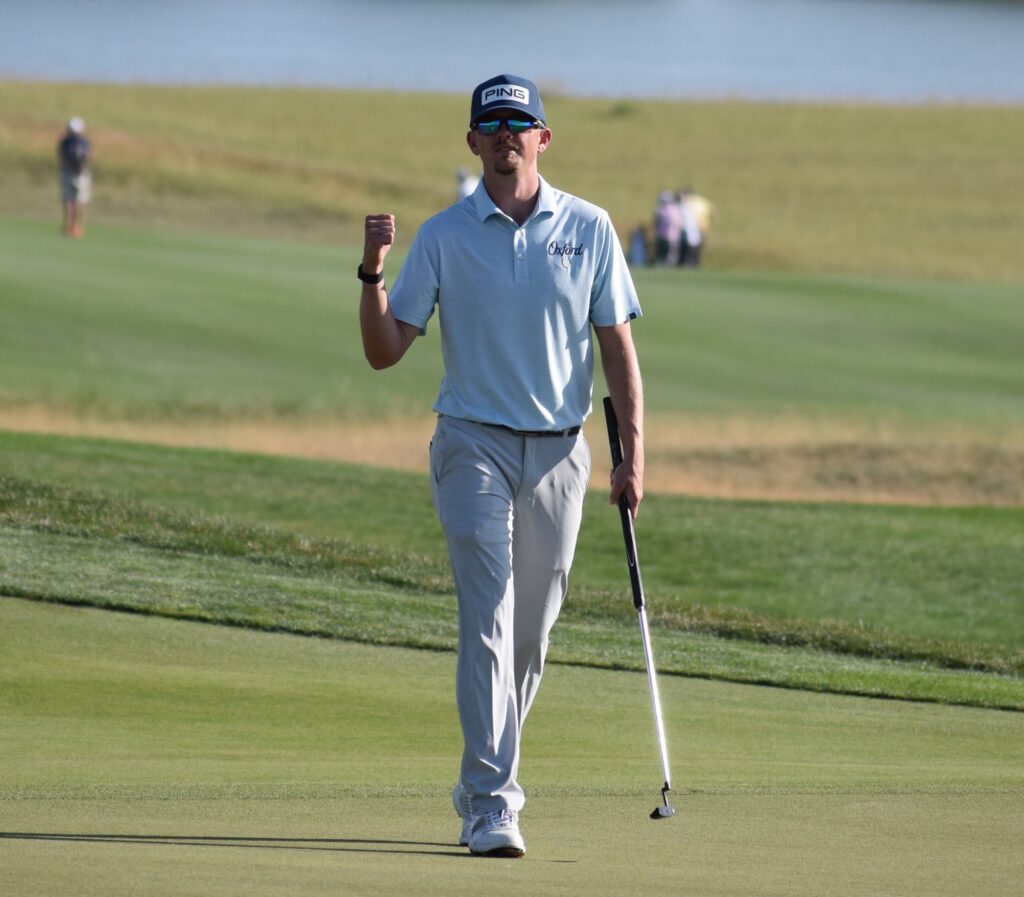 Coloradan Knous Advances After Improbable Finish: Out of the 10 players with strong Colorado connections in the field this week, just one made the 36-hole cut to the low 65 players and ties on Thursday. Jim Knous of Littleton, competing in just his second tournament after being out for a year with a right wrist injury/surgery, recorded his first made cut in 13 months.
And he finished with a flurry just for good measure. Needing a par or better to survive on No. 18 the cut, the former Colorado School of Mines golfer escaped a fairway bunker with a lip close to 10 feet tall, hitting the green with an 8-iron. Then, improbably, he drained a 55-foot birdie putt, punctuating the moment with a clenched fist.
"What a crazy game," the 30-year-old said as he walked off the green with a 2-under-par 142 total for 36 holes.
"I was struggling down the stretch there, leaking oil (making three bogeys in four holes starting on No. 14). I was thinking it was going to be 1 or 2 under par (to make the cut). I was trying to two-putt (on 18), trying to make it with dying speed. Sure enough it went in. It was awesome."
The result was Knous' second straight 1-under-par 71. So, in his second of five Korn Ferry Tour "rehab" starts en route to returning to the PGA Tour in September, Knous will earn an official check this week for the first time in 13 months.
"A made cut, a check," he said. "Maybe I'll go low on the weekend. … I'm trying to do Colorado proud."
With 1-under-par 143 or better being necessary to advance to the final two rounds, no other player with major Colorado ties finished better than 146. At that figure was former Fort Collins resident Sam Saunders, who went 74-72.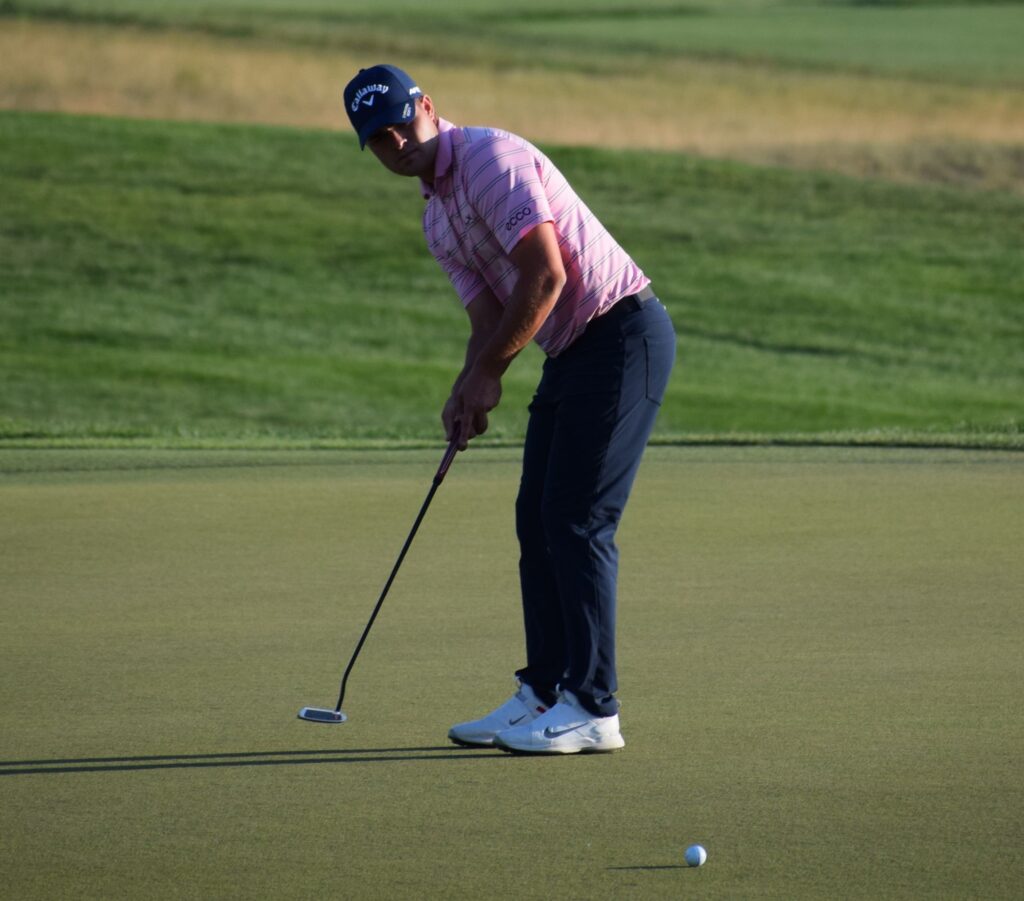 Josh Seiple of Castle Rock, competing in his first Korn Ferry Tour event after shooting a course-record 11-under-par 61 in Monday qualifying at Riverdale Dunes, rebounded in a big way on Thursday from his opening 77, but he had dug himself too deep a hole. He was 4 under par for round 2 on a couple of occasions, but played his final six holes in 3 over par and ended up with a 1-under 71, which left him at 148 overall.
Here are how all 10 players with significant ties to Colorado stood after Thursday.
ADVANCED TO FINAL TWO ROUNDS
43. Littleton resident and former Colorado School of Mines golfer Jim Knous 71-71–142
MISSED 36-HOLE CUT
98. Former Fort Collins resident Sam Saunders 74-72–146
106. Cheyenne resident Josh Creel, who started his college career at CU 74-73–147
118. Josh Seiple of Castle Rock 77-71–148
126. Golden resident and former CSU golfer Zahkai Brown 75-74–149
126. Denver native and former CU golfer Jonathan Kaye 75-74—149
134. Boulder native and former Louisville resident George Cunningham 75-75–150
143. Highlands Ranch resident Ben Lanting 75-76—151
148. Greenwood Village resident and former CU golfer Ryan Schmitz 75-77–152
153. Former Fort Collins resident and former Air Force Academy golfer Tom Whitney 76-81—157
Whitney and Brown made the cut at TPC Colorado last year.

Notable: A reminder that the general public is not allowed at this week's TPC Colorado Championship as a Covid-19-related safety precaution. … Eight-time PGA Tour winner and 2003 Masters champion bid adieu to the Korn Ferry Tour — perhaps forever — on Friday when he missed the cut after posting rounds of 74-76 at TPC Colorado. He went without a birdie for his final 21 holes. Weir will take a few weeks before beginning his PGA Tour Champions career on July 31. … Utah resident Daniel Summerhays, who put off his retirement from tour golf after finishing second last week in the Utah Championship, missed cut the cut by one on Thursday as he followed up his first-round 69 with a 3-over-par 75. He played his last 15 holes in 4 over par. … The plan for Friday and Saturday is for a two-tee start — like the first two days — which will result in a mid-afternoon finish. … The winner on Saturday will receive $108,000 out of the $600,000 purse.
For all the scores from the TPC Colorado Championship, CLICK HERE.
For Friday's tee times, CLICK HERE.