Colorado has more than its share of connections to the list of the highest single-hole scores in PGA Tour history
By Gary Baines – 3/29/2021
This month's Florida swing on the PGA Tour proved once again that even the very best golfers in the world can be made to look like ordinary hacks on occasion.
Courses like Bay Hill, TPC Sawgrass and PGA National, with water galore that comes very much into play, can do that.
Victor Perez made an 11 at the par-5 sixth hole during the third round of the Arnold Palmer Invitational at Bay Hill in Orlando early in the month.
A week later, Byeong Hun An carded an 11 on the famous par-3 17th hole in the first round of The Players Championship at TPC Sawgrass.
And during the first round of the subsequent Honda Classic at PGA National, another 11 was recorded — by Brian Stuard at the par-3 17th hole.
But those three 11s weren't enough to crack the list of the 20 highest single-hole scores in PGA Tour history.
Earlier this month, Golfweek published a story that ran down much of that not-so-glorious "top" 20. In order to be included in the highest 20 — though it's certainly not something to which anyone aspires — a player must have written down no less than a 13 on his scorecard for a single hole during an official round of a PGA Tour event.
The list is remarkable in many ways, but particularly so locally because of the large number of connections to players who reside in Colorado or to tournaments held in the Centennial State.
Two players who currently live in Colorado — Dale Douglass and David Duval — make the list. And so do two Colorado-based tournaments — the 1938 U.S. Open at Cherry Hills Country Club and the 1958 Denver Open at Wellshire Golf Course. All four not only made the "top" 20, but they're in the top dozen.
Here's a rundown — in reverse order — of local connections to the highest-single-hole-scores list:

T12. Colorado resident David Duval, 14 on hole 7 at Royal Portrush in 2019 British Open: Duval, a Coloradan almost continuously since 2003, won the British Open in 2001 and was once the No. 1-ranked player in the world. But in Northern Ireland two years ago, he carded a 14 on the par-5 seventh hole in the first round at Royal Portrush en route to a 20-over-par score of 91.
Duval lost his first two balls off the tee, played an incorrect ball from the deep rough (two-stroke penalty), could never find his third tee ball, then went back to the tee and took six more shots to hole out. And there it was: a nonuple bogey.
Not surprisingly, Duval, who now spends far more time as a TV analyst than a competitor, called the result a "god-awful nightmare."
To his credit, Duval posted his 91 rather than withdrawing.
"You have an obligation as a professional athlete," he said. "If you play, you post your score. Am I happy about that? Is there some embarrassment to it? I don't know. But I teed off in the Open and I shot (91) today. So put it on the board."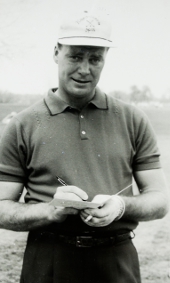 10. Bill Collins, 15 at hole 17 at Wellshire Golf Course in 1958 Denver Open: Collins won four times on the PGA Tour between 1959-62 and played in the 1961 Ryder Cup, a U.S. win. But before those victories he chopped it around No. 17 at Wellshire during his rookie season on Tour — taking 15 swipes at the ball.
Tommy Jacobs won that week at Wellshire, which hosted the Denver Open for the second and final time. Some guy named Ben Hogan won there in 1948.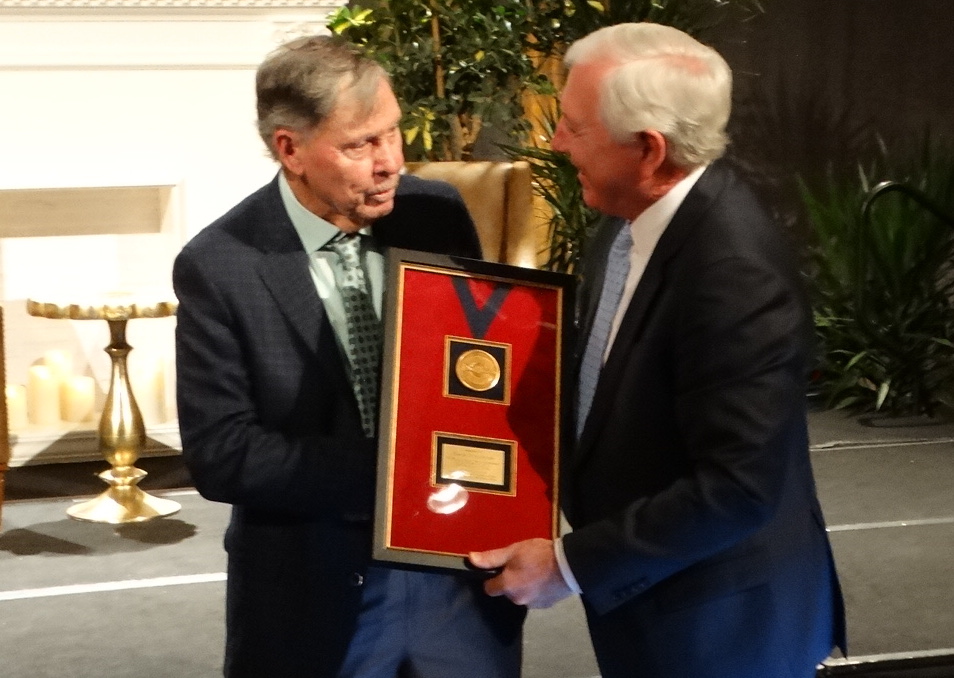 T2. Colorado resident and former University of Colorado golfer Dale Douglass, 19 on hole 10 at Pebble Beach Golf Links in 1963 Bing Crosby National Pro Am: Douglass played 531 events on the PGA Tour and won three times (along with 11 PGA Tour Champions titles), but in 1963 his PGA Tour career was just getting going. And while what happened at the 1963 Bing Crosby might be memorable, it certainly wasn't one of Douglass' career highlights.
The picturesque par-4 10th hole at Pebble Beach bared its teeth to Douglass in the final round of the Crosby. The result: a score of 19, which ties for second-highest single-hole tally in PGA Tour history.
According to the Los Angeles Times, Douglass pushed his tee shot over the cliff and onto the bank next the beach. Three unplayable lies and numerous swings later, Douglass reached the fairway with his 14th shot. Stroke No. 15 found the greenside rough, and he needed two more to get on the green. Then he two-putted for the 19.
According to reports, when asked about his three unplayable lies on the beach, Douglass said, "I had to take them. I was so tired from swinging I couldn't grip the club properly."
And Douglass added: "It"s kind of a blur. I know my tee shot lodged in the bank of a cliff. I tried to hit it about three times. Finally it rolled back to the beach and an unplayable lie. I took the first of about eight penalty strokes.
"Every time I hit the ball it would slash into the bank and roll back to be half buried. Finally I had to put it on a piece of ice plant to hit it out of there. Joe Campbell was playing with me and helped me count the strokes. I just can't remember all of them. I was trying my best on all the shots, but you just couldn't get any footing."
Douglass recovered to play his final eight holes in even par, but still signed for a 92 and finished 32 strokes behind winner Billy Casper.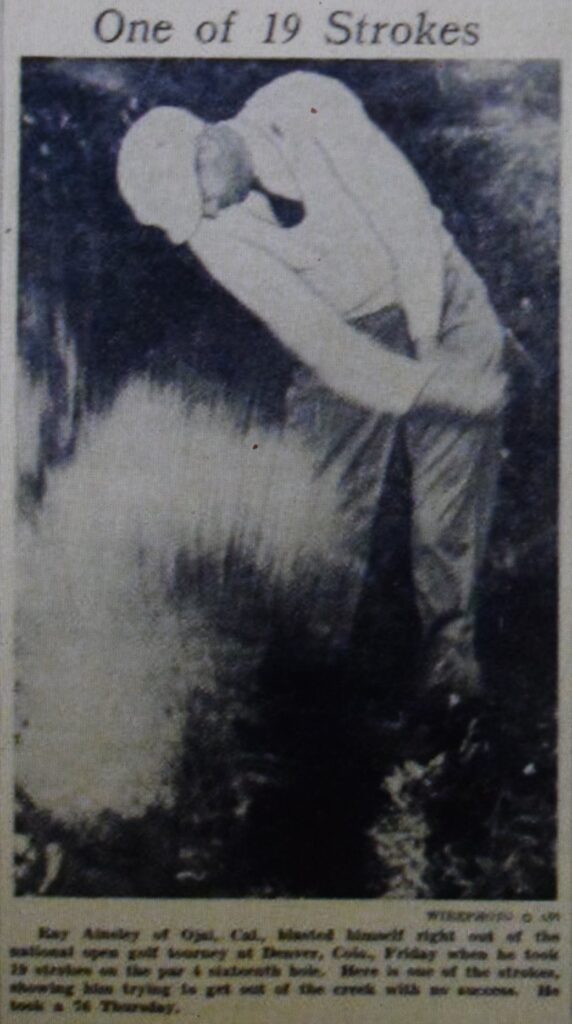 T2. Ray Ainsley, 19 on hole 16 at Cherry Hills Country Club in 1938 U.S. Open: This U.S. Open marked the first major championship ever hosted by a Colorado golf facility. And while it will most be remembered for Ralph Guldahl's second of back-to-back U.S. Open victories, Ainsley proved quite a footnote.
On the par-4 16th, the club pro/greenskeeper hit his approach into water left of the green — after the ball trickled down the creek's bank — during the second round. Rather than taking a drop, he opted to play from the water. But he repeatedly took swings at the ball as it dribbled downstream, determined to extricate himself. The end result was a 19, the highest single-hole score in U.S. Open history to this day. The only higher one in a PGA Tour event was a 23 on hole 17 — with a reported 10 balls in the water — by Tommy Armour in the 1927 Shawnee Open.
Ainsley posted a score of 96 for round 2 and — needless to say — missed the cut.
After the round, Ainsley jokingly told the Associated Press, "There's more than one way to become famous.
"The official scorer, who had lost count at 13 through laughing so hard, informs me I could have dropped out in the first place with a penalty stroke of one. I thought it was a two-stroke penalty to start with. Boy, hand me that straight jacket."
For Golfweek's entire list of the 20 highest single-hole scores in PGA Tour history, CLICK HERE. (Note: Golfweek's list doesn't include quite a few scores of 13, including the ones made at the Masters — by Tom Weiskopf (1980), Tommy Nakajima (1978) and Sergio Garcia (2018).