Erie resident Erdman bounces back from 2018 surgeries for kidney cancer, case of melanoma to shoot 66 at Colorado Senior Open; Pavelonis increases lead to 4
By Gary Baines – 08/29/2019
Paul Erdman of Erie may not win the CoBank Colorado Senior Open — Britt Pavelonis (pictured) of Harrisburg, Ill., leads by four after Thursday's second round — but low-amateur honors are a very real possibility.
But however things turn out on Friday at Green Valley Ranch Golf Club in northeast Denver, Erdman is a strong contender for comeback player of the year award.
The amateur, a three-time winner of the Golf Channel Am Tour national championship, shot a 6-under-par 66 on Thursday — the best score of round 2 — to vault into fifth place overall at 6-under 138. And he leads the amateur competition by six strokes in his first CSO.
All in all, it's been an impressive performance — especially considering what Erdman endured last fall.
In October, he had part of a kidney removed after being diagnosed with kidney cancer. Then "right after that" doctors discovered melanoma on his back, which led to 20 stitches under his left shoulder blade.
Not surprisingly, Erdman was sidelined from golf for four months over the winter, though medically he is now fine.
In fact, he's recovered to the point that he finished 28th at the CGA Amateur earlier this month and just won his eighth club championship at Colorado National Golf Club.
"This (round of 66) feels really good because this is one of my better ones since all that surgery last fall," the 51-year-old said. "It's kind of like, 'All right, I'm heading in the right direction again.'
"It took a long time to get my strength back. It's been a lot longer road recovering than I thought. I thought I'd bounce back a little faster than I did. But here we are approaching 10 months out of it, and I feel good now. I feel great now."
After all he's gone through, Thursday's round was certainly a confidence-builder for Erdman, whose accomplishments also including qualifying for the 2011 U.S. Mid-Amateur.
"This week, I just wanted to get more competitive rounds under my belt and try and get some confidence back that I can still play the game, still do it right and still do it at a competitive level," he said. "Today really solidified that in my mind, and it felt good."
Thursday's round was certainly eventful for Erdman, who made an eagle, seven birdies and three bogeys. He capped the round in style with an eagle from 3 feet on No. 9 after hitting a 7-iron from 194 yards.
"A spectator told me I almost made double eagle," Erdman said. "He said it just missed the hole by an inch or two."
Meanwhile, Britt Pavelonis of Harrisburg, Ill., who held the first-round lead in the Colorado Senior Open, increased that advantage to four strokes on Thursday, with one round remaining.
The 50-year-old backed up his Thursday 66 with a 5-under-par 67 on Friday, leaving him at 11-under 133 overall.
To put that into perspective, since the Colorado Senior Open moved to Green Valley Ranch in 2004, only three times (2007, 2011 and 2015) has the winning 54-hole total been better than 11 under.
After going 11 under in his first two competitive rounds at GVR, Pavelonis said, "I'm liking the course so far. So hopefully it will like me tomorrow.
"I feel real good. I'll just try to see what I can do tomorrow."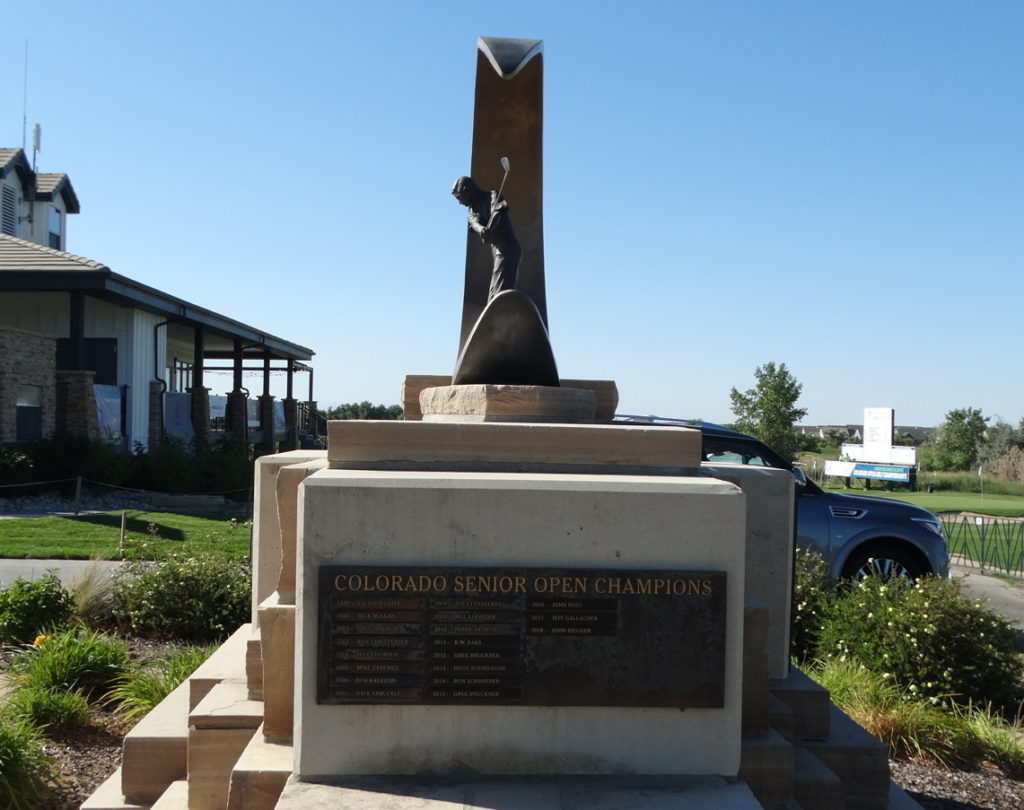 On the line on Friday will be an $8,500 first prize. If Pavelonis prevails, he said, "This would be probably the biggest (victory) I've had, especially in the last 20 years."
On Thursday, Pavelonis carded an eagle at No. 12 — where he hit a 5-iron from 230 yards to about a foot from the cup — to go along with five birdies and two bogeys.
One of those bogeys came on No. 10, and Pavelonis is fortunate it wasn't worse. He blocked an iron off the tee and saw his ball heading for the penalty area when it hit a tree and bounced into the fairway.
"I would have been in the (penalty area)," he said. "I got a good break, but I still made bogey."
Despite a pretty good cushion between himself and the players in second place, Pavelonis doesn't anticipate becoming noticeably more conservative on Friday.
"Other than possibly on some of the par-5s, I'm going to play like I normally do," he said. "It's the only way I know how to play. Usually when I try to protect something I make a mockery of it."
Three players share second place at 7-under 137, four behind Pavelonis: former Durango resident Tom Kalinowski, Kevin Dillen of Paris, Texas, and Mike Cunning of Phoenix.
Kalinowski, playing in his first Colorado Senior Open, made seven birdies and fired a 67 on Thursday, Dillen a 68 and Cunning a 70 after playing his final four holes in 3 under par.
Amateur Paul Erdman of Erie, who shot a Thursday-best 66, shares fifth place at 138 with Barry Conser of Scottsdale, Ariz.
Among Coloradans, joining Erdman in the top 10 after two rounds is 2018 Colorado PGA Professional champion Patrick Reidy of Littleton (140, seventh place).
Erdman leads the the amateur competition by six through two rounds. In second place going into the final day is 2017 CGA Senior Amateur champion Steve Ivan of Colorado Springs, who posted a second-round 71.
Notable: Amateur Thomas Roos of Elizabeth made the 36-hole cut on Thursday at the Colorado Senior Open, and he can point to what happened at the 17th hole — his eighth of the day — as a big reason why. It was there that Roos made a hole-in-one in round 2, recording the ace with a 6-iron from 187 yards. It was the fifth hole-in-one of his life, but his first in competition. And in this case, his shot might have made the difference between Roos making and missing the cut as his 4-over-par 148 total survived the cut with just one shot to spare. … Also making an ace on Thursday at GVR was Danny Gonzales of Round Rock, Texas, who worked his magic for the 13th time, in this instance on the fifth hole from 158 yards with a pitch wedge. Alas, Gonzales still missed the cut at 152 after a second round 75… A total of 59 players — everyone at 149 or better — survived the 36-hole cut on Thursday. … Mike Cunning, with a 7-under-par 137 total, leads the super-senior competition for players 60 and older by five strokes. Next best are Gregg Jones of Colorado Springs (142) and 2016 Colorado Senior Open champion John Ross of Bramwell, W.Va. (142).
For scores from the CoBank Colorado Senior Open, CLICK HERE.