With a little help from his friend, Pavelonis goes wire-to-wire and wins CoBank Colorado Senior Open by 4; Erie's Erdman, the comeback kid, takes low-amateur honors and places fifth overall
By Gary Baines – 08/30/2019
Britt Pavelonis had a long drive ahead of him back to southern Illinois on Friday evening, but at least he had some welcome company:
— The CoBank Colorado Senior Open trophy.
— A first-place check for $8,500, to go along with an exemption into the $250,000 CoBank Colorado Open in 2020.
— And the joy of not only recording what he considers the biggest victory of his long golf career, but doing it step by step with a buddy he's had for more than 40 years.
The 50-year-old pro from Harrisburg, Ill., competing for the first time ever at Green Valley Ranch Golf Club in northeast Denver, looked like he owned the place this week, leading wire-to-wire, shooting rounds of 66-67-69 for a 14-under-par 202 total and winning by four. For perspective, that's the second-best score in the 16 Colorado Senior Opens that have been played at GVR, with only R.W. Eaks' 15-under 201 in 2011 being better. And, mind you, Eaks is a four-time winner on PGA Tour Champions.
Prior to Friday, in recent years Pavelonis' top highlights were three victories over the last couple of years on the Sunbelt Senior Tour. But there's a big difference between beating fields of two or three dozen players and one with more than 150 that includes a guy like Eaks.   
"There was 156 people in this field and there are guys who played on the PGA Tour," Pavelonis said. "That's pretty awesome. It's probably my biggest win by far.
"This gives me a little rejuvenation. Earlier in the year I was really struggling with the putter. I even thought maybe I'll take the rest of the year off. But this has kind of got me ready and I'm going to try PGA Tour Champions Q-school (this fall) and see how that goes."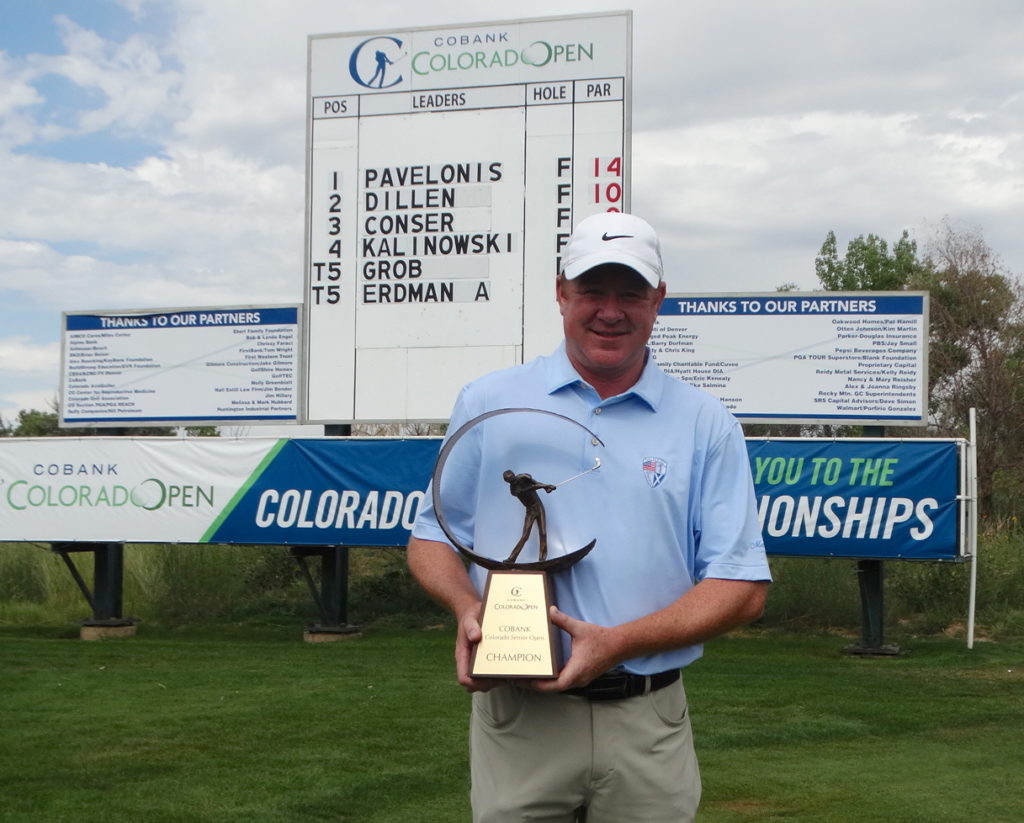 Pavelonis' four-stroke victory was the biggest win margin at the CSO since Greg Bruckner won by five in 2015.
Kevin Dillen of Paris, Texas, who was paired with Pavelonis on Friday, finished second after matching the winner's final-round 69. Barry Conser of Scottsdale, Ariz., who finished in the top three three times in the Colorado Open, placed third on Friday at 207. And former Durango resident Tom Kalinowski ended up fourth at 209.
Pavelonis held a five-stroke lead on Conser after playing his front nine in 3 under par on Friday. But Pavelonis opened the door with a double bogey on No. 10, where he pulled his second shot into the penalty area. And Dillen exerted some additional pressure by rolling into two short birdie putts on 11 and 13, cutting the lead to two.
That's where Pavelonis' lifelong buddy, Robert Hodson, an emergency-room doctor from Salt Lake City who took time off from work to caddie for Pavelonis this week, stepped in to help put his pal back on the right track. (At top, the two celebrated Friday's victory.)
'I go to my buddy, 'Is he three (behind)?'" Pavelonis recalled. "He said, 'He's two. Now it's time to get your rear end in gear and let's go. Then we birdied the next two holes. It was pretty cool."
Indeed, Pavelonis increased the lead back to four with a birdie of 8 feet on No. 14 and one of 25 feet on No. 15.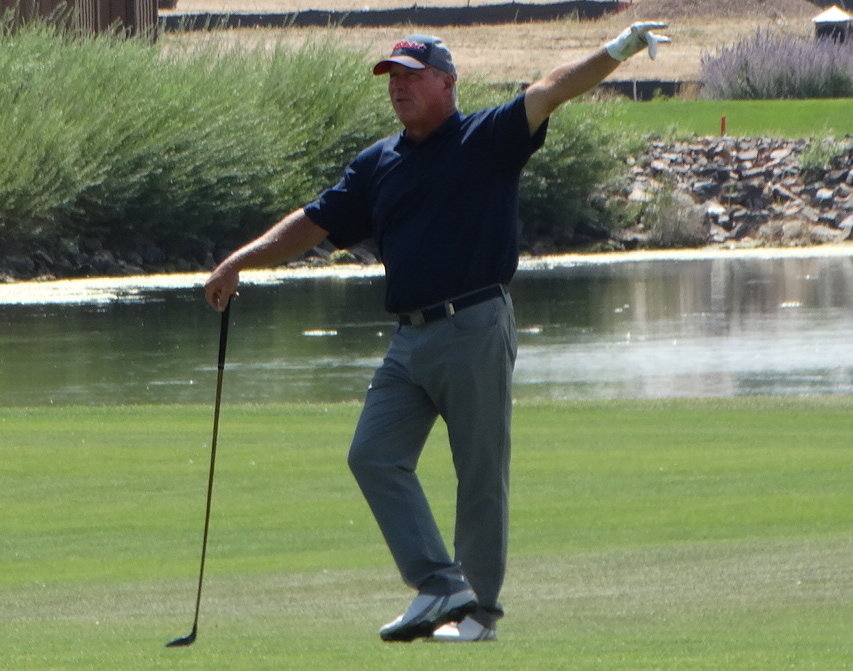 "When he made double at 10, then I happened to make another birdie or two, it got real close there for a minute," said Dillen, who once beat Gil Morgan, Bob Tway and Scott Verplank to win the 1998 Oklahoma Open. "His (Pavelonis') ball was under control and he hit it in the right places and he putted good. That's hard to beat, especially when you spot him four shots to start the day. He played very well."
Pavelonis said he and Hodson have been friends for about 42 years, and they went to high school together and were teammates on the Harrisburg High School golf team. "During golf season, you couldn't separate us," the CSO champion said.
At Friday's award ceremony, Pavelonis noted with a smile that Hodson "met me out here and took vacation, which I would never do to watch him play golf. But I'm so glad he did it with me."
Pavlonis said that Hodson helped him in multiple ways this week.
"We talked over a lot of things. If we were between clubs (for a given shot), we thought about where we wanted to be — short or long of the hole or whatever," he said. "And he kept me calm through the whole thing. Today I made a double bogey on 10 and the wheels could have come off there. He said, 'That's behind us. Let's make birdie here pretty quick.' And I made a couple later in the round. It was pretty good."
All in all, it was an impressive performance for Pavelonis, especially considering this was the first tournament he'd ever played in Colorado.
"It wasn't what I was expecting," he said of winning, and with relative ease. "I started hitting it good last week at the Oklahoma Open, but I had a bad last day there so I came out here with no expectations. I was kind of relaxed and played golf for a change. I had my friend with me to help me keep my mind off things. It's hard to get upset when he's around. So it was pretty cool."
For the three rounds, Pavelonis made just two bogeys and a double bogey. And he chalked up one eagle and 16 birdies.
"It's been a long time since I've played that solid (for an entire tournament) where I haven't made a mistake somewhere" aside from the double bogey, Pavelonis said.
As for Dillen, while he would have loved to win, he was very happy to take second considering he'd quit playing golf for about six years before getting back into it over the last 18 months.
"You don't know how happy I am," the 58-year-old said. "I haven't played competitive golf much in the last several years. I've been back at it for about 18 months, and this is my first real tournament — not counting scrambles and small stuff — so to get in the mix, I was real happy."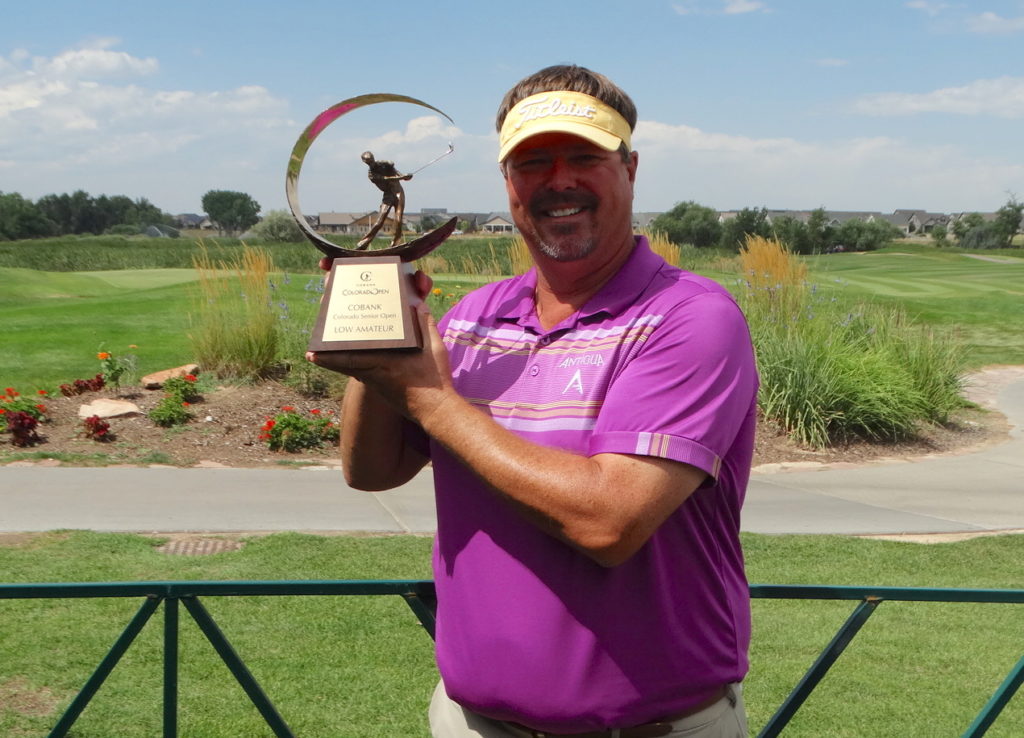 Erie's Erdman Lands Low-Am Honors, Culminating His Comeback; 2 Colorado Amateurs Place in the Top 8 Overall: Considering the state Paul Erdman was in last fall, being presented the low-amateur trophy on Friday in the Colorado Senior Open was no small matter for the Erie resident.
As was reported on Thursday, Erdman, a three-time winner of the Golf Channel Am Tour national championship, had part of a kidney removed in October after being diagnosed with kidney cancer. Then on the heels of that, doctors discovered melanoma on his back, which led to 20 stitches under his left shoulder blade. 
But, far less than a year later, Erdman had recovered to the point that he not only earned low-am honors on Friday, but he tied for fifth place overall out of the 156-man field made up of both pros and amateurs.
"It's been a long road," the 51-year-old said on Friday. "I couldn't imagine playing in this and being low-am in November of last year. It just feels good with what I've been through to finally come back, come through and feel healthy — and perform. I'm happy as anything.
"This is really the first month I've felt 100 percent since (the surgeries). It really feels good to accomplish what I just did."
Erdman, who last weekend won his eight club championship at Colorado National Golf Club, shot a 1-over-par 73 on Friday to post a three-day total of 5-under 211, which was nine strokes back of overall champion Britt Pavelonis.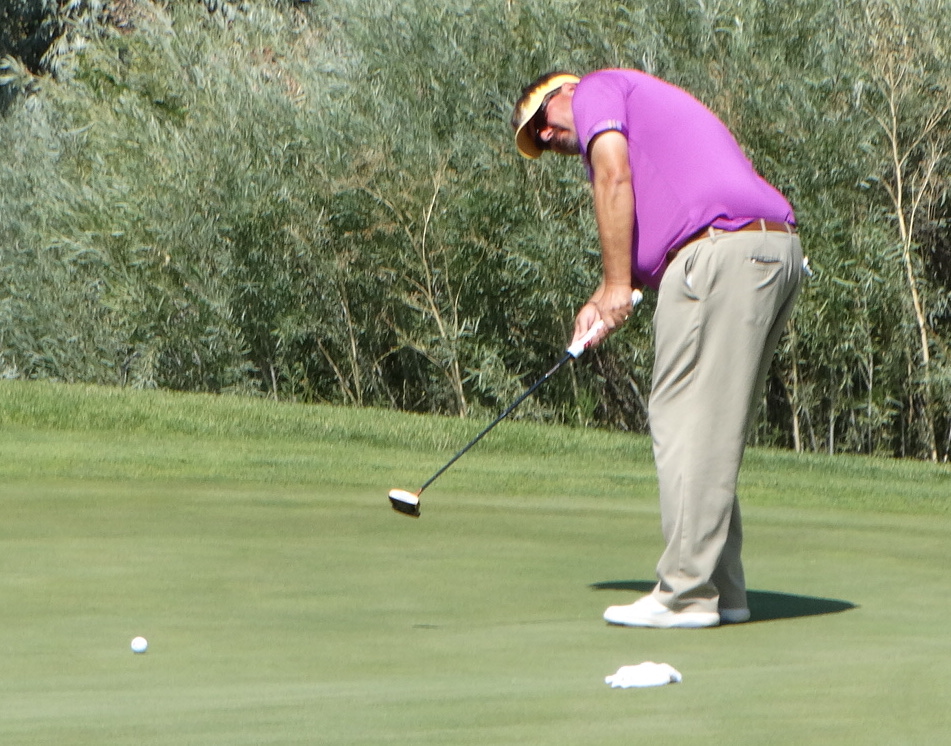 Erdman opened with a double bogey on Friday, but rebounded to play his final 17 holes in 1 under. He came into the day six ahead in the amateur competition, but 2017 CGA Senior Amateur champion Steve Ivan of Colorado Springs made things interesting by playing his last five holes in 3 under par and shooting a 69, which left him at 3-under 213.
"I was just nervous/excited," Ivan said of his final-round rally. "I loved every minute of it today. It was awesome. I hit some real quality shots coming in."
Erdman and Ivan not only finished 1-2 among the amateurs, but they were the top two Colorado performers overall this week, placing fifth and eighth, respectively.
"I think we (Colorado amateurs) probably just had a good week compared to everyone else," Erdman said. "That's golf. That's the way it works sometimes."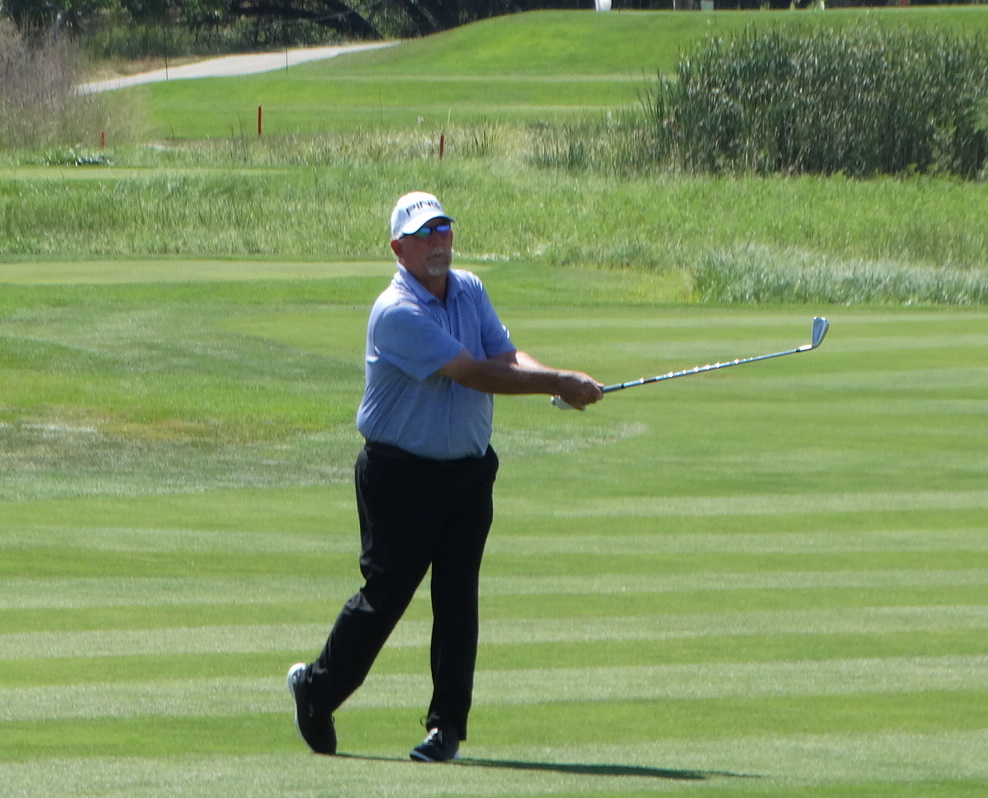 Notable: One day after two Colorado Senior Open competitors — Thomas Roos and Danny Gonzales — made holes-in-one at GVR, Don Hurter got in on the fun on Friday. The PGA director of instruction at Castle Pines Golf Club recorded the third ace of his life, this one coming at the 179-yard 13th hole, using a 7-iron. That helped Hurter, winner of the 1978 U.S. Junior Amateur, notch a top-10 finish on Friday, tying for 10th at 2-under-par 214 following a 69 in the final round. From holes 11 through 13, Hurter went birdie-birdie-hole-in-one. … Joining Erdman, Ivan and Hurter in the top 10 among Coloradans was Doug Wherry of Lone Tree, who tied Hurter for 10th following a final-round 69. … Winning the super-senior portion of the tournament for players 60 and older on Friday was Mike Cunning of Phoenix, who checked in at 214 after a 77 on the final day. Cunning, 61, earned $1,000 for super-senior honors by prevailing by one over Mike Zaremba of Pueblo West and Marshall Gavre if Fairfield, Iowa. Cunning also made $1,350 in the overall competition.

For scores from the CoBank Colorado Senior Open, CLICK HERE.