DU men win their own tourney as DU's Solem and UNC's Castiglia share individual victory; DU's Danielsson earns top spot in women's tourney
By Gary Baines – 10/06/2019
The inaugural men's Ron Moore Intercollegiate proved a boon for Colorado-based teams and players.
The host University of Denver claimed the team title in the nine-school, three-day event at the University of Denver Golf Club at Highlands Ranch. It was DU's second team victory in its last five events, dating back to the end of last season, as the Pioneers earned the Summit League championship in late April.
And two Coloradans — DU junior Jackson Solem and University of Northern Colorado sophomore Jack Castiglia — shared the individual victory. And two more in-state residents placed third and fourth respectively — UNC senior Coby Welch and DU sophomore Cal McCoy.
DU (pictured above) finished with a 54-hole total of 6-under-par 846, three better than runner-up North Dakota State. A second DU team placed fourth at 851, while UNC was fifth at 854.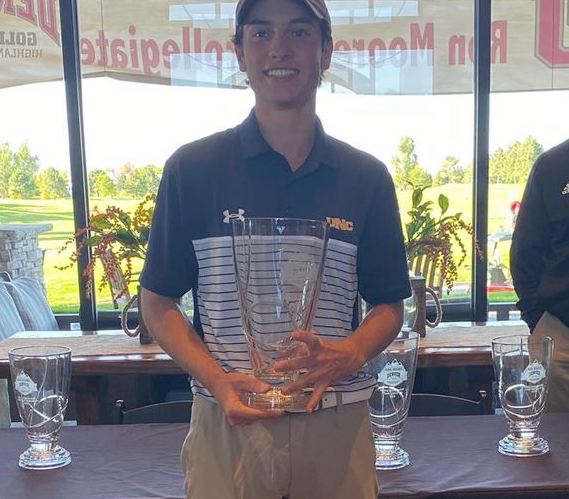 Solem and Castiglia (pictured above) tied for the top individual spot at 9-under-par 204, while Welch was one back and McCoy two. Solem went 68-70-66, while Castiglia carded three straight scores of 68. 
It was the second time this season that Castiglia has tied for first place individually in a college tournament, while Solem picked up the first individual college victory of his career. As for Welch, he's placed in the top 10 individually in all four of his fall college tournaments so far.
For all the scores for the men's Ron Moore Intercollegiate, CLICK HERE.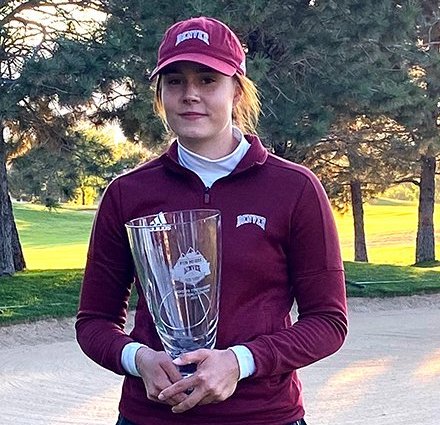 — Meanwhile, the DU women hosted their own Ron Moore Intercollegiate, though theirs was a one-day, 36-hole affair strictly for individuals.
Pioneer freshman Erika Danielsson (pictured above) earned the individual victory on Sunday as rounds of 69-74 led to a 1-under-par 143 total. Freshman Anna Zanusso, who won the Golfweek Conference Challenge last month, shared second place at 144 with DU senior teammates Mary Weinstein and Alison Armstrong.