With tournament season beginning, CGA players and officials set to adjust to new reality under COVID-19 guidelines 
By Gary Baines – 5/21/2020
Robert Duke has repeatedly gone over a typical CGA tournament day in his mind, trying to think of any detail he hasn't before.
What did the CGA's director of rules and competitions do when running championships in the days pre-COVID-19 that he shouldn't do in the wake of the coronavirus outbreak?
"I've tried to go through it in my mind," Duke said recently. "I've tried to go through a 'normal day' in the past — thinking each little thing that goes on at an event and having to re-look at it from a different angle, through a different lens."
The folks at the CGA — including managing director of golf operations Ashley Barnhart, Duke and director of competitions Kate Moore — have given all this plenty of thought, and consulted experts and other Allied Golf Associations. And ultimately they've compiled a set of "CGA Tournament COVID-19 Guidelines for Players" that will allow the association to conduct competitions this year. The 2020 CGA championship season will begin next week (May 26-28) with the Senior Four-Ball at Thorncreek Golf Course in Thornton, where the protocols will first be utilized.
The CGA's tournament COVID-19 guidelines were informed by health orders from the CDC and Tri-County Health, and by local municipalities and Dr. Owen Ellis, a regular CGA championship player who has helped the association navigate in the wake of the pandemic. The CGA is also making sure its guidelines jibe with procedures used by individual tournament courses. Officials note that the protocols could change over the course of the 2020 season.
Some of the CGA tournament guidelines — which are sent out to contestants prior to each event — deal with health and safety matters, others with how those matters affect the playing of the championships. In essence, they're about how a 2020 CGA tournament will differ from those held in the past.
"We want to be A) safe, and B) practical," Duke said. "We want to make sure the players understand that we're not taking this lightly. We're going to be extremely strict about this and make sure everybody has seen it."
Several of the safety-related guidelines are very similar to those in place at many golf courses in the wake of the pandemic: don't come if you're ill; practice social distancing of at least 6 feet on and around the course and don't congregate; no touching of other players, including shaking hands, hugging, high-fives — or of other golfers' equipment. Water jugs won't be available on the course. Masks will be required if people can't maintain a separation of at least 6 feet.
As for the way the competition itself will change from past years, the main differences will be all scoring done electronically; the flagstick remaining in the hole at all times; and contestants being allowed to lift their ball, smooth the sand and replace their ball in bunkers, as rakes have been removed or shouldn't be touched.
"There will definitely be some learning curves, with maybe the players using the electronic card for the first time, but I think they'll get the hang of it," Moore said. "It's pretty intuitive once you get going with it. So after they use it once or twice they should be fine."
With no paper scorecards being distributed, participants will record scores on a digital scoring app that will allow for attesting by both the player and the marker. The app was developed by iWanamaker, a Colorado-based company which is an industry leader in live scoring technology. iWanamaker is used widely at Colorado high school golf tournaments, including the state meets.
"One of our key organizational values is innovation," CGA executive director Ed Mate said. "I am very excited to implement this all-digital scoring platform. It took a pandemic to get us here, but it is a big step forward."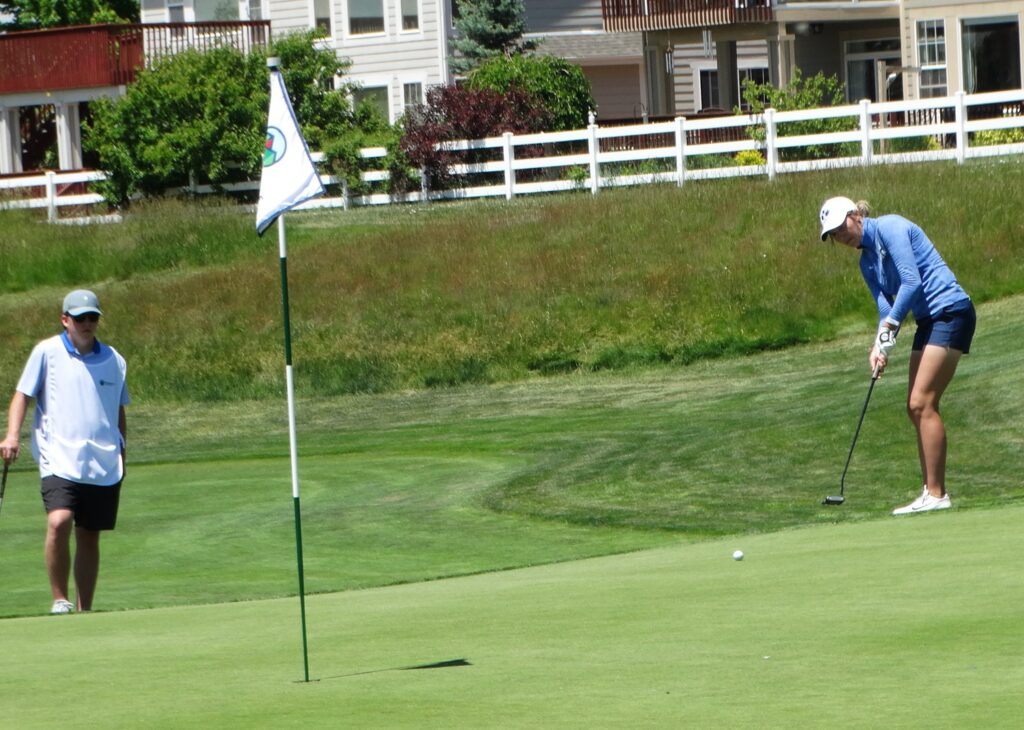 In fact, all tournament paperwork, which also include hole locations and notations of local rules, will be available only electronically, though contestants printing out their own scorecards in advance may be an option depending on the circumstances.
"We don't want to hand out paper scorecards. Especially if I'm handing it out to 95 guys, that's 95 touch points — not so much for me as for them," Duke said. "We want to make everyone feel safe.
"These guys — especially the seniors (in the case of next week's Senior Four-Ball) — have played their whole life using the same methods: scorecard exchange, marker, signature, all that. Now it'll be, you're doing it on your phone and there will be a button to virtually attest the scorecard for both the player and the marker. The big challenge will be rolling it out: 'Guys, this is what we're going to use, you need to have downloaded it (prior to the tournament) and be comfortable with it.'"
Duke and Moore are trying to anticipate possible issues.
"I think it's just going to be different," Moore said. "And I think it's going to be a lot of educating the players especially if we're going fully electronic. Making them aware they're going to have to have their phone (and) it's going to have to be charged. And (some people) may not have a smart phone. It's mostly going to be a change on the players' end, but it's also definitely a change for us. We're not going to have registration. It's just, 'We'll see you at the tee.'"
Though CGA officials haven't received much feedback expressed by contestants who may not have smart phones, they certainly realize that that may be an issue on occasion.
"I know some guys don't (have one)," Duke said. "But the good thing is, this first one is a partner event, so as long as one player has a smart phone — which, odds are, they do — we'll be good. (If there's an issue), we'll get creative with it and figure something out for them. At some point, I think we will have that problem. We haven't gotten there yet."
Meanwhile, foam pool noodle cutouts will be used in the cups at CGA championships to prevent balls from falling to the bottom of a hole — thus avoiding potential touch points. The top of the noodle will be 1.5-2 inches below ground level.
"It allows the ball to be holed in a safe way," Duke said. "The diameter of the ball is 1.68 inches, so if it's 2 inches (below ground), the entirety of the ball will be just below the edge. I have zero worries that a ball would hit that noodle and come out. So a holed putt in 2019 and a holed putt in 2020, there shouldn't be a difference. A ball that's going to be holed will be holed.
"At this point I'm more concerned about the flagstick knocking something out because it's super windy or gotten ajar. A lot of guys simply don't use it (in the hole) from a hole-able distance. A lot of guys pull it out because they're so used to it, and there's no chance of it rejecting it. … I've rarely had a ball rejected by the flagstick, though I've heard of it. It's potentially an issue, but there's nothing we can do about that. It's just the way it is and everyone is playing with it."
Another change this year for CGA championships is that no shotgun starts are planned for 2020. Shotguns bring too many people together at once before and after rounds.
All in all, for Duke it comes back to that process of thinking over everything he does to conduct a CGA championship, to make sure he has his bases covered in this new time.
"There's so many little things that you've never had to think of before," he said. "Like if there's a weather delay; we can't have a hundred guys in the pro shop (at once). You have to go to your cars now and be by yourself and we'll text you. I'm sure a lot of stuff will happen as the event goes on. Now that you can't be touching a lot of touch points and be shaking hands and having a bunch of people in one place, how is that going to change? I've spent a lot of time going over it in my head. At some point I'll probably put it down on paper — a step-by-step game plan. What are contact points I haven't thought of before? It'll be interesting. Like anything, you can be as prepared as you want to be.
"My biggest concern is the unforeseen. It's the human element, not things you can plan for. Now your 'scorecard' can run out of batteries, which is a weird concept."
Also unusual is something Moore has contemplated.
"Not being able to hug people since you haven't seen them for six months," she said. "It's definitely going to be different."
Such is tournament golf in 2020.
For all the CGA tournament COVID-related guidelines, CLICK HERE.