46-year-old Tag Ridings becomes oldest winner of Korn Ferry Tour event this season, claiming his second career KFT title — 19 years after the first — by prevailing in playoff at TPC Colorado Championship; Event draws more than 30,000 fans for the week 
***For all the scores from the TPC Colorado Championship, CLICK HERE.***
By Gary Baines – 7/11/2021
A yell came out of the crowd during the sudden-death playoff that seemed like a ready-made headline.
"Tag, You're It."
Indeed, for just the second time since turning pro in 1997, Tag Ridings was "it" — if "it" means winning a PGA Tour-affiliated event.
For just the second time in 238 Korn Ferry Tour starts — and the first time since 2002, the golfer from Keller, Texas has earned a victory. And, it should be noted, Ridings also has played in 239 PGA Tour events during his career — going without a victory, but with a second place and three thirds to his credit.
And he accomplished it on Sunday at the TPC Colorado Championship at 46 — an age in which most competitors are considered has-beens at this level. But Ridings showed the "young-uns" that he still has game — and plenty of it.
Just to get into a playoff, Ridings sank a 7-foot par putt on the 72nd hole. Then to extend sudden death after Englishman David Skinns drained a 30-foot birdie putt on the par-3 16th, Ridings responded by holing an 18-foot birdie putt of his own. And — after Kevin Yu fell by the wayside in the playoff when he couldn't make a 13-foot chip-in the first time around on 16 — Ridings ended things on the second extra trip to the picturesque hole.
This time, Skinns' tee shot came up a little short and went into the deep bunker to the right of the green. After Ridings' birdie try from 30 feet went about 2 1/2 feet past the hole, Skinns' par attempt from 18 feet did a agonizing horseshoe around the cup, leaving him with bogey. And when Ridings tapped in, the victory and the $108,000 that goes with it were his.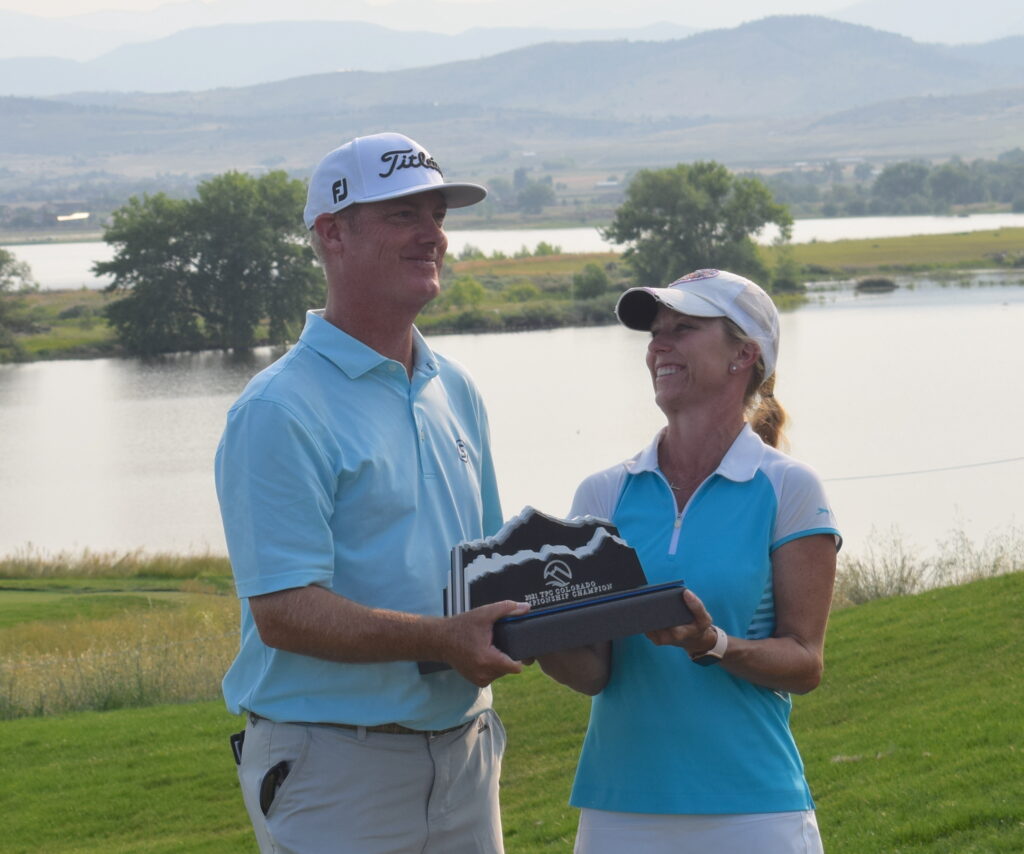 The first playoff in the TPC Colorado Championship produced a champion barely younger than his two victorious predecessors' combined age (Nelson Ledesma was 28 in 2019 and Will Zalatoris 23 in 2020). In fact, Ridings is the oldest Korn Tour winner this season, which dates back to Jan. 1, 2020.
"This is probably the biggest thing I've accomplished (in his golf career), coming back from such a huge hole and the way my game was going," Ridings said. "I can't say it was completely gone because at every tournament I'd hit good golf shots. I didn't go on a huge missed-cut streak, but I was finishing 70th every time I made the cut. You don't make money doing that. It's just been a stretch of trying to stay in there, pay the house bills, and keep going."
Indeed, this is Ridings' first top-10 of a season that dates back more than 18 months. In fact, before Sunday, he'd notched just two top-35 finishes in his first 31 starts this season.
Ridings' only previous victory on the Korn Ferry Tour came in the 2002 Permian Basin Open, where he also won in a playoff, beating Mark Hensby when he holed a pitching wedge from 138 yards for eagle in extra holes.
As Ridings noted, his wife Brenda, who caddied for him at TPC Colorado, wasn't even a girlfriend back when he won in 2002.
"We met six months after that win," the former University of Arkansas golfer said. "It's really special because there have been some rough weeks, rough off weeks — very downtrodden on morale and how my game was.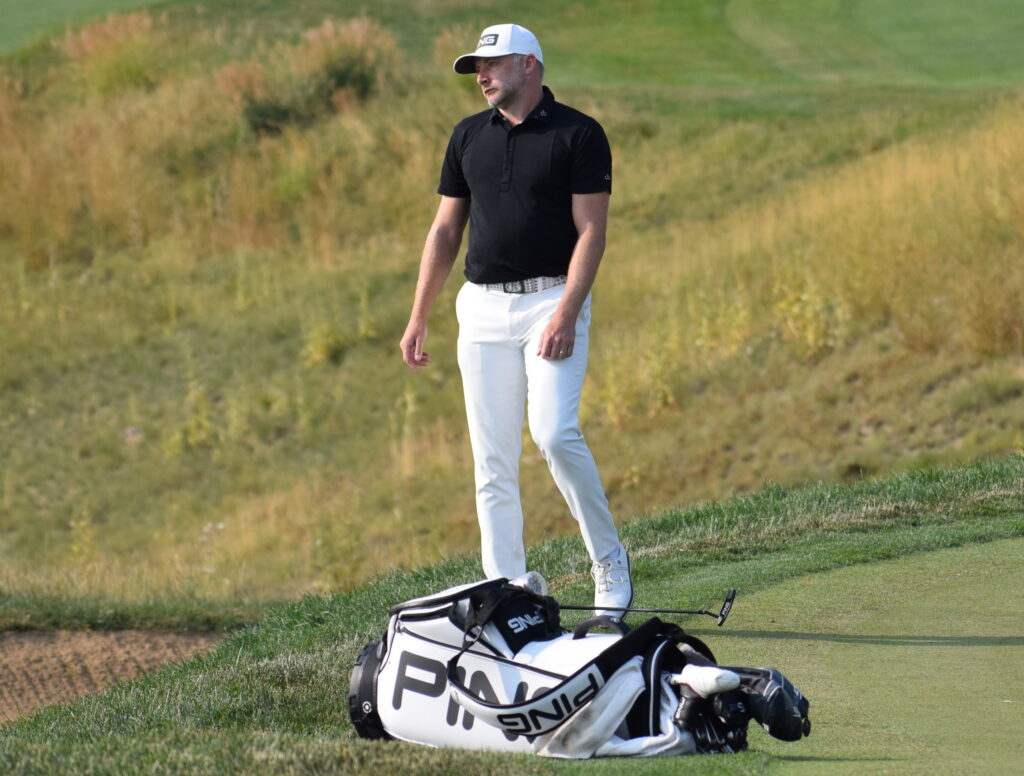 "Everybody knows out here that golfers make fun of me because I'm rebuilding my golf clubs about every three weeks and trying and tinkering with stuff. My nickname is probably 'Lead Tape' because I've got lead tape all over my clubs and I'm moving it every day. It just makes all that grind worth it — staying up late, glueing clubs, all that, just because I can't sleep because I want to do something so bad to make them understand I can support (the family) doing this. It is the greatest feeling. I've stayed awake at night hoping to win a tournament while my (three) kids were alive. This is huge."
On a day in which at one time four players were tied for the lead while playing the final three holes of regulation, Ridings, Skinns and Yu all matched 16-under-par 272 totals, bettering the 15-under-par winning totals of the last two TPC Colorado Championships.
Yu, a golfer from Chinese Taipei making just his fourth KFT start, had a 7-foot par putt on the 72nd hole that would have won him the tournament, but he missed it left.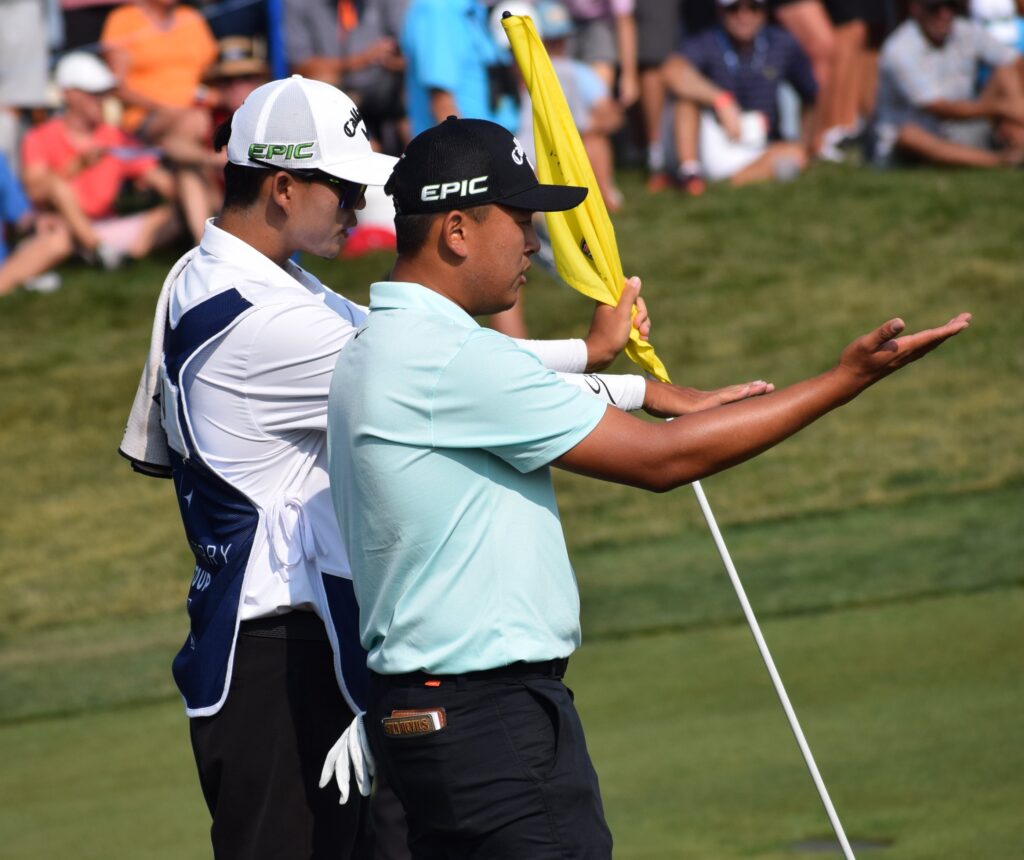 Skinns closed with a 7-under-par 65 — Sunday's best score — and one that included eight birdies. Yu had a 67 and Ridings a 68 that featured four straight birdies early in the round.
Two players — 54-hole co-leader Tyson Alexander and Taylor Pendrith — finished a stroke out of the playoff. In all, nine players ended up between 13 and 16 under par.
In sudden death, Ridings admitted he would not have converted his birdie putt on the first extra hole had Skinns not previously drained his along a similar line.
"There's no way I make that putt on the first hole of the playoff if David hadn't already made his," Ridings said. "I've been lagging it up there all day on those curving putts and not getting them to the hole. I had that putt in regulation and left it a foot and a half short, and had to work to make it in regulation. I just had an opportunity to hit one firm and in the back of the cup. That really helped me make that putt. I can't wait to see the replay. I think I was like a shark; my eyes were closed when it went in."
Given that so many twentysomethings win on the Korn Ferry Tour, Ridings was asked if he was confident that he could still win at his age.
"No, I was not confident I could still do it," he said. "Four days in a row is not as easy as it once was. … To do four rounds, four days on these legs, I was really happy.
"I was never a blue-chipper, never a good top-end player at any level. I always won a tournament here and there. People would remember, 'Oh yeah, he can play.' But I was never something, 'Oh, watch out for that Ridings.' That was never really said. … For me to turn pro and have the gall to think I could make it was just pure … I didn't allow myself another option. There have been some options creeping into my mind for the last year. But I push them away, and here we are. I can push them away a lot farther now."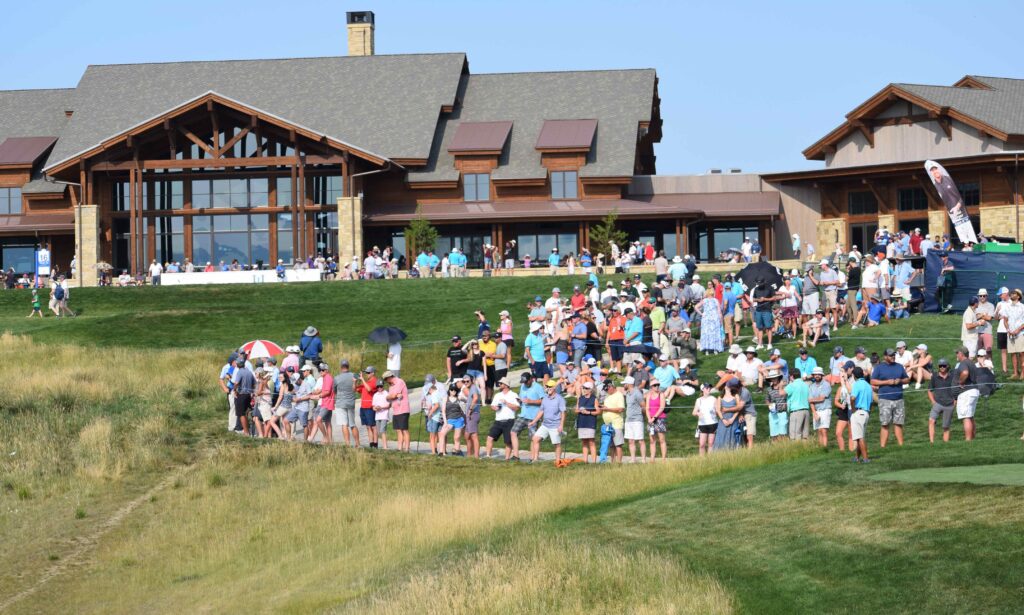 TPC Colorado Championship Draws Tournament-Record 30,000-Plus Fans for the Week: Two years ago, after the inaugural TPC Colorado Championship, the Korn Ferry Tour named it its "Best Product" of 2019 after the tournament drew an estimated 20,000 fans for the week to TPC Colorado.
After the general public wasn't allowed to attend last year's event due to Covid-19 safety concerns — though plenty of members watched from the clubhouse — the TPC Colorado Championship bounced back with a bang this week.
Tournament organizers said more than 30,000 people attended the third annual tournament — and the event appeared to be a hit for players and spectators alike.
"Given everything about this stop, it's easily a top-5 venue on our tour," said Tom Whitney, an Air Force Academy graduate who lived in nearby Fort Collins until 2017. "A 65,000-square-foot clubhouse, the fact that they have practice facilities big enough to host us. We have the freedom to work on what we need to work on. The food is good. The people are nice. We had 700 volunteers — the most out of any tournament out there.
"I don't see a lot of guys skipping this event in the future, especially as it gets better (and) they find a title sponsor."
Added fellow competitor Taylor Montgomery this weekend: "This is the best Korn Ferry event of the year, in my opinion — by far. Golf course-wise, practice facilities, stuff like that. The course is in phenomenal shape. When you miss a putt, you either mis-read it or mis-hit it."
Champion Tag Ridings will third that notion.
"This is a great event," he said. "They do it right here."
Asked specifically about the size of the crowds this week, Whitney said, "It was fun to see all the people out here. This is by far the biggest crowd we've seen come out (to a KFT event) since Covid hit us. It was nice to see a lot of friends, family and strangers out there watching."
All of which is music to the ears of TPC Colorado Championship tournament director Drew Blass.
"It's something special," he said regarding the turnout this week. "Everybody's been working hard to have this opportunity. Seeing the community all be together, saying we're going to be out here supporting (the tournament) — and all the activities out here — it was an incredible week, something special. We look to build on it."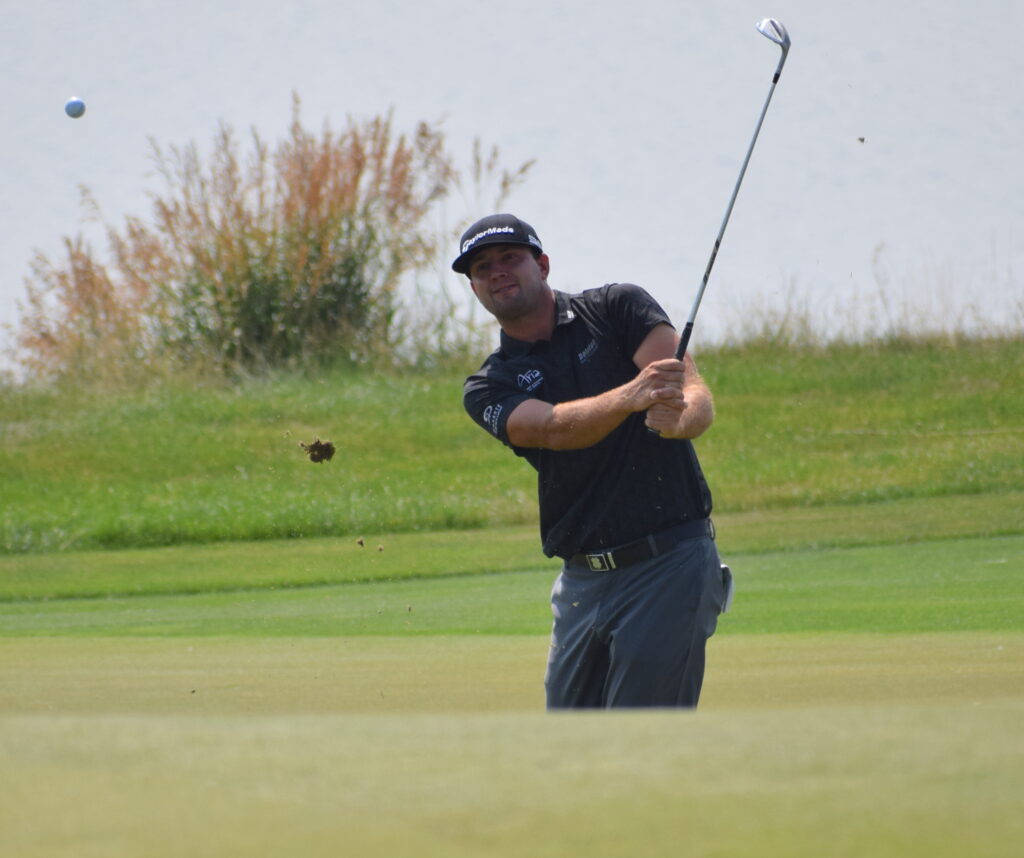 'Local' Contingent Report: Taylor Montgomery — whose dad Monte was a standout golfer in Grand Junction, winning a state high school title and three Rocky Mountain Opens — made a bit of a run on the front nine on Sunday, moving to within three of the leader after being 2 under for his first five holes of the day.
The Las Vegas product was derailed, however, by a double-bogey 6 at the ninth hole. He went on to shoot an even-par 72 on Sunday, dropping him to a 22th-place finish after starting the day in 11th.
"I felt like I played really good, but the score obviously doesn't reflect it," he said regarding Sunday's round. "I just kept hitting it into the worst spots possible. Even when I thought I hit good drives, they ended up bad. Little things today proved costly.
"I'm pretty frustrated. I feel like I'm playing great and just not getting anything out of it. So I've just got to play better."
Montgomery who stood in 28th place in the Korn Ferry Tour season-long point standings coming into the Colorado stop, improved to 27th on Sunday after checking in at 9-under-par 279. He's trying to finish in the top 25 at the end of the regular season on Aug. 15, which would earn him a PGA Tour card for 2021-22.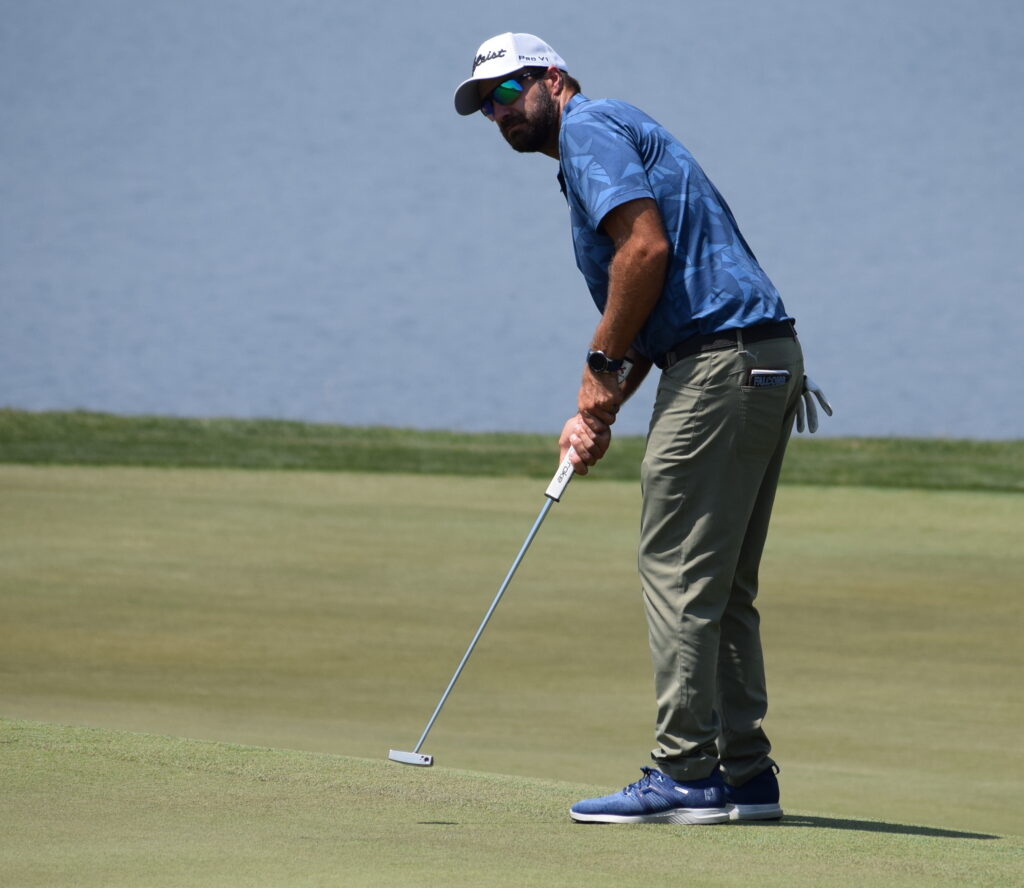 Meanwhile, Tom Whitney had his best round of the week — a 3-under-par 69 on Sunday — to post his top finish in three tries at the TPC Colorado Championship, placing 42ndat 6-under-par 282. A 30-foot birdie putt on the par-3 14th capped a four-birdie, one-bogey day on Sunday.
"It was a very solid ball-striking week," he said. "Unfortunately, the putter sort of lagged behind. I was easily top 15-20 percent in overall full-swing, driving, approaches, all that (compared to the field). I was never really out of position. Four of my bogeys came from three-putts during the week. I had a lot of good looks and unfortunately not many makes."
Cheyenne native Josh Creel, who made the cut for the first time at TPC Colorado, placed 67thon Sunday after a closing 72 left him at 287. He double bogeyed the 773-yard 13th hole in the final round.
How all the players with strong local connections are faring at the TPC Colorado Championship:
42. Tom Whitney (former Air Force Academy golfer and former Fort Collins resident) 70-70-73-69–282
67. Josh Creel (Cheyenne native) 69-73-73-72–287
Missed 36-Hole Cut
Chris Korte (Littleton resident and former DU golfer) 75-69—144
George Cunningham (Boulder County native) 75-70–145
Andrew Svoboda (former Golden resident) 71-76–147
David Duval (Cherry Hills Village resident) 76-74–150
Jonathan Kaye (Denver native, former CU golfer, part-time Boulder resident) 75-84—159