Robert Duke, the CGA's well-respected director of rules and competitions, leaving to become rules official on Symetra Tour
By Gary Baines – 5/12/2021
Over the last 15 years, jobs working in rules and competitions for the CGA have often proven a pathway to prestigious positions in the golf world.
Thomas Pagel went from being the CGA's tournament director — among other positions at the organization — to becoming executive director of the Utah Golf Association to long being employed by the USGA, where he helped lead the rules modernization initiative and where he's now the senior managing director of governance.
Pete Lis has gone from being the CGA's director of rules and competitions to being a rules official for the LPGA Tour, Korn Ferry Tour and now the PGA Tour.
And now Robert Duke, the director of rules and competitions for the CGA for almost 4 1/2 years, is starting along a similar path as he's accepted an offer to become a rules official for the Symetra Tour, the official developmental tour of the LPGA.
"Maybe it's a little more gratifying when somebody advances in golf the way a Thomas or a Pete has," CGA executive director Ed Mate said, noting where past CGA staffers and interns have gone. "But it's just as gratifying to me to see Dustin (Jensen) as dean of students at his alma mater (University of Jamestown in North Dakota) to see Briena (Goldsmith) doing what she's doing (as a director at Discovery Benefits in North Dakota), and to see Brian Scheufler, who's a tournament director (with the Alabama Golf Association). It's nice just knowing that they're doing well with their lives because as I say all the time, I care more about you as a person than I do of you as a CGA employee.
"Robert came (to the CGA) with batteries included. I wouldn't say that we made him, but the CGA culture made him better and helped put him on this path. He wasn't ready for this four years ago; he definitely is now."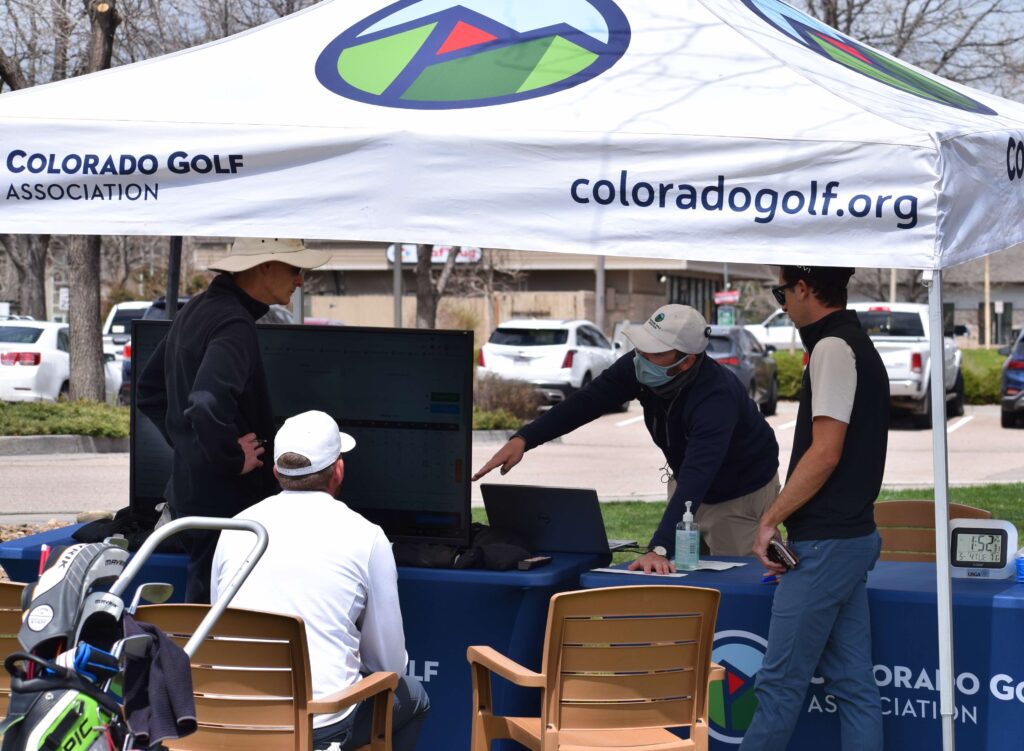 After wrapping things up at the CGA on Friday — a day after working a U.S. Open local qualifier at the CGA-owned CommonGround Golf Course in Aurora on Thursday — Duke will begin his new job on Monday by working two consecutive Symetra tournaments in Florida.
"Robert is the best tournament director I've ever worked with," Mate said. "He's just the best. That includes some pretty good staff members that have come through here. His attention to detail, his knowledge of the rules, his love of golf course set-up, his creativity, his work ethic are just amazing. I look at what Robert has done during his time and how much better we are because of it — the innovations he's brought, his willingness to try to do things a little bit differently … We're going to miss him a lot."
And the feeling is mutual. But this opportunity was too good to pass up, given Duke's career aspirations, he said.
"The Symetra Tour I think is perfect just because it's professional golf at a very high level and it's something I really want to do," Duke said. "It's a hard decision though because I love working with the CGA; I'm very comfortable here. But being honest with myself down the road — five, 10, 15, 20 years — that's what I want my end career path to be: what you would call professional golf referee, officiating for golf at the highest level.
"I love being here, but this is just such a good opportunity and something that I've wanted to do."
Duke, who turned 30 in January, has been a fixture running the CGA's men's championships and Colorado-based men's USGA qualifiers since 2017. He's also conducted an estimated 80 rules seminars during that same period — both at individual clubs and courses and at events such as the Denver Golf Expo. Duke is also known for his appearances — often with Mate — on the CGA's Rules of Golf video series.
At the awards ceremony this month for the CGA Four-Ball, Chris Thayer, the winner along with teammate Bryan Rusin, paid tribute to Duke and the work he's done in recent years.
"Robert, we're going to miss you," said Thayer, a member of the CGA board of directors. "That's a bummer to get that news (that you're leaving). You've done an awesome job in hosting our tournaments and running our tournaments. We're going to miss you. Whoever comes in has big shoes to fill. I'm really excited for you and your next chapter."
With the CGA/USGA season already underway, Mate said it's not certain when a permanent new hire or promotion for director of rules and competitions will be made. The job has already been posted, but unless the right person and a good fit comes along quickly, it could be that the position won't be filled until after the tournament season. In the meantime, helping fill in will be CGA managing director of golf operations Ashley Barnhart, director of competitions Kate Moore, director of junior competitions Brent Vasa, along with others. During the season, Moore primarily oversees the CGA's women's championships and women's USGA qualifiers, while Vasa mainly works on the junior side.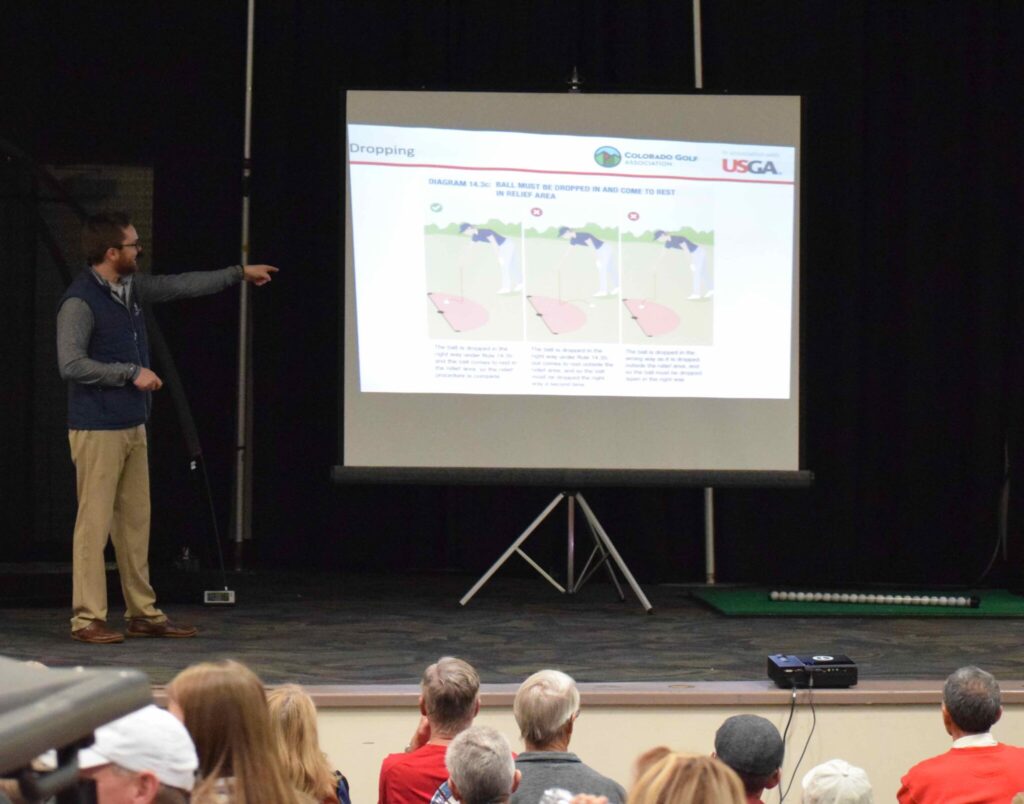 "We're very excited for Robert," Mate said. "If there's one thing I take pride in more than any other in the 20 years I've spent as executive director, it is not only not standing in the way of those opportunities, but encouraging them.
"Obviously it wouldn't be our first choice to lose somebody at this time of year, but that's just the way the cookie crumbles. We're not going to rule out hiring somebody, but we're certainly not going to force our hand either. For the foreseeable future, it'll be divide-and-conquer kind of approach because it's just a tough time of year. Tournament teams are in place and the season is on us. We have the job posted and we're accepting applications, but we're not depending on that.
"It's an all-hands-on-deck kind of thing. We have great volunteer resources with our rules captains — Greg With, Brad Wiesley, Tom Kennedy, Karla Harding and others — that we can lean on a little bit. We also have a really good group of interns."
Meanwhile, Duke will be part of a team of seven Symetra Tour rules officials. The 2021 Symetra season includes 19 tournaments, five of which have been completed.
When asked his long-term aspirations, Duke said, "It would be cool to work at the highest level — whatever that may be. That's why I'm drawn to working on a professional tour. First of all, I want to do this job well and be good at it. I'm going to be the new guy and that's cool. I want to be ready to go, but I know there's going to be a learning curve.
"I'd been looking for something like this for a while. I was able to go to the Korn Ferry Tour final Q-school in 2019 and just loved the experience of it, loved what it was all about, being around professionals and officiating for professionals."
Duke applied for the Symetra position in February and that same month spoke about the possibilities with Lis, who has had similar aspirations to those of Duke, and Mate.
"If you would have told me in January I'd be gone (from the CGA) in May, I would have said, 'No way,'" Duke said. "But that's how it works. Something just pops up."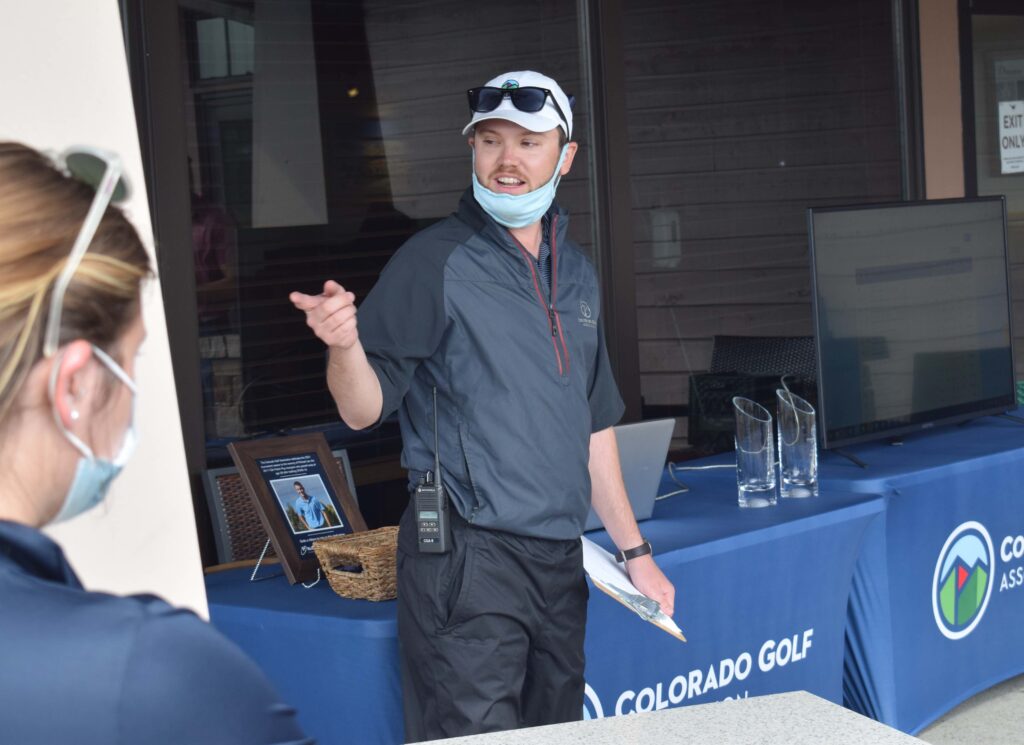 Duke's duties at the CGA went beyond tournament work and rules seminars. There was tournament site selection, overseeing online registration, handling Rules of Golf queries, working with the USGA on amateur reinstatement, helping coordinate volunteers, assisting with player recognition, helping out at non-CGA tournaments, etc., etc.
As an example of how Duke has gone above and beyond the traditional call of duty, Mate said, "For many, many years all the qualifiers for our CGA championships were treated as 'let the interns run them' because we frankly have so much going on. Robert insisted, 'Why would we do that? Those are just as important as our other championships.' Not only does his run them, he makes sure he does the course set-up and hole locations. He treats those every bit as seriously as whatever (championship) it is. A qualifier at Broken Tee is just as important as a championship at Colorado Golf Club. That's a great example of what makes him unique. Like Pete and other great tournament directors we've had, he loves being out in the field. He's got the full complement of skills. He's a five-tool athlete."
But in his new job at the Symetra Tour, Duke will be almost exclusively focused on rules officiating, along with related tasks.
"I kind of look at it as a career change almost," he said. "While it is golf administration, which I really like doing, it's full-time officiating. I'm not doing starting and scoring or a lot of things I'd normally do. There's still a lot of talking with the (course) superintendent and the head professional, but there's an ops team that does the ops; it's not just me. I'm strictly rules, which I love.
"It's a lot of travel too. So it's very different. That's why I consider it a career change. I'm really excited for it."
All that said, Duke certainly will miss his job at the CGA — and most of all the people he's gotten to know here — inside the association and out.
"It's been great," he said, looking back on his almost 4 1/2 years with the CGA. "The staff is what I'll miss the most. Everyone is family. Everyone loves golf and everyone is all about it whether you're in course rating or the Solich caddies or in admin. That's super fun to be around. Even if you're not at a tournament, you're still talking golf, thinking about golf. That's a huge key to it. You've got to love the game. That's like the first thing. I've worked at places I didn't think that was the case.
"Especially Ed. He's a tournament guy. We do our rules videos and we talk rules and we text about stuff. That's always been very fun to me."
Indeed, Duke has nothing but good things to say about the CGA and how it allowed him to develop professionally.
"Ed hires you and says this is your job," Duke said. "This is you. We're not going to micromanage you. If you need help, ask for it and we'll help you. But you're the guy. That's a huge growth thing where you're making the decisions. You're not having to check with three or four people (for every issue that may come up). You have autonomy in a totally good way. I think that's where I had a lot of growth.
"And the volunteer base is really good here. The player base is really good — good professionals, good amateurs. The Colorado Open is one of the best state opens in the country. So there are a lot of good opportunities to succeed here. If you want to be good at it and do well and learn a lot, you can. The head pros here are really great and really supportive. I've enjoyed myself here and excelled here because of that environment. Colorado is awesome."
Duke, who had never been to Denver before interviewing for the CGA position, said he plans to continue living in the state for the foreseeable future.
Prior to joining the CGA staff, Duke worked junior events with the Hurricane Junior Golf Tour and as an intern in his native Tennessee, for that state's golf association. He was a P.J. Boatwright Intern for the Northern California Golf Association. He was exposed to the PGA Tour when he did a two-month internship on the operations staff for the 2015 AT&T Pebble Beach National Pro-Am. And then he spent two years working with PGA professionals as the director of rules and competitions for the Illinois PGA.