8 Colorado facilities recognized as being among world's 'premier golf shops' in 2021; 2 included in the 20 chosen 'Best of the Best'
By Gary Baines – 2/18/2021
If recent evaluations are to be believed, Colorado has more than its share of top-quality golf shops.
The Association of Golf Merchandisers (AGM) last month announced its 2021 Platinum Award winners, recognizing "premier golf shops" worldwide — including at public, private, resort, and off-course facilities.
The judging is based on "visual displays, customer service initiatives, social media initiatives, shop renovations, promotional ideas, merchandising events, innovative use of fixtures or props, retail initiatives, staff training, and growing the game of golf at their facilities."
The AGM Platinum Awards are an outgrowth of the former Golf World 100 Best Golf Shops and the AGM Front Nine Awards.
Out of the 129 honorees worldwide in 2021, eight of the golf shops are based in Colorado. That's more than 6 percent — a very impressive total for a single state, particularly one in the middle of the pack population-wise.
"Although the past year was challenging in many respects, the caliber of entries received were extraordinary," said Desane Blaney, executive director for the AGM. "Facilities found new ways to conduct business, create experiences, drive traffic and increase sales with a customer-centric approach while adhering to safety protocols" due to Covid-19.
Taking it a step further, the AGM chose 20 Platinum Award winners as "Best of the Best", and two of those 20 are from Colorado — Columbine Country Club and Denver Country Club.
"These facilities have continued to forge ahead despite the challenges presented with the pandemic," the AGM said. "Each of the award recipients has demonstrated and executed tremendous initiatives to continue to maintain and enhance their retail operations. "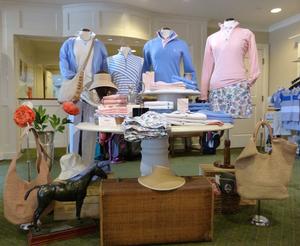 Here are all the 2021 Platinum Award winners based in Colorado:
— Castle Pines Golf Club, Castle Rock
— Cherry Hills Country Club, Cherry Hills Village
— Columbine Country Club, Columbine Valley
— Denver Country Club
— Roaring Fork Club, Basalt
— The Club at Flying Horse, Colorado Springs
— The Country Club at Castle Pines, Castle Rock
— The Ridge at Castle Pines North, Castle Pines
On the 2020 list, Colorado golf shops that earned Platinum status — besides those honored this year — were Beaver Creek Golf Club in Avon, Cherry Creek Country Club in Denver, Keystone Resort and The Broadmoor in Colorado Springs.
Also among the 20 golf shops rated "Best of the Best" in 2021 — along with Columbine CC and Denver CC — are several very recognizable facilities in golf, including Arnold Palmer's Bay Hill Club in Orlando, Congressional Country Club in Bethesda, Md., and TPC Sawgrass in Ponte Vedra Beach, Fla.
Here's the entire list of golf shops that won Platinum Award honors in 2021:
Abenaqui Country Club, Rye Beach, NH
Abu Dhabi Golf Club, Abu Dhabi, UAE
Ak-Chin Southern Dunes Golf Club, Maricopa, AZ
Al Hamra Golf Club, Ras Al Khaimah, UAE
Alpine Country Club, Highland, UT
Arnold Palmer's Bay Hill Club & Lodge, Orlando, FL
Audubon Country Club, Naples, FL
BallenIsles Country Club, Palm Beach Gardens, FL
Bear Trap Dunes, Ocean View, DE
Bearpath Golf & Country Club, Eden Prairie, MN
Beechmont Country Club, Cleveland, OH
Belfair Golf Club, Bluffton, SC
Belmont Country Club, Belmont, MA
Big Canyon Country Club, Newport Beach, CA
BIGHORN Golf Club, Palm Desert, CA
Blackwolf Run, Kohler, WI
Boca West Country Club, Boca Raton, FL
Capital Canyon Club, Prescott, AZ
Castle Pines Golf Club, Castle Rock, CO
Chambersburg Country Club, Chambersburg, PA
Cherokee Town & Country Club, Atlanta, GA
Cherry Hills Country Club, Cherry Hills Village, CO
Classic Club, Palm Desert, CA
Colonial Country Club, Fort Myers, FL
Columbine Country Club, Columbine Valley, CO
Columbus Country Club, Columbus, OH
Congressional Country Club, Bethesda, MD
Country Club of Lincoln, Lincoln, NE
Crestview Country Club, Wichita, KS
Denver Country Club, Denver, CO
Desert Mountain Club, Scottsdale, AZ
East Lake Golf Club, Atlanta, GA
Evans Prairie Country Club, The Villages, FL
Farmington Country Club, Charlottesville, VA
Fieldstone Golf Club, Greenville, DE
Forest Akers Golf Course – Michigan State University, Lansing, MI
Forest Highlands Golf Club, Flagstaff, AZ
Frenchman's Reserve Country Club, Palm Beach Gardens, FL
Golfdom, McLean, VA
Greathorse, Hampden, MA
Green Bay Country Club, Green Bay, WI
Haggin Oaks Golf Super Shop, Sacramento, CA
Happy Hollow Club, Omaha, NE
Havana Country Club, The Villages, FL
Hazeltine National Golf Club, Chaska, MN
Indian Wells Golf Resort, Indian Wells, CA
Kapalua Resort – Bay Course, Lahaina, HI
Kapulua Resort – Plantation Course, Lahaina, HI
Kiawah Island Club – Cassique & River Course, Kiawah Island, SC
La Cantera Golf Club, San Antonio, TX
Loblolly, Hobe Sound, FL
Manchester Country Club, Bedford, NH
Marin Country Club, Novato, CA
Medinah Country Club, Medinah, IL
Miles of Golf Ann Arbor, Ypsilanti, MI
Miles of Golf Cincinnati, Fairfield, OH
Muirfield Village Golf Club, Dublin, OH
Nancy Lopez Legacy Country Club, The Villages, FL
Nantucket Golf Club, Siasconset, MA
North Shore Country Club, Glenview, IL
Northwood Club, Dallas, TX
Oak Hill Country Club, Rochester, NY
Oakland Hills Country Club, Bloomfield Hills, MI
Ocean Reef Club, Key Largo, FL
Oklahoma City Golf & Country Club, Nichols Hills, OK
Omni Barton Creek Resort, Austin, TX
Pacific Harbour Golf & Country Club, Banksia Beach, Queensland, Australia
Palmer Legends Country Club, The Villages, FL
Paradise Valley Country Club, Paradise Valley, AZ
Park Ridge Country Club, Park Ridge, IL
PGA Golf Club, Port St. Lucie, FL
Philadelphia Country Club, Gladwyne, PA
Pinehurst Resort, Pinehurst, NC
Pinetop Country Club, Pinetop, AZ
Princeville Makai Golf Club, Princeville, HI
Quail West Golf & Country Club, Naples, FL
Raritan Valley Country Club, Bridgewater, NJ
Roaring Fork Club, Basalt, CO
Royal Golf Club, Bahrain, Riffa, Kingdom of Bahrain
Royal Greens Golf & CC, King Abdullah Economic City, Saudi Arabia
Saadiyat Beach Golf Club, Abu Dhabi, UAE
Sand Valley Golf Resort, Nekoosa, WI
Seaview Golf Club, Galloway, NJ
Shooting Star, Teton Village, WY
Silverado Resort & Spa, Napa, CA
Southern Hills Country Club, Tulsa , OK
Spanish Oaks Golf Club, Bee Cave, TX
Spyglass Hill Golf Shop, Pebble Beach, CA
St. Andrews Country Club, Boca Raton, FL
Streamsong Resort, Bowling Green, FL
The Bay Course, Costa Navarino, Pylos, Messina, Greece
The Club at Flying Horse, Colorado Springs, CO
The Club at Mediterra, Naples, FL
The Country Club at Castle Pines, Castle Rock, CO
The Country Club at Mirasol, Palm Beach Gardens, FL
The Els Club Desaru Coast – Ocean Course, Desaru, Johor, UAE
The Els Club Dubai, Dubai, UAE
The Els Club Teluk Datai – Rainforest Course, Kuah, Malaysia
The Golf Club at Lansdowne, Leesburg, VA
The Heritage Shop at Pebble Beach, Pebble Beach, CA
The Links at Spanish Bay, Pebble Beach, CA
The Lone Cypress Shop at Pebble Beach, Pebble Beach, CA
The Ridge at Castle Pines North, Castle Pines North, CO
The Royal Montreal Golf Club, Montreal, Quebec, Canada
The Westin Kierland Golf Club, Scottsdale, AZ
TPC at Deere Run, Silvis, IL
TPC Harding Park, San Francisco, CA
TPC Jasna Polana, Princeton, NJ
TPC Las Vegas, Las Vegas, NV
TPC of Louisiana, Avondale, LA
TPC River Highlands, Cromwell, CT
TPC River's Bend, Maineville, OH
TPC Sawgrass, Ponte Vedra Beach, FL
TPC Scottsdale, Scottsdale, AZ
TPC Summerlin, Las Vegas, NV
TPC Twin Cities, Blaine, MN
Troon Country Club, Scottsdale, AZ
Troon North Golf Club, Scottsdale, AZ
True Blue Golf Club, Pawleys Island, SC
Turning Stone Resort – Atunyote Golf Club, Vernon, NY
Turning Stone Resort – Golf Superstore, Verona, NY
Turning Stone Resort – Shenendoah Golf Club, Verona, NY
Waterville Golf Links, Waterville, County Kerry, Ireland
Westfield Country Club, Westfield Center, OH
Whistling Straits, Sheboygan, WI
Wickenburg Ranch Golf & Social Club, Wickenburg, AZ
Woodmont Country Club, Rockville, MD
Yas Links Abu Dhabi, Abu Dhabi, UAE
Yocha Dehe Golf Club, Brooks, CA

And the "Best of the Best" award recipients from them were:
Abu Dhabi Golf Club
Arnold Palmer's Bay Hill Club & Lodge
Chambersburg Country Club
Columbine Country Club
Columbus Country Club
Congressional Country Club
Denver Country Club
Desert Mountain Club
Haggin Oaks Golf Complex
Manchester Country Club
Princeville Makai Golf Club
Shooting Star
St. Andrews Country Club
The Westin Kierland Golf Club
TPC Sawgrass
Troon North Golf Club
Waterville Golf Links
Westfield Country Club
Woodmont Country Club
Yas Links Abu Dhabi