Riverdale Ridge's Bradley Weinmaster fires high-school-best 69 to lead in 4A state meet; Pine Creek's Wes Erling setting pace in 5A, 2020 runner-up Thayer Plewe of Montezuma Cortez in 3A
By Gary Baines – 10/4/2021
Bradley Weinmaster has never won a high school golf tournament. He's the No. 3 player on the Riverdale Ridge boys team. Prior to this week, his best score in a high school event was 73. Last year at state, he posted scores of 85-85.
Yet there was the sophomore atop the individual leaderboard after Monday's opening round of the 4A boys state high school meet at City Park Golf Course in Denver.
Weinmaster, who plays out of The Ranch Country Club, shot the only sub-par round of the day at City Park, making three birdies and two bogeys en route to a 1-under-par 69 and a one-stroke lead.
"I wasn't even trembling on the first tee," he said. "Last year at state, I was shaking on the first tee. This year, I was cool, calm and collected all the way through. It felt good."
Not many players make the state tournament their first high school individual win. And, of course, there's 18 holes left to play. But how would it feel to claim that title on Tuesday?
"I would love to win," he said. "To have my first win at state … Oh my gosh. I'd probably cry."
On a day that scoring conditions were close to ideal but some pin positions were tough, City Park yielded quite a few scores in the 70-75 range (18, to be exact), but just one in red figures.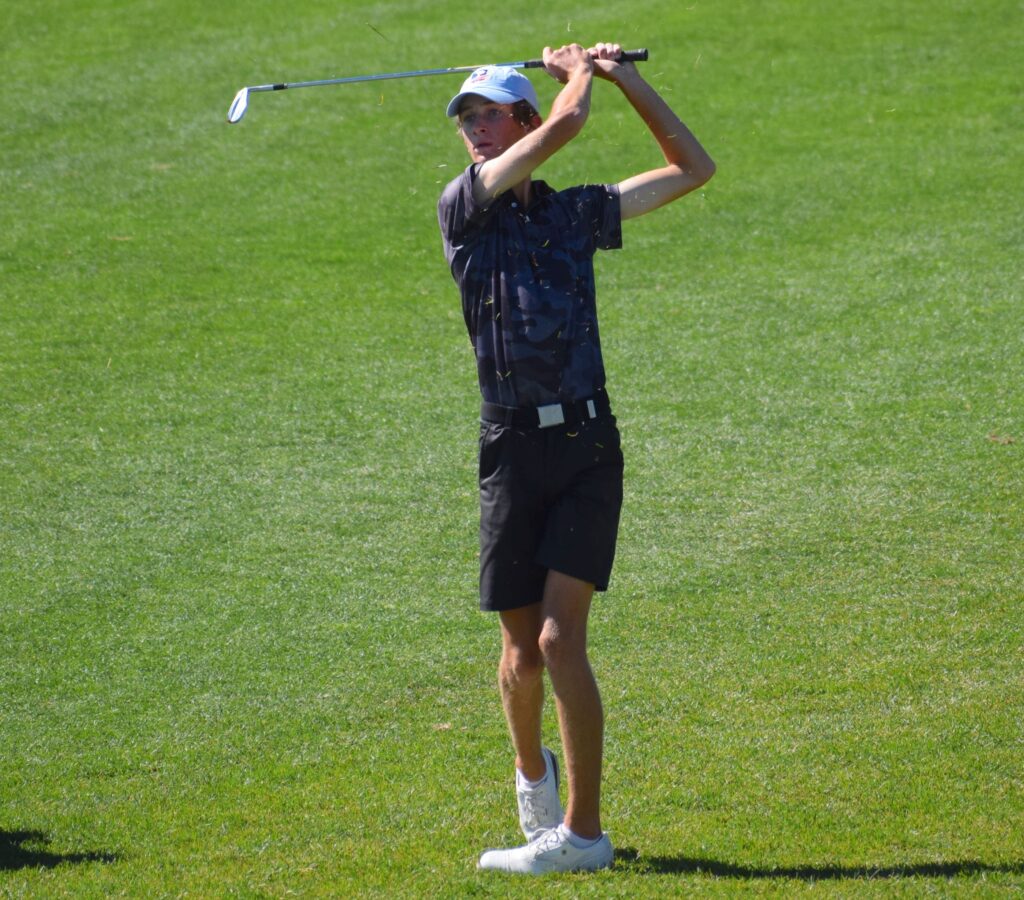 Silver Creek junior Ben Harding, who won the Colorado Junior Match Play title at City Park Golf Course in late July, battled back from a double-bogey 7 on the 13th hole with birdies on 16 and 18 to shoot an even-par 70 and share second place. He carded five birdies on the day.
Also at 70 was Vista Peak senior Dawson Thulin, who played his final six holes in 2 under.
Meanwhile, the leader was left thinking that he could have had a score even lower, even though his 69 was his third-best tally ever.
"It was my best high school round, so it was good by that standard," Weinmaster said. "To do it at state, of all places, feels really good.
"But I left a lot of strokes out there. I had a lot of putts that should have fallen, a lot of lipouts. One went in the cup and used the stick to roll back out (on the fifth hole). That was my first bogey and I came back from that."
Asked if he surprised himself by taking the lead, Weinmaster said, "If I'm going to be honest, no. I know I have it in me. I know I can do it. I felt like I just played like I should have. I played boring golf — hit the fairway, hit the green, two putt. And every now and then, one putt. I got a few lucky breaks and a few unlucky breaks. I had a lot of fun."
With Weinmaster leading the way, Riverdale Ridge grabbed a six-stroke advantage in the team standings over defending 4A state champion Cheyenne Mountain. Riverdale Ridge posted a 6-over-par total of 216.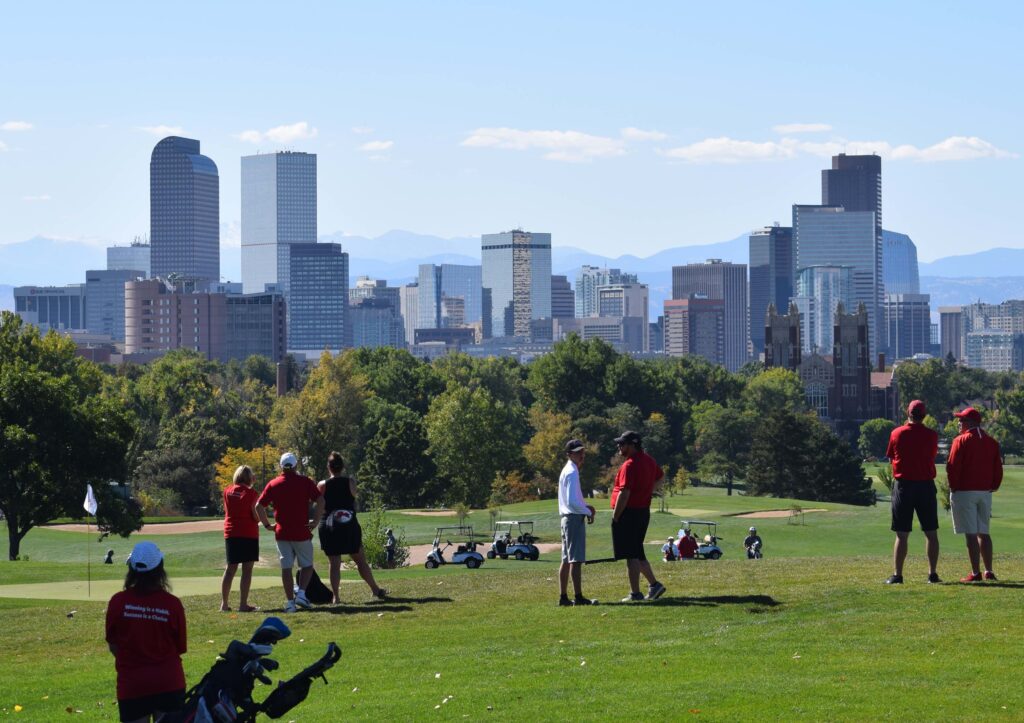 In the other boys state high school tournaments:
— CLASS 5A AT COLORADO SPRINGS COUNTRY CLUB — Wes Erling, a junior at Pine Creek who placed fourth at state last year, carded the only sub-par round of day 1, firing a 1-under 70 for a one-shot lead.
Erling, a U.S. Junior Amateur qualifier this year and winner of the 2020 JGAC Tour Championship, birdied his first three holes and was 4 under through 8 before making three bogeys in his final 10 holes.
Senior Miles Atkinson of Fossil Ridge, who made all pars on the front nine but just one on the back, holds second place at 71 after his four-birdie, four-bogey day.
Arapahoe senior Will Kates, who claimed the individual state title two years ago, shares third place at 72 with 2021 U.S. Junior Am qualifier Jonathan Trigg of Cherry Creek and Broomfield sophomore Mason Hill.
Arapahoe, runner-up at state the past two years, holds the team lead by one stroke at 9 over par. Fossil Ridge (10 over) and Columbine (13 over) are next best.
— CLASS 3A AT SPRING VALLEY GOLF CLUB IN ELIZABETH — Montezuma Cortez junior Thayer Plewe had the low round of the day regardless of classification as he fired a 5-under-par 67 at Spring Valley.
Plewe, runner-up in last year's state tournament, finished with an eagle on Monday, adding it to his earlier five birdies and two bogeys.
Vail Christian senior Connor Downey was the only player within five strokes of Plewe after round 1 as he posted a 69 that included an eagle, three birdies and two bogeys.
Among the five players tied for third place at 73 was Aspen senior Nic Pevny, the 2020 3A individual champ, who made a birdie and two bogeys on Monday.
Aspen took a four-stroke lead in the 3A team race, shooting a 7-over-par 223. Lutheran (227) is second and Montezuma Cortez (230) third. Defending champ Colorado Academy (232) shares fourth with Vail Mountain.

Boys State High School Golf Leaders
CLASS 5A AT PAR-71 COLORADO SPRINGS CC
Individual
Wes Erling, Pine Creek 70
Miles Atkinson, Fossil Ridge 71
Jonathan Trigg, Cherry Creek 72
Mason Hill, Broomfield 72
Will Kates, Arapahoe 72
Jesse Hand, Chatfield 73
Hayden Woelk, Liberty 74
Jace Wright, Lakewood 74
Matai Naqica, Columbine 74
Matthew Wilkinson, Arapahoe 74
Ryan Peragallo, Highlands Ranch 74
Rylen Caldwell, Pine Creek 74
Team
Arapahoe 222
Fossil Ridge 223
Columbine 226
Pine Creek 229
Cherry Creek 231

CLASS 4A AT PAR-70 CITY PARK GC IN DENVER
Individual
Bradley Weinmaster, Riverdale Ridge 69
Ben Harding, Silver Creek 70
Dawson Thulin, Vista Peak 70
Brentyn Paiz, Windsor 71
Alex Morrall, Palisade 72
Reese Knox, Falcon 72
Will Balliet, Riverdale Ridge 72
Campbell Grage, Cheyenne Mountain 73
Thomas Herholtz, Cheyenne Mountain 73
Trajan Andrews, Northridge 73
Tyler Long, Evergreen 73
Team
Riverdale Ridge 216
Cheyenne Mountain 222
Silver Creek 228
Falcon 229
Windsor 231

CLASS 3A AT PAR-72 SPRING VALLEY GOLF CLUB IN ELIZABETH
Individual
Thayer Plewe, Montezuma Cortez 67
Connor Downey, Vail Christian 69
Taylor Schaefer, Sterling 73
Nic Pevny, Aspen 73
Will Rinehart, Denver Academy 73
Garrett Smith, Alamosa 73
Brendan Archer, Kent Denver 73
Sky Sosna, Aspen 74
Jacob Gilbert, Strasburg 74
Garrett Exelbert, Basalt 74
Brysen Harris, Cedaredge 74
Hayden Hart, Ouray 74
Team
Aspen 223
Lutheran 227
Montezuma Cortez 230
Colorado Academy 232
Vail Mountain 232