Announcement of 2023 U.S. Amateur coming to Cherry Hills means Colorado will host at least 5 USGA championships from 2018 to '25
By Gary Baines – 02/21/2019
The hits just keep coming — both for Colorado and for Cherry Hills Country Club.
The USGA on Thursday announced the sites for six upcoming U.S. Amateurs, including Cherry Hills in 2023. It will be the third U.S. Am held at the club, and the 10th USGA championship, the most for any Colorado course.
In statewide terms, it's the third time in the last eight months that the USGA has announced one of its national/international championships is coming to Colorado. That's included the 2025 U.S. Senior Open (back to The Broadmoor in Colorado Springs), the 2020 U.S. Girls' Junior (to Eisenhower Golf Club at the Air Force Academy) and now the U.S. Am at Cherry Hills in August of 2023.
Also upcoming in Colorado in the way of USGA championships is this September's U.S. Mid-Amateur at Colorado Golf Club in Parker.
"It's fabulous," John Ogden, the PGA head professional at Cherry Hills since 2008, told ColoradoGolf.org by phone on Thursday. "It's nice that the USGA and the state of Colorado is a good partnership, just like the USGA with Cherry Hills. The USGA understands how this state embraces championship golf and how much (Coloradans) enjoy it no matter what level it is — the juniors, the amateurs, the professional ranks."
All told, barring further additions, five USGA championships will have been played in the state from 2018 through 2025, with The Broadmoor being the site of last summer's U.S. Senior Open won by David Toms.
That makes 36 USGA championships for the Centennial State between those already held (32) and those announced for the coming six-plus years (four).
"When championships come to Colorado, they are generally successful," observed CGA executive director Ed Mate. "When you have success, you tend to think, 'Let's go back to that market.' It's exciting.
"We're having this nice, consistent spacing (of USGA championships in Colorado). There will be a consistent presence of USGA championships, which will just kind of keep it in the front of mind for other venues that aspire to host sometime in the future."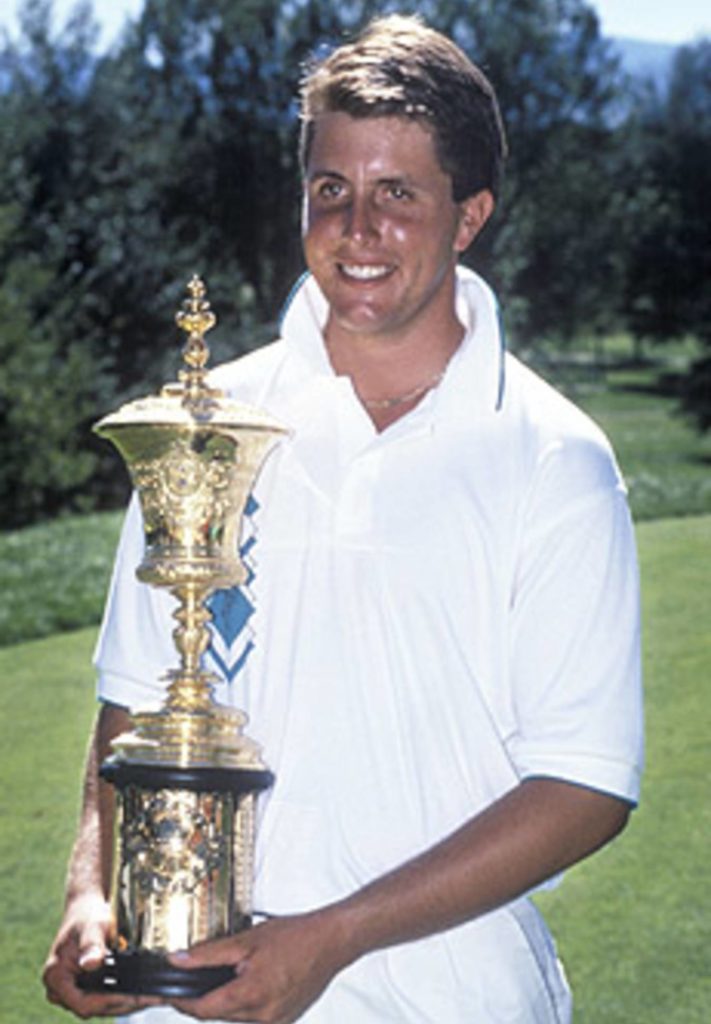 Cherry Hills has previously hosted the U.S. Amateur in 1990 — when Phil Mickelson (pictured above in a USGA photo) won his only USGA championship to date — and in 2012, when Steven Fox drained a 20-foot downhill putt on the 37th hole of the title match to defeat Michael Weaver.
The 2012 U.S. Amateur featured a field that included Justin Thomas, Jordan Spieth, Bryson DeChambeau, Xander Schauffele, Hideki Matsuyama and Daniel Berger.
"To have the U.S. Amateur back at historic Cherry Hills is amazing," said Fox, who has long since turned pro. "It's one of the best courses to play, but what makes it special are the staff and members. It's truly an honor to win at such a great club."
With Cherry Hills' long history with USGA championships — now dating back more than 80 years — and with Ogden serving on a couple of USGA advisory committees — it's little surprise that the national organization would return to the historic club.
"Fortunately, we have a great relationship with the USGA," Ogden said. "We're honored they would team with us again to hold their oldest championship. 
"We had such a successful Amateur in 2012, and we frequently talk about different championships and what would be a good championship for Cherry Hills and what would be a good championship for the USGA. It's gotten serious over the last four years.
"We've always had success with every (USGA) championship at Cherry Hills, and we've always had a good partnership. It's wonderful because the membership embraces the championship, no matter what championship it is. Without that, none of this would be possible. We announced it to the membership right before the USGA announcement (on Thursday), and my phone has blown up. I've gotten a lot of texts, a lot of phone messages and a lot emails. There's a lot of excitement because the membership really enjoys the championships."
 In addition to its two past U.S. Amateurs, Cherry Hills has hosted three U.S. Opens (1938, '60 and '78, with Arnold Palmer famously rallying with a final-round 65 to prevail in '60), a U.S. Women's Open (2005), a U.S. Senior Open (1993, won by Jack Nicklaus), a U.S. Senior Amateur (1976) and a U.S. Mid-Amateur (1983).
Besides the USGA championships, Cherry Hills has been the host of two PGA Championships (1941 and '85) and to the 2014 BMW Championship PGA Tour playoff event.
The only other Colorado club that has close to Cherry Hills' total of 10 USGA championships (held and scheduled) is The Broadmoor, with eight contested and the 2025 U.S. Senior Open on the way.
A second Colorado course will be chosen to co-host the stroke-play portion of the 2023 U.S. Am, but Ogden said that site hasn't yet been determined.
Other future U.S. Amateur sites announced on Thursday by the USGA were Oakmont (Pa.) Country Club (2021), Ridgewood (N.J.) Country Club (2022), Hazeltine National Golf Club in Chaska, Minn. (2024), The Olympic Club in San Francisco (2025) and Merion Golf Club in Ardmore, Pa. (2026).
"This distinguished group of future U.S. Amateur sites aligns the USGA's oldest championship with courses of historical significance and proven competitive excellence, which will be beneficial to both the player and fan experience," USGA senior managing director of championships John Bodenhamer said. "Amateur golf is primary to the USGA's mission and the partnerships with these prominent clubs affirm our commitment to supporting and growing amateur competition."
The previously announced next two U.S. Amateurs are set for Pinehurst (N.C.) Resort & Country Club (2019) and Bandon Dunes Golf Resort in Bandon, Ore. (2020).