Almost 15 months after integration of CGA and CWGA, attendance at CGA Women's Golf Summit jumps more than 30% compared to 2018; auction raises record amount for junior golf
By Gary Baines – 3/9/2019
Integrating the CGA and the CWGA starting at the beginning of 2018 has been no simple task.
First of all, there was all the logistics of merging two longstanding organizations into one.
But perhaps more important was making the members and leadership of two distinct associations — each with more than a 100 years of history — feel like they were one. In fact, ideally, they'd feel like they were better off as members than they had been 15 months ago and before.
It's all a work in progress, but if Saturday's CGA Women's Golf Summit at Pinehurst Country Club is any indication, the "new, improved Colorado Golf Associaton" — as president Janene Guzowski called it — is making considerable strides in that regard.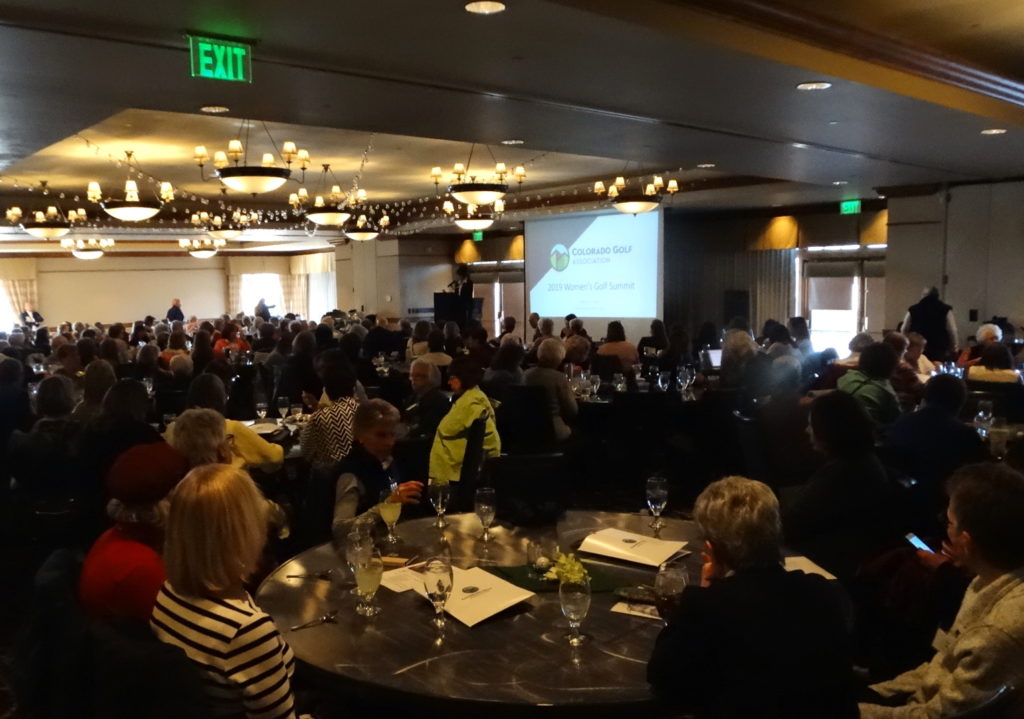 A year after drawing roughly 175 people to the 2018 Women's Summit — the first following the CGA/CWGA integration — 230 showed up on Saturday, representing 98 women's clubs from around the state. To put that attendance into perspective, Saturday the best total of the last five years. The 2016 CWGA Annual Meeting, where that organization celebrated its 100th anniversary, also drew about 230 people.
In addition, an auction (below) held in conjunction with Saturday's CGA Women's Summit — with all the proceeds benefiting junior golf — brought in a record $17,295, almost $2,000 more than was raised through last year's auction.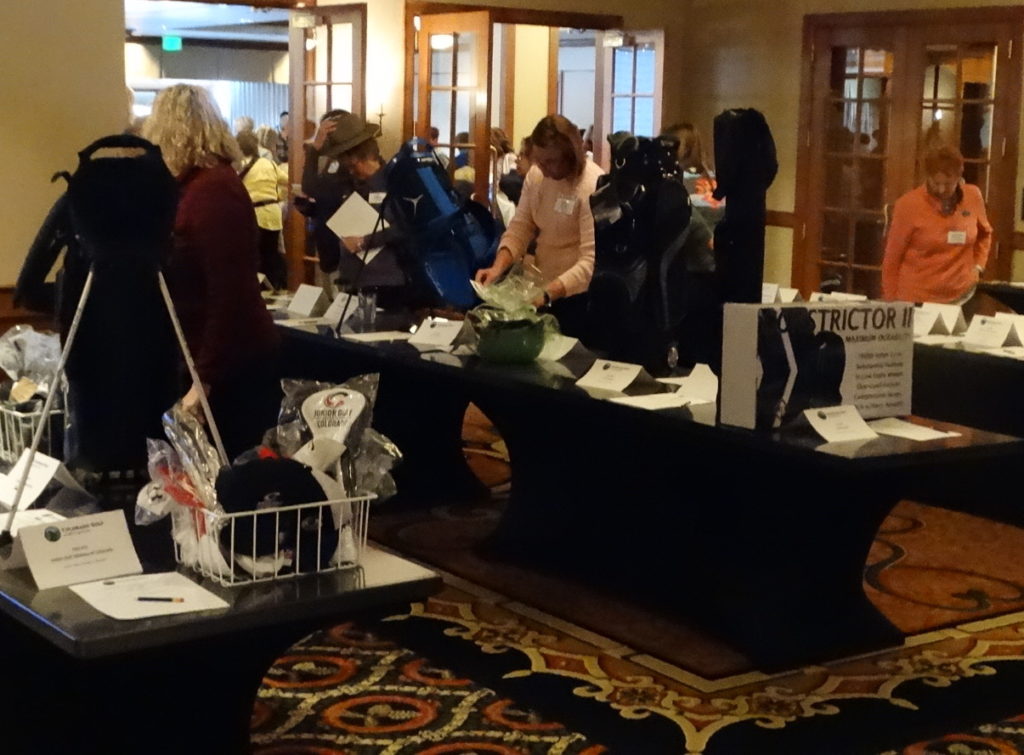 Juliet Miner is uniquely qualified to speak to how the integration has gone, given that she was the final president of the CWGA (2016 and '17), had a key role in the integration process, and served as co-president (with Joe McCleary) of the CGA in 2018, becoming the first woman to hold that position.
"At the time of the integration, everyone was worried that we would lose the traditions of the Colorado Women's Golf Association," Miner said after Saturday's CGA Women's Summit. "We haven't lost them. We've perpetuated them and made them better.
"(For example), at the auction, we used to be lucky if we got $7,000. We made $17,000. And I think the women had a marvelous time today. What could be better?"
In addition, the CGA board of directors held one of its quarterly meetings immediately after the Women's Summit, giving board members who might have never attended the CWGA Annual Meeting before a taste for the event. "I believe the message is being spread to a wider audience," Miner said.
"The integration, becoming all one under the umbrella of the CGA, is very exciting," noted Guzowski, the first woman to serve as the sole president of the CGA. "I don't think it was exciting for (the CWGA) to enter into it, but now that it's complete and we can offer so much more to Colorado golf and serve it better, everybody is excited to do that.
"Women's golf in Colorado is doing well, it's on the upswing, it's healthy and we're all passionate about the game."
Ed Mate, the CGA's executive director since 2000, wrapped up with Women's Summit with an outreach message he hopes strikes a chord with attendees.
"I've had the good fortune to be on the staff of the CGA since 1985 (aside from a stint with the Colorado PGA) … so I go back many, many years with the CGA and the CWGA," he said. "I really feel it's my responsibility to honor the legacy of these great women (who have run the CWGA like Jan Bailey, Maggie Giesenhagen and Robin Jervey) and to make sure their dreams for the Colorado Women's Golf Association are maintained.
"We're just getting started on this integration. We're not done, we're not going to be perfect, but today is all about continuing the great tradition of women's golf (in Colorado). I hope you all feel like you didn't get left behind — that you are still as relevant today, and hopefully a lot more so."
Afterward, Mate added that the reponse to Saturday's Women's Summit really hit home for him.
"Today was an incredibly feel-good day for me," he said. "It's taken us a year, but I really feel like we've hit our stride (with the integration process). … There's so many things we can point to, and it's nice to have a dollar figure (from the auction in that regard), but that's just the beginning of it, so it's exciting.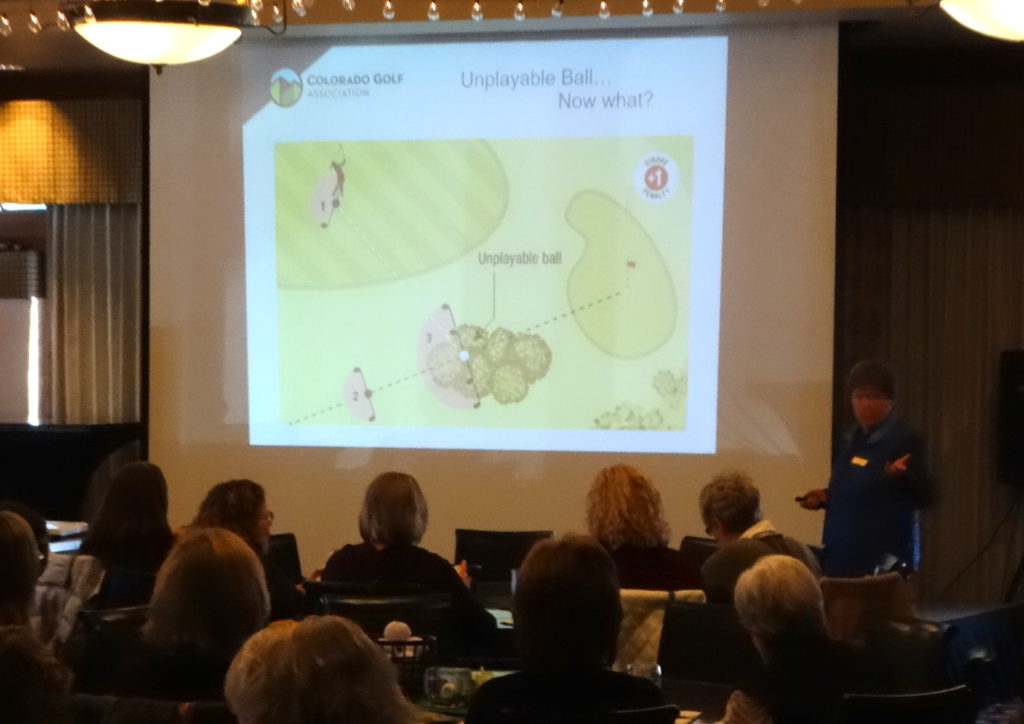 "Today was unbelievable. It's yet another example of how powerful it is to come together."
At the Women's Summit, attendees could attend breakout sessions involving "practice with a purpose" with instructor Elena King, a club roundtable discussion with Kathy Malpass and Debbie Kolb, and a session on tournament management and Golf Genius facilitated by Aaron Guereca and Justin Scott. Then, with the modernization of the Rules of Golf that took effect on Jan. 1, three rules officials (Jan Fincher, Karla Harding and Sandy Schnitzer) spoke in separate rooms about some of the key rules changes (above).
After lunch, Guzowski gave a "State of the CGA" speech, CGA chief development officer Ryan Smith explained the thinking behind the new CGA logo, awards were presented and broadcast journalist Tamara Banks gave her keynote speech on the changing times for women in sports and in general in today's society.
"It's time for a revolution — women empowering change," she said. "… The future is female."
Said Mate: "Two things stood out for me (at the Women's Summit: first,) the enthusiasm for the Rules of Golf among women golfers. The questions that were asked (in the rules session) and the level of engagement were phenomenal. And the keynote was eerily in tune (with the Summit) with inclusivity, changing the world.
"I told Tamara at lunch, people hear Colorado Golf Association, they don't think about (it) being a cause for good; they just think about the organization that runs tournaments. And the organization that I joined in 1985, that's really all we were other than the Evans Scholarship (for caddies), which wasn't (specifically) our program. So it's really exciting to have a keynote like her that feels like it's really relevant to us" in engaging the golf community on so many different levels.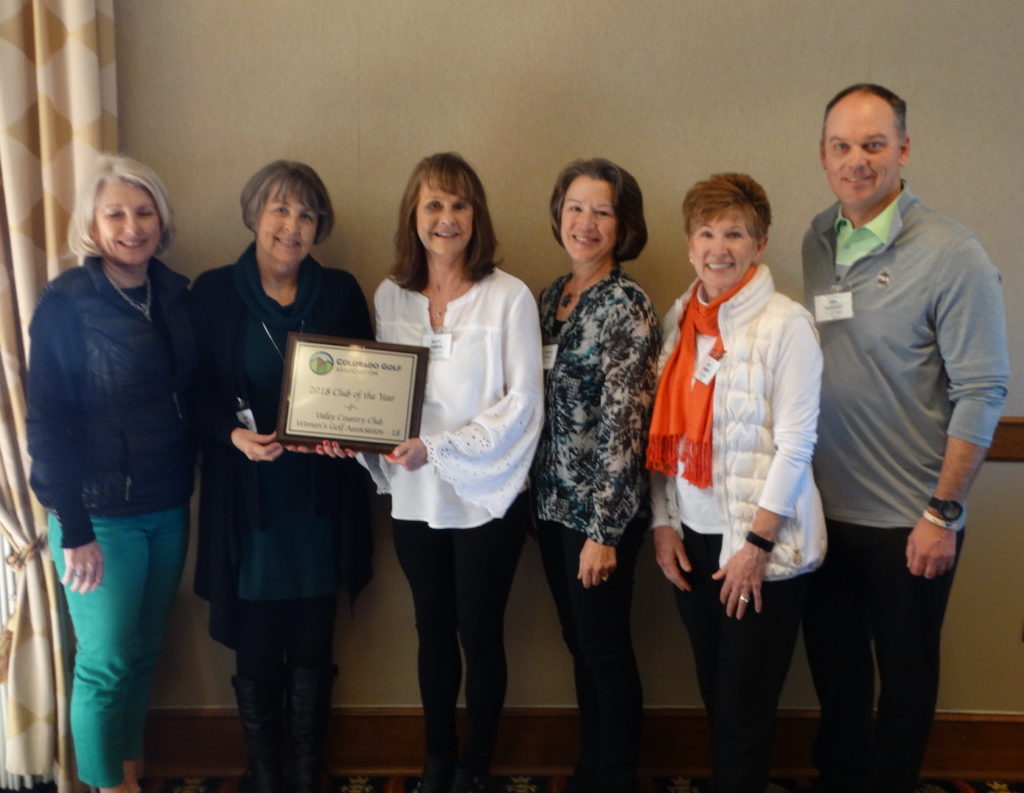 Valley CC Earns Women's Club of Year Honor: For the third consecutive year, a Women's Club of the Year was honored during what is now known as the CGA Women's Golf Summit. After Patty Jewett and Fitzsimons shared the honor in 2017, and Saddle Rock won last year, Valley Country Club Women's Golf Association-18 (above) earned the honor on Saturday.
The award is presented to a club that has demonstrated a commitment to golf and/or its community through innovative fundraising, programs or competitions.
Valley's WGA, one of six nominees for the Women's Club of the Year Award, earned the honor for a wide array of service to members, the club and the community.
During Saturday's program, Valley's WGA was recognized this way: "This year's recipient established group lessons for its members, presented rules seminars for members, hosted the annual OSA Allen Memorial Charity Classic and established the Friendship Fund which gave scholarships to young women to use on lessons, group programs, tournaments and clothing. In addition, it donated to Denver Hospice, Easter Seals and Pancreatic Cancer Research. Members also volunteered for Toys for Tots."
The other nominees for the Women's Club of the Year were:
— Colorado Springs Country Club.
— Columbine Country Club.
— The Club at Fox Hill.
— Patty Jewett Golf Course.
— Rifle Creek Golf Course.
Murray, Weinstein, Franklin Receive Awards: Other award winners recognized on Saturday were Women's Volunteer of the Year (Dana Murray, who serves on the CGA board of directors and as the secretary of the board's executive committee) and the previously-announced player honors (Mary Weinstein as CGA Women's Player of the Year and Kristine Franklin as Senior POY).

For more information on the women's players of the year, CLICK HERE.
Murray was honored during Saturday's program this way: "This year our Volunteer of the Year went above and beyond the call of duty. Dana Murray first joined the CWGA board of directors in 2017. When the two boards for the CGA and CWGA came together, Dana volunteered to be on the CGA Governance Committee and was soon charged with updating the bylaws to reflect the integration of the two associations. As background, Dana is a lawyer and former judge. In addition to taking on the bylaws, she volunteered as co-captain of the CGA volunteer team for the 2018 U.S. Senior Open at The Broadmoor. Her enthusiasm for both roles was unparalleled. Everything she has done this past year is remarkable."
(FYI: A feature story on Murray and her accomplishments will be published later this month on ColoradoGolf.org.)
8 CGA Women's Clinics Planned for 2019: At the Women's Summit, attendees received information on this year's eight planned CGA Women's Clinics. The lineup for the regular clinics is: May 11 at Overland in Denver; May 18 at Mariana Butte in Loveland; June 1 at Cherokee Ridge in Colorado Springs; June 8 at Gypsum Creek; and June 22 at CommonGround in Aurora. And there will be three on-course clinics: July 13 at Stoney Creek in Arvada; July 21 at Chipeta in Grand Junction; and Aug. 3 at Harvard Gulch in Denver. The regular clinics feature three hours of group instruction (putting, chipping, full swing and rules), with lunch, goody bags and prizes. At the on-course clinics, there will be one hour of short-game instruction, a nine-hole shotgun and some tips on basic course management, along the the lunch, goody bag and prizes. For information on the CGA Women's Clinics, visit ColoradoGolf.org or call 303-366-4653.
Auction Fundraising Breakdown: The $17,295 amount raised for junior golf through the Women's Summit-related auction included two phases. The online portion, which concluded Saturday after running for more than two weeks, brought in $11,870. And items that were featured exclusively at Saturday's Women's Summit yielded an additional $5,425.