Fulfilling her caddie's prediction, Kiara Romero soars to U.S. Girls' Junior title at Air Force Academy; event draws rave reviews
By Gary Baines – 7/22/2023
Elite-level golfers tend to take a "stay in the moment" mentality, preferring that rather than entertaining thoughts about their chances to win big tournaments before they even begin.
That kind of prognostication is better left to observers — like her caddie this week at the U.S. Girls' Junior, Chuck Delich. Delich, a former Air Force Academy hockey standout who remains the career leader in goals scored at the NCAA Division I level, is a longtime Eisenhower Golf Club member who earlier this week estimated he's played Eisenhower's Blue Course about 2,500 times over the last half-century.
When Delich was assigned to caddie for Kiara Romero of San Jose, Calif., for the Girls' Junior, it didn't take the AFA Athletics Hall of Famer long to size up her chances this week in the national championship.
"When I saw her play last weekend in the practice round, I thought to myself, 'This girl can win this whole thing,'" Delich said on Saturday evening. "And on Monday before we started, I told her that. I said, 'Listen, I don't think there's anybody in this field who hits the ball better than you. So if you just pay attention … and she did, all week. She did a great job reading putts, she did a great job figuring out distances. Really, a lot of it, I was just hanging on. I was trying to keep up.
"She was great. And I truly felt that from the minute I (first) saw her hitting balls on the range that she has got a special gift."
And, it turns out, Delich's hunch was right on the mark. Romero, No. 139 in the women's World Amateur Golf Rankings, did indeed win the U.S. Girls' Junior at the Air Force Academy. On Saturday, she overcame 2-hole deficits on a couple of occasions to defeat Rianne Malixi of the Philippines 1 up in the 36-hole final.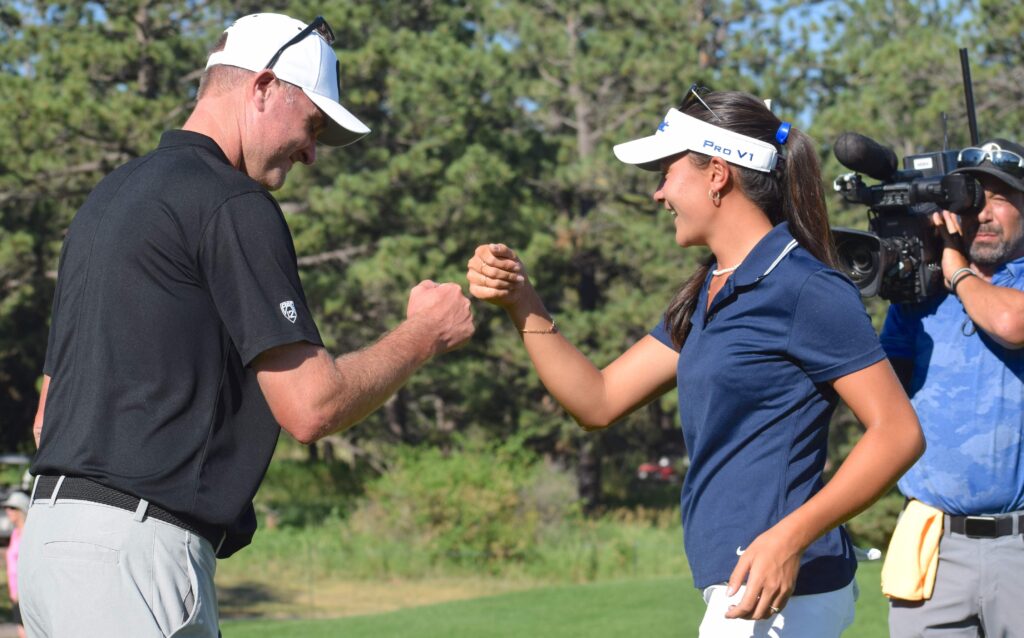 Romero celebrates her victory with her future coach, Derek Radley, from the University of Oregon.



It was just the second U.S. Girls' final in the last eight to go 36 holes — or more.
Asked if, despite being a one-hole and one-match at a time type competitor, she entertained thoughts of winning the Girls' Junior before it even started, Romero said, "It definitely did cross my mind a few times. But every time it did I just tried to push the thought away and just try to focus on the shot that's right in front of me."
Though Romero is one of the best female junior players in the world, she said this was her first individual victory since 2021, when she captured the AJGA's Polo Golf Junior Classic — perhaps not coincidentally, also a match-play event.
"This is definitely one of my biggest accomplishments," said the 17-year-old, who completed high school in three years and will begin her college golf career at the University of Oregon in the fall. "I've come very close to winning a lot of tournaments — a lot of top-5s and a lot of top-10s. So I have been getting a little frustrated that I keep coming a little short. But I just kept grinding and kept going with what I was doing and I'm glad to get it done this time.
"I'm just so excited and super tired."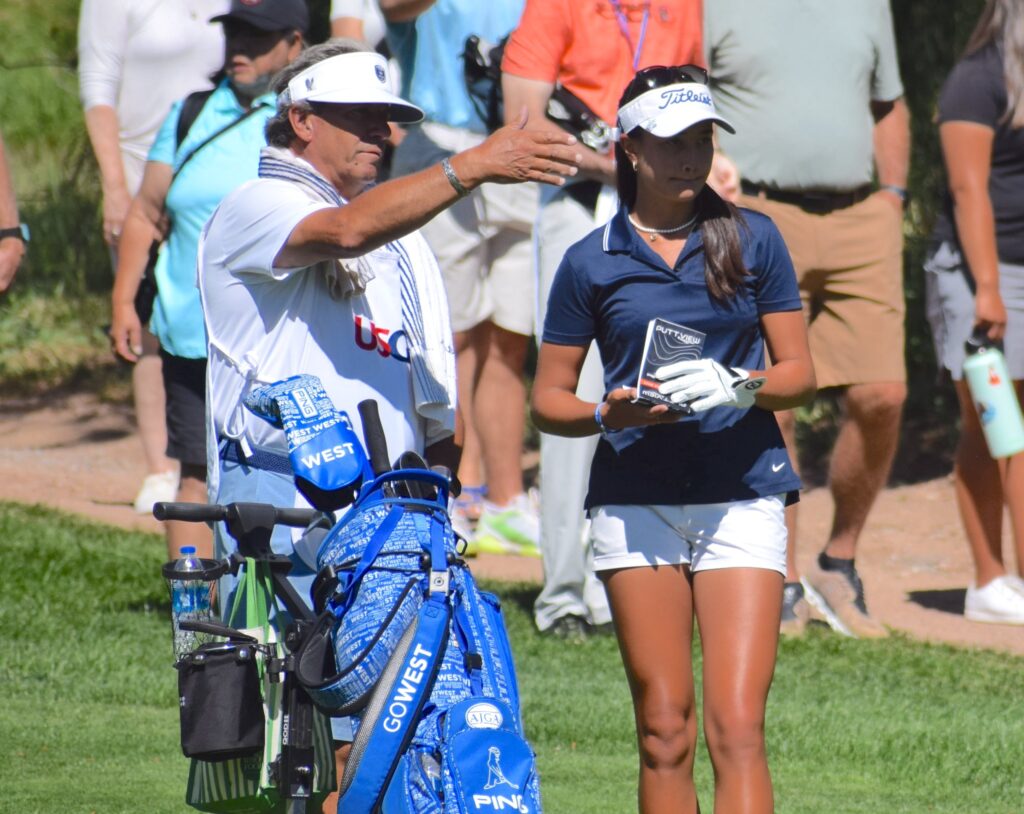 Eisenhower member Chuck Delich proved valuable to Romero this week.



Romero went 6-0 in her matches this week after finishing third in the stroke-play portion of the event. Three of her matches this week went the 18th hole — or beyond, including both the semifinals and the final.
The 16-year-old Malixi, ranked 95th in the world among women amateurs, never trailed until the 26th hole and held 2-up leads after the seventh, eighth, 16th and 17th holes of the day. Romero's 4-foot par save on the eighth hole of the afternoon round — where Malixi failed to get up and down out of the sand — put the American up for the first time.
But the Californian didn't go ahead for good until the 31st hole, which she won with a par when Malixi bogeyed after missing the green in regulation. From there on out, the players tied every hole with pars. On the 36th hole, Romero's 155-yard uphill approach — with a 9-iron — ended up on the back fringe, and she pitched down to 7-foot past the cup. She drained that 7-footer for par to win the match as Malixi missed her downhill 35-foot birdie try.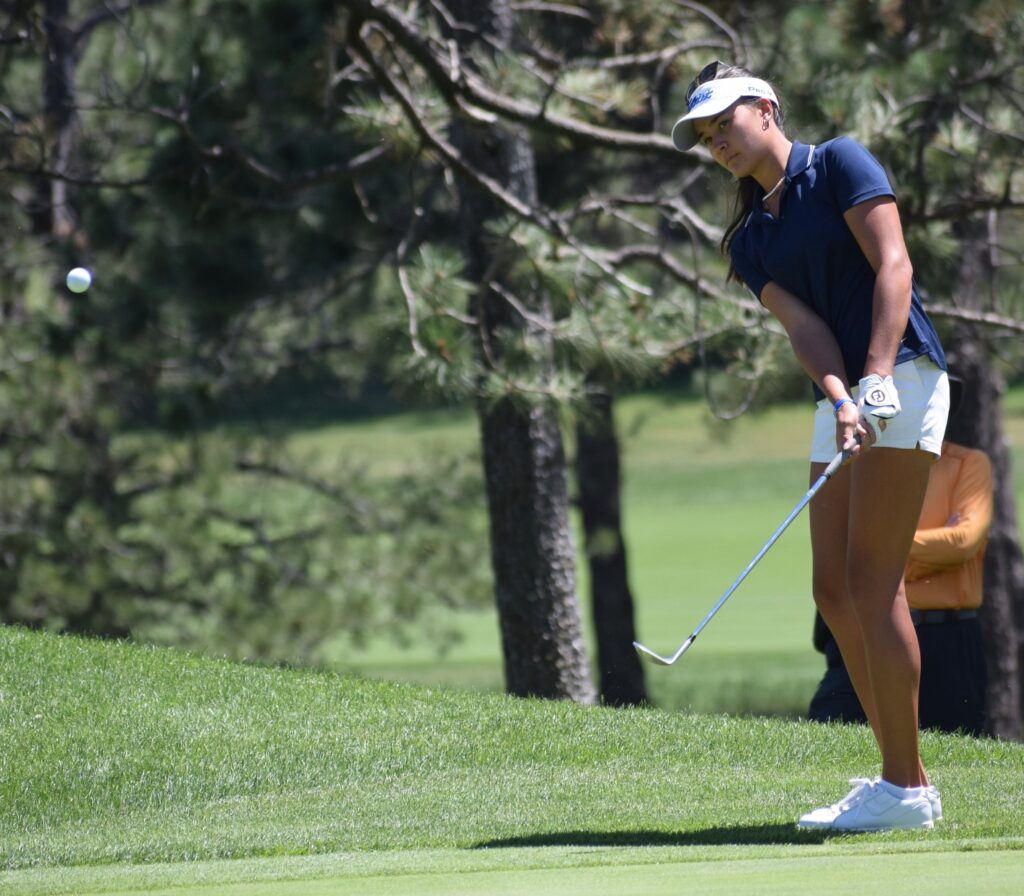 Romero scored her first individual victory since 2021.


"I took a little extra time (on the par putt on the 36th hole) because these past few days my right-to-left putts haven't been great; I've been pulling them a little bit," Romero said. "So when I went over that putt and I knew it was right-to-left I knew I needed to take my time and really focus on it, if I wanted to make it.
"I didn't really think about how it was going to be determining the match and stuff. I just tried to focus on putting a good stroke on it."
Then the celebrating began. She hugged Delich, who caddied for her for nine championship rounds in six days; her parents; and her future coach at Oregon, Derek Radley, who had flown back to Colorado to attend the final after recruiting at the event earlier in the week.
Romero said Delich certainly helped the cause this week.
"The biggest thing about this golf course is knowing the greens. And he definitely knew them very well," she said. "So he helped me so much on putting and especially placing your approach shots in the right spot. You never want to go above the hole on certain holes and sometimes when you do, you have to really tap it and it will still go like 10 feet. So he helped me avoid those situations and I'm really grateful for him."
It should be noted that among those in attendance on Saturday was Chuck's brother, Dave, a two-time CGA Senior Player of the Year.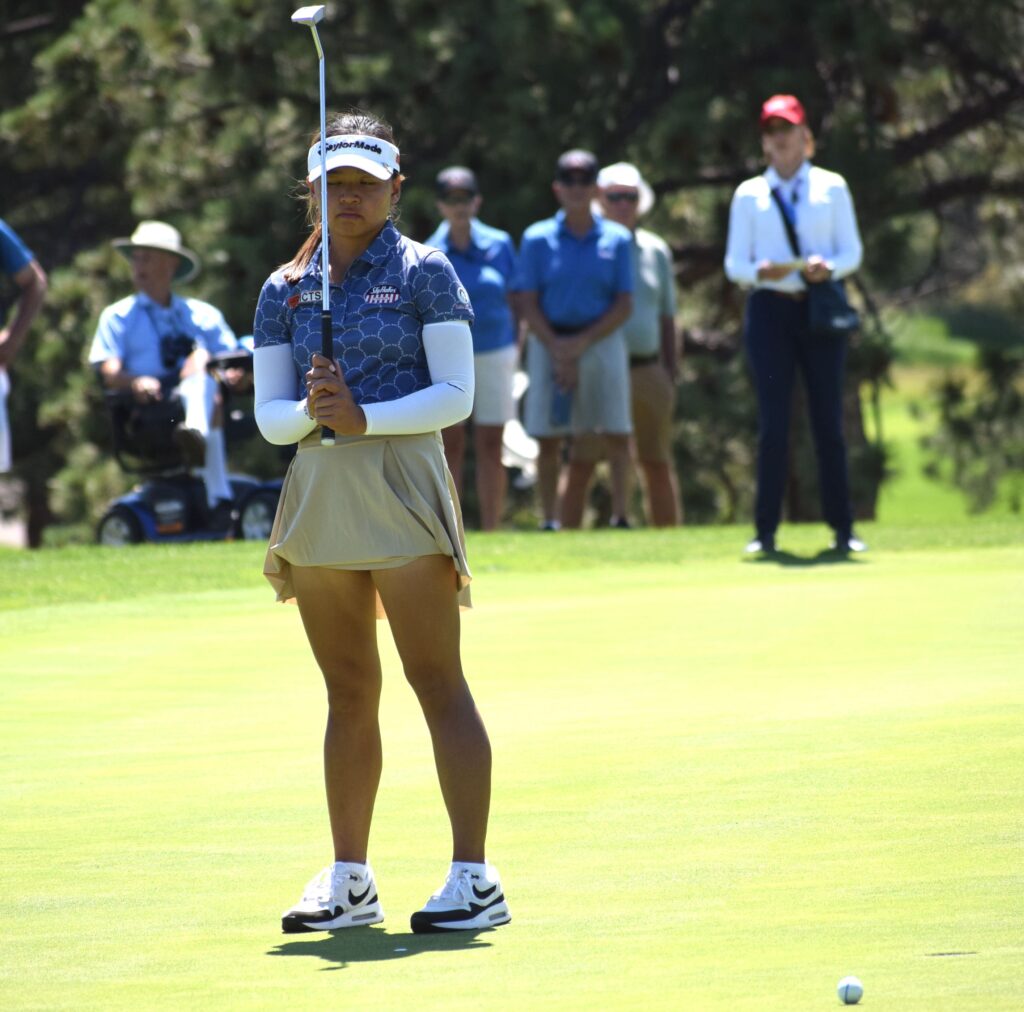 Runner-up Rianne Malixi couldn't bear to look as she missed a short putt on Saturday.


Romero, who outdrove the 5-foot-3 Malixi by about 30 yards on average, won despite being 1 over par for 36 holes on Saturday.
"None of us was making birdies at all," Malixi noted.
Next up for Romero will be next month's U.S. Women's Amateur, but now on her schedule for next year is the U.S. Women's Open — a perk of winning the U.S. Girls' Junior. She'll also receive berths in the 2024 Augusta National Women's Amateur and the 2024 U.S. Women's Am.
As for Malixi, she lamented that her game wasn't in peak form on Saturday, and said she wasn't feeling 100 percent either.
"It was totally a grind," she said of the final. "I didn't really have my 'A' game today. Right before the afternoon match I really had a bad acid reflux. So it was better throughout the match, but then golf wasn't nice to me today. Still, I put up a big fight today."
Bob and Christie Austin, residents of Denver who have officiated at a combined 115 USGA championships over the years, refereed the title match, with Bob working the first 18 and Christie the second.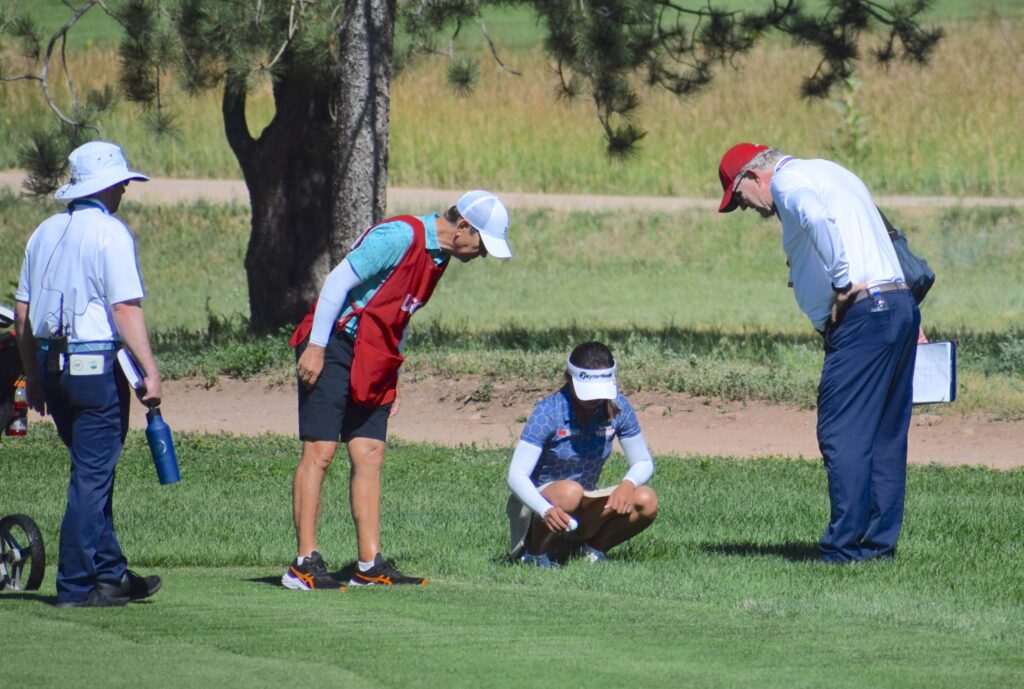 First-18 referee Bob Austin works with Malixi on a drop on Saturday.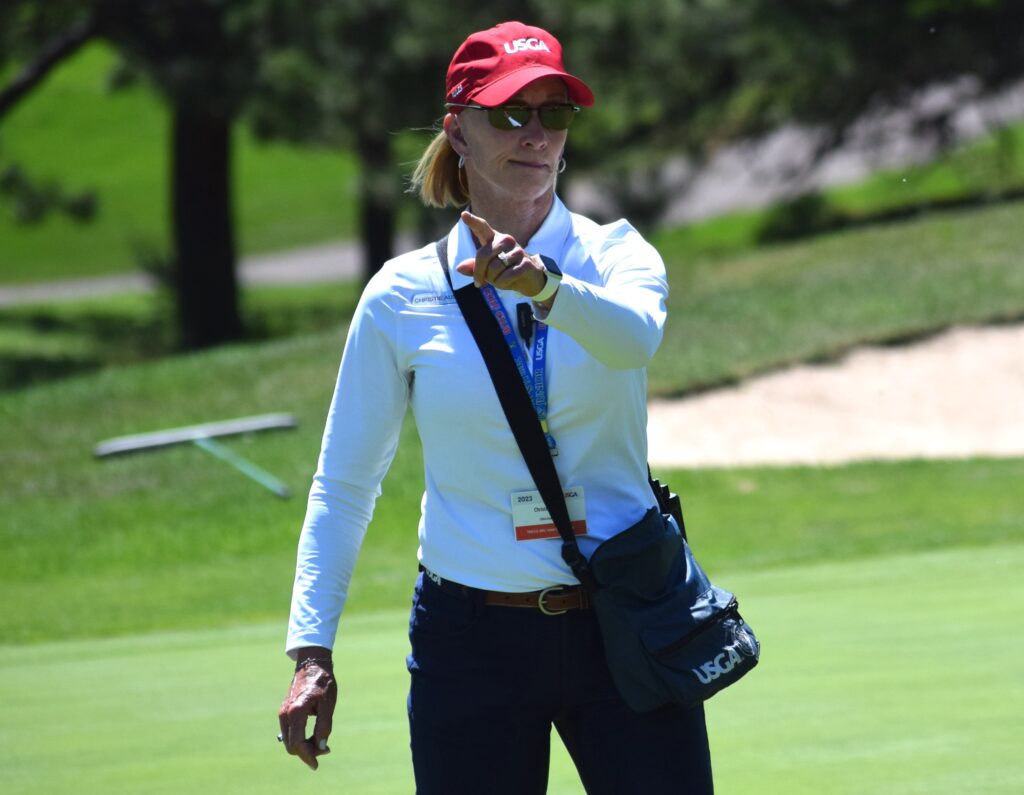 Final-18 referee Christie Austin points who's out during Saturday's action.
U.S. Girls' Junior at Air Force Academy a Big Hit: Saturday marked the culmination of several years of preparation for the 2023 U.S. Girls' Junior, which was both the first USGA championship held at a military facility and one of the first USGA championships in which a USGA allied golf association served as a host group. As part of that role, the CGA raised about $400,000 for the event, in addition to handling a lot of the planning for the championship.
The championship drew rave reviews from several of the principals.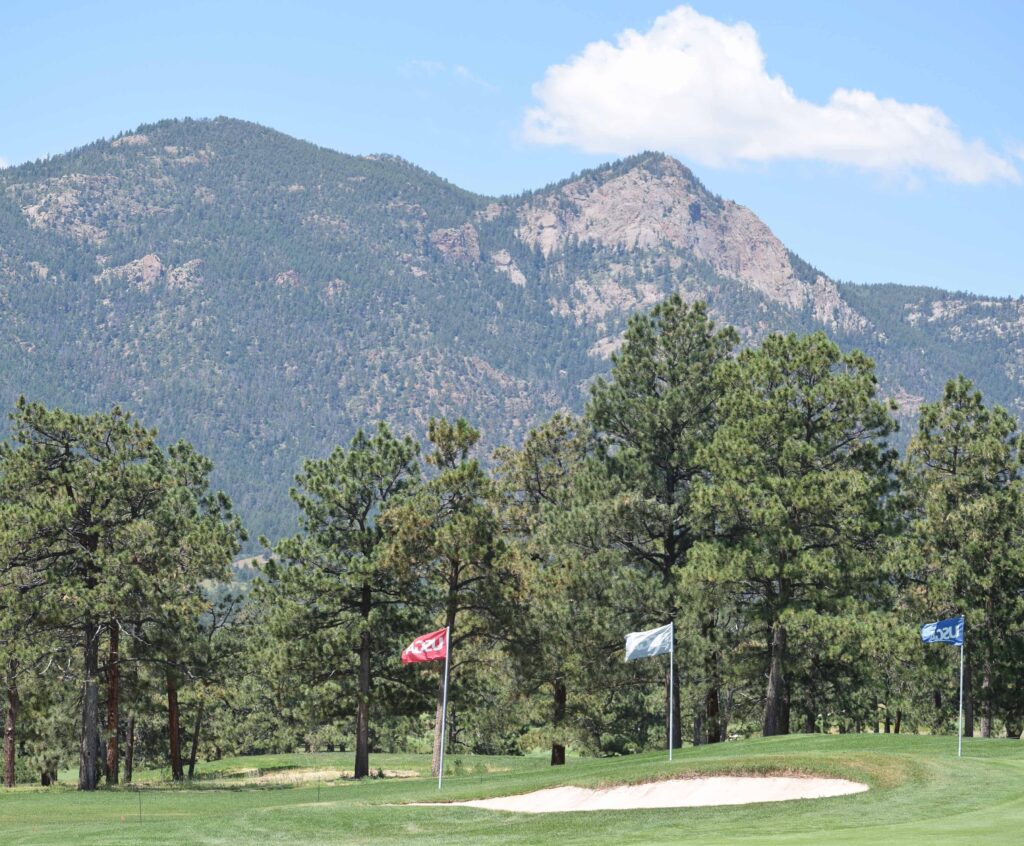 "This has been an incredible week at a very special place," USGA Executive Committee member Debbie Majoras said at the awards ceremony. She thanked Eisenhower Golf Club, the Air Force Academy, the CGA and all the volunteers "for presenting a phenomenal championship."
Steve Wallace, the PGA general manager for Eisenhower Golf Club, had a smile on his face as things wound down on Saturday.
"It exceeded my expectations. It really did," he said of the event. "The USGA is incredible to work with. The CGA was incredible to work with. Our staff, our volunteers … I don't think the volunteers knew what they were getting into. It was a ton of work. And some of them had thankless jobs. It was awesome. I can't say enough about it. And (the course) looked great on (national) TV too."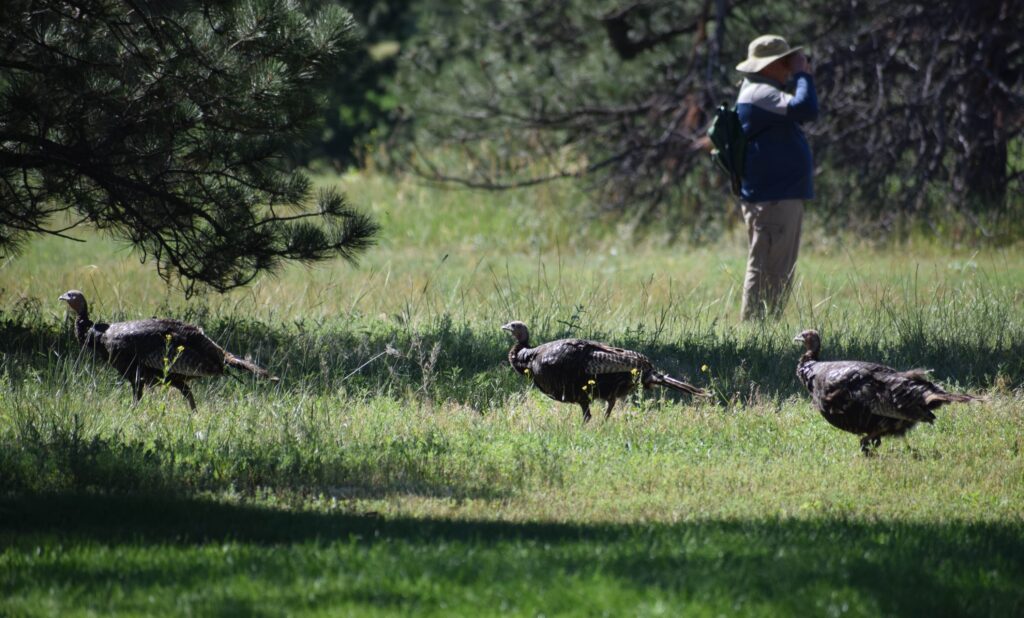 Humans weren't the only ones taking in the action on Saturday at Eisenhower GC.



CGA executive director Ed Mate echoed those thoughts in looking back on the week.
"It exceeded our expectations, which were pretty high," he said. "It was just a spectacular week. It was a Chamber of Commerce event for the state of Colorado and golf in Colorado.
"I've become such a huge fan of this championship. I've gotten to visit (the championship site two previous times). It's the best blend of talent and camaraderie. They just have so much fun. There's a purity to it. This is the perfect marriage of golf course and type of player. … It was so much fun to see bunkers coming into play (that might not in an elite men's event). Seeing the design (at Eisenhower) that Robert Trent Jones Sr. intended playing out, he'd be smiling, I think."
Appropriately, both of Saturday's finalists received a special trophy from the Air Force Academy featuring a replica of an F-35 Lightning II combat plane on it.
U.S. Girls' Junior Results
At Air Force Academy's Eisenhower GC's Blue Course
QUARTERFINALS FRIDAY
Rianne Malixi, Philippines, def. Farah O'Keefe, Austin, Texas, 1 up
Leigh Chien, Irvine, Calif., def. Sydney Yermish, Pinehurst, N.C., 19 holes
Gianne Clemente, Estero, Fla., def. Clarisa Temelo, Mexico, 6 and 5
Kiara Romero, San Jose, Calif., def. Lauren Kim, Canada, 3 and 1
SEMIFINALS FRIDAY
Rianne Malixi, Philippines, def. Leigh Chien, Irvine, Calif., 4 and 2
Kiara Romero, San Jose, Calif., def. Gianne Clemente, Estero, Fla., 2 up
36-HOLE FINAL SATURDAY
Kiara Romero, San Jose, Calif., def. Rianne Malixi, Philippines, 1 up
For all the results from the championship, CLICK HERE.

About the Writer: Gary Baines has covered golf in Colorado continuously since 1983. He was a sports writer at the Daily Camera newspaper in Boulder, then the sports editor there, and has written regularly for ColoradoGolf.org since 2009. He was inducted into the Colorado Golf Hall of Fame in 2022. He owns and operates ColoradoGolfJournal.com