Solich Caddie & Leadership Academy surpasses 10,000 loops as eighth season draws to close
By Gary Baines – 08/27/2019
At the beginning of last year, Lindsi Reyes had never played golf and didn't seem particularly eager to start.
"I was like, 'Who plays golf?'" Reyes recounted on Sunday. "But it was the only job that would hire 14-year-olds. I was kind of intrigued by why people actually played golf."
Then the teenager from Commerce City learned why.
She became a caddie at the Solich Caddie & Leadership Academy, which is run by the CGA at its CommonGround Golf Course in Aurora, one of three sites in Colorado that feature the program.
"It was hard," Reyes said of caddying when she started. "It was really hard to carry a bag for five hours. But then you see the people (who take caddies and who run the Academy), and they really want you to do well, so I got hooked." 
Reyes started playing the game, and she was so on board this summer that on Sunday, when the Solich Caddie & Leadership Academy held its season-ending awards barbecue at CommonGround, the Kent Denver student shared the Caddie Leader of the Year at CommonGround honor with Brooke Slaughter.
"I've gotten so much (out of the program)," Reyes noted. "I can definitely say I've honestly grown as a person. And I've developed skills like being able to put things into perspective when you play golf. When you're caddying, you learn a little about what kind of person you are around other people. You not only have to be there for your player, but for the other caddies, for the other players and for yourself. Golf is definitely about yourself and is a personal game, but it's also about who you're playing with and who you're on the course with and how you take that.
"I've fallen in love with CommonGround. (Golf) is a beautiful game with beautiful courses. Everything it brings … it's been good to me."
All in all, Reyes is a poster child for the Solich Caddie & Leadership Academy, which is just completing its eighth year and also has chapters at Meridian Golf Club in Englewood and Tiara Rado Golf Course in Grand Junction. And the Academy has helped spawn similar programs in Oceanside, Calif., and in southeast Wisconsin.
Just recently, counting the three Colorado chapters combined, the Solich Academy surpassed the 10,000 mark in all-time loops since its founding in 2012.    
"The scope of what this thing has grown to and the lives it's changed and the impact on the kids is way more than we ever envisioned. It's true," said Geoff "Duffy" Solich, who along with younger brother George have lent their name and support to the program. The brothers have long been successful Colorado-based oilmen and philanthropists. "Who knew this would take off and be a model for other programs? We have one at Meridian and we have one at Grand Junction. It's not something we envisioned. You hope (to have a widespread impact) — then it's implementation. That's where (CGA staffers Ed Mate, Emily Olson and Erin Gangloff) really stepped up."
Indeed, at all three chapters, the Solich Academy is a flagship program for the CGA, which devotes considerable resources in nurturing and managing it. Mate, the CGA's longtime executive director, attended the University of Colorado on an Evans Scholarship for caddies, like the Soliches.
(The Solich brothers are pictured at top, with George hugging Olson, the CGA's manager of caddie development.)
With some additional rounds no doubt to be added to the 2019 total, 10,100 loops have been completed by Solich Academy caddies over the last eight years. More than 225 kids have participated in the program, including 108 who have successfully completed the requirements for at least two years.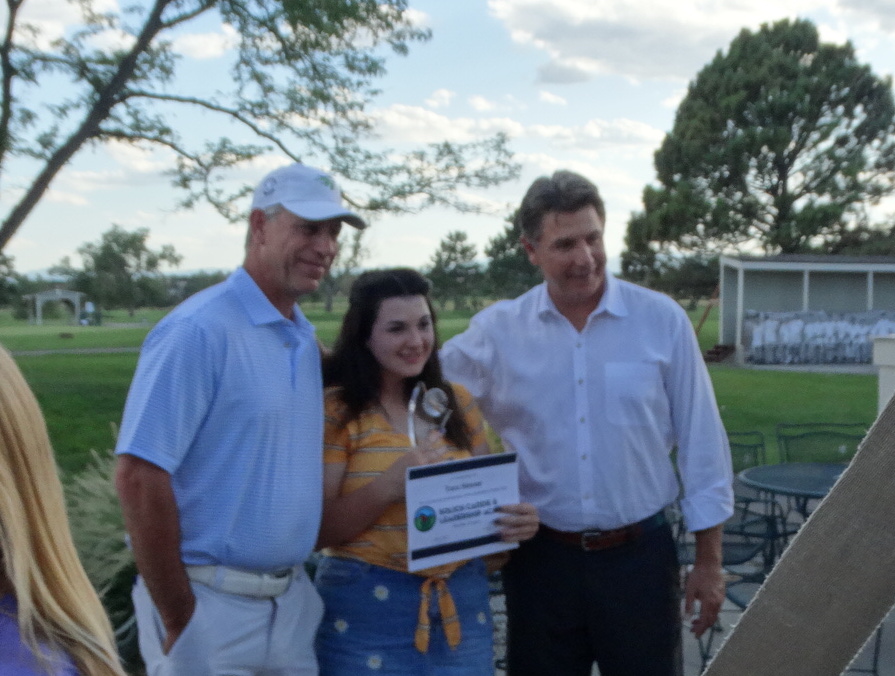 The Solich Caddie & Leadership Academy promotes the use of caddies by paying their base fees through an educational grant, with participating golfers having the option of adding a tip.
 
"The great thing is, it's got great impact, but one kid at a time," said George Solich, who, like brother Duffy, caddied at The Broadmoor in Colorado Springs. "I'm just kind of blown away. Nineteen Evans Scholars (produced by the Solich Academy) — but a lot of kids don't get the Evans Scholarship and it's still a great experience for them. 
"If you look at over eight years, impacting that many kids, I think it's awesome. And when you start looking across the country, the caddie camps and the caddie academies are really taking off. I think the model is really good, and the execution of the model is really good. We've hit all the pieces to it. Now can we take that blueprint and put it over here and put it over here and put it over here? That's the idea. We talk about that a lot, but we were talking about that years ago at Meridian, and now look at Meridian. It really works, but you have to have the right support, the right people, and players who want to take caddies. But you've got to start somewhere too. It's not going to just appear."
This summer, almost 50 caddies participated in the Academy — 30 at CommonGround, a dozen at Meridian and seven at Tiara Rado. They've chalked up more than 1,500 loops so far in 2019 — 904 at CommonGround, 464 at Meridian and 142 at Tiara Rado.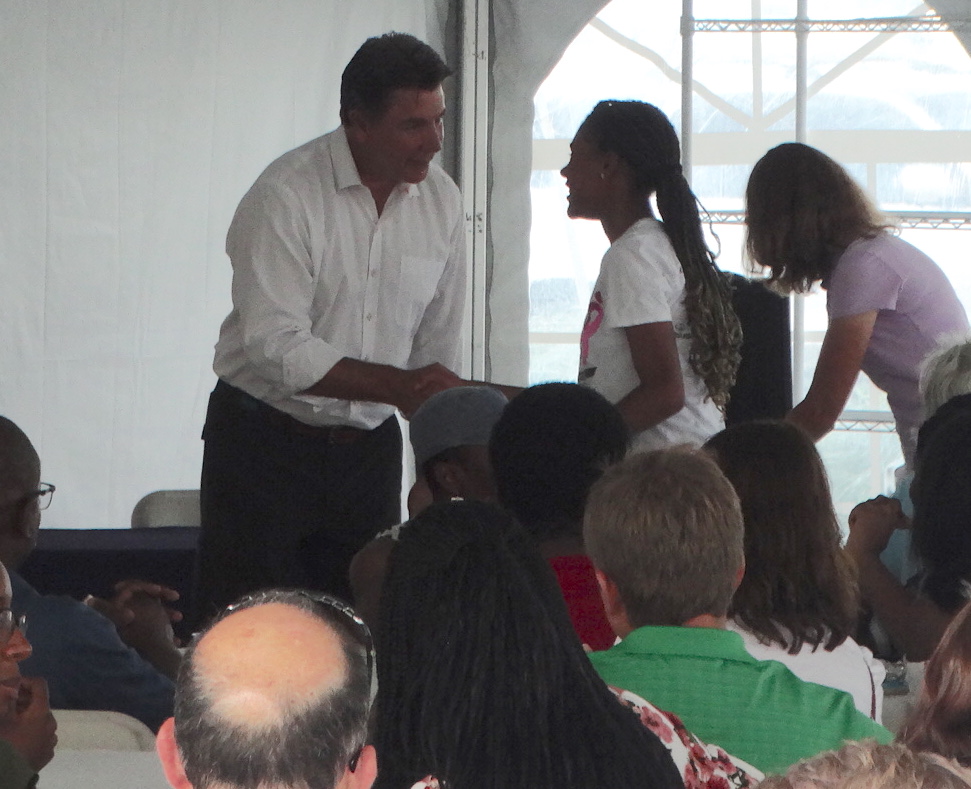 The normal pattern in the Denver metro area is for Solich caddies to spend two years at CommonGround or Meridian, then graduate to other programs around the area such as those at Cherry Hills Country Club, Denver Country Club, Lakewood Country Club, etc.
But the caddying itself is just a part of the program. There's also a hearty leadership aspect to the Academy. Each youngster who participates not only caddies but is required to attend weekly leadership classes and do community-service work each summer.
A significant theme behind the leadership classes revolves around the 10 key elements of the "Code of the West": 1) Live each day with courage; 2) Take pride in your work; 3) Always finish what you start; 4) Do what has to be done; 5) Be tough, but fair; 6) When you make a promise, keep it; 7) Ride for the brand; 8) Talk less and say more; 9) Remember that some things aren't for sale; 10) Know where to draw the line.
Beyond that, a new addition to the Academy curriculum this year dealt with financial literacy — no small matter for teenagers who who often don't get such lessons in high school.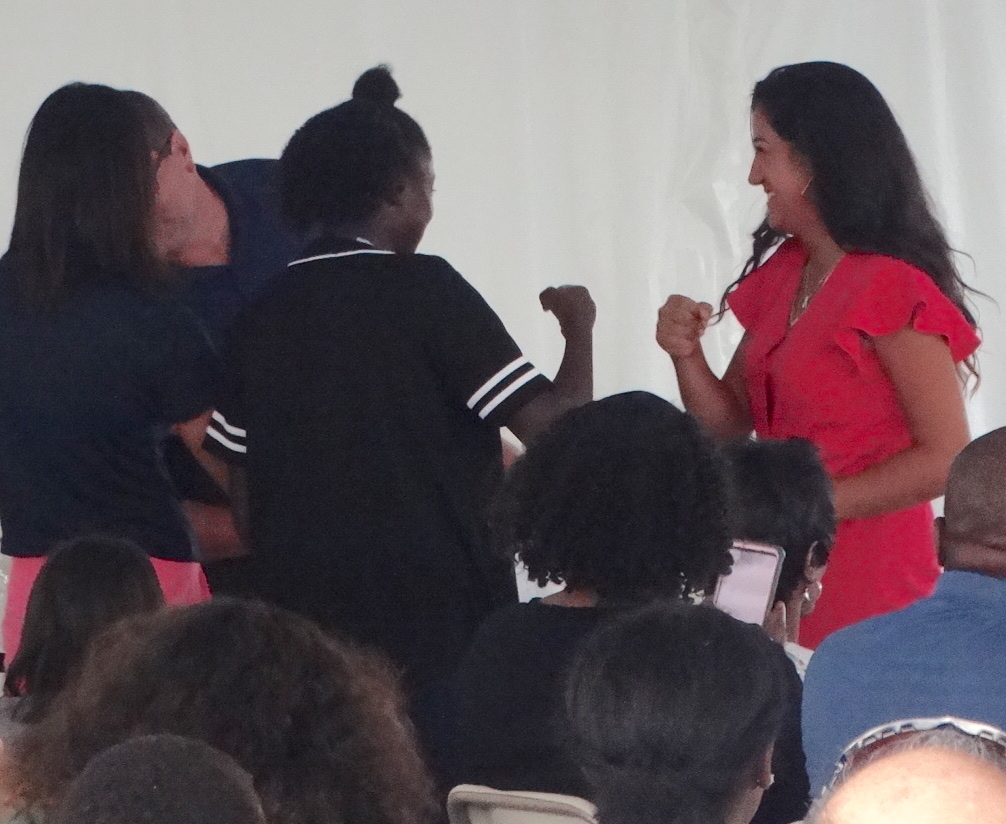 "The other thing I'm super proud of is the leadership aspect," George Solich said. "I think we've really honed that. This year we did financial literacy, which you should do with all kids, and I read through the curriculum and it was fabulous. Those kind of things, because it's outside the classroom, I hope that it really sticks so it's more than just a job, more than just a loop.
"It's a good model (that the Solich Academy has in place), but we have to figure out how put it in more spots. It's great to see that golfers want to take caddies. Years ago we were worried about the caddie being extinct, but it doesn't look that way at all now. It's really terrific. And of course, the CGA does a phenomenal job running it, and it needs that TLC. If you give it the kind of effort that they're giving it, obviously we're going to be successful."
Lobato, the longtime PGA head professional at Meridian, has been a driver of the Meridian Academy chapter since it debuted in 2015. And he's more of a fan than ever.
"I think it was my best group of kids this year," he said. "Every report I got was positive. I was very happy with our kids. They excelled.
"Sometimes when you're starting a program and your kids are pretty green, you're having to twist your members' arms to take them. Maybe it was a glorified babysitting deal (at first). But now as we're getting our program better, we hold the kids to a different standard. And now the members are requesting them, and seeing the kids they're like, 'Oh, I've got Katie today or oh I've got Fenton today. Great. It's going to be a great day.' It's neat to have a good product to give to our membership so it's a win-win deal. The membership wins and also the kids win."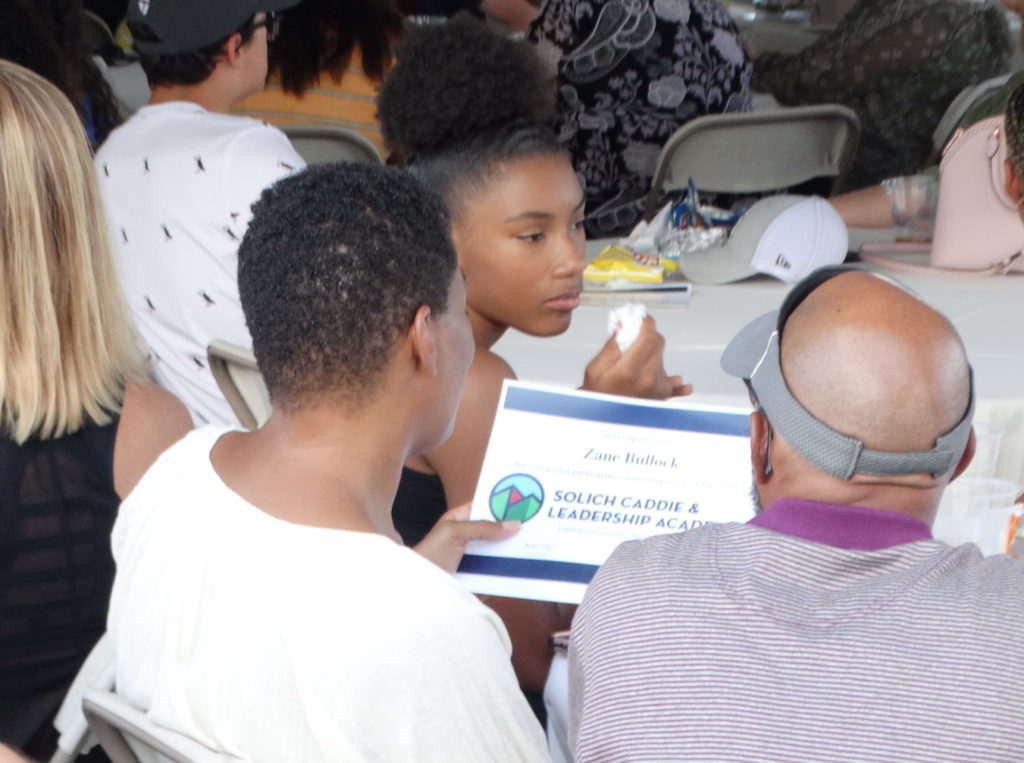 Another winner this year for the Solich Academy has been being prominently featured in the documentary "Loopers: The Caddie's Long Walk", which is, appropriately, narrated by Caddyshack star Bill Murray. George Solich appears in Loopers.
"It's really good advocacy for caddie programs for sure, but it's also a good advocacy program for the Evans Scholars," which includes a scholarship house at CU, he said.
George Solich was the general chairman of the 2014 BMW Championship, held at Cherry Hills Country Club. Thate net proceeds from that tournament benefits the Evans Scholars.
These days, George Solich is a key driving force behind trying to bring a PGA Tour event back to Castle Pines Golf Club, which hosted The International from 1986 through 2006. That could be the BMW Championship or some other significant event.
"I think there's certainly dialogue" with the BMW Championship, which next has a true "to be determined" host site in 2022. "They want to go outside of Chicago. You need to have enough years in front of you to make it successful. We're continuing to talk to them. I'm hopeful.
"We're really working hard on it (bringing a tour event back to Castle Pines). "We had (course designer Jack) Nicklaus out the week before last at Castle Pines for the Nicklaus Trophy and we went through every part of the golf course. I think we're really getting that golf course where it's going to be top 10 in the country. We're doing a lot of work — clubhouse and golf course. The goal is to have a tournament. We just have to pick the right one. (Castle Pines founder) Jack Vickers didn't want second anything, so if it's not a top-quality, top-tier event on the PGA Tour, I don't think we'd do it. So we'll keep working hard at it."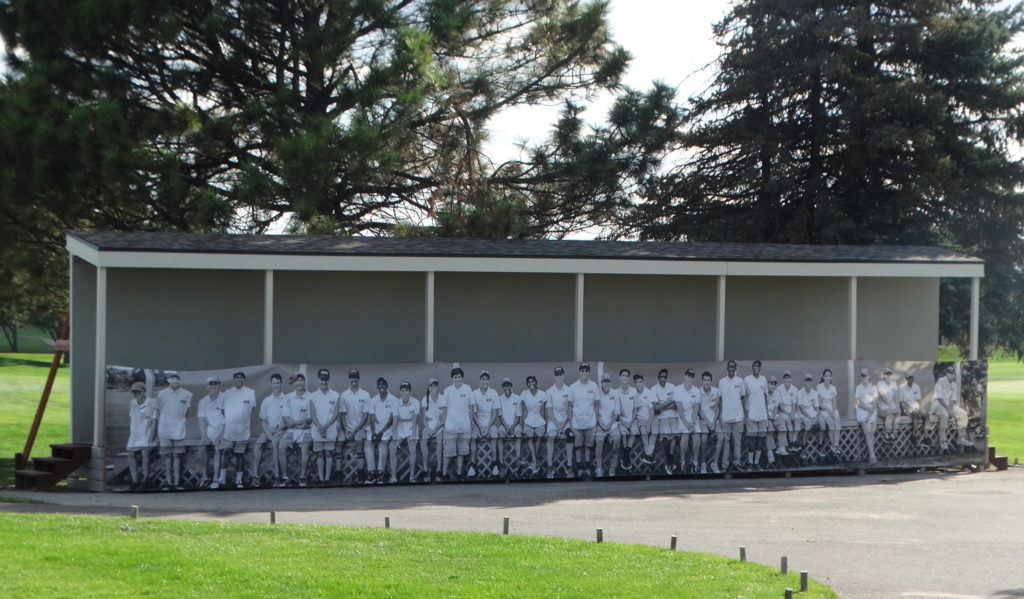 Asked if there are options for Castle Pines other than the BMW Championship, George Solich said, "There are a couple of options other than the BMW, and they're really strong. At some point we'll have an opportunity, an announcement. I'll bet we'll know something in the next six months or so."
BMW, a presenting partner of the CGA, is also the exclusive partner for the Solich Academy at CommonGround.
Here are the Solich Caddie & Leadership Academy awards that were presented on Sunday at the season-ending barbecue, which drew about 150 people, including caddies, their families, supporters, volunteers and CGA and CommonGround staff:
Caddie Leader of the Year
CommonGround — Lindsi Reyes and Brooke Slaughter
Meridian — Fenton Dowling
Tiara Rado — Kalea Potter

Congeniality Award
CommonGround — Andrew Johnson
Meridian — Katie Gold

Rookie of the Year
CommonGround — Sarah Solomon Jimenez
Meridian — Daniel Forebaugh
Tiara Rado — Nicole Mathena

Most Improved Caddie
CommonGround — Aaron Gonzalez
Meridian — Haylee Vasquez

3D Award  (Dedication-Determination-Desire)
CommonGround — Abigail Schlomer
Meridian — Tara Simone