Fort Collins' Stewart leads in bid to become first 2-time champ at AJGA Hale Irwin Colorado Junior; Loveland's Lehigh trails leader by 4 in girls tourney
By Gary Baines – 06/05/2019
Dillon Stewart is no stranger to going where no Coloradan before him has gone.
Last year about this time, the Fort Collins resident became the first Coloradan to win the boys title at the AJGA Hale Irwin Colorado Junior.
Less than two months later, Stewart earned the individual championship at the Junior America's Cup, and he helped lead Colorado to its first team title ever in the event.
And now, he's set himself up for potentially another "first".
No one — male or female — has won the Hale Irwin Colorado Junior twice, much less in back-to-back years. But Stewart (pictured above) has put himself in position to rectify that matter as he'll take a two-stroke lead into Thursday's final round of the tournament at Walnut Creek Golf Preserve in Westminster.
Despite what he called "a nice little 30-yard flub" for his third shot on the par-5 18th hole — which led to a bogey — Stewart shot a 1-under-par 71 on Wednesday, leaving him at 5-under 139 overall and with a two-stroke advantage over Jack Hughes of Aspen and Justin Wingerter of Olathe, Kan.
Asked what it might mean to him to make a little history on Thursday, Stewart said, "It would just be special because I am a Colorado boy. We only have one (AJGA tournament) here. We have a lot of Colorado girls and guys playing, so just to put my name on it back-to-back and twice (would) be special. It's the last year I can play in it before I'm off to college. And obviously if it's my last (AJGA tournament), then it would make it that much more special. Hopefully I'll get 'er done."
Last year at this event, the Oklahoma State-bound Stewart also held a two-stroke lead after 36 holes, then he closed with a 66 to win the boys title by six shots.
This time around, Stewart had every reason to believe his advantage would be bigger going into the final round as he was in the fairway on the 18th hole Wednesday with a half-wedge approach shot. But he inexplicably mishit his ball badly — to the right and about halfway to the green.
"I was overlooking my lie," said the 2018 Junior Golf Alliance of Colorado Boys Player of the Year. "I think I was on a replaced divot. It was different than me going right underneath it and hitting it fat. It just felt different. I don't really know exactly what happened, but at the end of the day it was just a nice little 30-yard flub. It's not what you want to do to close out your round."
Despite that, Stewart was one of just five boys players who shot sub-par rounds on Wednesday. He finished the day with four birdies and three bogeys.
"My game plan is working," he said. "I've just to execute a little better when I have a short club in my hand. Don't be silly and make sure I'm paying attention throughout the whole round until that last ball hits the (bottom) of the 18th hole."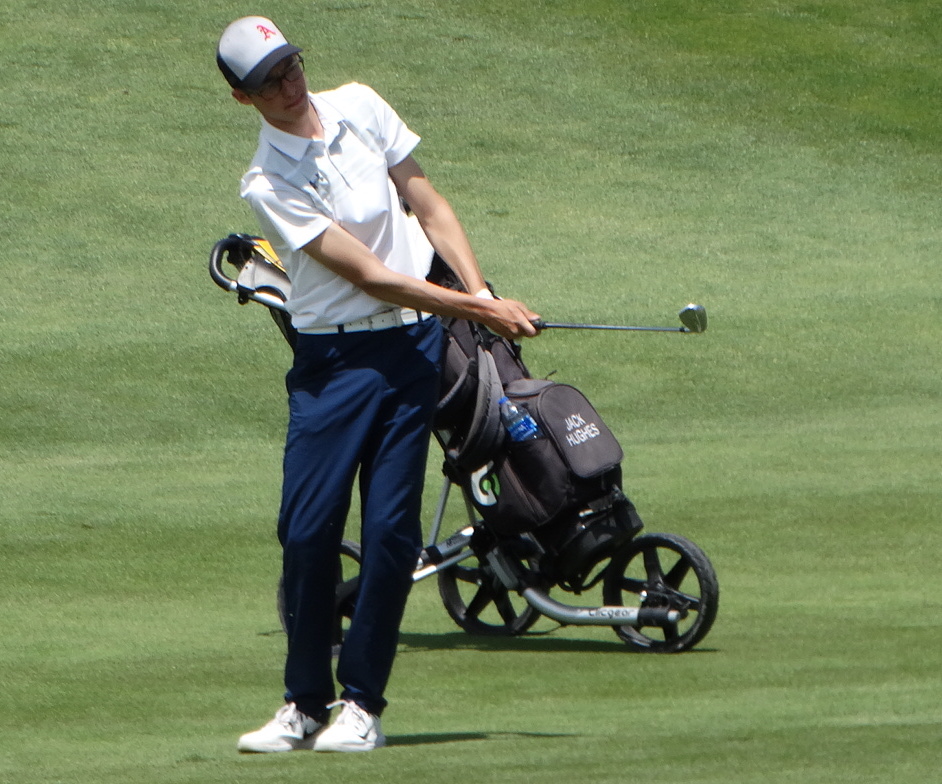 Only three players are under par through 36 holes, with Hughes and Wingerter joining Stewart.
The University of Colorado-bound Hughes, who led after round 1 with a 67, backed it up with a 74. He made two birdies and four bogeys on the day.
Meanwhile, Wingerter carded the round of the day on Wednesday as he posted a 3-under-par 69, making six birdies.
Among those tied in fourth place, five behind Stewart, is Micah Stangebye of Montrose, who fired a 71 on Wednesday.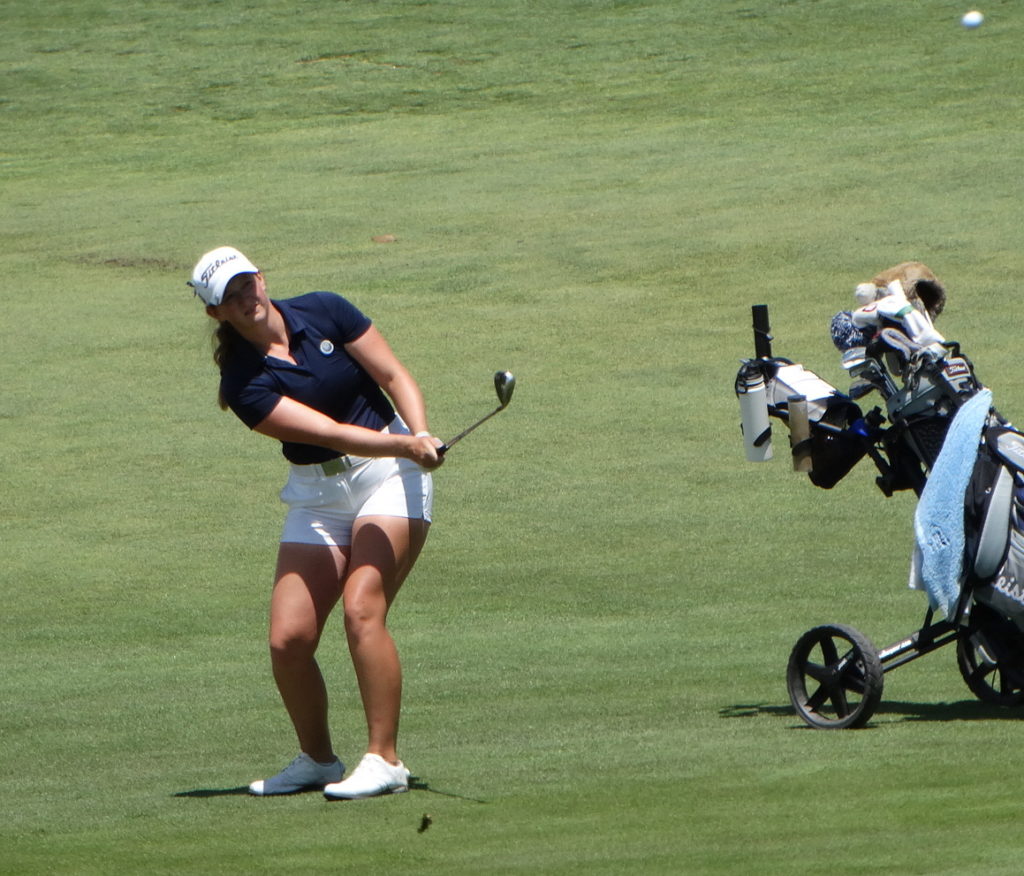 In the girls tournament, the top two spots remained unchanged on Wednesday as a two-time Missouri state high school champion leads a two-time Colorado state champ.
By four shots — the same as the day started.
Megan Propeck, a 16-year-old from Leawood, Kan., and Lauren Lehigh, an 18-year-old from Loveland, both shot even-par 72 Wednesday at Walnut Creek.
Both players are looking for their first AJGA victories.
"Every day is different," said Lehigh, a future University of New Mexico golfer who placed third in last year's AJGA Hale Irwin Colorado Junior. Propeck "has played really well the last two days and so have I. Hopefully I can go out there and give her a little bit of a challenge" on Thursday.
Said Propeck: "I was hoping to get a few more strokes (for her advantage) going into tomorrow, but just being in the lead I'm happy with. Hopefully tomorrow I can hold them off, play another good round and finish with a win."
Claiming her first AJGA victory "would mean a lot," Propeck added. "I've been working on trying to get one for a while. I've always kind of started tournaments slow and not shot my best round and put myself behind. Finally, I've played a tournament where I've gotten ahead to start. I'm hoping I can power through the rest of the week."
On Wednesday, Propeck followed up her first-round 66 with a two-birdie, two-bogey day.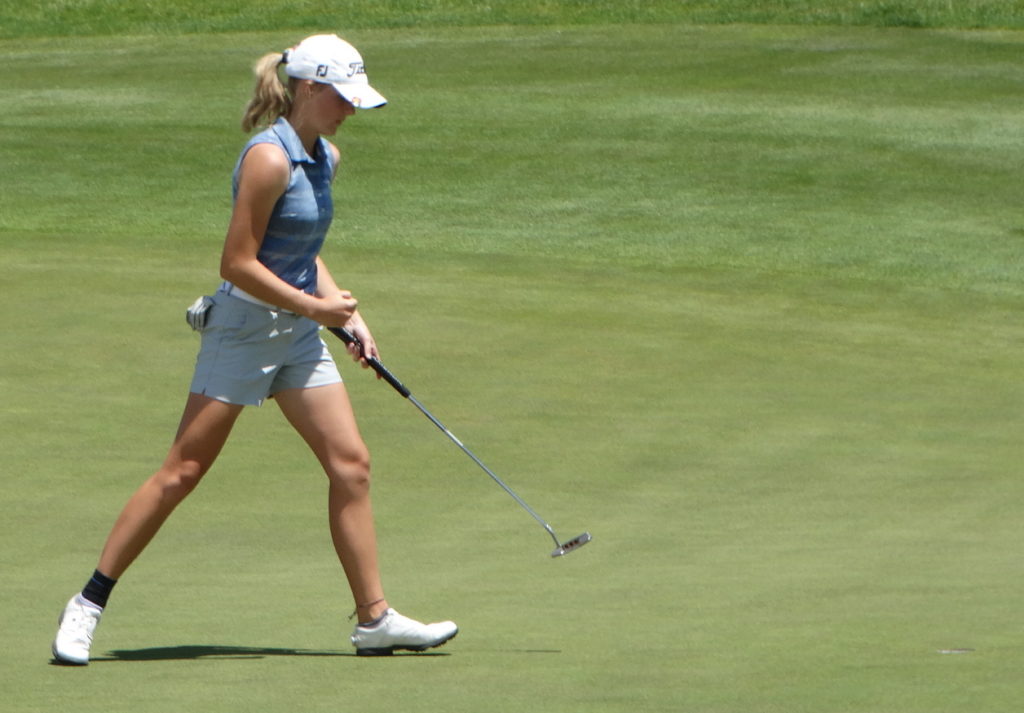 Lehigh, the 2018 Junior Golf Alliance of Colorado Girls Player of the Year, was more up and down for her 72. Three times on Wednesday she recorded back-to-back birdies (5-6, 9-10 and 16-17). But she also had a big hiccup on the eighth hole, where she topped her tee shot, took an unplayable lie, essentially reteed and posted a triple bogey.
"I still made a couple of mistakes out there, but I had a lot of good opportunities and I made a couple of good putts," Lehigh said. "My putting has been really good this week. I know that no matter where I put it, I'm most likely going to two-putt if not make it."
The leaders among the girls will tee off at 11:20 a.m. on Thursday, while the top boys will go off at 12:10 p.m.
The Hale Irwin Colorado Junior is conducted annually by the American Junior Golf Association with the help of the Junior Golf Alliance of Colorado and local volunteers from the CGA and JGAC.
For scores from the AJGA Hale Irwin Colorado Junior, CLICK HERE.
For Thursday's tee times, CLICK HERE.