Erling, Bryant claim titles as high winds cancel final round of JGAC Tour Championship
By Gary Baines – 10/11/2020
Wes Erling of Colorado Springs and Emma Bryant of Aurora became Junior Golf Alliance of Colorado Tour Championship winners on Sunday without even needing to tee it up for the final round.
They were blown away by the news as sustained high winds at the Air Force Academy led to the cancellation of the final round of the 36-hole event at Eisenhower Golf Club's Silver Course.
Erling and Bryant, both members of the CGA's Hale Irwin Player Program at CommonGround Golf Course, earned the titles as they led after Saturday's opening round.
Erling, a 15-year-old who placed fourth in the 5A boys state high school tournament on Tuesday, prevailed by a stroke among the boys after firing a 4-under-par 68 on Saturday. Bryant likewise won by one, in her case after a 2-over-par 74.
But whether the win came after 18 holes or 36, the champions will take it and be proud of the accomplishment.
"To me, a win is a win even if it's not exactly the way I wish I won," said Erling, a sophomore at Pine Creek High School. "I'm very happy. I played very solid yesterday. Even though it was only an 18-hole tournament, I couldn't have asked for more.
"It's definitely the top (thing he's accomplished so far in golf). I haven't done much besides state (high school) so winning this is just huge. It just makes me feel so much better about the end of this year."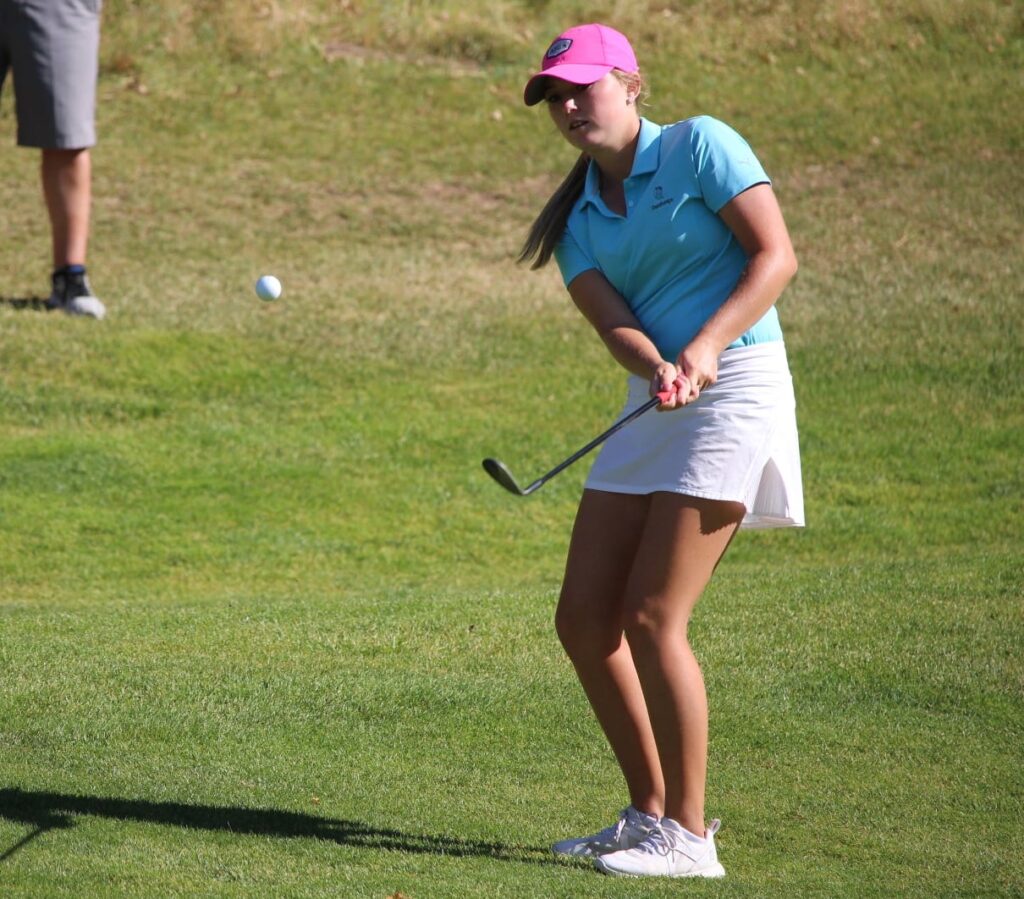 For Bryant, it's her second JGAC major victory, but her first since the 2017 Colorado Junior Match Play. She also won the 5A girls state high school individual title in 2018.
"It truly means a lot to come out on top," said the 17-year-old senior at Eaglecrest High School, who has committed to play her college golf at the University of Denver. "Though it is a one-day tournament, I still was at the top of the leaderboard, so that's really great for me. It's a good thing to head into next season with that confidence."
In the boys tournament, players from Colorado Springs — specifically, two playing out of The Club at Flying Horse — finished 1-2 as Erling was followed by Kaden Ford, who fired a 69 despite a double bogey on No. 13 on Saturday.
Matthew Wilkinson of Centennial and TJ Hicks of Greenwood Village shared third place at 70. Wilkinson finished his round in interesting fashion, going birdie, birdie, triple bogey, birdie.
But it was Erling's day as he made six birdies and two bogeys, with a birdie at 18 accounting for the winning margin.
"I was really able to keep my head the entire round," he said. "And putting was so much better than at state (at The Club at Rolling Hills in Golden). I didn't miss a putt inside of 10 feet. That's what I was most proud of."
Erling said all six of his birdies came from inside of 10 feet. "My irons were very solid, just like at state," he said. "Being able to win this one, it puts into perspective what I'm capable of."
In the girls tournament, Bryant played her final 10 holes in even par on Saturday, sinking birdie putts of 30 feet on No. 9 and of 8 feet on No. 15.
"I'm happy I could pull through yesterday even though I didn't know what would come of it," she said. "It worked out for me."
Bryant finished one ahead of CGA Women's Stroke Play champion Aubri Braecklein of Northglenn and 2019 Colorado Junior
Amateur winner Kaylee Chen of Parker. Braecklein rebounded from a front-nine 41 with a 2-under 34 on the back. Chen was 1 under on the front and 4 over on the back.
Thirteen-year-old Hadley Ashton of Erie place fourth at 77.
Bryant adds this week's victory to two previous wins this year. She prevailed in the women's division of the CGA Western Chapter Championship and at a JGAC Tour event early in the season. Coincidentally, that JGAC tournament was also shortened by weather issues.
"It feels great," she said. "I'm really proud of myself. I think this summer was one of the best summers I've had. … I think I really proved to myself I could hang in with all those other girls. And even though I didn't know what today would bring, this tournament kind of proves that every shot counts. Even though you may not know it at the time, it truly does matter.
"It feels really good to finish off the season strong and end it with a win."
With this being the final points event of the JGAC season, the players that finished atop the year-long Tour points lists were Hunter Swanson of Denver (boys), another Hale Irwin Player Program member, and Braecklein (girls).
Braecklein won two JGAC tournaments in 2020 and finished second in three JGAC majors, including the Tour Championship on Sunday. Swanson also chalked up two JGAC victories in 2020. He placed fifth in the Tour Championship.
For all the scores from Eisenhower, click on the followings: BOYS, GIRLS.