Leader Rico Hoey hopes to become 2nd native of Philippines to win a Colorado Open championship this year; 2013 winner Zahkai Brown of Golden in 2nd place at halfway point
*****For the scores from the Inspirato Colorado Open, CLICK HERE.*****
By Gary Baines – 7/22/2022
Last month, a woman born in the Philippines and currently residing in the Los Angeles area (Clariss Guce) won the Inspirato Colorado Women's Open — and the $100,000 first prize that went with it.
What could be more fitting than if a man who was born in the Philippines and currently residing in the L.A. area (Rico Hoey) were to win the Inspirato Colorado Open — and the $100,000 first prize that goes with it?
Hoey, a former University of Southern California golfer who spent the past three years competing on the Korn Ferry Tour, backed up his first-round 63 with a 7-under-par 64 on Friday, giving him a four-stroke lead at the halfway point of the $250,000 Colorado Open at Green Valley Ranch Golf Club in northeast Denver.
"My older sister played with (Guce) a lot," noted Hoey, who moved from the Philippines to the U.S. at age 4. "I don't know if she remembers me but I remember her from junior golf and college golf watching my sister. I've spoken with her, but it's been a while."
Hoey, who lives in Rancho Cucamonga, Calif., certainly hopes to follow Guce's lead in winning at GVR and earning a six-figure check. And the 26-year-old has certainly put himself in ideal position by being 15 under par through two rounds.
Even though he had never played GVR before Sunday, Hoey has gone through his first two competitive rounds without making a bogey. On Friday, he chipped in for eagle from 25 yards on the par-4 fourth hole (his 13th of the day) and added five birdies. Through 36 holes, he's carded an eagle and 13 birdies.
"It's awesome" to lead by four, said Hoey, who has won three times on the Golden State Tour this year after competing on the Korn Ferry Tour from 2018 through '21. "I've been working really hard and it's nice to see things working out. I'm going to keep doing what I need to do and finish out the tournament. Anything can happen and I'm not going to let my guard down."
Hoey said helping his cause the opening two days was the fact that everyone in his threesome was playing very well, with Shergo Kurdi going 66-68 and Jack Maguire 68-67.
"Both of my group mates played well, so it was nice feeding off of each other," said Hoey, who finished runner-up to Colorado native Wyndham Clark at the 2017 Pac-12 Conference Championship at Boulder Country Club.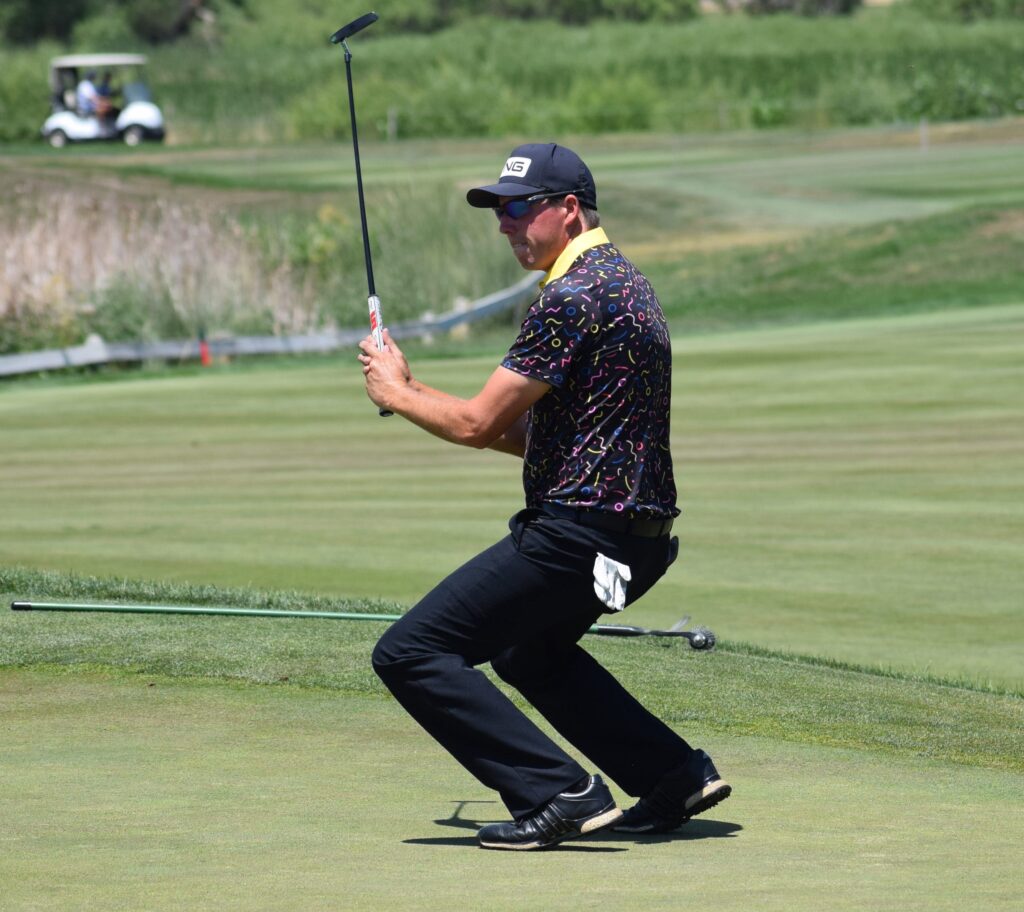 Hoey's closest pursuer going into the weekend will be 2013 Open champion Zahkai Brown of Golden, who trails by four after going 65-66. Another past champ, 43-year-old 2005 winner Will Collins of Albuquerque, shares third place at 10 under with Hayden Wood of Edmond, Okla. (son of PGA Tour and Colorado Open winner Willie Wood), Tom Lovelady of Birmingham, Ala., Noah Hofman of McCook, Neb., and Michael Salazar of El Paso, Texas.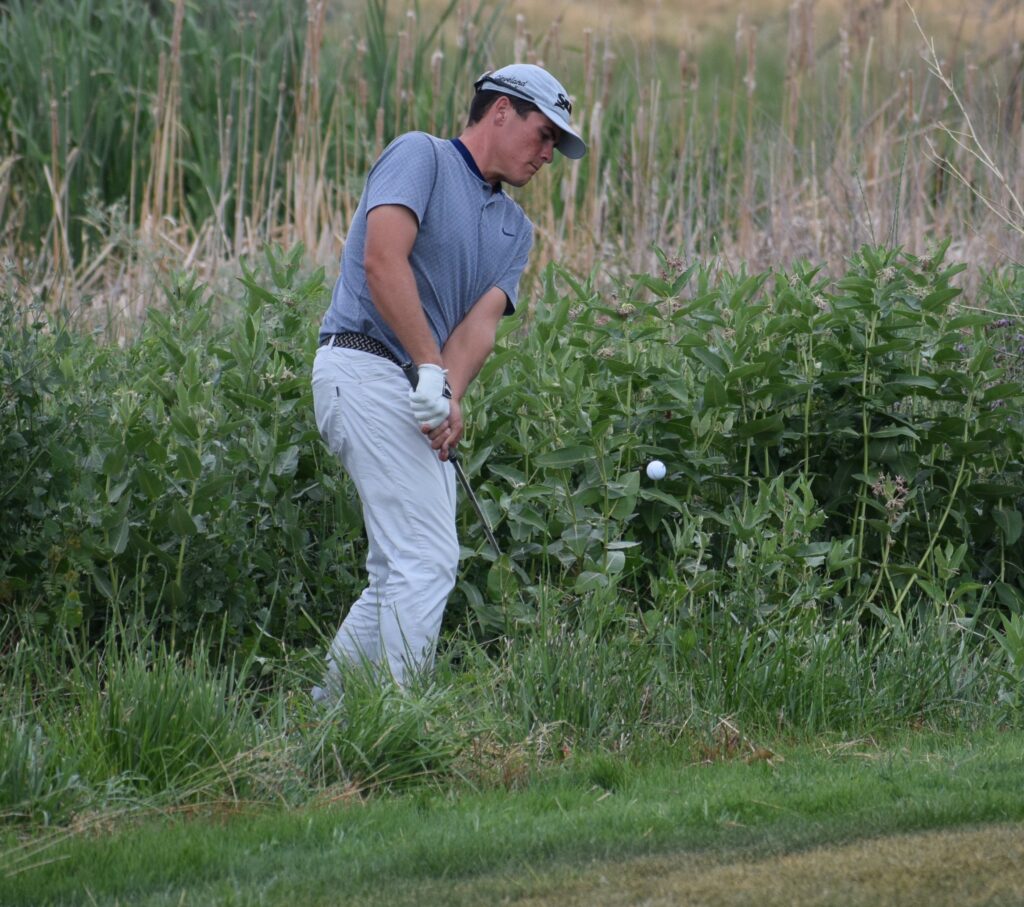 Also in the top 10 is former CGA Player of the Year Gunner Wiebe, a Kent Denver alum, who is six back of Hoey.

Coloradan Zahkai Brown Back In the Hunt at Open: Zahkai Brown is no stranger to being in contention at the Colorado Open. In his dozen-plus years of competing in the event, the Golden resident won in 2013, finished second in 2012 and '15, and placed fourth in 2016. Despite the doubling of the purse in 2016 — after most of his best finishes took place — Brown still ranks 14th on the Colorado Open's career money list.
So it should come as a surprise to no one that the former Colorado State University golfer is very much in the hunt for the title once again this year. The 2011 CGA Player of the Year, who just turned 32, has gone 65-66 and sits four strokes out of the lead going into the weekend.
"It really feels like a good low (round) could come anytime now," Brown said. "I'm hitting it good and putting solid. I just need to get them to flow together. A 60 or 61 could come. I've been feeling solid about my game."
It won't hurt Brown's cause that he's very familiar with the course and lives at altitude, which may give him a slight advantage this weekend over his sea-level competitors who haven't seen GVR nearly as much. And he's had success at this level, winning 20 times in his career in state opens/mini tour events.
"I'm very comfortable here," he said. "I'm not afraid of a lot of shots that maybe someone who hasn't seen the course a lot might be. And I know most of the breaks (on the greens) because a lot of the pins are the same."
In 36 holes this week, Brown has made just two bogeys (none on Friday) while recording an eagle and 11 birdies.
So far this month, Brown finished 67th in The Ascendant Korn Ferry Tour event at TPC Colorado after Monday qualifying, then placed second at the Wyoming Open.
"I know where my swing is at," he said. "I know how to get (the ball) close. The dispersion is real tight so the errors aren't too bad. The putts are either going in or look like they should be going in. Everything is real solid right now."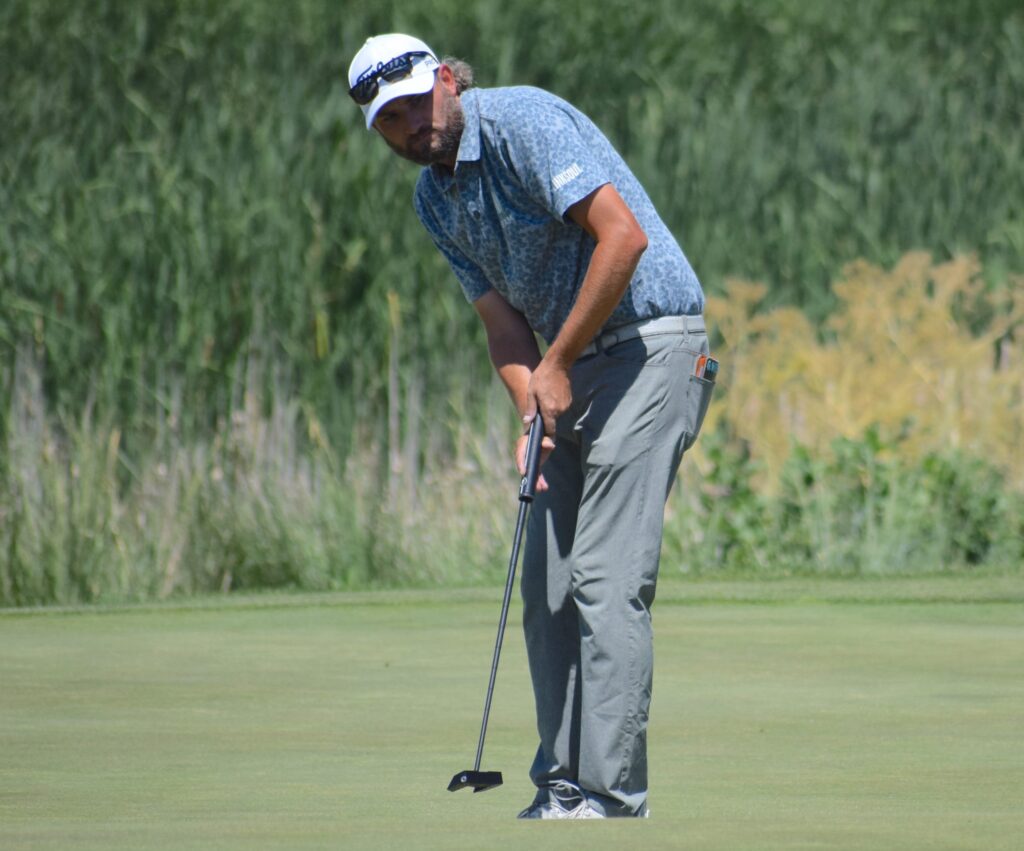 Notable: Gunner Wiebe, who has posted three top-5 finishes at the Colorado Open over the years, remained in the mix with rounds of 67-66. The former CGA Player of the Year played his final 11 holes in 6 under par on Friday. Wiebe, now a Phoenix resident, finished 47th this month at the PGA Tour's Barbasol Championship after Monday qualifying. This is just his second four-round tournament of the year. … Broncos kicker Brandon McManus finished 154th in the 156-man field this year, posting scores of 83-88. … The low round of the tournament so far this year was shot Friday by Samuel Anderson of Stoughton, Wis., a former Wisconsin college teammate of Coloradan Griffin Barela. Anderson, now a pro, fired a 9-under 62 that featured an eagle, eight birdies and a bogey. That's two off the course and tournament record. Anderson shares 17th place at 7-under 135. … 2021 U.S. Amateur champion James Piot shares 36th place after two rounds at GVR, carding scores of 68-70. … Devon Pilkington of Firestone made a hole-in-one Friday at the 190-yard 13th hole, using a 9-iron. However, Pilkington missed the 36-hole cut with a 150 total after a second-round 74. … Ted Smith of Westlake, Ohio, one of the listed co-leaders after day 1, was disqualified on Friday after it was discovered he had signed an incomplete scorecard for round 1. Prior to being informed of the DQ, Smith had shot a 75 on Friday. … The 63 players at 2 under par or better after 36 holes made the cut. … Connor Jones of Westminster, the 2022 CGA Match Play champion, leads the amateur competition by five after posting back-to-back rounds of 67. Next best are Griffin Barela of Lakewood (68-71) and Dillon Stewart of Fort Collins (66-73). Four amateurs made the 36-hole cut, including Jimmy Makloski of Pueblo (71-69).
For Saturday's tee times, CLICK HERE.