4 golfers who grew up in Colorado — AJ Ott, Zahkai Brown, Jake Staiano and Chris Korte — in top 10 after 'pretty easy' day 1 of Colorado Open; 3 players fire 63 to share lead
*****For the scores from the Inspirato Colorado Open, CLICK HERE.*****
By Gary Baines – 7/21/2022
Former Colorado School of Mines golfer Marty Jertson, a veteran of six major championships and five other PGA Tour events, was asked relatively early in the day on Thursday what score he expected to be leading after round 1 of the Inspirato Colorado Open.
With little hesitation, Jertson guessed 9 under par.
The prognostication powers of the Ping Golf vice president turned out to be not far off the mark as red figures were the color of a day that ended with 8 under par at the top of the scoreboard.
While the fact that three 8-under 63s were shot is a testament to the depth of the field for the $250,000 event, so too was that 79 of the 156 players who teed it up on Thursday broke par at Green Valley Ranch Golf Club. In fact, a remarkable 22 golfers took advantage of the benign conditions to card scores of 66 or better.
"This course is playing pretty easy," said former University of Denver golfer Chris Korte, who shot 65 despite missing a 3-foot birdie try on his final hole, No. 9. "It's kind of soft and the greens are absolutely perfect. If you're reading it well and hitting good putts basically they're going to go in the hole every time."
Added AJ Ott of Fort Collins, who sits a stroke out of the lead after an eight-birdie 64: "It was a really good start. The greens are rolling so good. If you can just hit it on the green, you feel like you can make a lot of putts because they're so true. They've done a great job of getting them ready."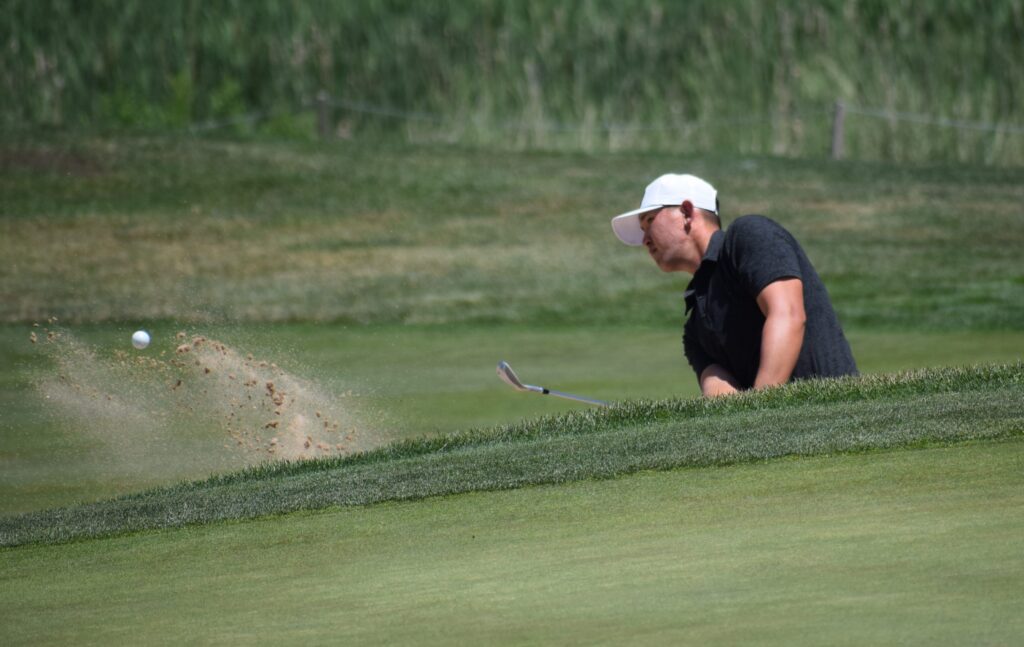 Rico Hoey of Rancho Cucamonga, Calif., a former USC golfer who finished second to Coloradan Wyndham Clark at the 2017 Pac-12 Championships at Boulder Country Club, birdied seven straight holes in the middle of his round en route to a bogey-free 63 in his first Colorado Open.
"That was kind of fun," the former Korn Ferry Tour player said of his birdie streak. "I didn't notice that (at first). My girlfriend was like, 'Can I see the card?' Then I looked and it was like, 'Oh, shoot.' I was just trying to play golf. Those are the holes you've got to take advantage of. And that's what I did.
"Normally I don't get too hot like that. I just sprinkle it in here and there. But that was fun."
Hoey, a three-time winner on the Golden State Tour this year, shares the round 1 lead with former Grand Canyon University golfer Michael Salazar of El Paso and 38-year-old Ted Smith of Westlake, Ohio, who both eagled their final holes, No. 18, in back-to-back groups. Smith also made five straight birdies on the front nine.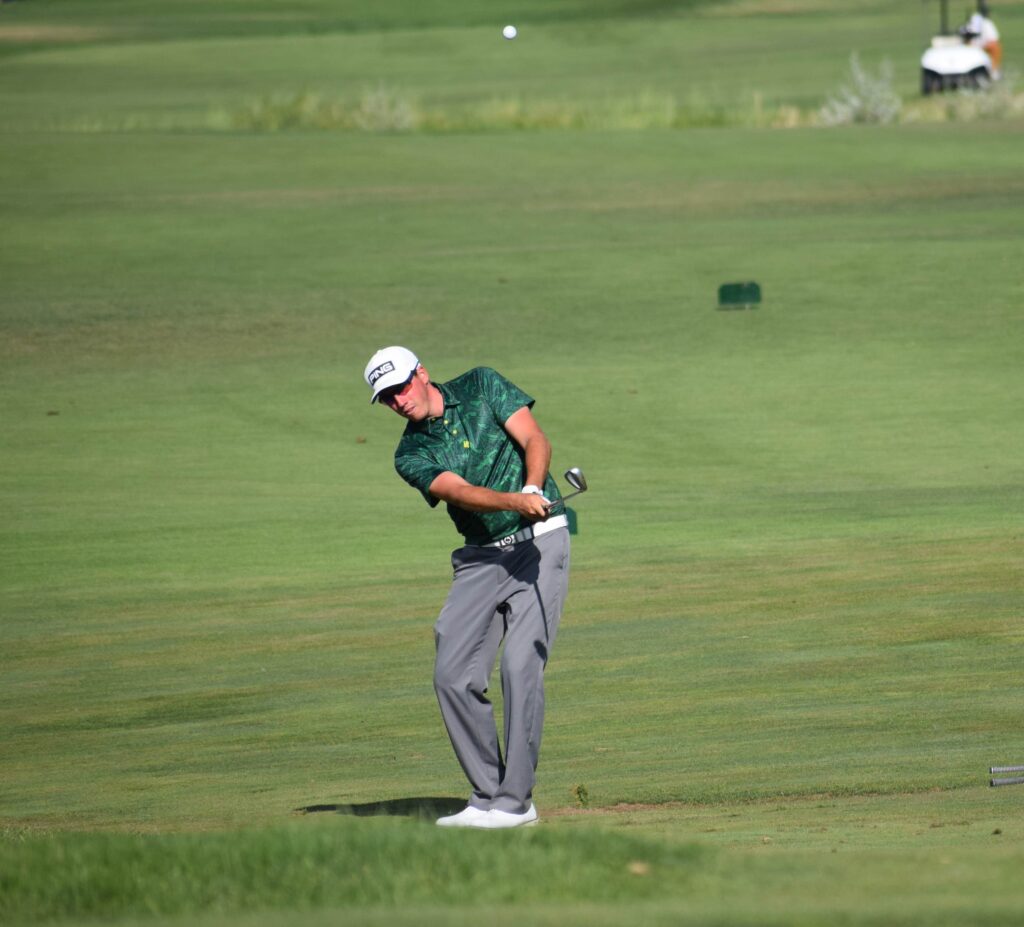 The leaderboard is full of former CGA Players of the Year and past Colorado State University golfers. As noted, Ott (2018 POY) opened with a 64, while 2013 champion Zahkai Brown of Golden (2011 POY) and Jake Staiano of Englewood (2017 POY) carded 65s. All are former Ram golfers.
Staiano's 65 included an eagle on the par-4 fourth hole, six birdies and two bogeys. He finished tied for second at the Colorado Open last year before winning the Rocky Mountain Open, and now he has conditional status on the Korn Ferry Tour. Meanwhile, Brown eagled No. 18, his ninth hole, from 15 feet after hitting a 260-yard 2-iron for his approach, and posted a 30 on his front nine to be one of the top performers in the afternoon wave.
"It was perfect," Brown said of the calm afternoon conditions. "No weather, no storm. We really had just one hole of wind basically. It's one of the best afternoons for the Colorado Open that I've seen. So we definitely got the better draw (afternoon-morning for the first two days).
"Today you could lose a tournament, but you could definitely put up a number to try to win. I put up a good number and I always feel comfortable here so it's definitely a good start."
Besides his victory at the Colorado Open in 2013, Brown has runner-up finishes to his credit in 2012 and 2015 and a fourth place in 2016.
Ott, meanwhile, was low amateur at the Colorado Open in 2019.
"I just like (GVR)," the left-hander said. "The greens are always so good; it's amazing. Most times if you hit a good putt it's going to go in because they're rolling so true. I like the setup a lot. It's nice to be close to home and playing in an event this week. It's nice sleeping in my own bed and being back home. And I'm comfortable at altitude."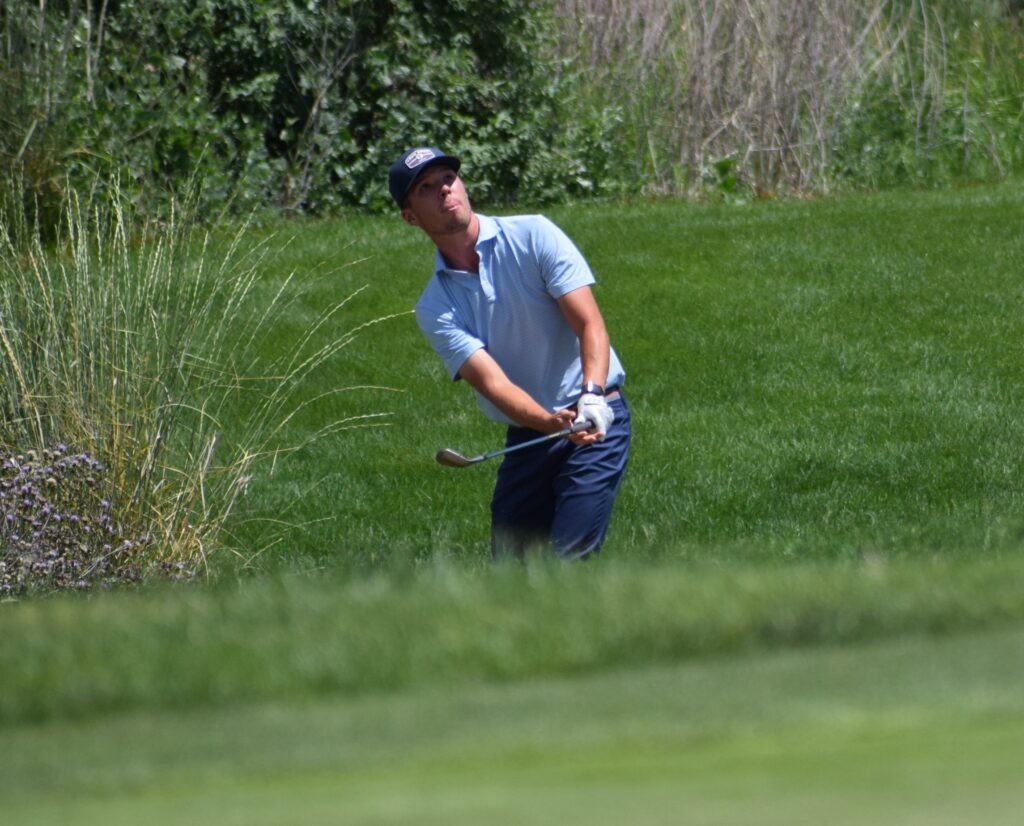 Likewise that's true for Korte, who grew up in Littleton and now lives in Scottsdale, where he picked up his first pro victory a couple of months ago in the Scottsdale Open.
"You always tell yourself you're going to win this week, but until you actually do it, it's a little different," said Korte who highlighted his bogey-free day with a 20-foot eagle on No. 18, his ninth hole of the day, after hitting a 2-iron to the green from 260 yards. "So now I really have that belief in myself."

Trio of Pioneers: Three former DU golfers were paired in a morning group with pros Korte and Jackson Solem joining reinstated amateur Charlie Soule. Korte posted a 65, Solem a 66 and Soule a 72.
"It was a great group," Korte said. "I was teammates with Jackson for a year. I've spent a lot of time with him even the last couple of years. He's one of my favorite guys out there. Charlie, I don't know as well, but awesome guy to play with too. I couldn't have asked for a better group."

Notable: Dillon Stewart of Fort Collins, who recently placed third in the prestigious Porter Cup amateur event, shot a 5-under-par 66 with a triple bogey on his 11th hole (No. 2) after carding a 6-under 30 on his front nine. The 2022 U.S. Amateur qualifier finished with eight birdies on the day. Stewart leads the amateur competition by one over Connor Jones of Westminster. … Broncos kicker Brandon McManus opened with an 83 on Thursday, which leaves him in last place after round 1. … After Friday's second round, the field will be cut to the low 60 players and ties. … 2021 U.S. Amateur champion James Piot opened with a 68 on Thursday and shares 32nd place.