Eisenhower Golf Club sets scoring record in winning CGA Women's Club Team for first time
By Gary Baines – 09/24/2019
Last year, when Eisenhower Golf Club competed in the CGA Women's Club Team Championship, it didn't go particularly well — at least, performance-wise. It tied for 23rd place in a 32-team field.
But what a difference a year makes.
On Tuesday, playing in a 31-team field at Indian Peaks Golf Course in Lafayette, Eisenhower improved 22 places in the standings. In other words, it won the title.
And if that weren't enough, Eisenhower set the scoring record for the 16-year-old tournament in the process  — beating the old mark by seven strokes, no less.
The team, based on the campus of the Air Force Academy, soared to new heights with a 64-over-par 352 total in the ABCD stroke play format in which the gross scores for all four team members are added together for a final result. The USGA handicap index for an A player must be up to 12,  with the B player ranging from 10-20, the C from 18-28 and the D from 26-36.
The previous scoring record for the event came in 2015 when South Suburban Golf Course recorded a 359 total in claiming the second of back-to-back titles.
On Tuesday, team captain Betty Bullington shot an 11-over-par 83 despite making an 8 on the first hole at Indian Peaks. B player Chi Mayenzet posted an 89, also despite an 8. Kandi Fitzgerald and Dianne Holmes, Eisenhower's C and D players, respectively, each carded 90s.
(The champions are pictured above, from left: Bullington, Mayenzet, Fitzgerald and Holmes.)
"My C and D players today were just phenomenal, especially our D player, Dianne Holmes," Bullington said. "She was just on fire today, which really helped. We had no idea that we were even in the running because we haven't been (in the Club Team before, except for Holmes). We didn't know what score to expect would win."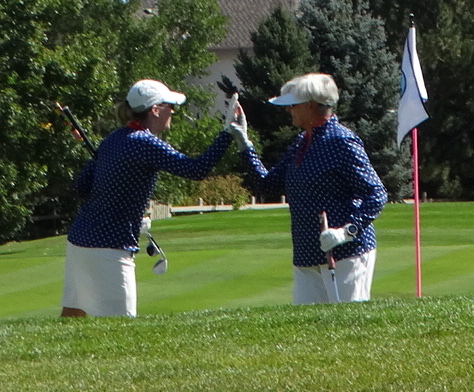 As it turned out, the top four finishers on Tuesday matched or bettered the old scoring record for the Club Team. Kissing Camels placed second at 356, while 2017 champion Colorado Golf Club and Lone Tree Golf Club shared third place at 359. 
Defending champion Club at Rolling Hills finished 22nd at 381.
While Bullington and Mayenzet weren't quite up to their usual standards on Tuesday, Holmes and Fitzgerald more than took up the slack. 
Fitzgerald made two birdies on the day — both on par-3s (Nos. 5 and 14).
"I don't get birdies," said the 18.7 handicapper, who noted she can't remember the last time she recorded two in one round. "I might birdie a par-5 every now and then.
"You don't want to let anybody down (in this format). I think that's the hardest part for me — I don't want to let my teammates down. But even if you had a bad hole, (my teammates) were like, 'It's all right. We're going to go to the next hole.' That made me feel better."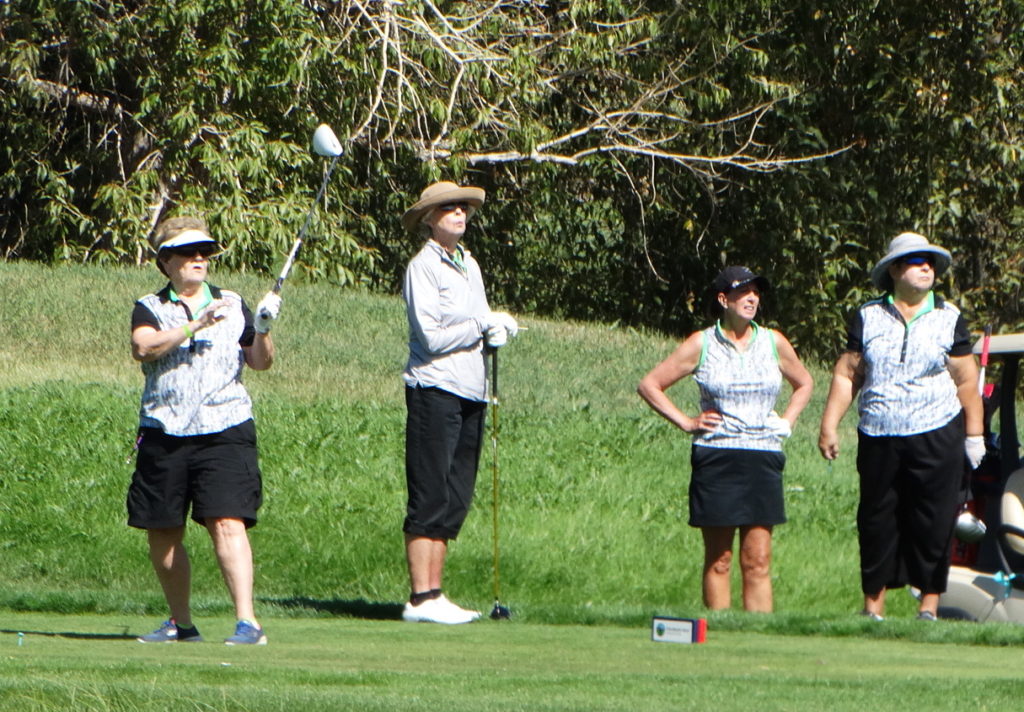 As for Holmes, who owns a 27.1 handicap, 90 was a career round.
"I was on the (Eisenhower) team last year, but I didn't shoot like I shot today," said Holmes, who recorded a 111 last year in this event. "This is not how I chip and putt at Eisenhower."
Asked the last time she shot 90 or better on a regulation course, Holmes said, "never. I've shot in the 90s, but never 90. I've been really stressed to get under 110 this year. I haven't played as much this year."
Eisenhower began on Indian Peak's par-3 fifth hole in Tuesday's shotgun start, and perhaps it was an omen how the four played that hole. Pars for Bullington, Mayenzet and Holmes, and a birdie for Fitzgerald.
"We played the hole 1 under," said Bullington, who retired last fall after 37 years in the Air Force. "I was like, 'That is an awesome start, ladies.'"
The team did exactly the same on the par-3 14th hole, which also played 110 yards — making three pars, with a birdie from Fitzgerald.
But, coming down the stretch, Eisenhower's 15th hole — No. 1 at Indian Peaks — didn't treat the teammates as well. Holmes, the D player, made a respectable bogey, but Bullington — the reigning women's club champion at Eisenhower — carded a triple bogey and Mayenzet and Fitzgerald each had doubles.
"I said to (Bullington), 'Well, we don't have a chance. We don't have hope anymore,'" Mayenzet recalled. "I could tell she was really upset and she said, 'I still could make a putt.' We had a bad hole there and I thought, 'Our hope is gone.' (Bullington) is a good golfer, an A player. But I lost hope."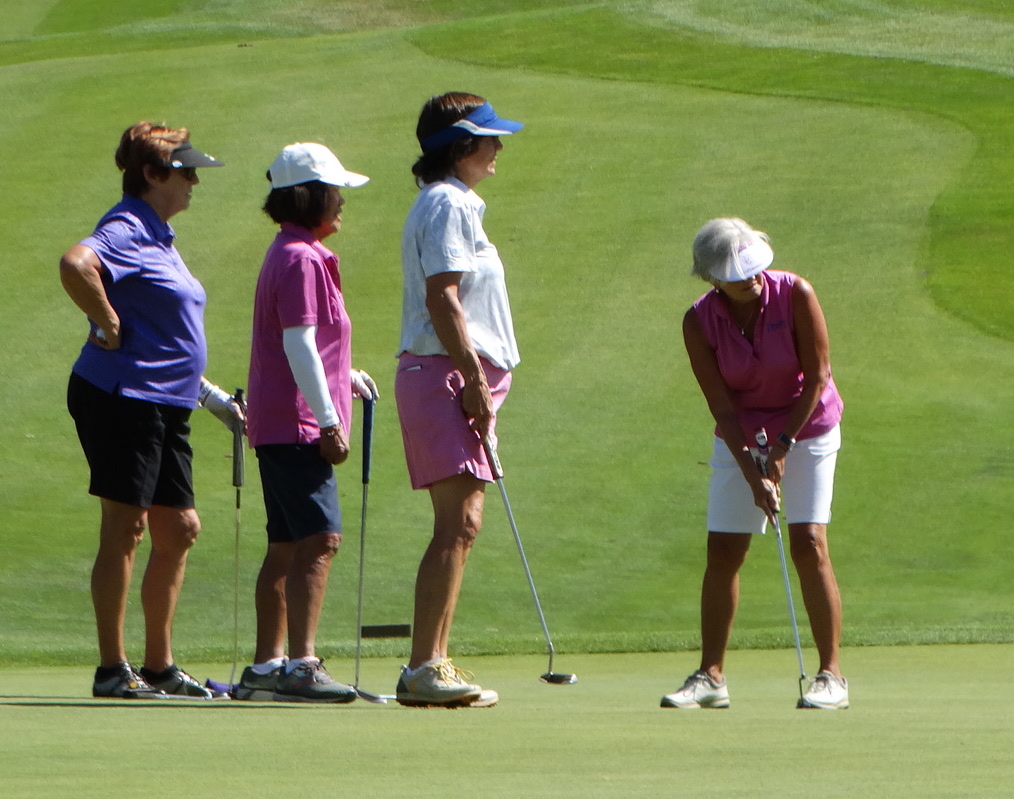 But Holmes went par-par-bogey the final three holes to help put Eisenhower over the top in the team standings.
"All of a sudden she clicked and was hitting everything perfect" in the second half of the round, Mayenzet said of Holmes, who went 4 over the last nine holes.
"Last time I played with (Holmes), she probably shot about 115 that day," Bullington said. "I'm going to be honest: I was a little nervous coming into this tournament because she hadn't been playing well. Yesterday (during a practice round) was OK; she shot in the upper 90s. I was like, 'OK, she's going to be OK.'
 "But most of all, we did have fun today, and I think that's what really helped."
The low individual scores posted on Tuesday were 75s by former U.S. Senior Women's Amateur qualifier Susan Hartwell of West Woods and Andrea Barry of host Indian Peaks.
The trophy for the CGA Women's Club Team Championship is named in honor of tournament founder Willie DiLoreto. Tuesday's event marked the final CGA women's championship of 2019.
For all the scores from the CGA Women's Club Team, CLICK HERE.