Harry Rudolph holds 36-hole lead in bid to become the first back-to-back winner of CoBank Colorado Senior Open; Coloradan Jon Lindstrom making another strong showing in CSO
By Gary Baines – 8/26/2021
***Scores for the CoBank Colorado Senior Open***
In the 22-year history of the CoBank Colorado Senior Open, no player has claimed back-to-back titles. And for that matter, no one has won two straight championships at the Colorado Open since Dave Hill in 1976-77.
But Harry Rudolph wants to put an end to that at the CSO, and the 51-year-old from La Jolla, Calif., has positioned himself to do just that this week at Green Valley Ranch Golf Club in northeast Denver.
"Why not have a back-to-back winner? Why not me, as they say," he said with a smile on Thursday. "I know I still have to go out and shoot a good round tomorrow. No matter what, you're going to have to shoot something under par to do what you want to do.
"So I'll focus on playing the course the way I've been playing it — stay aggressive and try to make birdies. I'd like to get through a round with no bogeys. That would be my goal. If I can do that, I'll have a good chance."
On Thursday, the defending champion shot a 5-under-par 67, making seven birdies in the process, including carding three 2s. With a 9-under 135 total, he'll take a one-stroke lead into Friday's final round.
"It was fun playing with Harry because the guy was making putts everywhere and playing really well," said amateur Jon Lindstrom of Denver, who finished second to Rudolph in a playoff last year and was paired with him both Wednesday and Thursday. "Even though I was 4 under today, it felt like even par compared to him because he's the one making all the birdies. It ended up being kind of an easy round just trying to get out of his way."
Lindstrom, who like Rudolph qualified for this year's U.S. Senior Open, is one of many competitors who will be pursuing Rudolph going into the final round. But given that Rudolph has now shot five consecutive scores under par in his five CSO rounds, he may not be easy to take down on Friday.
"I'd say my game feels better than it did this time last year when I won it," Rudolph said. "I feel like I'm in good shape. I've been practicing hard and playing hard and waiting to kind of crack through and get to the next level. I feel really good about it."
Rudolph, who helped lead the University of Arizona to the 1992 NCAA team title, remains a good friend of his former junior golf and college rival, Phil Mickelson, who won the PGA Championship this year. In fact, Rudolph said he recently played three straight days with Mickelson — and four-time PGA Tour winner Charley Hoffman — prior to the start of the PGA Tour's FedExCup Playoffs.
"I got my butt beat up pretty good with those guys," Rudolph admitted. "But they're great for me — stiff competition and trying to raise the level of my game to where they are."
Besides winning last year's Colorado Senior Open, Rudolph was the low amateur in the 1991 Colorado Open — the last one played at Hiwan Golf Club in Evergreen.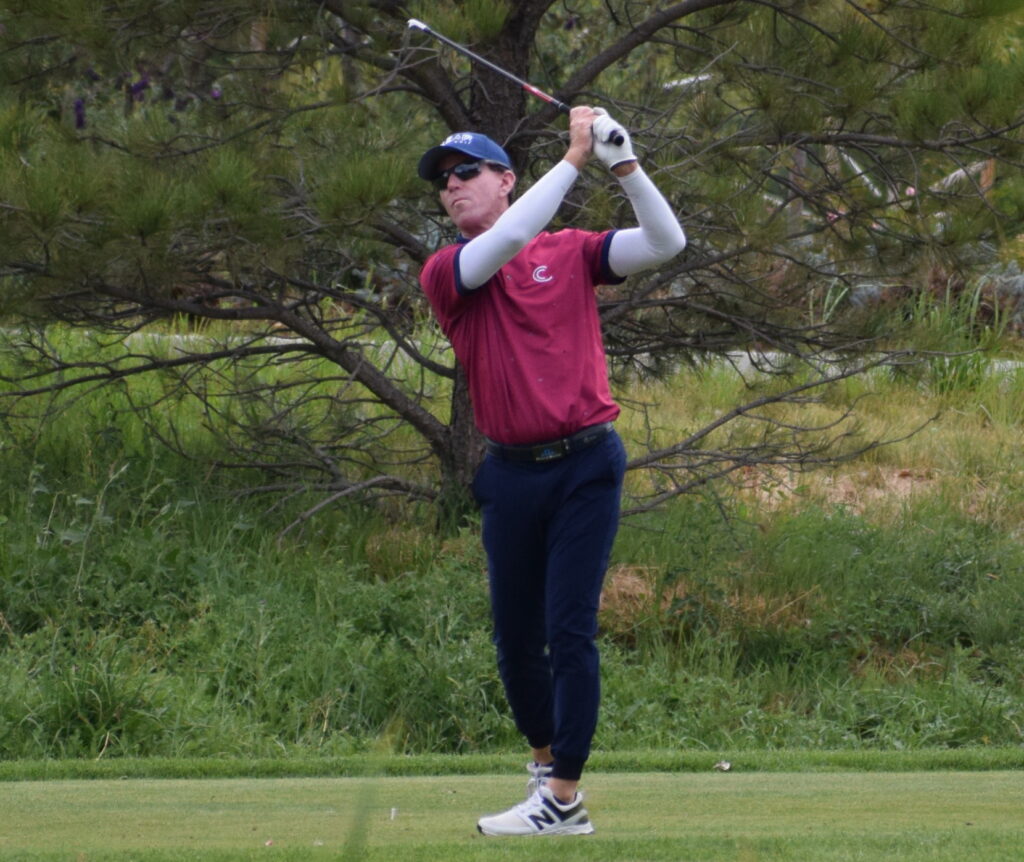 But Skip Kendall — who owns four runner-up finishes in 424 career PGA Tour starts plus four Korn Ferry Tour wins — certainly has the potential to make a run at the title on Friday. He finished second at the CSO in 2018 and sits one back of Gallagher after going 67-69.
Kendall was bogey-free through 17 holes on Thursday, but missed a 5-foot par putt on No. 9, his closing hole of the day and a relatively easy par-5.
"I made a debacle on that (hole)," the 56-year-old from Windermere, Fla., said. "You never want to end that way, but that's golf."
Kendall has made just two bogeys in two days.
Kendall, who finished third in the 1997 International at Castle Pines Golf Club on the PGA Tour, is looking for his first significant tournament victory since capturing the Korn Ferry Tour's Pacific Rubiales Colombia Championship in early 2012.
"I just want to be there and see what can happen down the stretch," he said. "I'm playing well. Being a senior, one of the things you recognize is you never know what you're going to wake up with. Some days just feel different than others. That's part of the inconsistency; you aren't sure what your body is going to do. For the most part your mind is still the same. Hopefully some good things will happen tomorrow. We'll see."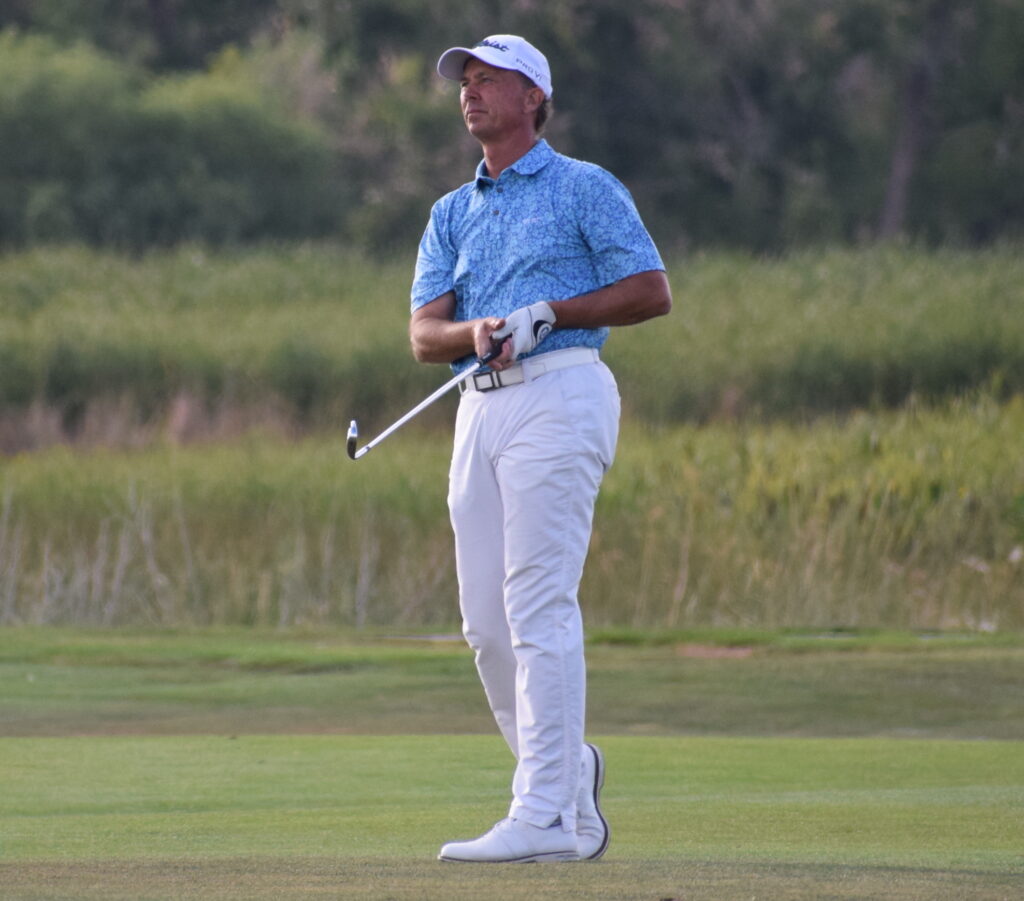 Jerry Smith of Scottsdale, Ariz. — who eagled the par-4 14th hole on Thursday, going 4 under par in three holes — sits in third place at 137 after posting a second-round 68. Jeff Lyons of Loudon, Tenn., and Chad Sorensen of Taft, Calif., share fourth place at 138.

More of the Same for Jon Lindstrom at CSO: Jon Lindstrom has taken a shine to the CoBank Colorado Senior Open — or least he should.
In his two previous appearances in the event, the Denver resident finished sixth in 2018 and second in a playoff in 2020, earning low-amateur honors in both cases. And he's giving every indication that this year might be more of the same.
On Thursday, the three-time CGA Mid-Amateur champion shot a bogey-free 4-under-par 68, which moved him up into a tie for sixth through 36 holes. After hitting all but one or two greens in regulation in round 2, he sits at 4-under 140, five behind Rudolph, his playing partner the first two days.
The highlight of Lindstrom's day came at the par-3 eighth hole — his 17th of the day — when he almost made a hole-in-one, with his ball finishing about 4 inches behind the cup.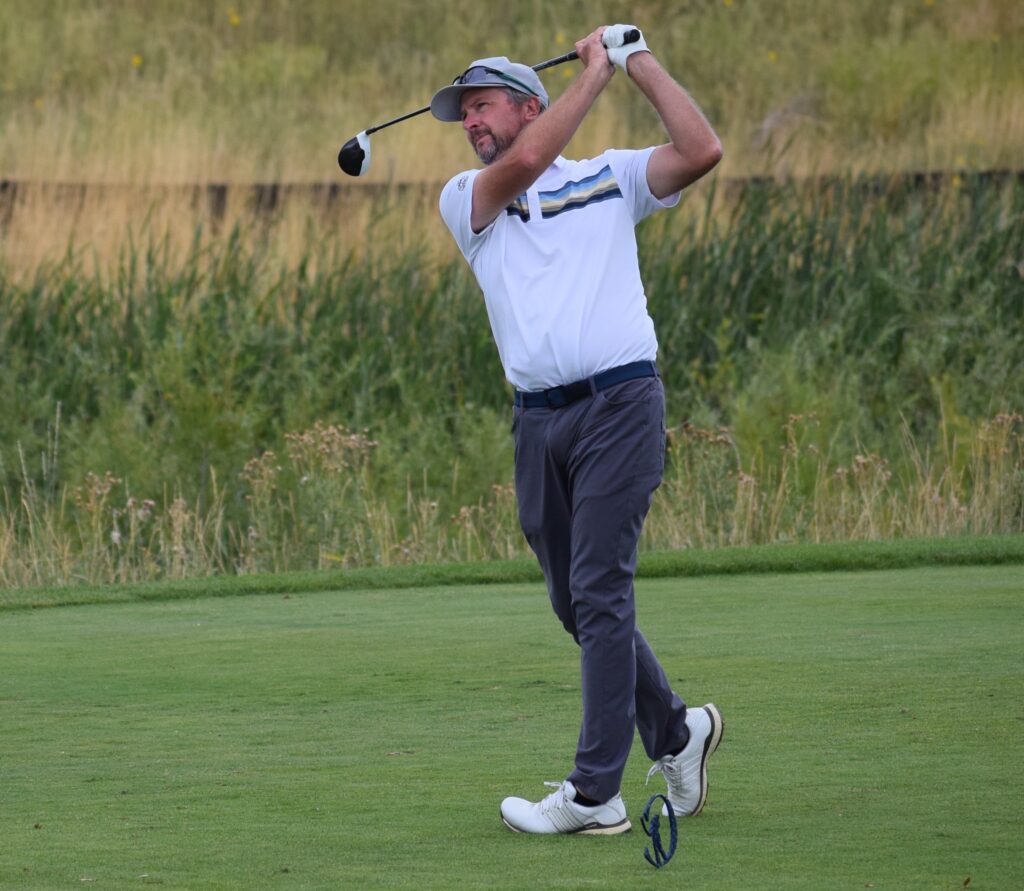 Asked why he's done so well at the Senior Open, Lindstrom said, "I don't know. I don't ever play this course except for this event or the two years I played in the Colorado Open.
"Part of it has to do with playing at Lakewood (Country Club, his home course). It's very narrow. Playing out there (at Green Valley Ranch) to me is like playing a driving range because the fairways are just massive. Granted, there's a lot of trouble out there when the wind blows and that stuff gets into play. But I can go out there and feel like I'm not hitting it that great and still hit fairways and greens because compared to Lakewood it's a much bigger course."
After watching Rudolph play for two days, Lindstrom feels his chances are slim of making up a five-stroke deficit and possibly capturing the overall title on Friday.
"I think that's a stretch based on the way he's playing," Lindstrom said of Rudolph. "I don't see him playing poorly tomorrow. If for some reason he shoots even and I shoot 4-5 under, I guess that's a possibility.
"There's not a lot of rough out there and if you hit fairways and greens you can go low. So there's always a chance, but my game plan is always go out and play the course, play the best I can that day and let the chips fall.
"I'd love to win the overall title. That's always my goal, but I don't go out there thinking that while I'm playing."
Indeed, last year, when he made it into a playoff with Rudolph for the overall title, Lindstrom said he didn't watch the scoreboard at all on the final day and didn't know where he stood when he entered the scoring area.
"I tend to play best when I just play the course," Lindstrom said. "Hopefully it's good enough to be in the top somewhere."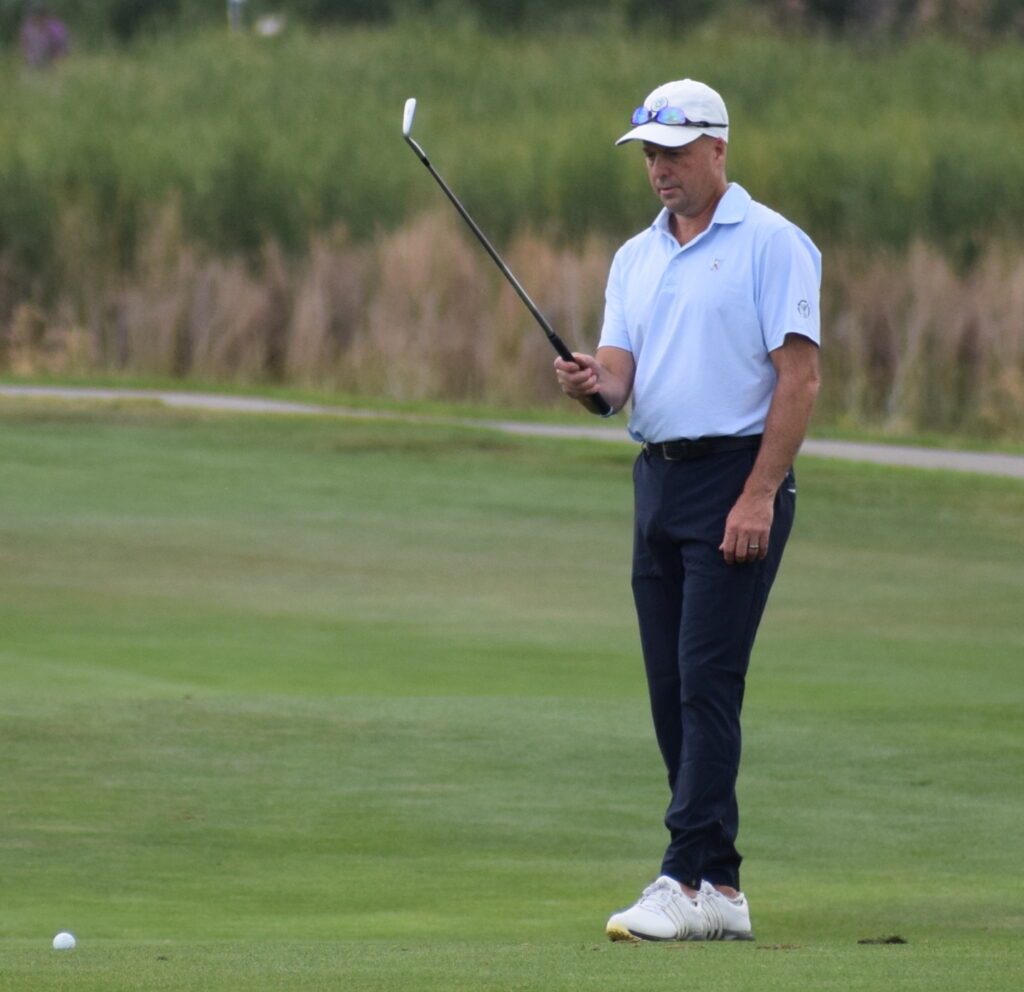 Meanwhile, in the amateur competition, Lindstrom's closest competition is another Lakewood CC member, fellow Denver resident Richard Bradsby, the 2019 CGA Western Chapter Championship winner. Bradsby backed up his first-round 69 with a 72 on Thursday and trails Lindstrom by one.
Wyoming resident John Hornbeck is third among amateurs at 143 (73-70), while two-time CGA Senior Player of the Year Steve Ivan of Colorado Springs is fourth at 144 (76-68).

Notable: The 53 players who were 3 over par or better after two rounds made the 36-hole cut and will play on Friday. Among those who won't be sticking around for round 3 are a couple of PGA Tour winners. Tom Purtzer, a five-time champ on Tour, withdrew after being 11 over par through 35 holes. Keith Clearwater, twice a PGA Tour winner, went 78-72 for a 6-over-par 150 total. Also exiting after two rounds was the only two-time CSO champ, Greg Bruckner of Phoenix (76-73–149), along with former U.S. Senator Mark Udall of El Dorado Springs (74-81—155). … Perry Holmes, PGA director of instruction at Colorado National Golf Club, shares the lead in the super-senior division for players 60 and older. He and Kevin Dillen of Paris, Texas stand at 142. Holmes has gone 70-72 and Dillen 69-73. … The winner — or low pro — on Friday will receive $12,500.
For Friday's final-round tee times at GVR, CLICK HERE.