Despite wild travel odyssey, 2020 champion Harry Rudolph opens with 68 at CoBank Colorado Senior Open; Skip Kendall and Eddie Griswold share lead at 67
By Gary Baines – 8/25/2021
***Scores for the CoBank Colorado Senior Open***
Considering Harry Rudolph was in Flint, Mich., early Wednesday — the morning the CoBank Colorado Senior Open started — it didn't turn out to be a half-bad day as he walked off the course at Green Valley Ranch Golf Club with his name near the top of the leaderboard.
Rudolph, the defending champion at the CSO, was in Michigan on Tuesday competing in a qualifier for the PGA Tour Champions' Ally Challenge. He didn't make it, but was in a 10-for-1 playoff for the final berth into the event.
So Rudolph was left to travel to Denver to make his 1:35 p.m. tee time on Wednesday for the Colorado Senior Open. But, by any measure, it was a brutal travel odyssey. So when he posted a 4-under-par 68 — which left him a shot back of co-leaders Skip Kendall of Windermere, Fla., and Eddie Griswold of Garland, Texas — he had a tired smile on his face.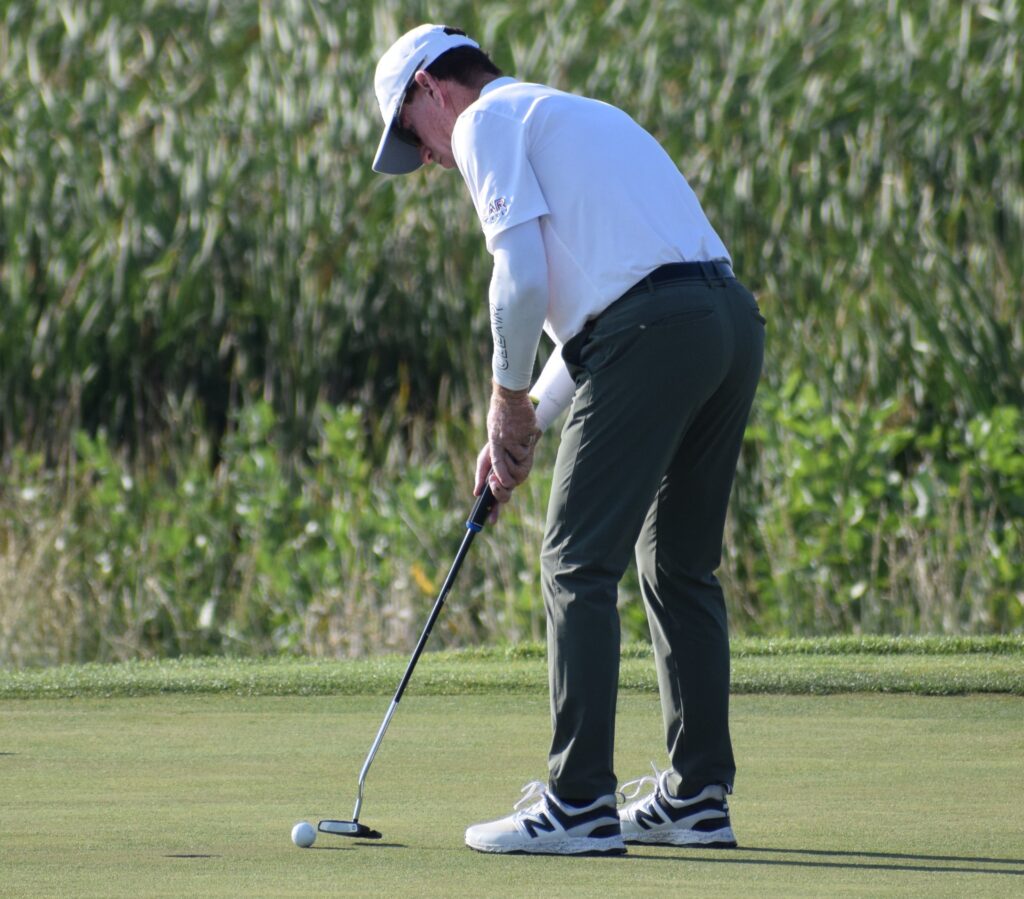 Little wonder why, considering he slept — maybe an hour — in the Flint airport Tuesday night and only arrived at GVR an hour before he was scheduled to tee off on Wednesday.
"So I'm kind of seeing sideways," Rudolph said after his round. "If my tee time was an hour earlier, I would have missed it. It was everything I could do just to get here.
"I tried to push through (the tiredness and circumstances) and just ignore it. I was reading a quote from (University of Alabama football coach) Nick Saban. He told his football team, 'Yeah, we all know it's hot. That's the last time I want to hear it today. Let's go practice.' At the end of the day, it's hot and I'm tired. So I was kind of inspired by Nick Saban's comment."
Rudolph, a 51-year-old from La Jolla, Calif., who's a buddy of Phil Mickelson, finished Wednesday with six birdies and two bogeys. One of those bogeys came on his final hole, where he failed to get up and down from the front bunker.
But considering what he had gone through, he wasn't complaining a bit about his 18th-hole bogey.
After missing out in a playoff in Tuesday's Champions qualifying, "I headed straight to the airport in Flint," he noted. "We got on the airplane and got out to the tarmac and there were storms in Chicago, so we had three hours on the tarmac before they started to come back in and tell us the flight was canceled.
"Flint is a pretty small airport so there's no airport shuttles, I couldn't get an Uber and there were no taxis that would respond to my call, so I slept in the airport — on the floor, leaning up against my golf bag, in a chair, flat on the floor, walking around. I was like the only person in the whole airport. It was weird.
"I was able to book a 6 a.m. flight this morning to Chicago. That flight got delayed for an hour by mechanical stuff. Long story short, I got here from the airport (at DIA) one hour before the tee time. So I changed and brushed my teeth and put my contacts in."
A little additional sleep on the flight and a quick lunch before the round — after not eating dinner on Tuesday — helped Rudolph's state of mind.
"At the end of the day nobody is going to care (what you went through) so you have to grind it out and make birdies. That's what my mindset was," he said. "Go out and play hard because there's a bunch of guys, they don't care. Some of them probably didn't sleep last night either.
"At the end of the day you have to show up and perform. I was able to hit the ball pretty good today. I did what I could to shoot a decent number."
It should be noted that Rudolph wasn't the only player to compete in the Colorado Senior Open on Wednesday after playing in Tuesday's qualifier in Michigan. But it's unlikely anyone else went through the travails Rudolph did — and he's the defending champion at the CSO.
"That's crazy," Kendall said of Rudolph's 24-hour odyssey. "I would have turned that ship around to home. There's no way I would have done that."
Asked if he ever considered just withdrawing from the Senior Open, Rudolph admitted that on multiple occasions on Tuesday night, he contemplated booking a continuing flight home to the San Diego area en route home. "But it's not in my nature to do it," he said. "And I was feeling way worse this morning than I was by the time I got (to Denver) after the flight."
The Harry Rudolph that showed up at GVR on Wednesday bore little resemblance — at least facially — to the one who won the Senior Open last year. Suffice it to say he has quite a beard going after being clean-shaven in 2020.
"I started growing it before the summer. And I said I wasn't going to shave it until I qualified for a Champions Tour event," he explained. "I qualified for the U.S. Senior Open and the British Senior Open, but technically those aren't Champions Tour events. It's been going for a while. I want to qualify and I want to shave it off. Then once I shave it, am I going to get superstitious? So maybe it'll be my strength.
"I had super long hair too. I said I wasn't going to cut my hair either. But when I qualified for the U.S. Senior Open (where he finished 34th) I cut my hair and kept my beard. It kind of turned into a hockey playoff beard too."

Meanwhile, Kendall and Griswold fired 5-under 67s in the afternoon on Wednesday to share the first-round lead on a day that 23 players finished in red figures.
Kendall, who finished second four times in 424 PGA Tour starts in his career, tied for second in the 2018 Colorado Senior Open. And on Wednesday he made few mistakes, recording six birdies and one bogey.
"It was a lot better than I have been playing," Kendall said. "I've played in five Champions events this year, and they were nothing to write home about. I'm not really playing that much anymore honestly. I started coaching a couple of years ago, and that's really been my main focus. I haven't put the time into practicing as much as I probably should have if I'm going to be playing.
"But when I do tee it up, I want to be competitive. That was frustrating a little bit. But I had a good round today. I played really solid. I hit 16 greens (in regulation) and never put myself in much trouble at all. I didn't birdie any par-5s through, which was kind of unfortunate. But the other holes were pretty good."
Like Kendall, Griswold carded six birdies and one bogey for his 67.
"My birdie putts were short," the 51-year-old said. "I flagged a lot of holes. I was inside 4 feet a bunch."
Griswold, who didn't take up golf until age 28, had never played in Colorado until this week, but seemed to acclimate pretty quickly.
"I came in Sunday and played Sunday, Monday and Tuesday," he said. "I made a ton of notes, getting used to elevation. And if I'm more familiar with the golf course, I'm more confident. Today I felt pretty comfortable."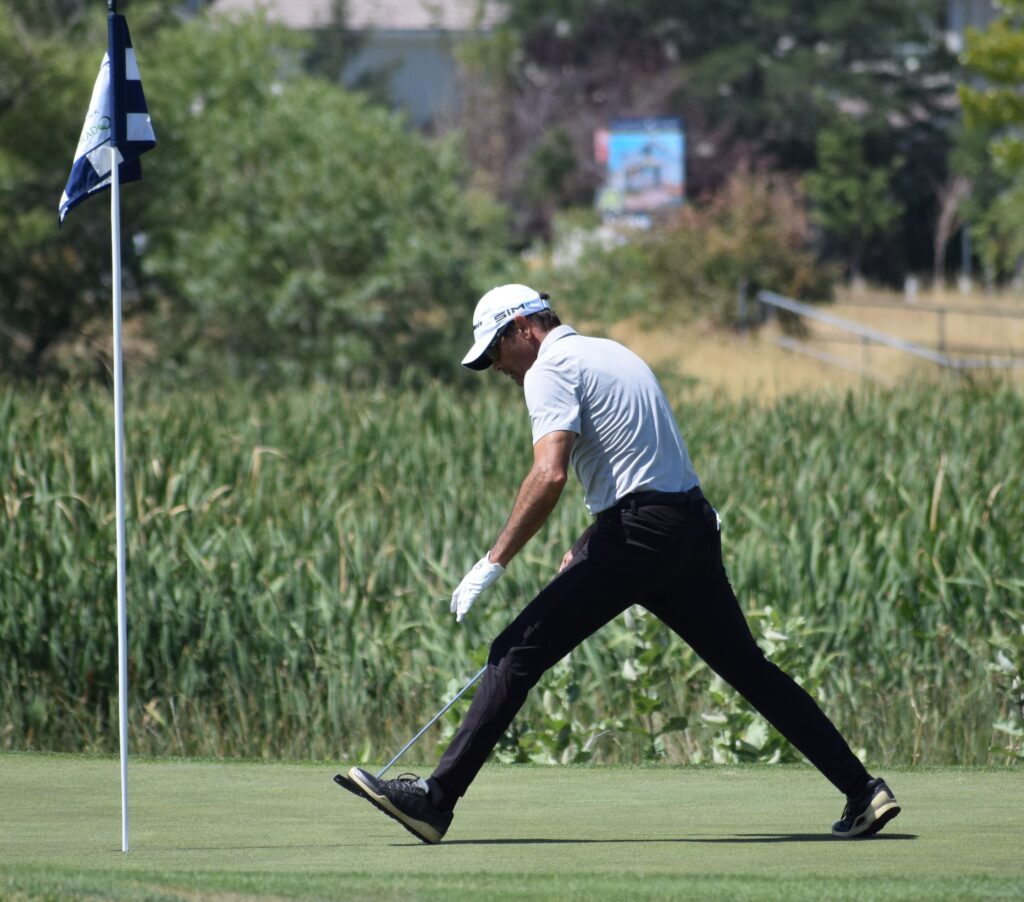 Colorado Mojo: Steve Schneiter is a longtime resident of Utah, but based on how he's performed in Colorado over the years, the Centennial State might be considered his home away from home.
Earlier this year, he qualified in Colorado — for a second time — for the U.S. Senior Open. And in the Colorado Open over the years, he's posted three top-10 finishes, including losing in a playoff to Bill Loeffler in 1991, the last time the tournament was held at Hiwan Golf Club in Evergreen. And in the CoBank Colorado Senior Open, he owns two top-10s since 2017.
After estimating he's competed in 35-40 Colorado Opens and Colorado Senior Opens combined, he quipped, "If you guys (in Colorado) want to adopt me …
"I've had so many (close calls in the Colorado Open and CSO). So we'll see. I have a number in my head every day I want to shoot — or better," he said, without revealing what that number is.
So it was no surprise that Schneiter — a past winner of both the national PGA Professional Championship and the national Senior PGA Professional Championship — is near the top of the leaderboard after Wednesday's opening round of the Colorado Senior Open. The 57-year-old from Sandy, Utah shot a 4-under-par 68 despite bogeying the last hole when he hit his second shot on the par-5 18th into the penalty area. It was the only blemish on a Wednesday scorecard that featured five birdies. He shares third place with Rudolph and Chad Sorensen of Taft, Calif.
"It was a solid round for me," Schneiter said.
Perhaps Schneiter is trying to exact a little payback for Utah after Derek Fribbs of Aurora won the Siegfried & Jensen Utah Open by three strokes on Sunday in Provo. The former University of Colorado golfer went 66-63-64 for 23-under par 193 total.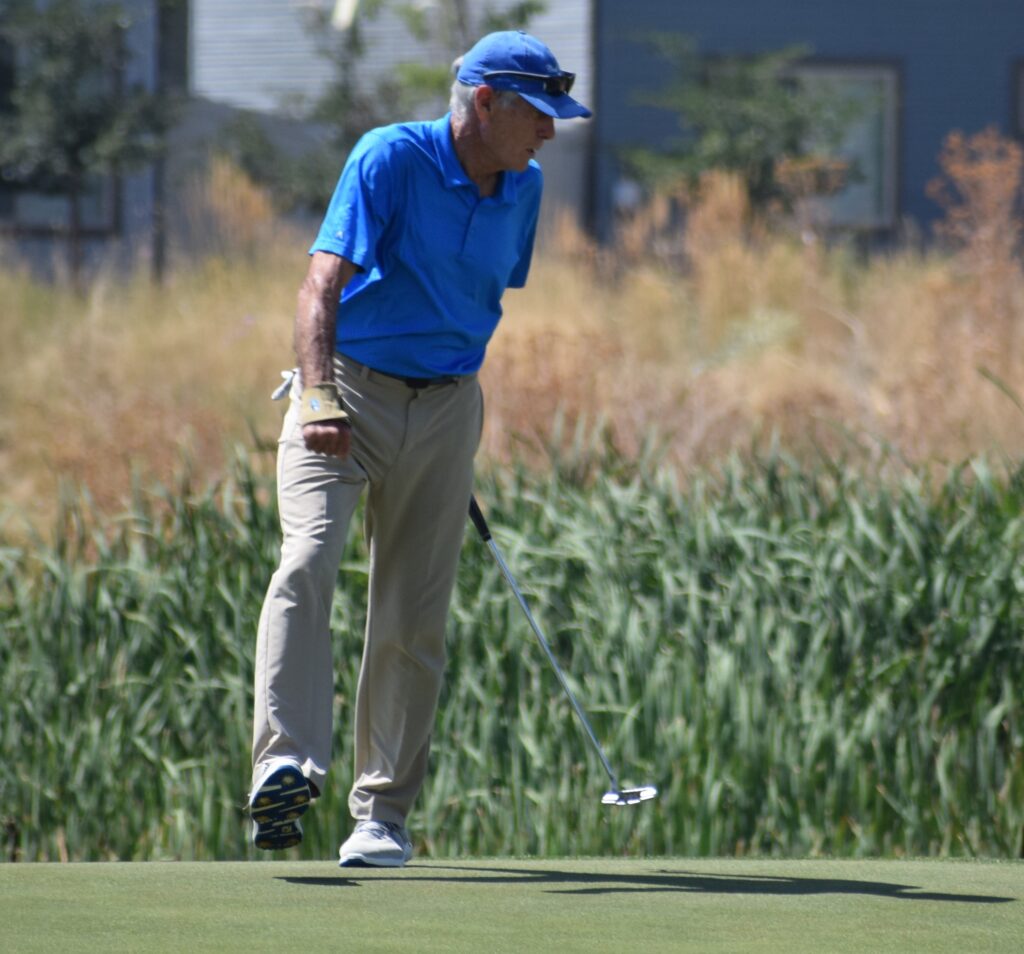 Welcome Aboard, Senator: At age 71, former U.S. Senator Mark Udall is making his Colorado Senior Open debut this week. Things didn't start out promisingly on Wednesday as his second shot of the day, with a big hunk of mud on his ball, flew far right of the first green and was lost, leading to a triple bogey.
"If someone had seen that, they would have immediately withdrawn me for the tournament," he said later.
But Udall, a regular in CGA senior and super-senior championships, rebounded nicely, playing his final 17 holes in 1 under par. He finished with three birdies, two bogeys and a triple bogey for a 2-over-par 74, which leaves him in 46th place. And he finished the round in high style, draining a 40-foot birdie putt on No. 18.

Notable: With four months left in the year, Colorado Open championships are not close to naming a title sponsor at this point, a key tournament official said. This year marks the sixth and final one with CoBank as the title sponsor of the Colorado Open, Colorado Women's Open and Colorado Senior Open. … After Thursday's second round, the field will be cut to the low 50 players and ties. … Two members of Lakewood Country Club — Richard Bradsby and Jon Lindstrom, both of Denver — are 1-2 in the low-amateur competition after Wednesday's first round. Bradsby, winner of the CGA Western Chapter Championship in 2019, posted a 3-under 69 that included four birdies and one bogey. Lindstrom, second in the 2020 CSO following a playoff, posted a 72 while in the same threesome with Rudolph. The three-time CGA Mid-Amateur champ recorded an eagle, two birdies and four bogeys. … Kevin Dillen of Paris, Texas opened with a 69 to hold a one-stroke lead in the super-senior competition for players 60 and older.