Joan Birkland — a multi-sport athlete who made a major impact on Colorado sports, including golf — passes away at age 90
By Gary Baines – 06/15/2019
If ever an apt description of Joan Birkland was uttered, she said it of herself during a chat with a golf writer in 2012.
"I'm not a sit-arounder," said the then-83-year-old.
Birkland — who accomplished a ton in golf in her lifetime, both as a player and as a volunteer leader, but so much beyond that as well — passed away on Saturday in Denver at age 90.
The woman who was appropriately born in the Roaring Twenties was a state champion in both golf and tennis, was an accomplished basketball player and co-founded and ran the Sportswomen of Colorado organization for 40 years.
Amazingly, Birkland was inducted into the Colorado Golf Hall of Fame, the Colorado Tennis Hall of Fame, the Colorado Women's Hall of Fame, and she went into the Colorado Sports Hall of Fame in 1981. She's the only person to earn spots into both the Colorado golf and tennis halls of fame. (Birkland is pictured above, at right, with World Golf Hall of Famers Patty Sheehan and Hollis Stacy.)
"She was a prize — a Colorado prize," good friend Judy Bell, the first women's president of the USGA, said on Saturday afternoon. "That's for sure. She was a wonderful player, but even more than that she was a mentor to younger players and got kids involved (in the game). I know a lot of kids that got their encouragement from her. I can't think of something she didn't do."
In golf, the lifelong Coloradan won seven major CWGA championships during the 1960s — the most of anyone during that decade. She "three-peated" as champion of both the Match Play (1960, '61 and '62, in addition to '64) and the Stroke Play (1964, '65 and '66). Twice — in 1962 and '66 — she won state golf and state tennis titles in the same year. Including her women's open singles crowns at the Colorado State Open in 1962 and '66, Birkland claimed 21 major championships in Colorado and the mountain region — six in singles and 15 in doubles.
If that weren't enough, during her athletic peak, Birkland played on a traveling AAU basketball team called the Denver Viners.
Back in 2012, she laughed when she thought about how far things have come for women athletes during her lifetime.
When Birkland was young, "We were told it was bad for you to compete," she said. "They said not to run more than 100 yards. You tell people that now and they say, 'What?'"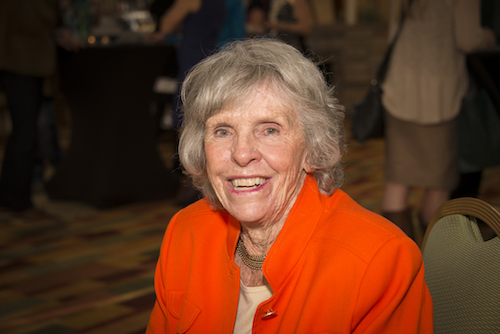 And, make no mistake, Birkland had a big-time competitive streak.
"She was such a good competitor — from her basketball days, her tennis, for everything," said Bell, no slouch herself in that department. "I never beat her in competition. I beat her for fun — I beat her as much as she beat me — but if I played her in The Broadmoor Invitation, I never beat her. She was one heck of a competitor."
One of Birkland's favorite memories from her days as a peak performer was facing Althea Gibson, the first African-American woman to win a Grand Slam title in tennis. They met in the first round of the Colorado State Open during the 1950s, just after Gibson scored her breakthrough internationally.
"Because of the altitude, about every forehand she hit early in the match landed about a foot out," Birkland once recalled. "I was up 5-3 (in the first set), and you could see the (tournament officials) squirming. They had paid her probably $1,000 or $2,000 and she was their draw for the week. They were thinking, 'What if Joanie wins?' But she got her feet under her, and I think I lost something like 7-5, 6-2. They laughed about that for years."
Though Birkland said she won more state titles in golf than tennis — because nationally ranked players such as Gibson would compete in the state tennis open — she noted she was "probably a more natural tennis player."
But Birkland's success came as much behind the scenes and it did as a competitor. From the 1970s until 2014, she was the executive director of the Sportswomen of Colorado, which champions female athletes and promotes equal opportunity in sports for women. And she also served at high levels of volunteer golf administration. In fact, overlapping when Bell was the first female president of the USGA in 1996 and '97, Birkland was the chairperson of the USGA Women's Committee in 1997 and '98, following on the heels of fellow Coloradan Barbara McIntire in that role.
Birkland also served on the Colorado Golf Hall of Fame Committee for decades.
"I wasn't around when she was winning championships, but the part of Joanie's life that I am familiar with is what she did on the administrative side, chairing the U.S. Women's Committee," said Ed Mate, the longtime executive director of the CGA. "She was so respected and so well-liked by everybody she came in contact with. She was at most (U.S.) Women's Opens for a long, long time. I remember seeing her out on putting greens when rulings were being made."
In fact, Mate knew Birkland and her husband, Ormand, since Mate's youth when he caddied at Denver Country Club.
"I just remember how friendly they both were," Mate said. "Some people were kind of stick in the muds, (but) they were always incredibly kind and outgoing with the caddies and well-liked by everybody.
"Personally, she's just one of my favorite people. Kind of like Judy Bell, she didn't have a high tolerance for complaining. I always find common ground with her talking about (telling) players, 'Just shut up and play golf. Stop complaining.' That was kind of her attitude. The same was true for the rules. She was kind of old school when it came to the rules. But more than everything she was very nice to me and to everybody she met. She was so down to earth. She never met a stranger. She's just a special lady. And I know her Norfolk Terriers are going to miss her because she was a dog lover."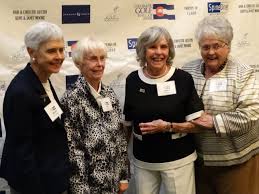 Janet Moore, Colorado Golf Hall of Famer and now president of the CGHOF, was another longtime friend of Birkland's.
"Joanie has always been a role model of mine," said Moore, a five-time CGA Women's Stroke Play champ. "I love how she always called me 'kid'. I loved how she was always on the go. … She was at my first U.S. Am in Pittsburgh and introduced me to Carol Semple Thompson. Joanie was comfortable in her own skin, which made everyone else around her feel comfortable as well.
"One of my favorite memories with Joanie was when the CWGA was celebrating its 75th year. At the celebration, your name tag would have a ribbon on it for each state championship you had won. I just won my first state stroke play at DCC in 1990. I was feeling pretty good about my ribbon. Joanie walked up to me with her name tag so full you could barely see her name. She came over to me, flicked my lonely single ribbon with her finger, smiled and said, 'Not bad kid.'
"She was a tremendous blessing to so many. She will be missed as a friend, a role model and as an invaluable Hall of Fame member."
Another prominent role Birkland held during his nearly lifelong membership at Denver Country Club was serving as general chairperson of the 1982 Curtis Cup, the biennial USGA event between the best female amateurs from the U.S. and Great Britain & Ireland.
"There were a lot of members who were not very happy about giving up their golf course" for that event, said Tom Connell, a longtime DCC PGA head professional (1982-2010), who also is a member of the Colorado Golf Hall of Fame. "We had this unbelievable welcoming ceremony on the 18th green on a beautiful night. The members came out and got a sense of the tradition and what this thing was all about. And I'll tell you what: The next morning the members in the gallery were everywhere. It just went from 'why are we having this?' to 'I've got to go and watch all of this'.
"Juli Inkster was there and Kathy Baker (and Carol Semple). It was an event the club was really lukewarm on as a membership, but once it got going it was an unbelievable success. And this is all Joanie's deal. It was pretty remarkable."
Back on the competitive side for Birkland, she didn't take up golf until her 20s, then split most of her rounds among DCC, Willis Case and City Park.
"When I got married I decided to play golf, and I loved it," she said. "It's such a different sport because you play yourself. It became a challenge. In tennis you play your opponent."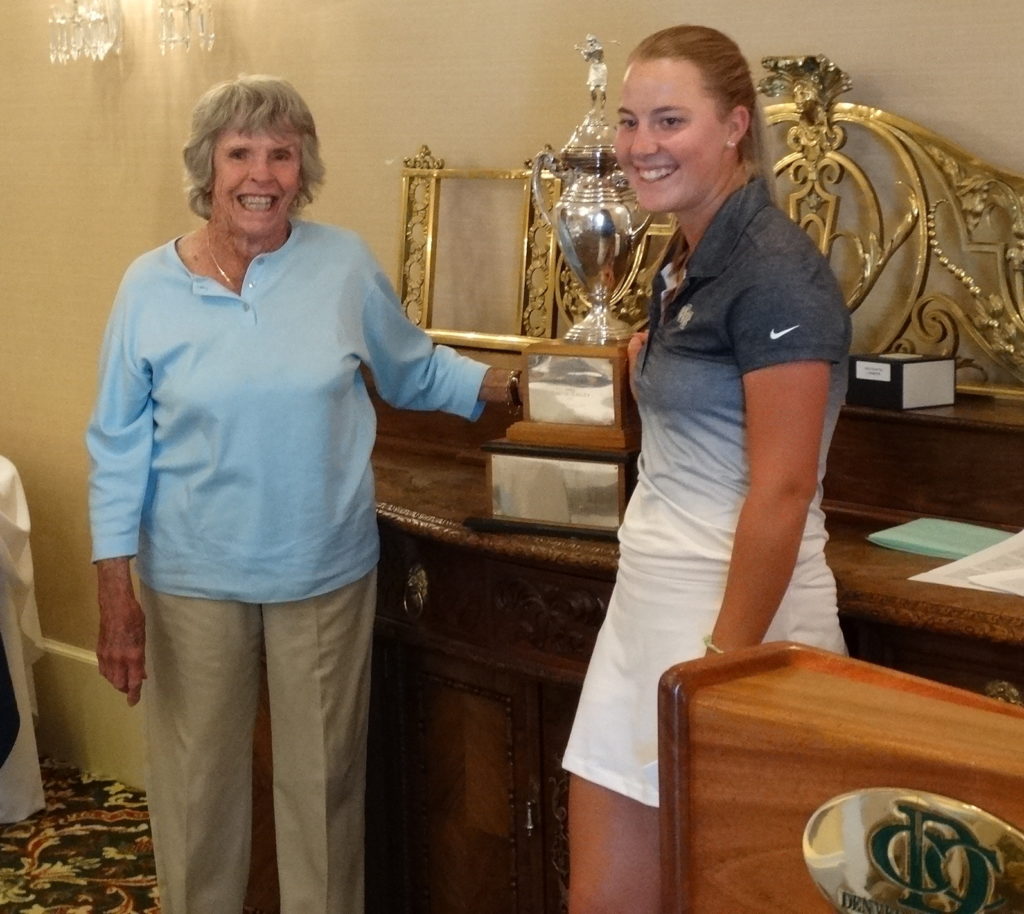 Connell tells the story of how Birkland ruled the tournament roost at Denver Country Club for many a year.
"She won the ladies club championship at Denver Country Club 30 straight years," Connell said. "She'd always hit this little cut out there and she used to wear those gals out — and it drove them crazy. Then she retired; she decided she'd won enough and she was going to allow somebody else to be club champion. Then a couple of years later she came back and played again because she couldn't stand it.
"But she was always so encouraging. She'd go out and play and have a good time. She was one of those people when she was in your group, it was always such a positive experience. There was no down time with Joanie. That was so special. She affected our club. And she treated our staff like gold. She was always a positive influence."
And that goes for about everything Birkland touched. At the annual Colorado Sports Hall of Fame Award Banquet, Birkland would often be seen chatting and sharing a laugh with fellow Hall of Famer Ceal Barry, the lontgime head coach of the University of Colorado women's basketball team. (Birkland attended CU back in the day.)
As Barry said via Twitter on Saturday, "Colorado lost an icon, a tremendous leader and sportswoman this morning. RIP Joanie Birkland. We will miss you."
Bell will certainly miss her as well. They've been fast friends since first meeting about 60 years ago at what is now the CGA Women's Stroke Play Championship.
"She beat me, but that's not the important thing," Bell said. "The important thing is I kept looking at her, thinking, 'I know you from somewhere.' In Wichita we had an AAU basketball championship. There was a team called the Denver Viners and she played on that team. You know how her rear stuck out a little bit? Well, I remember seeing that. Then I saw that on the golf course and it finally dawned on me about the 16th hole how I knew her. I asked her if she played ball in Wichita and she said she did with the Denver Viners. That's how we hooked up and from that day on we were pals. We were just great friends. We played golf at least every two weeks from '60 on.
"I loved her. She was a great friend of mine. And she was so good for the sport — and I feel she was that way with every sport she played."
Indeed, Birkland seems to have touched about every sport in Colorado in one way or another. Earlier this year, she was the first recipient of the Sportswomen of Colorado Joan Birkland Leadership Award.
"Sports have been a huge part of my life," she said in 2012. "I don't have children, so I had a lot of time to play. You make such good friends in athletics. You learn to compete and you learn how to win and how to lose."
(Updated June 18: A celebration of Birkland's life will be held at a later date.)