On his birthday, Nosewicz holes 115-yard final shot for eagle to make match play at U.S. Mid-Amateur; fellow Coloradan Axlund also advances, along with former UCCS golfer Olson; Denver's Powers birdies playoff hole to earn one of final match play berths
By Gary Baines – 09/15/2019
It was one of those storybook endings that would make a doubting Thomas say, "Oh, come on!"
The way Nick Nosewicz qualified for match play on Sunday at the U.S. Mid-Amateur was jaw-dropping. That he did what he did on his birthday was the incomprehensible part.
On the day the Aurora resident turned 36 years old, he played the second round of the U.S. Mid-Am on the same course where he won the 2015 CGA Match Play.
Nosewicz was 6 over par through 35 holes of stroke play, meaning he needed a birdie on the 18th hole at CommonGround Golf Course to get into a playoff for the final match-play berths in the event. But he did that one better.
After swinging hard and hooking his drive into the native on the par-5 18th, he almost didn't find his ball in the allotted three minutes.
"I almost ran out of time," Nosewicz said. The official "said, 'You have about 15 seconds left.' It was one of those where it could have been 5-4-3-2 … I got it. Time's up, I found my ball. Luckily, I found Bridgestone 4 red line right in the nick of time. It was as intense as it can ever get."
From the native, Nosewicz hit a 7-iron to the fairway, about 115 yards from the hole. And then — you guessed it — he flew his third shot — with a 56-degree wedge — straight into the cup for his second eagle of the day. (The ball did enough damage to the hole that it had to be moved.)
Just like that, he went from being on the verge of seeing the tournament end for him to avoiding a playoff and earning a spot into match play, which begins on Monday at Colorado Golf Club in Parker.
"I had 115 (yards), which is a shot I've been working at a lot lately," Nosewicz said. "My goal was to give myself a birdie putt. I heard it crack against the pin. Jared Reid, the CGA Mid-Am champ (at CommonGround last year), who was following me the last five holes, said it went in. I couldn't believe it. To go in is incredible. My mom was there jumping up and down. That was a great birthday present to continue playing. … But what a stressful 18th.
"That's why I look 55 and I'm 36 today."
Nosewicz (pictured at top following his 18th-hole eagle) was one of three — and possibly four — players with strong Colorado connections to make the 64-man match play bracket out of the original field of 264. Joining him for sure in the round of 64 in this national championship for amateurs 25 and older are Ryan Axlund of Englewood and former University of Colorado-Colorado Springs golfer Jon Olson. And Denver resident Stephen Powers will be in a playoff beginning at 7 a.m. Monday at Colorado Golf Club to determine the final six match play berths. The 18 players who finished at 5-over-par 147 for the two stroke-play rounds will participate in that playoff.
(Monday Update: Powers birdied the first playoff hole on Monday morning to advance to match play as the No. 60 seed.)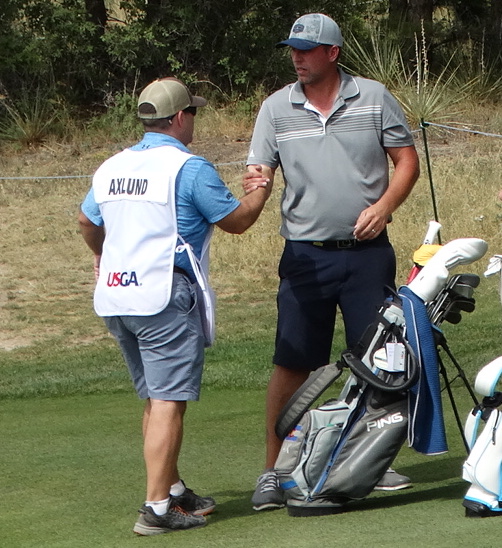 Round-of-64 matches will begin at 9 a.m. on Monday, with the last match scheduled to tee it up at 2:10 p.m. (For the pairings, CLICK HERE.)
On a day 26-year-old Ben Warnquist of Gaithersburg, Md., earned medalist honors with a 6-under 136 total (68-68), Olson tied for seventh at 139. Axlund was 33rd at 145 despite a second-round 76 at Colorado GC. Nosewicz placed 47th at 146 after a crazy final-round 72 that included two eagles, one birdie, five bogeys and a double bogey.
Powers checked in at 147 after a 71 on Sunday at Colorado Golf Club.
Missing the playoff by one stroke was Colorado Springs resident Michael Harrington, a former quarterfinalist at the U.S. Mid-Am who was 5 under par through 11 holes on Sunday at Colorado Golf Club, dropped five strokes to par in the next four holes, then birdied his 16th and 17th. He ended up with a 2-under-par 70 the day after carding an 8-over 78 at CommonGround.
Here are the stroke-play scores for all the players with major Colorado ties:
Advance to Match Play
7. Former UCCS golfer Jon Olson 71-68–139
33. Ryan Axlund of Englewood 69-76–145
47. Nick Nosewicz of Aurora 74-72–146
In a Playoff for Final Match Play Spots
59. Stephen Powers of Denver 76-71–147
Failed to Make Match Play
Michael Harrington of Colorado Springs 78-70–148
Charles Santaularia of Lakewood 76-76–152
Matt Call of Castle Rock 78-75–153
Charles Sahlman of Denver 82-73–155
Jay Livsey of Wheat Ridge 78-79–157
Steve Irwin of Golden 79-78–157
Kent Moore of Centennial 82-76—158
David Lysaught of Denver 83-79–162
Mitch Donald of Vail 86-85–171
Just to be in position for Sunday's 18th-hole heroics, Nosewicz had sunk a 30-foot par putt on No. 16 before making a routine par on 17. Earlier in the day, he went eagle-birdie-double bogey on holes 7 through 9, with the eagle coming from 12 feet.
Nosewicz joined the men's club at CommonGround two years ago, primarily because he thought it would give him a leg up in advancing to match play at this U.S. Mid-Amateur.
"It got pretty hairy with the last five holes to play," he said of Sunday's round. "I had prepared a lot for this week to get into match play. I didn't care if I was medalist or the 64th seed. I just wanted to keep playing. So I knew there was a lot at stake today.
"Now it's anybody's game. The goal is really to get into match play. It really doesn't matter what you shoot (in stroke play). Match play is a funny game.
"Now it's a little more mano a mano, which is perfect for me. I grew up with kind of a hustler family. Par doesn't matter anymore. It's just beat the player."
Perhaps as a good-luck gesture, Nosewicz had purposefully left several items in his locker at Colorado Golf Club — hoping he'd be back on Monday for match play.
"I know it's bold, but in essence you want to go back on Monday and get it it," he said.
Meanwhile, Axlund made match play at a USGA event for the first time on Sunday, which left him with a big smile on his face.
"To be able to get into the match play portion, especially when it's hosted in your hometown with family being able to come out, is awesome," he said. "That was my goal. Everybody wants to make match play. Once you get there, anything can happen."
Asked the highlight of his day on Sunday, the 38-year-old Axlund said, "Just having my daughter (18-month-old Harper) out here today. That was fun."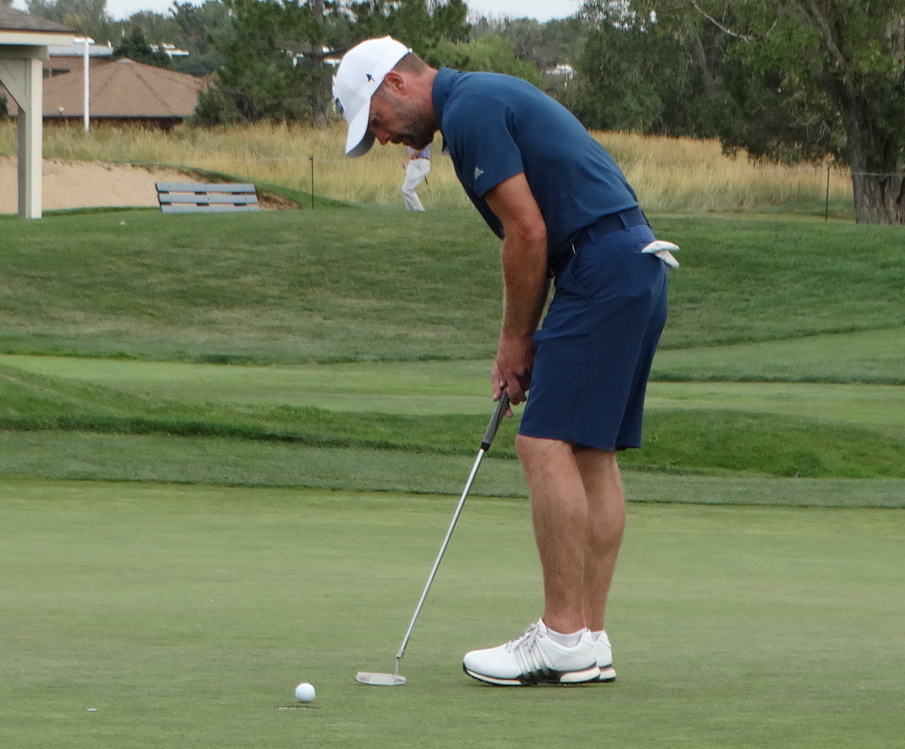 As for Olson, he made a run at medalist honors before settling for making match play for the second time in two appearances in the U.S. Mid-Am. He fired a 2-under 68 on Sunday at CommonGround, playing the front nine in 4 under and making a 2-foot birdie on 18.
"I don't care if I'm 1 or 64 (as far as the seedings go), I just want to get into (match play)," he said. "I'm going to play a really good player tomorrow regardless of what seed you have. I'm looking forward to it.
"I love match play," added the two-time Iowa Golf Association Match Play champ. "You don't have to worry about 263 guys. You've just got to worry about the one guy you're playing. From that perspective, it's good. And I've had good success in match play back home."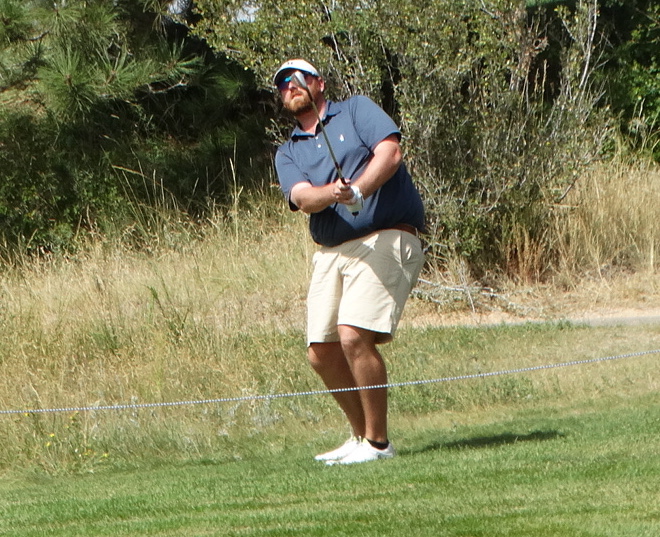 A match play spot seemed like a long shot when Powers finished his stroke play round Sunday afternoon, but with the wind kicking up, his 147 total proved good enough for a spot in Monday's playoff. On Sunday, his final round of stroke play included four straight birdies on his front nine and seven overall at Colorado Golf Club.
"I don't play that much anymore. I've got a full-time job now," said the 28-year-old former pro, who moved to Denver 3 1/2 years ago. "My standards are still high, but I came out looking to enjoy it and to try to shoot the best score I could. Once I got those four birdies in a row on my front nine, I was like, 'OK, now we're kind of moving.' It was a fun round today."
Powers is competing in his first U.S. Mid-Amateur.
As for medalist Warnquist, he finished second with partner Brandon Cigna in the 2016 U.S. Amateur Four-Ball Championship.
"It means a lot," Warnquist said of being medalist in the Mid-Am. "It's not the end goal, but it means a lot.
Warnquist, a University of Maryland graduate who now works as an insurance agent, birdied his final hole from 10 feet on Sunday to give him sole possession of the medalist spot. He played his final seven holes in 4 under par.
For all 64 match-play qualifiers, the dreams are still alive. Not only is the U.S. Mid-Amateur title on the line, but so are what comes with it: a 2020 U.S. Open berth and a likely spot in the Masters in April.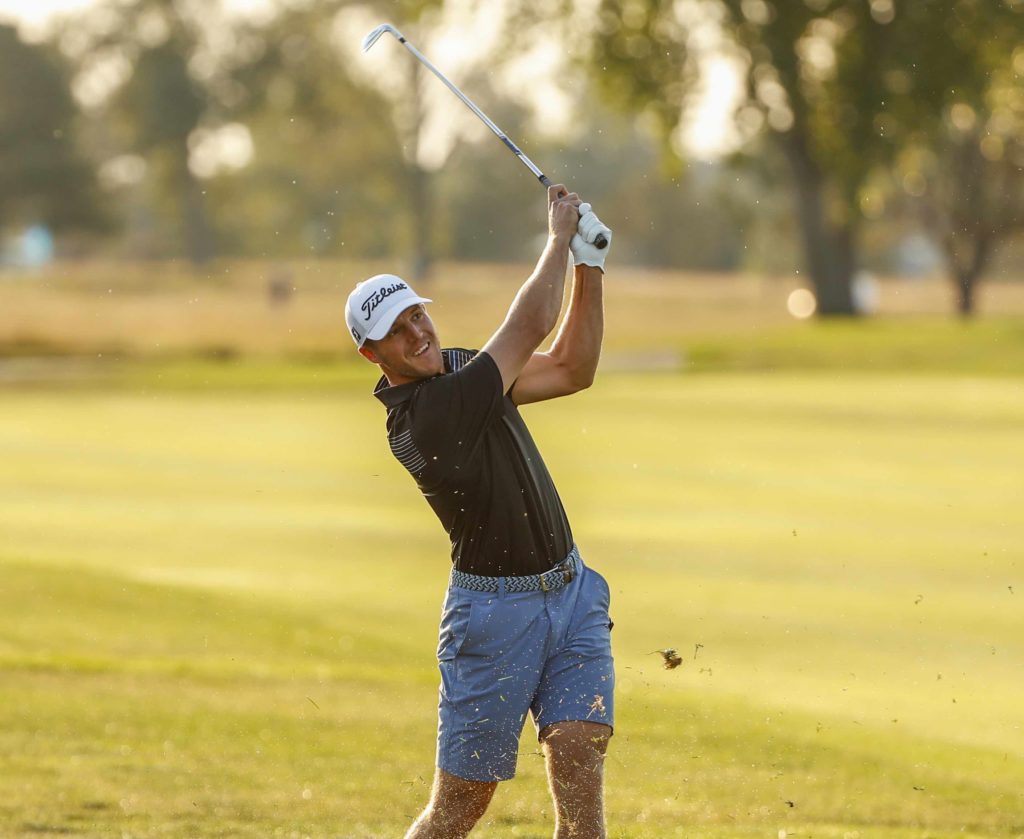 NHL Referee Makes the Grade: Among those players who easily advanced to match play on Sunday was NHL referee Garrett Rank, who earlier this summer won the prestigious Western Amateur. Rank played in the 2018 U.S. Open, missing the cut.
Rank has an interesting situation possibly developing this week, given that he's scheduled to referee the Colorado Avalanche's first two preseason games — on Tuesday and Thursday night, both in Denver. There's a potential conflict with a round-of-16 match on Tuesday afternoon/evening. The 36-hole final for the Mid-Am is set for Thursday.
Rank finished tied for sixth in stroke play at the Mid-Am, going 69-69 for a 4-under 138 total.
"I'm kind of anxious to see which seed I get," Rank said regarding the bracket for match play, which begins on Monday. "I would love to be in the top half of the draw (which tees off earlier), just to make Tuesday a little bit easier. But at the end of the day, I feel like this is a bonus to be here anyways. It just happened to fit in the schedule. So push comes to shove, hopefully I either play well enough to get there and make it a problem, or we won't even have to deal with it. I'm not looking too far ahead to that. I've got to get there first."
Alas, Rank finds himself in the lower half of the match play bracket.
For all the scores from the U.S. Mid-Amateur, CLICK HERE.
*********
U.S. Mid-Amateur Championship: The Essentials
What: 39th U.S. Mid-Amateur Championship.
When: Sept. 14-19.
Where: Colorado Golf Club in Parker Sept. 14-19, and CGA-owned CommonGround Golf Course in Aurora Sept. 14-15.
Field: 264 of the world's top amateur players 25 years of age and older. The USGA accepted 4,751 entries this year, the second-most ever for this championship.
Spectators: Fans can watch the event free of charge.
Day By Day Schedule:
Saturday, Sept. 14: First round of stroke play at both courses.
Sunday, Sept. 15: Second round of stroke play, with competitors switching courses from Saturday.
Monday, Sept. 16: After playoff to cut the field to exactly 64 players, the first round of match play at Colorado GC.
Tuesday, Sept. 17: Round of 32 and round of 16 matches, both at Colorado GC.
Wednesday, Sept. 18: Quarterfinal and semifinal matches, both at Colorado GC.
Thursday, Sept. 19: 36-hole title match, at Colorado GC.
At Stake: In addition to the U.S. Mid-Amateur title, a spot in the 2020 U.S. Open and likely a berth in the 2020 Masters.
Yardage/Par for Each Course — Colorado Golf Club: 7,561 yards and par-72. CommonGround Golf Course: 7,470 yards and par-70.
Previous U.S. Mid-Amateur Held in Colorado: 1983 at Cherry Hills Country Club, where Jay Sigel won. Overall, this is the 33rd USGA championship held in Colorado.
Earlier Major Events Held at Colorado Golf Club: 2010 Senior PGA Championship, 2013 Solheim Cup.