50 years later, part-time Colorado resident Hollis Stacy remains gold standard for U.S. Girls' Junior competitors
By Gary Baines – 2/22/2020
When Hollis Stacy used to help the CWGA run U.S. Girls' Junior Championship qualifying tournaments at Valley Country Club in Centennial, it was interesting to observe competitors interacting with her.
Many of the girls had no idea that Stacy was — and still is — the most successful player in the history of that national championship, being the only golfer to have won the event three times. That's understandable, given that most of the competitors in the qualifiers back then were in the 14-17-year-old range and may not have known much about the history of the U.S. Girls' Junior — or of the LPGA Tour — in the years before they were born.
Once in a while, an adult might tell one of the junior golfers that Stacy was a great player back in the day, and the girl might ask Stacy for an autograph. She would not only oblige, but give the youngster a pep talk and personalize a few written words.
Stacy subsequently was voted into the World Golf Hall of Fame after a career which featured three U.S. Women's Open victories, four major championships in all, and a total of 18 LPGA Tour wins.
But the road for Stacy was paved at the U.S. Girls' Junior, which seems particularly appropriate this year. After all, the 2020 national championship will be held in Colorado, where Stacy has lived, either full-time or part-time, for about 25 years. These days, she spends about five months of the year in the Centennial State and the rest of the time on the west coast of Florida. And, as noted early, she took an active role for many years (about 16) on the USGA Girls' Junior Committee, and volunteered at the Colorado-based qualifying tournament for the event.
Given Stacy's strong local ties and her unmatched success in the U.S. Girls' Junior, it seems only appropriate to chat with her as the 2020 national championship approaches at the Air Force Academy. The dates for the tournament are July 13-18 at Eisenhower Golf Club's Blue Course, and the Junior Golf Alliance of Colorado will serve as a host group for the event.
And a conversation with Stacy seems all the more apropos given that the second of her three U.S. Girls' Junior victories came exactly 50 years ago this summer.
"It's wild. It doesn't seem that long," Stacy said in a recent phone interview with ColoradoGolf.org. "I still have my friends and we laugh about what's transpired. Everybody says, 'You look the same.' Well, obviously their eyes are bad," she noted with a laugh.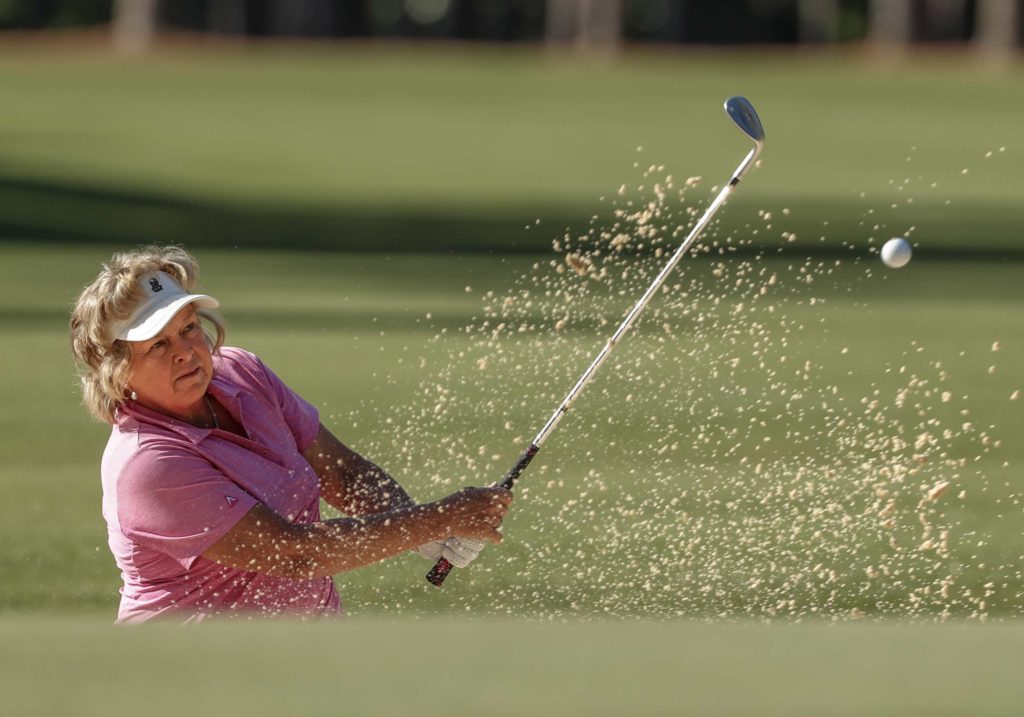 Stacy, now 65, fully admits that the U.S. Girls' Junior has long remained an important part of her life.
"It still means a lot to me," she said. "The kids love it. I call it the 'Baby Open.'"
Attending many U.S. Girls' Junior qualifiers and championships over the years, Stacy has seen her duty in simple terms.
"We watched after the kids, making sure they were the top priority," she said. "We wanted it to be a great championship for them. And I saw myself as them. Yes, sometimes they were really disappointed. I understand that. But it's process."
The U.S. Girls' Junior dates back to 1949, and Stacy stands alone in having won the event three times — in 1969, '70 and '71.
As the USGA Championships Media Guide puts it, "Considering the brevity and time limitations on a junior golf career, Hollis Stacy's record of three consecutive Girls' Junior Championships, from 1969 to 1971, is among the most remarkable accomplishments in USGA history."
So what made Stacy more successful than anyone else in history at the U.S. Girls' Junior?
"That's a great question," she said. "When Amy Alcott, Nancy (Lopez), Pat Bradley and I were playing junior golf, we were excited to see little girls like ourselves playing golf. I only played in four or five junior events every year. Now they have the AJGA and it's one a week — as much as the parent can afford or the association will allow.
"I was so excited to be around little girls like myself who loved to play golf and loved to compete just like me. It helped that I had a great short game and I could putt and I was good at match play.
"It was an exciting part of my year to fly into the Juniors and play in this. I saw my friends, who eventually became my friends for my whole life. It was just so exciting to have been raised in the competitive golf environment."
But none of Stacy's three championships came easy by any means. All three title matches went 18 holes or beyond, with Stacy beating Jane Fassinger 1 up in 1969 in Dallas; Janet Aulisi 1 up in 1970 in Rye, N.Y.; and Amy Alcott in 19 holes at Augusta Country Club in Georgia in 1971. It should be noted that the entry numbers were much smaller then, averaging 102 for the three years, so not separate sectional qualifying tournaments were required.
Despite her wins coming from 1969-71, Stacy said her most important year at the U.S. Girls' Junior was none of the above. It came in 1968 — the year before her first victory and the summer after making the match play round of 32 as a 13-year-old in 1967.
"It was an important part of my life," she said. "I was in a playoff (for the final match play spots). I walked up to the tee, and I was 14, and there was Pat Bradley, who was 17 and who had a tour bag. We laugh about it now but she said she hated it because she said her dad made her use it. I walked up with a skinny bag and a half glove. I felt so intimidated. I dribbled (her tee shot) down the first hole. I was so mortified and embarrassed. I had let myself down and my family down. It was not good.
"Between that and the next year, I worked really hard so I would never, ever, ever be humiliated like that ever in my life again. I ended up winning the Georgia (Women's) Amateur when I was 15. Then I went to the U.S. Girls' Junior in Dallas, I played really well and I ended up eking it out. But I had worked really hard because I was humiliated the previous year. It was a turning point for me. I turned something bad into something really good."
The 1971 title match was particularly intriguing, not only because Stacy was going for her third straight national title, but because she was facing a player in Alcott who is also now in the World Golf Hall of Fame.
The match featured 10 birdies, just three bogeys, and each of the two players were 3 under par through 18 holes. On the playoff hole, Stacy's 4-iron approach finished 10 feet from the flag and the birdie putt gave her the win. She finished 4 under par for 19 holes.
Adding to the moment was that the win came in Stacy's home state — she grew up in Savannah, less than 2 1/2 hours away from Augusta by car.
"We had a great match," she said of herself and Alcott. "We were way under par — and we were playing with wood and balata and steel shafts. I won on the 19th hole, but trust me: she's definitely gotten even — several times. It was great to have my little sisters there, and my mom and dad, and a lot of friends came up, so it was great." (FYI: One of Stacy's sisters, Martha Leach, went on to win the 2009 U.S. Women's Mid-Amateur title.)
How good was the 1971 U.S. Girls' Junior final?

Frank Hannigan, who would later become a USGA executive director, called it "the most exciting match" he ever officiated.
All in all, it was quite a run for Stacy in the U.S. Girls' Junior, where she went 15-0 in match play over the three years.
"Every tournament was different," she said. "The first one, I had worked so hard not to be humiliated again. The second one, I had tendinitis and I didn't really hit any practice balls the whole week. I got lucky in that one, at a really hard golf course (Apawamis in New York).
"The third one I was healthy and playing well. The stars were just lined up. I tried not to think of winning three in a row. I tried to just focus on every round and every hole, and not fall into the trap of trying to win. If you try to win you're doomed to fail vs. working hard on what's at hand and being in the moment. It helped that I had a good short game and putting. I pulled lots of rabbits out of my hat with that short game. I've driven my opponents crazy."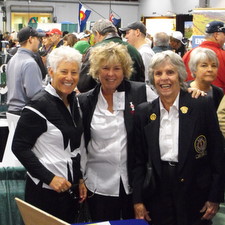 Stacy went on to win three more USGA championships — all U.S. Women's Opens — with the runner-ups at the 1977 and '78 tournaments including now-Hall of Famers Nancy Lopez and JoAnne Career, respectively.
To this day, only six players have won more career USGA championships than Stacy: Bobby Jones (9), Tiger Woods (9), Jack Nicklaus (8), Carner (8), Anne Quast Sander (7) and Carol Semple Thompson (7). As another feather in her cap, Stacy recently was inducted into the Legends Tour Hall of Fame.
Stacy isn't sure yet if she will attend this year's U.S. Girls' Junior in Colorado as the U.S. Senior Women's Open in which she'll be competing ends in Fairfield, Conn., on July 12, the day before the junior championship begins.
Either way, Stacy continues to relish having a presence in the game.
"I enjoy being part of the game and having my hand in it," she said. "It will always be in my blood. It's been just a fabulous career. The best thing about is meeting the great people like the Judy Bells, the Joanie Birklands, people like that, and going to Colorado Springs and playing The Broadmoor, getting to know those people down there. It's been great. My hand is in the game still."