60 years ago, winning 1960 U.S. Girls' Junior was 'a biggie' for Colorado Golf Hall of Famer Carol Flenniken
By Gary Baines – 3/12/2020
NOTE: This is the second in an occasional series of U.S. Girls' Junior feature stories that will appear on ColoradoGolf.org leading up to the national championship for players 18 and under being held at Eisenhower Golf Club's Blue Course at the Air Force Academy July 13-18. It's the first time the event will be held in Colorado since 1982 — and just the fourth time ever. This year, it will be hosted in part by the Junior Golf Alliance of Colorado. For an earlier story on three-time U.S. Girls' Junior champion — and part-time Colorado resident — Hollis Stacy, CLICK HERE.
*****************************************
Carol Flenniken, just the third woman inducted into the Colorado Golf Hall of Fame, calls the area around the northeastern Colorado town of Brush home. Fifty and 60 years ago, Flenniken didn't yet live in Brush, but she certainly made it a habit to brush past many of the top female amateur golfers of the day en route to considerable success.
Flenniken, known as Carol Sorenson until she married Bill Flenniken in 1966, had nothing short of a stellar national and international record in her teens and early 20s.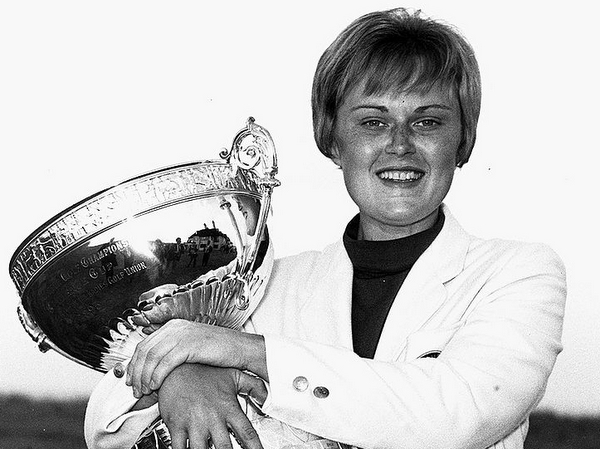 In 1964, she became the then-youngest champion (age 21) at the British Ladies Amateur, won the Women's Trans Miss, scored the clinching point as the U.S. team defeated Great Britain & Ireland in the Curtis Cup Matches, and tied France's Catherine Lacoste for low individual honors out of a field of 75 in the Women's World Amateur Team Championship. (Lacoste, of course, is best known as being the lone amateur to win the U.S. Women's Open, in 1967.) That stellar 1964 season led to Flenniken being named Wisconsin Athlete of the Year — regardless of gender, beating out Bart Starr of the Green Bay Packers, among many others.
Flenniken also won the women's national collegiate title in 1962 to cap her freshman year at Arizona State, claimed victory in the 1962 Women's Western Amateur, and captured the 1959 title in the Women's Western National Junior — one of the two most prestigious girls golf events at the time.
"Back in those days for (girls) there were only two major tournaments — the USGA Girls' and the Women's Western Junior," Flenniken said in a recent interview with ColoradoGolf.org. "Nancy Lopez and a lot of young ladies won that before they turned professional. Those were the only two tournaments that really meant anything."
Regarding the U.S. Girls' Junior … Sixty years ago this summer — a nice even number, appropriate given that this year's U.S. Girls' Junior will be contested at Eisenhower Golf Club at the Air Force Academy July 13-18 — Flenniken won a national title at the Girls' Junior at the Oaks Country Club in Tulsa, Okla.
"I can't believe it's been that long," Flenniken said. "I don't know where all those years have gone."
The U.S. Girls' Junior had a different scope back then. There were 91 entries that year, and no off-site qualifying tournaments. For comparison's sake, there were 1,559 entries in 2019. And this year, there will be 43 qualifying events leading up to the championship, including one at Walnut Creek Golf Preserve in Westminster on June 22.
"Girls golf has come a long ways," Flenniken said. "Most of the girls didn't come from the Midwest (back then). We didn't play golf all year around."
But just because the field was significantly smaller then doesn't mean the U.S. Girls' Junior didn't attract the best junior female players in the world.
Among the players in the field in 1960 was Sandra Haynie, who went on to win 42 LPGA Tour events, including four major championships. She's been inducted into the World Golf Hall of Fame. In 1960, Haynie lost in the quarterfinals to eventual finalist Sharon Fladoos of Dubuque, Iowa.
Claiming the title in Tulsa that year was anything but easy for Flenniken, who went 18 holes or more in four of her five matches. For the record, she won 2 up, 1 up, in 20 holes, 1 up, then then earned the championship with a 2 and 1 victory over Fladoos in the final.
The 91 holes Flenniken played in the match play portion of the event tied for the most by a champion in the period from 1956-78, when only 32 competitors advanced to match play.
"I went with the idea that I was going to win," Flenniken said. "I didn't know it was going to be that difficult."
Claiming the national title was a big step forward in her career.
"It was a huge win — a very important win," Flenniken said. "I competed against basically the best girls under 18 in the U.S., so it was a biggie."
Flenniken was a 17-year-old high school senior-to-be from Janesville, Wis. She had gone to the semifinals at the U.S. Girls' Junior the year before, her only other time competing in the championship.
"I lost to a girl who never should have beaten me, to be honest with you," Flenniken said. "I should have at least gotten to the finals."
After traveling to the 1959 tournament in Rockville, Md., with her parents — making it a Washington D.C.-area vacation of sorts — Flenniken and a friend drove to Tulsa from Wisconsin the next year.
"It was awfully hot and humid in Tulsa in August 1960," she said. "I played a lot of good players, but somehow I pulled it off. That's all I can say. The good Lord was looking down on me I guess."
Flenniken shared stroke-play medalist honors in Tulsa — with Judy Rand — as both shot 76.
"I preferred medal play (to match play, which is how the U.S. Girls' Junior is decided)," she said. "I was the medalist in quite a few tournaments that I played in." That includes the 1972 U.S. Women's Amateur, by the way.
Once Flenniken was seeded into the bracket, it was one close match after another to get to the promised land — which is to say, earning the national championship trophy.
"I was going to be a senior in high school, and the next year I went off to college at Arizona State University," Flenniken said. "(The victory) probably helped me to be on the college lists. They didn't do that much recruiting back in those days. It was so completely different. There were only two golf scholarships at ASU at that time. I went to ASU on an academic scholarship, then the next year (future World Golf Hall of Famer) Joanne Gunderson-Carner) graduated, so then I transferred to the golf scholarship. There weren't that many places that offered golf scholarships to girls in those days — not many at all."
Flenniken went on to claim four women's collegiate national team titles in her four years at Arizona State, in addition to her 1962 individual championship.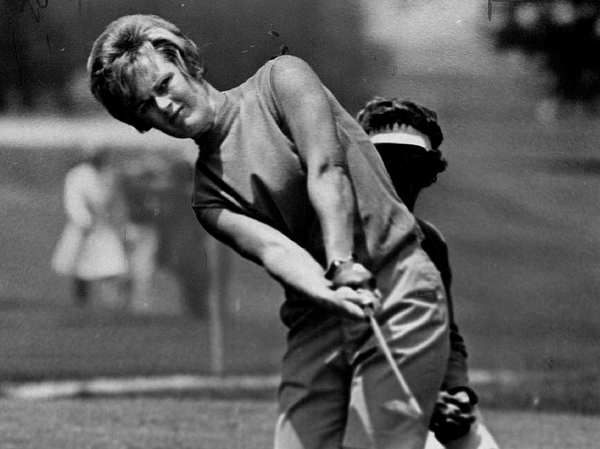 Flenniken, now 77, moved to Colorado in 1966, and has lived in the state all but about three years since then. In her time competing in CWGA championships, she won four Match Plays and a record eight Stroke Play titles. Including team events, she won 25 CWGA titles, a record she shares with fellow Colorado Golf Hall of Famer Kim Eaton. In the decade from 1968-77, of the 20 CWGA Stroke Plays (at the time the tournament was called the Denver Women's Invitational) and Match Plays contested, Flenniken claimed 11 titles. And that's despite skipping a tournament here and there.
In fact, Flenniken was such an outstanding golfer that in 2016, when the CWGA celebrated its 100th anniversary, she was named the association's Golfer of the Century.
The last time the U.S. Girls' Junior was held in Colorado, it was conducted in 1982 at Greeley Country Club, which was just a little over an hour away from Flenniken's residence in Brush, so she paid a visit.
This year, she said it's unlikely she'll attend the U.S. Girls' Junior at Eisenhower, but that doesn't mean she won't be paying close attention.
"I will be watching it, because now they even televise it (FS1 will show the final two days)," she said. "I'll be interested to see how it goes. It's neat for the Junior to come here, and it's a great chance (for the competitors) to play at Eisenhower."
Carol's husband, Bill, who passed away in 2013, had various PGA golf professional jobs in Colorado over the years, including at Pinehurst Country Club (as an assistant), The Club at Rolling Hills (as head pro) and at Windsor Gardens (as head pro). But because of their interest in bird hunting, they bought land and a house in Hillrose, northeast of Brush. After living there on and off since the 1970s, they moved back there for good in 2001, with Bill helping out mowing and with the greens, etc., at what is now known as The Course at Petteys Park.
Meanwhile, Carol Flenniken, who has played rounds of golf with Mickey Wright and Patty Berg during her lifetime, is still a regular on the course, which seems only fitting.
"What's important to me is I love to play golf, and I still play," said Flenniken, who's also a member of the Wisconsin Golf Hall of Fame and the Arizona State University Sports Hall of Fame. "I have bad back, (but) if didn't I would probably play every day."