Caddying in Colorado continues on the upswing, with nearly 50,000 loops completed in 2018
By Gary Baines – 03/06/2019
It wasn't so long ago — a little more than a decade — that CGA executive director Ed Mate remembers feeling a bit alarmed about the state of caddying in Colorado.
The cause for that alarm was three straight academic years in which fewer than 30 young men and women were on the full tuition and housing Evans Scholarship for caddies at the University of Colorado.
For a CU Evans Scholars house that was home to 45-50-plus Scholars in its 20th-century heyday, it was a sobering trend.
"The Evans Scholars (program at CU) is a useful indicator," Mate said after things wrapped up on Wednesday at the eighth annual Caddie Summit, which the CGA organizes. "You think of a house that was bumping along with 30 kids in it, (and) you had to have an option B to get kids in who really didn't caddie."
It reminded Mate of a get-together he had years ago with Jim Moore, longtime educational director for the Evans Scholars Foundation, and Don Johnson, then the president and CEO of the ESF and the Western Golf Association.
"I'll never forget it. We met at Columbine" Country Club, Mate said. "I was painting a doom and gloom picture of the state of the caddie (in Colorado). And I was like, 'We're circling the drain here, folks.' I didn't have an answer. But if I had a crystal ball to look to the year 2019 to see where we're at and to see that (2018-19 CU Evans Scholar photo) composite, I'd be like, 'Holy moly, what happened?' It's an amazing thing."
Indeed, one of the numbers shared at the Caddie Summit at Lakewood Country Club was that 49,703 caddie loops in 2018 were reported by the 20 Colorado clubs and courses that operate a caddie program. That's up 15 percent from 2017 (43,309). 
In fact, reported caddie loop numbers in Colorado have increased each year since 2015, when loops dipped a bit compared to 2014. Overall, from 2015 to '18, reported loops in the state have gone from 34,264 to 49,703.
"It's amazing. Caddying is doing well in Colorado; it's on an upswing. Those numbers totally prove that," said CGA president Janene Guzowski, who in 2011 became the WGA's first female director in Colorado. Guzowski also was the first female chairperson of the caddie committee at Lakewood Country Club.
Emily Olson, the CGA's manager of caddie development, said four Colorado clubs especially showed marked loop increases from 2017 to '18: Ballyneal in Holyoke, Colorado Golf Club in Parker, Columbine Country Club in Columbine Valley and Cherry Hills Country Club in Cherry Hills Village.
"I don't know how to explain (the jump in the overall loop numbers in recent years), but hopefully  there is momentum being built and awareness that's been created," said Gary Albrecht, the CGA's Caddie Development Committee chairman and a member at Ballyneal. "It could be a variety of things. But (using a caddie) is a great way to play golf. I'd like to think that the word would be getting out there and people would be willing to incur the cost to get some exercise."
There are plenty of possible reasons for the upswing of caddie usage in Colorado, including a good economy in recent years, the promotional efforts of the CGA and the WGA, concerted pushes by individual clubs, and the efforts of individual people in the golf community.
While Mate, a former caddie who earned the Evans Scholarship at CU, said there's a lot of credit to go around, he particularly notes the work and support of a fellow CU Evans Scholar alum, George Solich, who along with brother Duffy (another Evans alum) have lent their names and support to the creation and ongoing operation of the Solich Caddie & Leadership Academy. Three chapters of the Solich Academy currently operate in Colorado — at CGA-owned CommonGround Golf Course in Aurora, at Meridian Golf Club in Englewood, and in Grand Junction at Tiara Rado and Lincoln Park.
"It's a lot of things coming together," Mate said of the current caddie trend in Colorado. "I'd honestly have to tell you a lion's share of the credit, as a catalyst event, was George Solich saying we need to hire a (caddie/Evans Scholar candidate recruiter at the CGA) and we need to start a caddie academy and we need to have a Caddie Summit. That's what's made him so successful; he's an innovator. I don't want to give all the credit there because the execution of the idea (is important). But you need the idea and you need the initial prompt.
"That's here in the state of Colorado. The Evans Scholarship credit goes to the leadership (from the WGA). Their amazing, bold ambition to get 1,000 Evans Scholars by 2020 is a case study in success."
This academic year, there are 59 caddies living at the CU Evans Scholar house, and 13 more scholarships were recently awarded to Colorado caddies who will move into the house in August.
The Solich Caddie & Leadership Academy, which was founded in 2012 at CommonGround, helped produce three of the incoming CU Evans Scholars, and 19 Evans Scholars all time. Solich caddies accounted for more than 1,500 loops in 2018.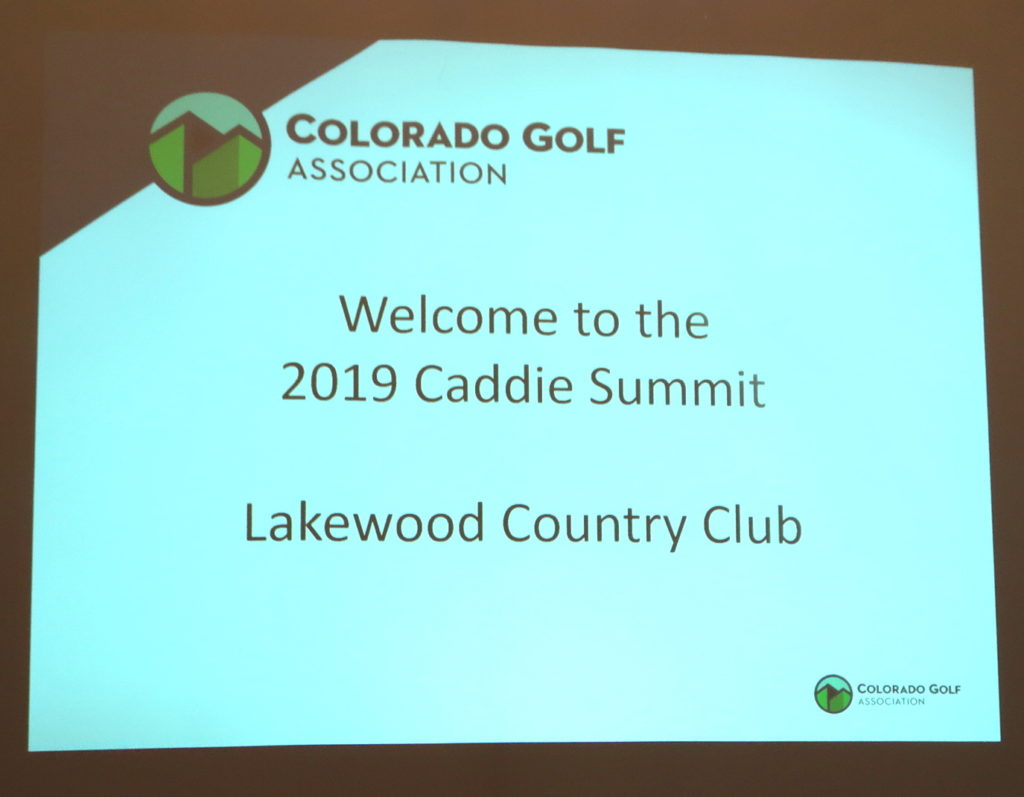 The Solich Academy "is making a profound impact," said Mike Maher, the WGA's senior director of education and caddies.
"The overall health of the caddie (in Colorado) today is the best it's ever been in my tenure," said Mate, who became the CGA's executive director in 2000. "It's very gratifying to see the (loops) numbers. I'm less than comfortable hanging our hat on that 50,000 — saying we broke through — but I do think it's safe to say we've seen an uptick."
Capitalizing on 'Loopers': With a documentary devoted to caddying — Loopers: The Caddie's Long Walk — having had its Colorado premiere in Boulder on Saturday, it seemed only fitting that Wednesday's Caddie Summit wrapped up with attendees being shown a teaser for the film, which will get more widespread release later this year. 
Among those in attendance Saturday for Loopers — which includes some time devoted to the Solich Caddie & Leadership Academy — was Mate.
"It's a great opportunity as a platform that we need to seize," he said of Loopers. "It does a very good job of touching all the bases and covering all things caddie. It hangs together well. It's a great tool we have an opportunity to utilize, not just this year but in years to come, to raise awareness."   
Notable: Fifty-four people attended Wednesday's eighth edition of the Caddie Summit. Seventeen of the 20 Colorado clubs/courses that operate caddie programs were represented. Attendees met to exchange ideas, chat about subjects integral to caddying, see caddie trends in Colorado and listen to a few topic-appropriate speakers. "It's always good to bring people together for something like this where there's a common interest and a common passion," said Albrecht, who regularly takes caddies at both CommonGround and Ballyneal. Among those on hand for the Caddie Summit was WGA director and state chairman Duffy Solich. … To incentivize attendance at the Caddie Summit, the Colorado Golf Foundation, which supports Colorado-based programs and organizations that use golf to build important life skills and character — awards a caddie grant of $500 to each club which attends with multiple representatives. … Two staffers from the Illinois-based WGA — Mike Maher and Bill Moses — spoke at Wednesday's Summit, giving updates on the Evans Scholars program and the caddie academies the WGA operate. Maher also spoke on "Carry the Game", a non-profit group that advocates for increasing the number and diversity of youth caddies nationwide. The hope is not only to preserve a tradition of golf, but to develop lifelong players. "I'm really happy to see that brand out there and another positive indicator of where we're at as a caddie community," Mate said of Carry the Game.