New documentary 'Loopers', delving into the world of caddying, set for Colorado premiere; Rick Reilly, Evans Scholars, Solich Caddie & Leadership Academy play a part
By Gary Baines – 02/26/2019
Caddies are a near and dear part of the golf experience for many in the game, including in Colorado.
Just to mention a few prominent examples of caddie-related programs in the Centennial State:
— The Evans Scholarship, which provides full tuition and housing at various universities to high-achieving caddies with significant financial need, has had one of its scholarship houses at the University of Colorado in Boulder for more than 50 years.
— The Colorado-based Solich Caddie & Leadership Academy, founded in 2012, is a nationally recognized program which promotes the use of caddies by paying their base fees through an educational grant, with participating golfers having the option of adding a tip. The Solich Academy caddies are required to attend weekly leadership classes and do community-service work each summer. With three sites for the Academy around the state — CommonGround Golf Course in Aurora, Meridian Golf Club in Englewood and Lincoln Park/Tiara Rado in Grand Junction — it has produced more than 8,500 caddie loops over the last seven years.
— Caddying is important enough to the local golf industry that the CGA has held an annual Caddie Summit since 2012. The eighth edition is set for next week at Lakewood Country Club.
With that in mind, it's worth noting that a feature-length documentary film on caddying will make its Colorado premiere on Saturday (March 2). It's called "Loopers: The Caddie's Long Walk" and it will be shown Saturday at 2:30 p.m. at the Boulder Theater as part of the annual Boulder International Film Festival. (For advance ticket information, CLICK HERE.)
The 80-minute film should be of interest to golf aficionados in general, and it does have several local angles that should add to that for those in Colorado.
Namely, there's time devoted to the Evans Scholarship, which dates back to 1930 overall but has produced 479 graduates from CU since the 1960s. In addition, among those interviewed in "Loopers" is writer Rick Reilly, who grew up in Boulder, graduated from CU and has lived in Colorado for a significant portion of his life. Reilly — a member of the National Sportswriters and Sportscasters Hall of Fame after writing for the (Boulder) Daily Camera, the Denver Post, Los Angeles Times, Sports Illustrated, ESPN and other freelance online writing jobs — definitely knows his fair share of entertaining, laughable caddie stories as he wrote the book, "Who's Your Caddy?" after caddying for a wide variety of celebrities and colorful characters.
Besides that, George Solich, who along with brother Duffy have lent their names and support to the Solich Caddie & Leadership Academy, makes an appearance in the film. Both George and Duffy are CU Evans Scholar alums. Also in the documentary is recent CU Evans Scholar graduate Zoe Welz. And "Loopers" executive producer Jim Packer is a CU graduate.
"We're excited because our Solich kids are in it," said Erin Gangloff, the CGA's managing director of programs and a key driving force for the Solich Academy, along with manager of caddie development Emily Olson.

Partly via vignettes, "Loopers" delves into the bond between a golfer and a caddie and how the latter can bring out the best in the former. The documentary also demonstrates how caddying has evolved from the "show up, keep up and shut up" job description into a respected profession for some at the highest level.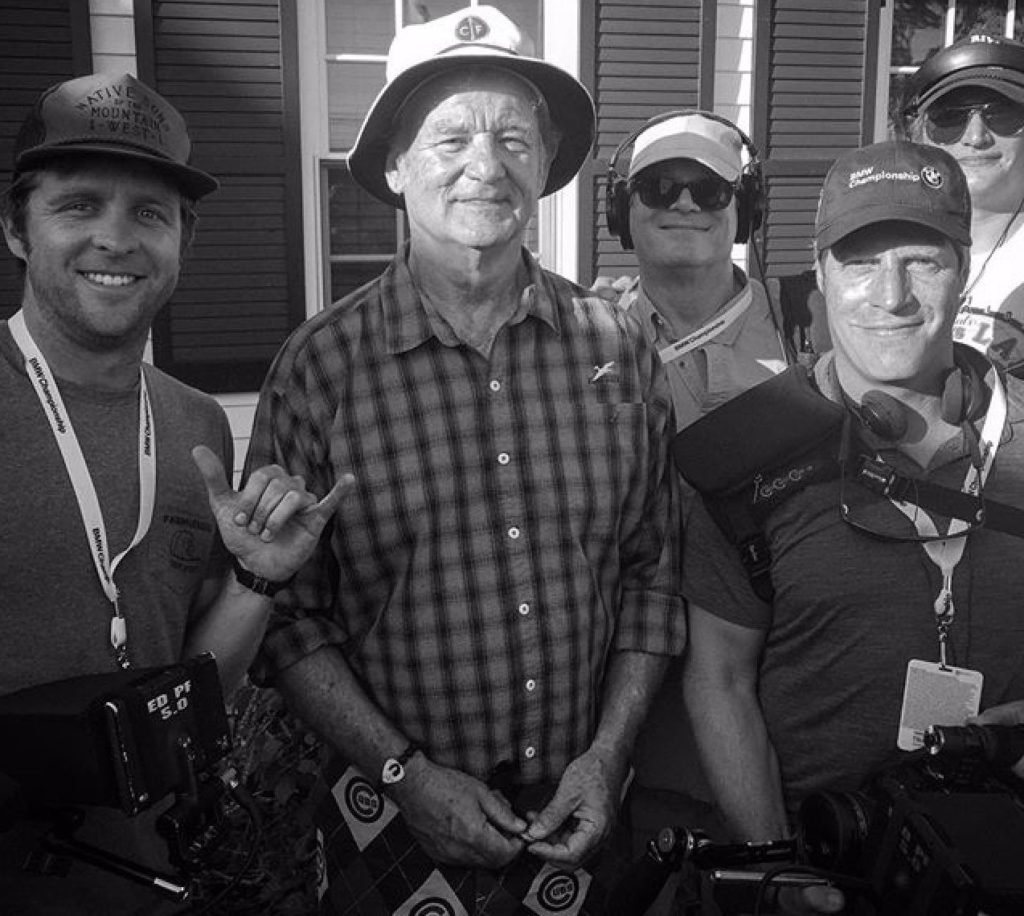 The film is narrated, appropriately, by "Caddyshack" star Bill Murray. Murray (pictured in a photo on loopersmovie.com) and his five brothers grew up caddying at Indian Hill Club in Winnetka, Ill. They were inducted, as a group, into the Caddie Hall of Fame in 2015.
Among those interviewed for "Loopers" — in addition to Reilly, George Solich and Welz — were World Golf Hall of Famers Tom Watson, Lee Trevino, Ben Crenshaw, Nick Faldo and Curtis Strange. Prominent caddies who appear include Steve Williams (Tiger Woods' former bagman), Fanny Sunesson (Faldo), Carl Jackson (Crenshaw), Pete Bender (Greg Norman) and Michael Greller (Jordan Spieth).
Filming locations for "Loopers" include some of the most renowned locations in golf — Augusta National, St. Andrews, Pebble Beach and Carnoustie, among others.
"I saw it as a world steeped in beautiful landscapes, colorful characters and great stories," director Jason Baffa said of golf. "Set in the middle is the caddie-golfer relationship, something to date never explored in cinema. We really look forward to sharing the well-known and unknown caddies and their lives and importance."
To view the "Loopers" teaser, CLICK HERE.