Plans take shape for Welcome2Golf marketing campaign, which will use Denver as pilot site for initiative that aims to 'activate' interested non-golfers
By Gary Baines – 05/14/2019
There may come a time, years in the future, when the Welcome2Golf initiative is hailed nationwide as a major kick-start to getting non-golfers who are interested in the game actually out playing on a course.
But for now, the initiative is in the hands of the Denver-area golf community.
On Tuesday evening at Fossil Trace Golf Club in Golden, the National Golf Foundation and leaders in the Colorado golf industry detailed their plans to use Denver as the pilot city for Welcome2Golf, which hopes to get those interested non-golfers into the game through a concerted marketing "activation campaign" that will start on June 3 and run eight weeks.
The NGF, which came up with the Welcome2Golf idea, estimates — based on survey results — that there are 648,000 people in the Denver metro area who are very or somewhat interested in playing golf but aren't following through on that interest.
"We have this deep well of opportunity," Joe Beditz, president and CEO of the National Golf Foundation, said at Tuesday's meeting. "Welcome2Golf is all about activating this demand. My line is, 'If we can't move it, we can't prove it.' So that's what we're all about here is to prove we can make it happen. And we want to make it happen in a market that we thought would work the very best, and we thought that market was Denver."
Welcome2Golf is by no means just lip-service paid toward attempting to increase the number of on-course golfers in the U.S. after those numbers have dipped about 20 percent since 2005. 
Beditz said the NGF and its partners/sponsors will likely invest about $1 million for the first two years of the Welcome2Golf project. The plan, if everything goes well in Denver, is to add another U.S. market in the fall of this year, then perhaps two more in 2020, according to Beditz.
"The ultimate measure of success is creating committed green-grass golfers," he said. "We're looking to (activate) this year somewhere between maybe 5,000 and 7,000 golfers in this market (roughly 1 percent of the latent total). If you do the math, the (return on investment) is incredibly good."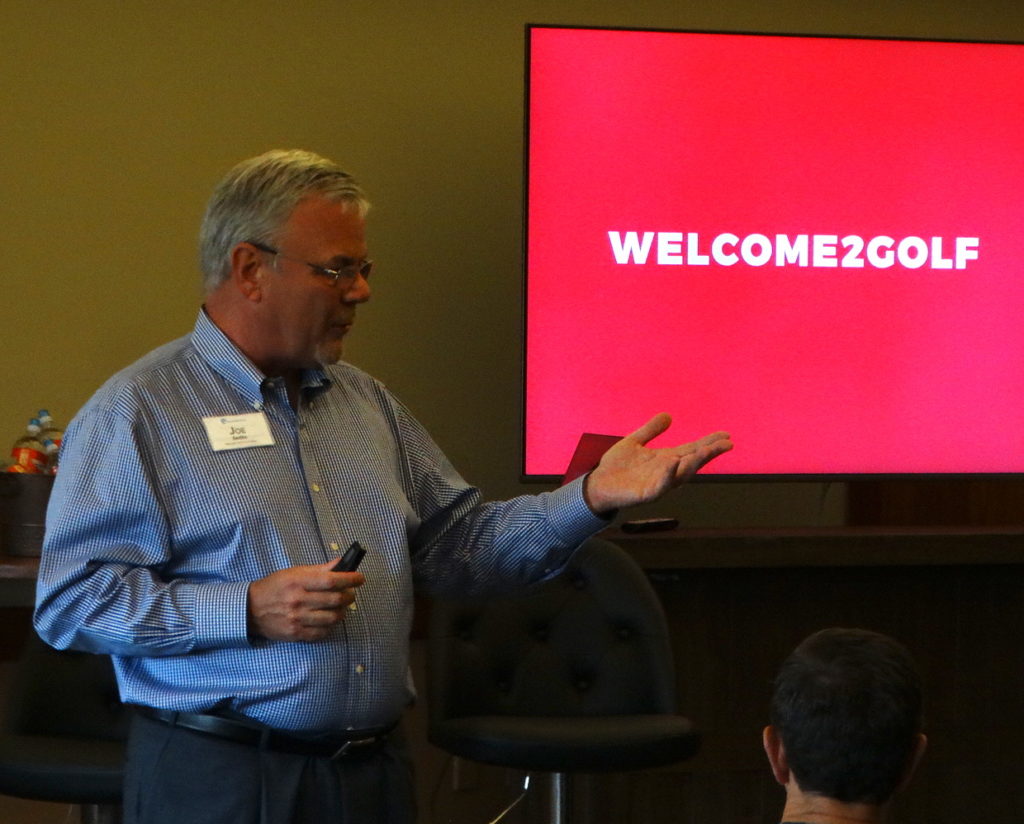 Starting on June 3 in the Denver area, the Welcome2Golf marketing campaign will attempt to activate this latent demand by reaching out on a variety of levels — via email, online, video, print, direct mail, social media, etc. TDA_Boulder is leading the marketing efforts.
The idea in hoping recipients act on the message is to take a very welcoming and friendly, non-intimidating, often-lighthearted approach. "Golf Because" will be used as a catch-phrase. For instance, on Tuesday banners at the meeting included "Golf Because: Once upon a time someone took you golfing for the first time, too." And "Golf Because: Golf is an addiction worth sharing." In both cases added was "Get someone started at Welcome2Golf.com"
The idea is to drive interested people to the website, where they can register and access the list of the 12 "welcome centers" for the initiative that are spread around the metro area. All are public courses:
— Applewood in Golden
— Broken Tee in Englewood
— CommonGround in Aurora
— Foothills in south Denver
— Fossil Trace in Golden
— Harvard Gulch in Denver
— Indian Tree in Arvada
— Kennedy in Denver
— Legacy Ridge in Westminster
— The Meadows in Littleton
— Overland Park in Denver
— Walnut Creek in Westminster
The Colorado PGA and the CGA have been brought in as partners in Welcome2Golf in Denver. Eddie Ainsworth, executive director of the Colorado PGA, said the Section has invested about $30,000 in the initiative between cash and advertising. 
"One of the reasons why (Denver) was chosen was because of the 600,000-plus latent demand here," Ainsworth said. "The other is just because of our reputation here in Colorado. We have the No. 1 female amateur golfer in the world (Jennifer Kupcho of Westminster, winner of the 2018 NCAA title and the 2019 Augusta National Women's Amateur). … You can look what our PGA professionals and our allied associations have done. Nineteen of our PGA members from Colorado have won national awards, with 10 of those awards in the last 12 years. And what other state golf associations (in this case the CGA and Colorado PGA) are coming together to create a junior golf alliance (the Junior Golf Alliance of Colorado). What other junior golf alliance is hosting a national championship (the 2020 U.S. Girls' Junior at Eisenhower Golf Club)? All these firsts. I wouldn't say we're risk-takers, but we're entrepreneurs to try to grow the game and make an impact."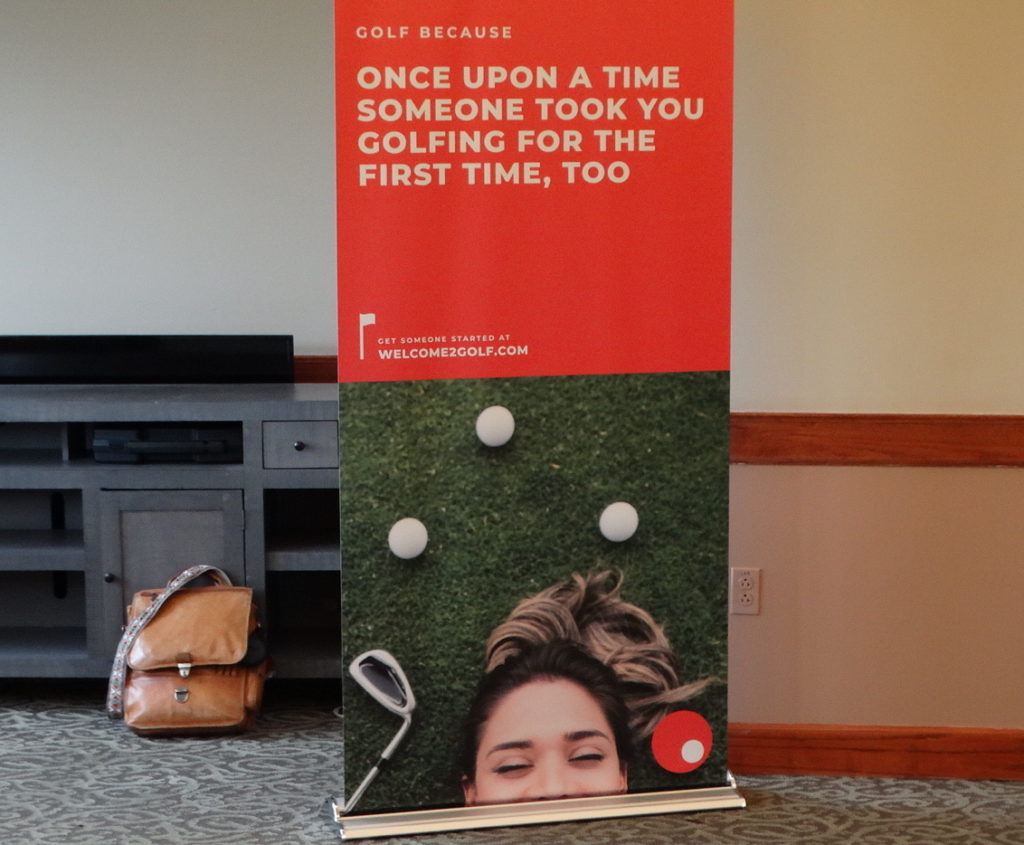 The CGA, meanwhile, is contributing considerable email access, staff help and its course, CommonGround in Aurora, as one of the welcoming centers for Welcome2Golf.
"What we're offering up is using our members — those 60,000 avid, core golfers — to really be the ambassadors for this program," said Mate, who suggested members might be given an incentive — perhaps a bucket of range balls or something of the like — if they active a latent golfer.
"It's slowly but surely hitting me just how big a deal this is. We're very fortunate that Denver was chosen. I don't think, as Eddie said, it's dumb luck. … The more I've had time to think about this the more excited I get for how the CGA can be an incredibly important piece of this puzzle. I think the most welcoming thing you can do is have a buddy there to help you. Our members can be one of the keys to the welcoming part of this initiative."
Noting those potential 60,000 "ambassadors," Ainsworth said, "If everybody looks at that and makes that investment, how can it not work?"
Other partners in Welcome2Golf include GOLFTEC, PGA Tour Superstore and Topgolf.
Of course, there have been plenty of other initiatives in the past aimed at bringing more people into the game. But Welcome2Golf organizers says this one is different.
"It's from the ground up," Beditz said. "It's a local market orientation. We have kind of a commercial orientation the way we're executing. And our intent is to really measure what we're doing and learn for the next one." 
The number of people who access and register on the website, and who go to the welcome centers will be counted. And before-and-after surveys will be taken to find out whether Welcome2Golf raised people's attention. "We're going to be completely transparent and accountable — unlike some other efforts you might have seen — whether numbers are good, bad or indifferent And we're going to stay here until we accomplish it," Beditz said.
"Again, this isn't a new player development program. This is an activation campaign. We're going to try to supercharge the customers for player development programs that are out there now."
Added Mate: "I do kind of feel this is different because they're pouring all of their energy into one market. They've been very strategic in picking (Denver).  They're focusng market to market, and this is the first. They picked the market that has all the right ingredients in the petri dish to be predisposed to success, pouring dollars in there and seeing what happens."
Welcome2Golf came together in a hurry. Ainsworth said he first heard of it early this year, and Mate a couple of months ago.
"Clearly we're building this thing as we're taking off. I think everyone on the leadership team will agree with that," Mate said. "We're going fast and we're going hard. We're going to make mistakes and if we do so be it. We'll learn from them and move on."