Boulder High School, CU alum Hale Irwin will receive Payne Stewart Award for character, charity and sportsmanship
By Gary Baines – 07/23/2019
 Over the last decade, as Hale Irwin has started winding down his World Golf Hall of Fame playing career, the three-time U.S. Open champion has been getting his due as a longtime ambassador for the game and for his sportsmanship and character.
In 2009, the Boulder High School and University of Colorado alum received the Ambassador of Golf Award, which is presented annually to a person who has fostered the ideals of the game on an international level and whose concern for others extends beyond the golf course.
Last year, Irwin was the honoree at Jack Nicklaus' Memorial Tournament.
Closer to home, in addition to conducting a handful of junior clinics in Colorado in recent years, Irwin has lent his name and support for the Hale Irwin Player Program at the CGA-owned CommonGround Golf Course, and to the AJGA Hale Irwin Colorado Junior that annually draws many of the best young golfers from the state and region. And this year, Irwin and the CGA are awarding the newly-created Hale Irwin Medal, which recognizes outstanding Colorado golfers who "exhibit competitiveness, resiliency and a proven record of winning."
Then on Tuesday, it was announced that Irwin will be the 22nd recipient of the PGA Tour's Payne Stewart Award presented by  Southern Company, named for the late tour player who died in 1999 in an chartered jet tragedy. The Payne Stewart Award goes to a professional golfer who best exemplifies Stewart's values of character, charity and sportsmanship.
The 74-year-old Irwin will receive the award in a ceremony on Aug. 20 in Atlanta held in conjunction with the Tour Championship. It will be televised by Golf Channel during a "Golf Central" special that airs from 5-6 p.m. (MT).
"It's just awesome, it's absolutely awesome," Irwin said on GolfChannel.com. "My goodness, how good can it get? If you have character, charity and sportsmanship, what do you have when you mix it all together? I think you have the Payne Stewart Award. That's the definition of this award, and hopefully for all of us who have been the recipient of that, fulfill that obligation, that demand."   
In a statement, Irwin added, "When Tracey (Stewart, Payne's widow) told me that I would be the 2019 recipient of the Payne Stewart Award, I was honestly surprised yet overcome with emotion and pride when thinking of Payne, the honor of this award which bears his name and the many deserving players who have earned it before me. Payne was a friend and a tremendous champion of our game, but more than that, he was committed to leaving a remarkable impact through golf which is still felt today.
"You could call him at any time and he would help immediately with whatever was needed, and I know he was that way with everyone he encountered. He is missed each day by all of us on the PGA Tour and PGA Tour Champions, and I am humbled to represent his character and passion with this Award."
Among the previous recipients of the Payne Stewart Award are Jack Nicklaus, Arnold Palmer, Byron Nelson, Gary Player, Tom Watson, Nick Price, Ben Crenshaw, Davis Love III and Ernie Els.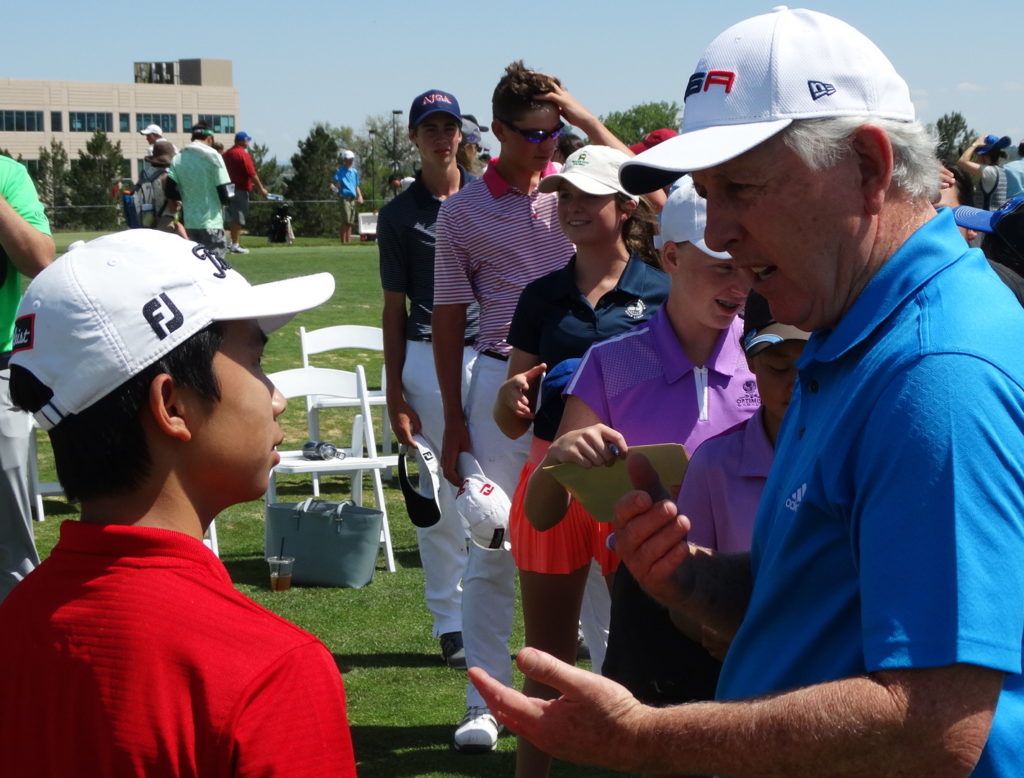 Irwin spent his teenage years and early 20s as a Boulder resident, excelling in golf and football at both Boulder High School and CU, where he claimed an NCAA individual title in 1967. Irwin went on to win 20 times on the PGA Tour — including the aforementioned three U.S. Open titles, the last in 1990 when he became the oldest winner of that championship — and set a record that remains in place today with his 45 PGA Tour Champions victories. In the Centennial State, he was inducted into the Colorado Golf Hall of Fame in 1974 and the Colorado Sports Hall of Fame in 1986. He was enshrined in the World Golf Hall of Fame in 1992.
Beyond his prowess as a competitor, Irwin has made a sizeable impact in the charity world.
According to the PGA Tour's release, "Irwin established and participated in a charity golf tournament in St. Louis for 25 years called the Hale Irwin St. Louis Children's Hospital Golf Benefit. The annual pro-am raised millions to benefit the St. Louis Children's Hospital, and in 1995 the hospital dedicated the Hale Irwin Center for Pediatric Hematology/Oncology in his honor. Founded in 1879, St. Louis Children's Hospital is one of the premier children's hospitals in the United States. It serves not just the children of St. Louis, but children across the world. The hospital provides a full range of pediatric services to the St. Louis metropolitan area and a primary service region covering six states."
The Payne Stewart Award gives the recipients $300,000 to distribute to charities of his or her choice. Per Irwin's wishes, that money will go to the St. Louis Children's Hospital, Phoenix Children's Hospital, Nicklaus Children's Health Care Foundation, TGen (Translational Genomics Research Institute) and Folds of Honor.
"Hale Irwin is an incredibly-deserving Payne Stewart Award recipient," PGA Tour commissioner Jay Monahan said. "Starting with his first PGA Tour title in 1971 to his most recent PGA Tour Champions victory in 2007, his accomplishments over the course of a career that spans more than 50 years is nothing short of spectacular.
"Even today, his competitive fire still inspires after 25 years on PGA Tour Champions. And as someone who exemplifies Payne's character and integrity, Hale continues to carry out Payne's legacy through his commitment to family and his passion for helping others. The PGA Tour is proud to have Hale join what is a distinguished and legendary list of past recipients."