Leigha Devine fends off Lauren Lehigh in marathon final to win CGA Women's Match Play the week after competing in the U.S. Women's Open
By Gary Baines – 6/12/2021
Early on, it certainly didn't look like it would be, but Saturday's final of the 106th CGA Women's Match Play Championship turned into one of the longest in the history of the event.
Leigha Devine of Ptarmigan Country Club, who was 5 up after 10 holes of her title match with Lauren Lehigh of Harmony Club, did end up winning the championship, but she was forced to do it in "overtime." Specifically, it took 38 holes at Colorado Golf Club in Parker — two more than were scheduled.
Records are incomplete for the event, but the title match for the CGA Women's Match Play hadn't gone extra holes since at least 2007 — and perhaps much further back.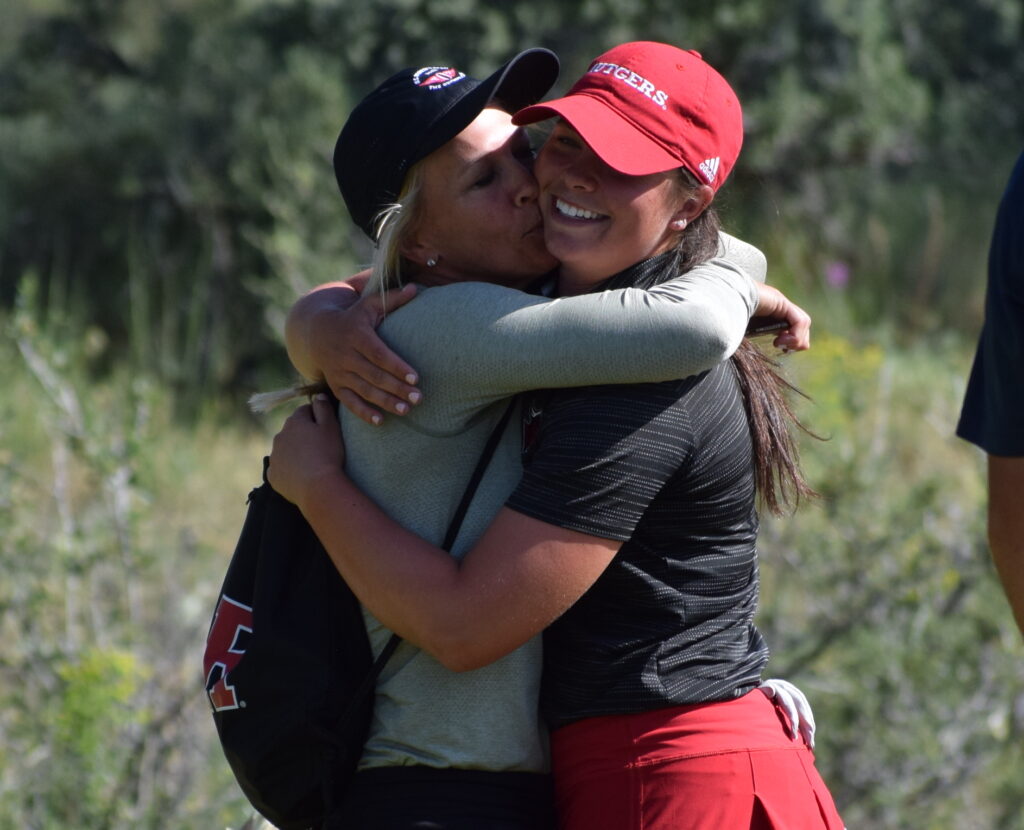 Devine, a Rutgers University golfer who qualified for last week's U.S. Women's Open, won Saturday's match with an easy two-putt par from 7 feet on the short but tricky par-3 second hole at CGC. There, she hit a 9-iron from 157 yards that curled behind the pin on the green's top shelf. Meanwhile, Lehigh failed to drain a par attempt of 7 feet after missing the green left, making bogey on the hole.
"Once I hit (the tee shot on the second playoff hole), I thought, 'I hit that really well,'" Devine said. "I knew it would have some ground spin and kick to the left. It was a sigh of relief almost (for me). It was nice to know I had a good opportunity at birdie."
Minutes earlier, Devine had kept her chances alive by getting up and down for par from a steep bank left of the first extra hole, the par-5 first. That earned her a tie with Lehigh on that hole.
Devine, a 20-year-old graduate of Fossil Ridge High School, claimed the Women's Match Play title in her first time competing in a match play event — of any kind.
"It means a lot" to earn the victory, Devine said. "It's been a long week, with lots of days of golf in a row. But I love every second of it. Competing, being down, being up, it's been awesome.
"This is my first match play tournament ever — of any sort — so I kind of had to learn the strategy and such. Lauren is such a great competitor. It was awesome to be with her. I actually played my practice round here with her and Dillon Stewart (on Thursday). We were going through the holes and talking about how we were going to play them. That was really cool."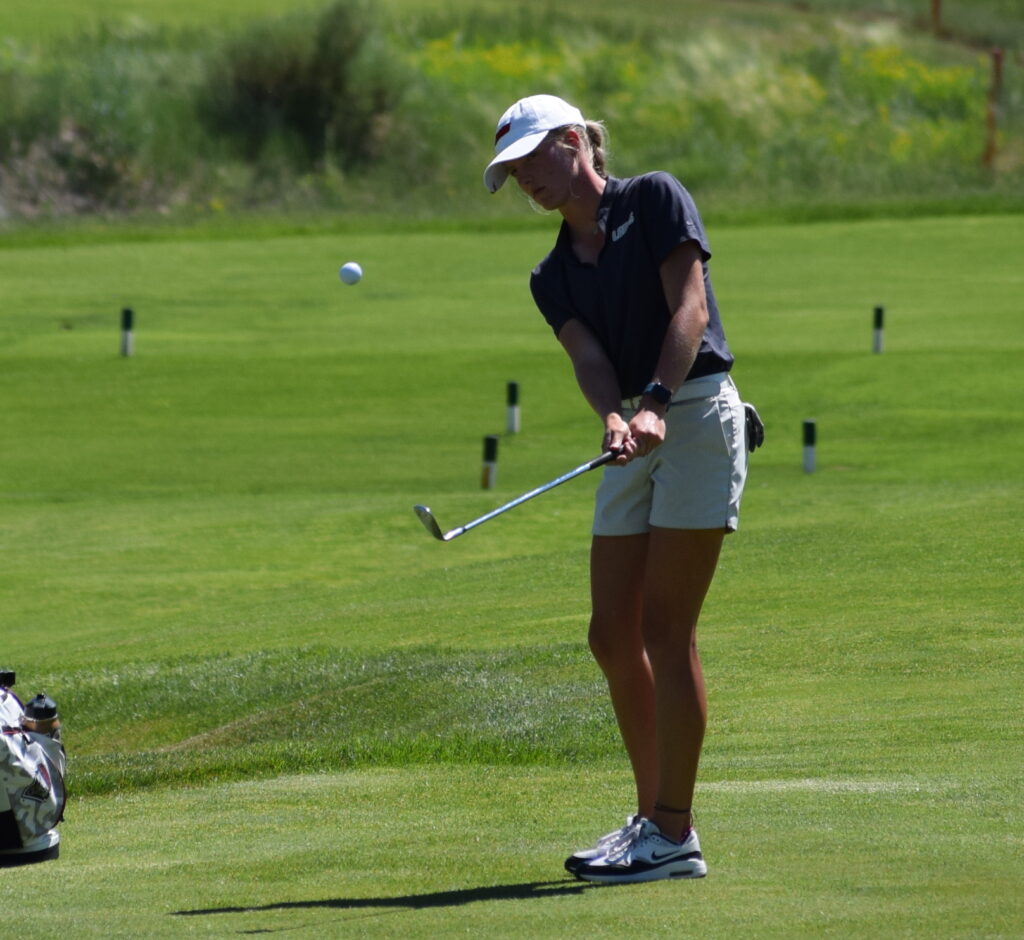 Lehigh, a former Junior Golf Alliance of Colorado Girls Player of the Year, was happy she rallied after a slow start, but knows she came ever so close to winning the title.
"Getting that far and losing obviously hurts a little bit, but Leigha played great," Lehigh said. "She played a really solid round of golf. I definitely sprayed some shots into places I shouldn't have been and gave up a couple of holes with a couple of short putts. But this experience is just amazing, especially with a tournament with this much history. You can't beat it. To get this far, it was just a really fun week overall."
Devine, who like LPGA standout and two-time Women's Match Play winner Jennifer Kupcho is instructed by impending Colorado Golf Hall of Fame inductee Ed Oldham, earned the championship just eight days after wrapping up her tournament at the U.S. Women's Open in San Francisco.
Speaking of Oldham, Devine's game seems to have taken off in the year since she's been working with the instructor from The Ranch Country Club.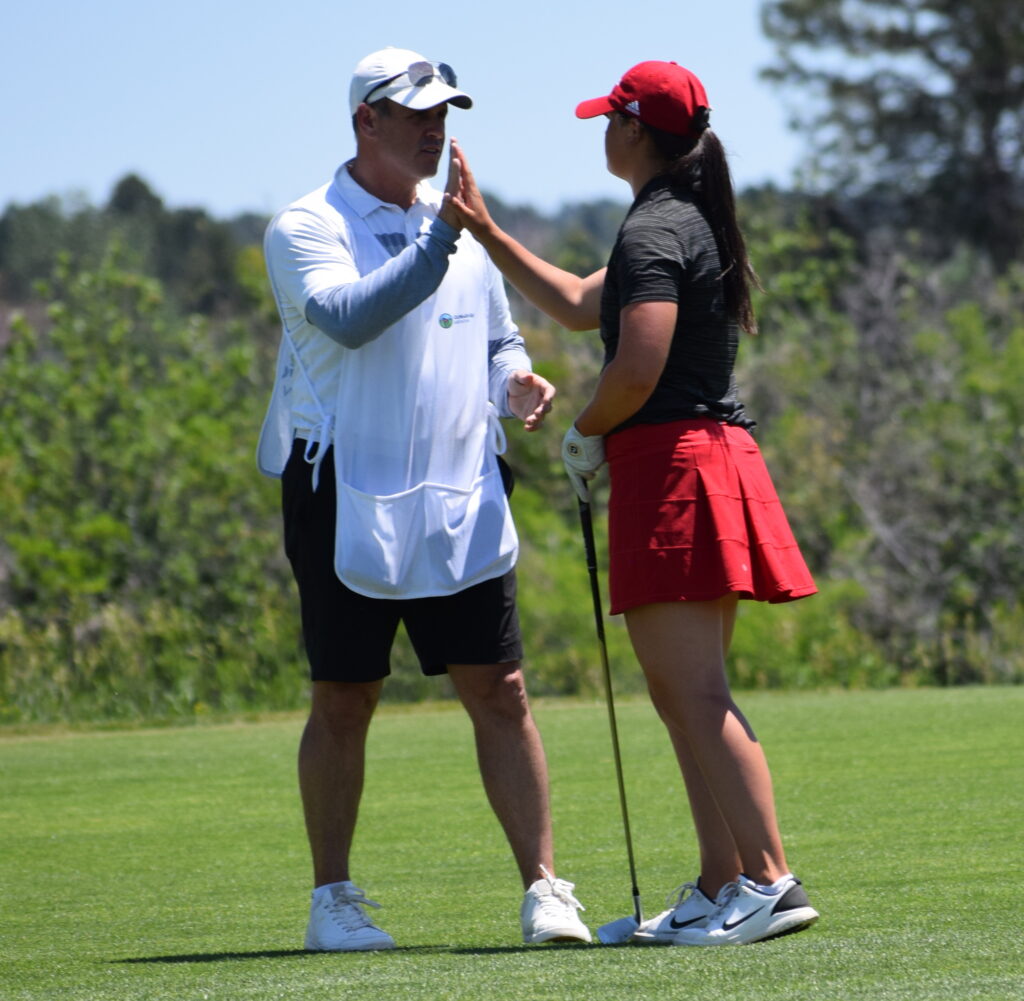 "I love Big Ed," she said. "He's great. I've learned a lot both physically and mentally about the game of golf. Starting to work with Ed made me take it really serious, which I think is awesome. He always says, 'I believe in you. I know you're going to make it as far as you want to make it.' Having that become a real thing is great. I love him. He does a lot for me. And he's definitely taken my game to the next level."
After dominating her previous four opponents in the Women's Match Play, Devine for a while looked intent on adding Lehigh, a former 5A state high school champion, to the list. But Devine's 5-up lead after 10 holes was gone by the 16th green as Lehigh won five holes out of a stretch of six on the back nine. However, Devine retook the lead with a par on the 17th hole.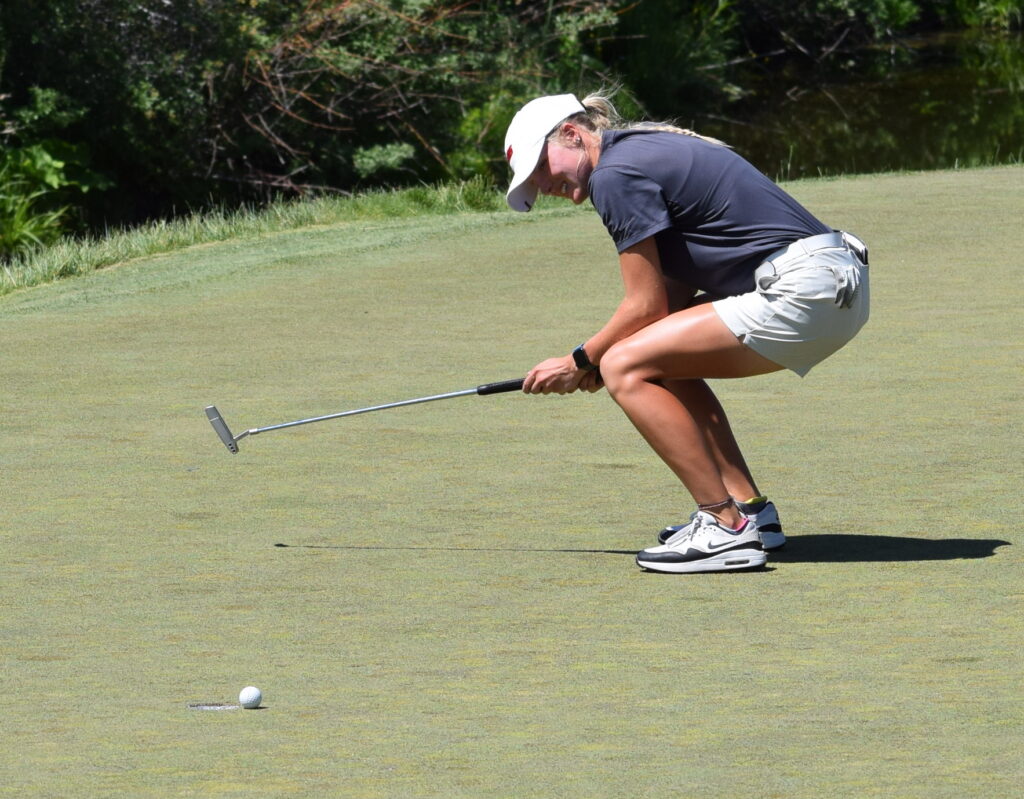 In fact, though Lehigh, a University of New Mexico golfer who finished second in the 2021 Mountain West Conference women's tournament, stuck relatively close the rest of the way, at no time did she lead Saturday's match. But, with Devine playing aggressively on the back nine despite leading, Lehigh rallied from 3 down after 31 holes and did tie it on the 36th hole with a short birdie putt, forcing extras.
But Devine then regrouped to prevail in the matchup of two 20-year-olds from northern Colorado who used to play regularly against one another at high school tournaments.
"I was a little nervous" going into extra holes, Devine admitted. "It's only my second playoff ever. I hit the ball really well today so I thought if anything was going to happen, I would be able to pull through — make my pars and have birdie putts. I would say I was confident in my ability, but always nervous."
While Devine was competing in the U.S. Women's Open last week, Lehigh made the cut and finished 36th in the CoBank Colorado Women's Open.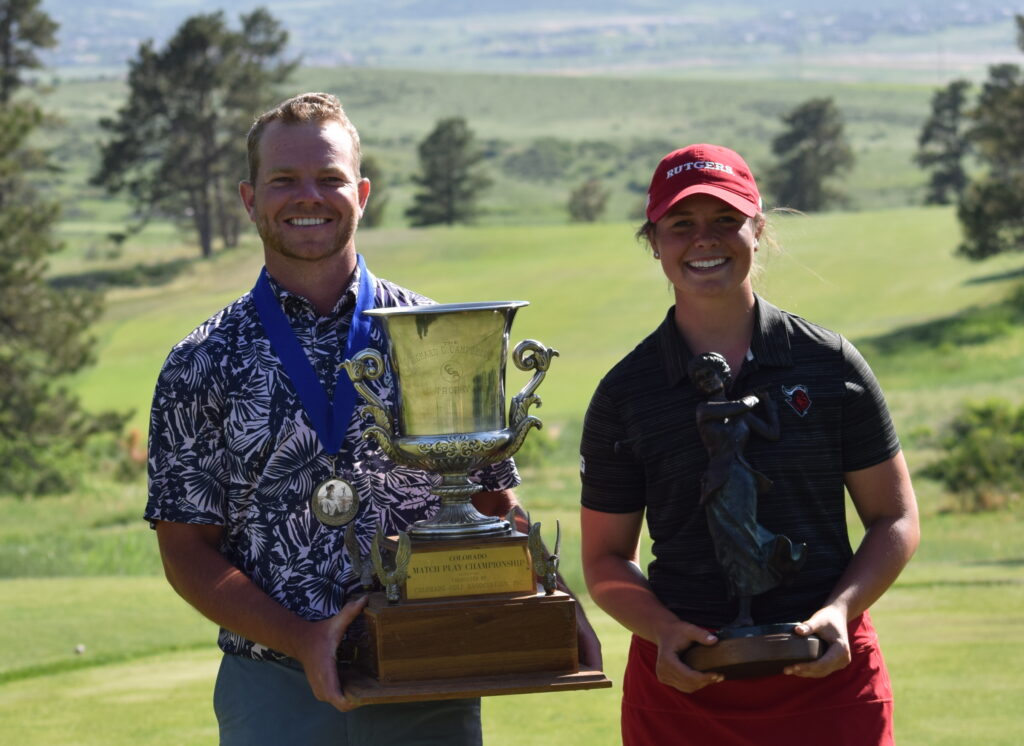 This week marks the first time the CGA Match Play and Women's Match Play have been held concurrently and at the same sites. Utilizing pod play on the early days of the tournaments is also new for the championships — as is switching courses during the course of the competitions.
CommonGround Golf Course in Aurora hosted the early portion of the tournaments Monday through Wednesday prior to Thursday being an optional practice day at Colorado Golf Club and Friday marking the quarterfinals and semifinals.
Next year, The Broadmoor in Colorado Springs is scheduled to host the quarterfinals, semifinals and finals of both the Match Play and Women's Match Play after CommonGround again will be the site for the first three days of action.
The Match Play (which debuted in 1901) and the Women's Match Play (1916) are the CGA's oldest two championships.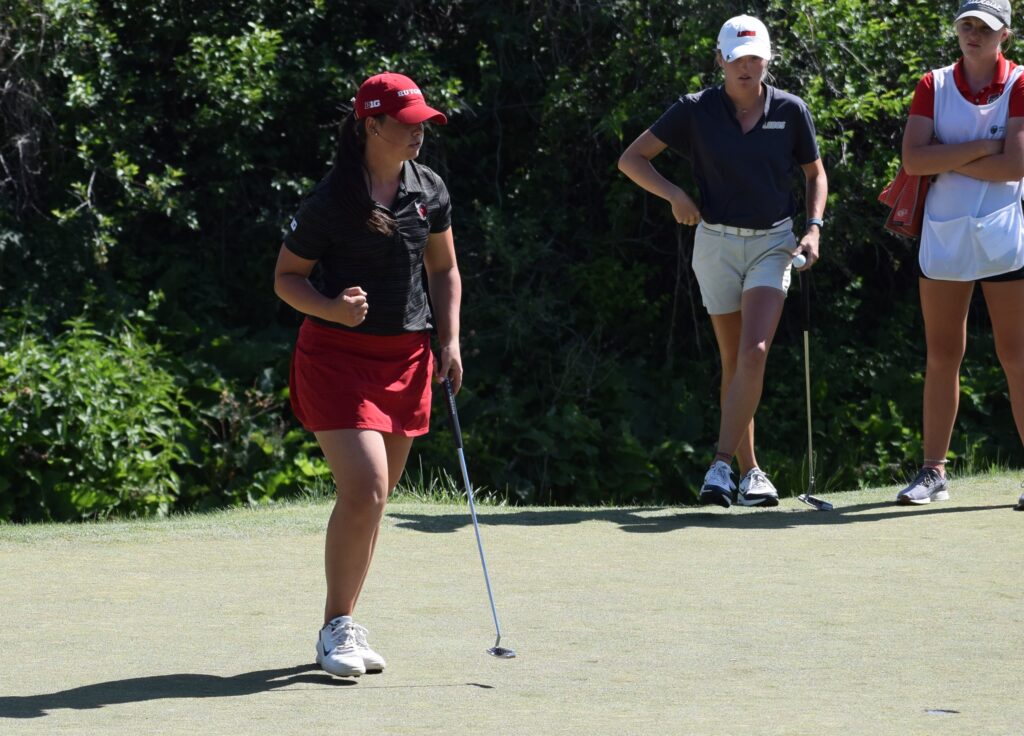 CGA Women's Match Play Schedule
FRIDAY MORNING QUARTERFINALS AT COLORADO GC IN PARKER
Josie Baker, Red Rocks CC, def. Katie Berrian, CC at Castle Pines, 20 holes
Leigha Devine, Ptarmigan CC def. Elly Walters, Battlement Mesa GC, 6 and 5
Caroline Jordaan, Cherry Hills CC def. Kaylee Chen of Parker, 2 and 1
Lauren Lehigh, Harmony Club def. Kristine Franklin, The Ranch CC, 3 and 1
FRIDAY AFTERNOON SEMIFINALS AT COLORADO GC IN PARKER
Devine def. Baker, 7 and 6
Lehigh def. Jordaan, 3 and 2
SATURDAY'S 36-HOLE FINAL AT COLORADO GC IN PARKER
Devine def. Lehigh, 38 holes.
For complete results, CLICK HERE.