Most golfers get this wrong. Here's how to get it right.

by Susan Fornoff
Think about the last time you played a course that was new to you. How did you decide which tees to play?
Maybe you went down to sea level to play some of the great courses on California's Monterey Peninsula and matched the yardage of your Colorado home course tees. Mistake. "Our member tees play at about 6,800 yards," says Castle Pines Golf Club Head Professional Zack Anderson. "But if you compare that to any course in Texas, factoring in altitude and elevation, it's probably a 6,400-yard course at sea level." Vice versa, your usual 6,400 Denver yards would feel like 6,800 yards in Pebble Beach.
Maybe you decided that you paid full price and would get your money's worth by playing the back tees. Another mistake. "That thinking is flawed on several levels," says Dave Pierce, Director of Research for the USGA's Green Section. "Fundamentally, we play the game for fun and entertainment, and if you play the course from longer tees than you should, it's not as much fun. That's where we should be thinking about getting more bang for the buck."
Maybe you matched the yardage you usually play, but this course has elevated greens, hidden lakes and other hindrances your course lacks. Yep, you guessed it: Mistake. CGA Director of Club and Facility Services Aaron Guereca leads a team that rates the difficulty of member courses' tees every eight years. Castle Pines, for example, has 16 tees and combination tees rated for men and women; the two courses at Red Sky have 10 sets each rated. "Slope and rating is the fine tuning in getting it right," Pierce says. "If the course has a much higher slope and rating than you're used to playing, we suggest you move up a little bit to take a little of the edge off."
Of course, maybe you simply decided to play the tees the rest of the foursome is playing. Wrong again, says Pierce. "We recommend that each individual golfer figures out what tee they should play that fits their game best. That will give the overall best experience for each golfer, as well as for their group and the groups behind them. Where there are golfers playing too difficult a course, the pace of play is much slower."
With all that, exactly how is the golfer to know which tee is best? Hint: Most of us play from too far back.
This was the USGA's conclusion after its 20,000-player survey last year asked questions like: On a typical 18-hole golf course, what yardage range most closely match the set of tees you choose? When playing golf, what are the two most important criteria when you choose a set of tees? If you did not find a set of tees that matched your typical yardage, would you typically choose the next set forward or back? Would you play the forward tee if it offered a total yardage in the range you preferred?
"About half of all male players and three-fourths of all female players are starting their rounds from tees that are too long for their games," says Pierce, meaning they cannot reach greens in regulation, they don't use all the clubs they carry and they aren't experiencing courses as they were designed to be experienced.
The golf industry has been trying since 2011 to get all of us to move up a tee or two. That's when the USGA, PGA and friends introduced "Tee It Forward," which most notably featured legendary player and course designer Jack Nicklaus encouraging golfers to match tee yardage to their driver distance with the help of a chart. Similar endeavors included Longleaf and Setting Up Golf Courses for Success, as well as a formula: Multiply your 5-iron distance by 36 and play the course at that yardage.
These efforts had their failings. For instance, how many of us carry a 5-iron anymore? And suppose we hit it 125 yards? Few courses have tees at 4,500 yards, and fewer still have those rated for both men and women. The Tee It Forward chart matches 150 yards, the average woman's drive, with tees of 3,500 to 3,700 yards, which are only to be found on executive courses and some progressive courses that install what they call "junior" or "family" tees. The average male drive, 215 yards, matched with about 5,600 yards.
"When players tried to follow those guidelines, (they said) 'This is just too much of a change from what I'm used to and what I think is fun,' " says Pierce.
But the USGA took to heart data that showed golfers warmed to the general idea of playing golf from more forward tees. After all, there were more birdie opportunities! "Our research shows that when we get players to play the best tees, they score better, their pace of play improves, and, most important, their experience improves," says Pierce, who prefers the term "best tees" to "appropriate tees" so as not to be seen as telling us golfers what to do. "The satisfaction numbers increase."
Happy golfers make happy golf course operators, of course.
"Colorado had one new course open this year, RainDance National in Windsor," says Guereca. "It's believed to be the longest course in North America, at up to 8,400-plus yards, but it has tees starting at under 5,000 yards. And a trend seen not only in Colorado but everywhere is more courses rating shorter tees for men, even less than 5,200 yards, and longer tees for women, more than 6,000 yards. Here in Colorado, we rate all tees for men and tees up to about 6,300 yards for women."
The USGA is asking all courses to rate all tees for men and for women, but Guereca points out, "A lot of times, courses don't want the longest sets of tees rated for women, as there are no ladies that play from them."
This trend of rating more sets of tees for play, however, exacerbates our original quandary: how to choose the "best" tees.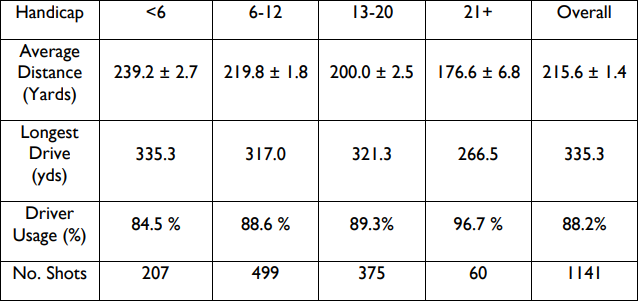 A few thoughts from the experts:
–When playing a course that's new to you, tell the staff or starter, "I'm a (blank) handicapper and I typically drive the ball (blank) yards." Ask what tees they suggest. Suggests Guereca, "Play the tees that will challenge you but not demoralize you and make you not want to play for a while."
–If you're in a golf club, suggest creating options for shorter hitters – particularly considering we golfers tend to lose 2 yards per year after peaking in our early 40s. "For club events, we have the Rule of 75," says Anderson at Castle Pines, where rated tees range from about 5,000 yards to 8,100 yards. "If a member or guest age and handicap total 75 or greater, we allow them to move forward to our three-bird tee. Then when they're competing against the other people in the field, they do have a reduction in handicap, but typically the 700-800-yard difference they gain by moving forward is a much better thing than the three shots they have to give up. Once they swallow their pride, they usually come off the course saying how much more fun that was."
–The average golf course does not have tees short enough for the average woman. Ladies, speak up to management. "Only about 28 percent of U.S. courses have a tee shorter than 4,600 yards, and that's just not enough," Pierce says. "But that number is increasing. When the American Society of Golf Course Architects talks about the projects their members are doing, forward tees is one of the most common. It's relatively inexpensive and it has a big bang for the buck: As courses offer more and more forward tees, more and more women play those courses and play those tees."
Finally, keep an eye out for a new tool next year from the USGA and its partners – an app, maybe? – that will consider more golf course variables than yardage to help golfers make better decisions from the get-go. Pierce spent 35 years in chemical engineering, and he's now excited about engineering a solution to the wrong-tee problem.
"Many golfers do play from tees that are too long for their hitting distance," he concludes. "Part of that is because most courses don't offer short enough tees for short-hitting golfers. We're working on this and we're going to have a lot more to say on it over the coming months."
Veteran journalist Susan Fornoff has written about golf for publications including the San Francisco Chronicle, ColoradoBiz magazine and her own GottaGoGolf.com. She became a CGA member when she moved from Oakland, CA, to Littleton in 2016, and ghost-writes as "Molly McMulligan," the CGA's on-course consultant on golf for fun.