CGA amateurs rally in singles to take Colorado Cup back from Colorado PGA professionals, winning matches 23-17 at The Broadmoor
By Gary Baines – 10/16/2019
There were many people in Wednesday's Colorado Cup field who have fond memories of competing in prominent events at The Broadmoor in Colorado Springs.
For instance:
There were Colorado PGA professionals Doug Rohrbaugh and Chris Johnson, who qualified for — and competed in — the 2018 U.S. Senior Open at the East Course.
There was CGA amateur Colin Prater, a longtime Colorado Springs resident who grew up calling The Broadmoor his home course.
And there were CGA amateurs Jon Lindstrom and Richard Bradsby, who have won The Broadmoor Invitation four-ball title twice each in recent years.
And two years ago, there were the Colorado PGA pros, who routed the CGA amateurs 26-14 in the Colorado Cup with The Broadmoor hosting.
On Wednesday at the resort's West Course, the amateurs representing the CGA were the ones who cherished a memorable outcome. Two years after absorbing that 12-point loss, the CGA rallied in a big way in the late-afternoon singles to post a 23-17 victory in the biennial matches where some bragging rights are at stake.
(The 2019 champions are pictured at top.)
The amateurs trailed 10.5-9.5 after the first two sessions — a nine-hole four-ball and nine-hole foursomes — but won the nine-hole singles session 13.5-6.5 to come out on top.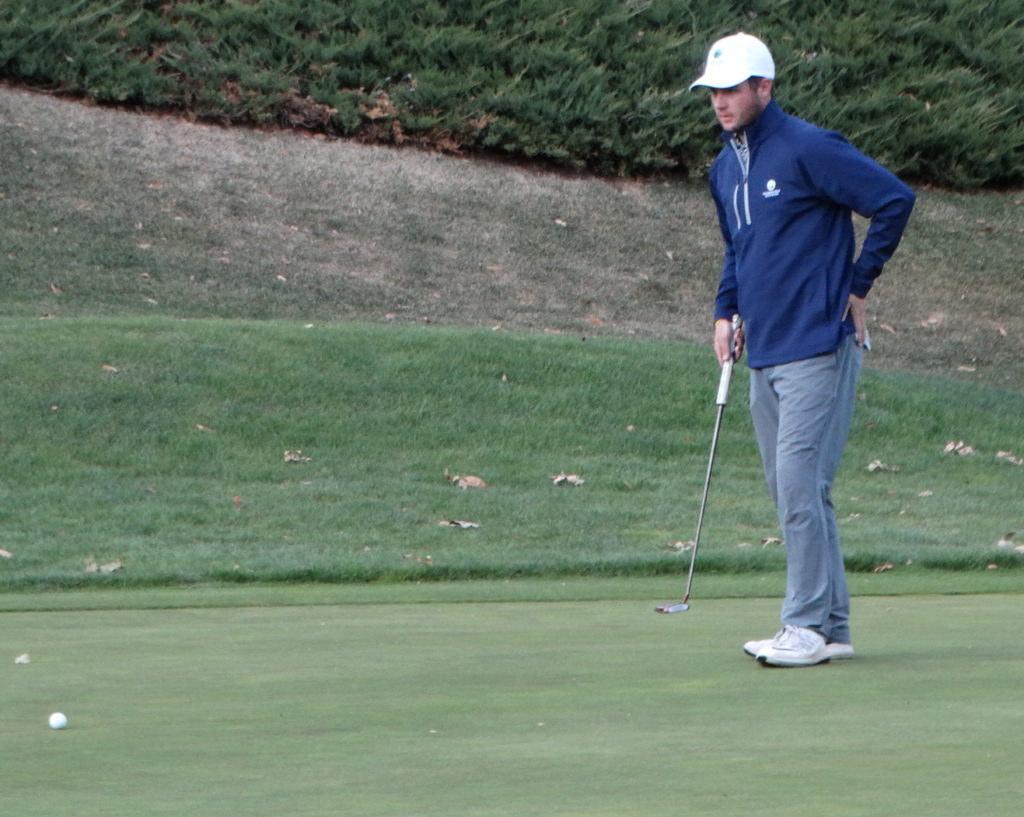 "It's awesome, said Prater, the 2016 CGA Amateur champion who has qualified for two U.S. Amateurs. "I love winning. I hate losing and I love winning. I'm super competitive, but I haven't been playing a whole lot of golf. So it's a great team win at the home track. I get to enjoy it with some friends. It's an awesome feeling."
In fact, Prater took a day off from his teaching job at Colorado Springs' Doherty High School to compete on Wednesday. 
"This was my first day technically gone with students (in class)," said the University of Colorado-Colorado Springs graduate. "I was a little tentative, but I got a good sub. I hope (the students) got some work done today. We'll find out in the morning whether they did or not."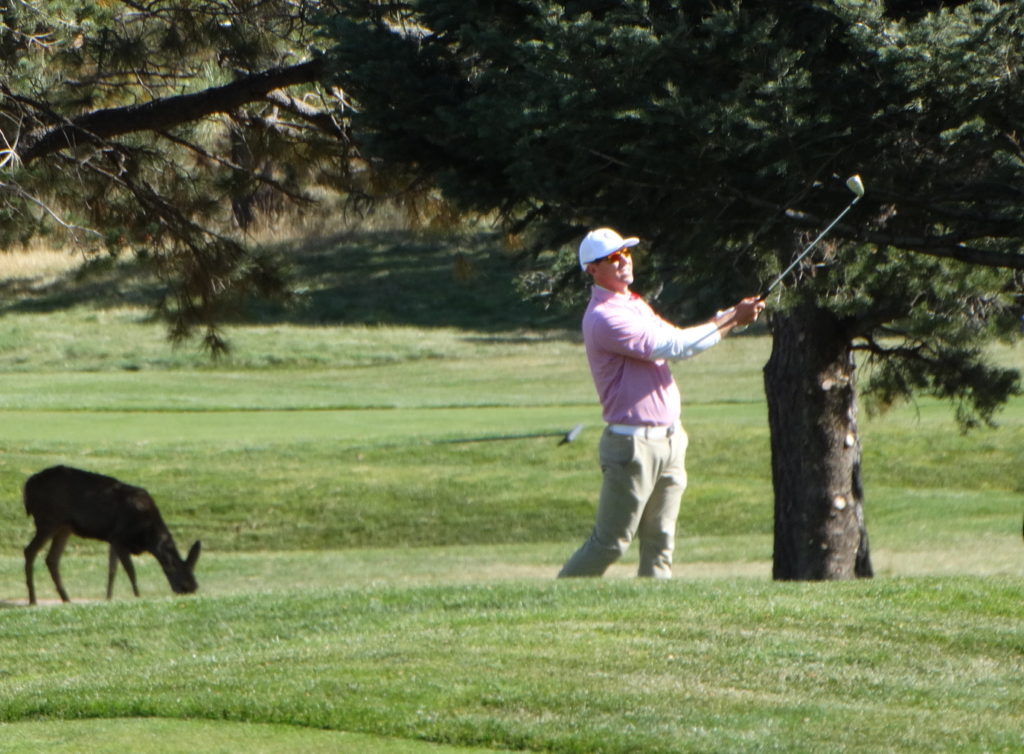 Prater was one of three players out of the field of 20 amateurs and 20 pros who won all three of their nine-hole matches on Wednesday, joining fellow amateur Dylan Wonnacott and professional Michael Weingartner, who, like Wonnacott, was playing in the Colorado Cup for the first time.
Things went down to the wire in the overall competition as 11 of the 20 singles matches were settled on the final hole — three being tied, seven ending up 1 up, and one finishing 2 up.
"It was great," Weingartner said of the atmosphere in general. "We had a lot of energy and it was a lot of fun. After the first two (sessions) seeing how close it was, everyone knew the singles was going to be make or break. It was cool. I really enjoyed it. I thought our team played pretty well. Obviously, there's a lot of really good amateurs. I knew a few of the senior guys from being a club pro, and I know how good they are."
This year marked the resumption of the Colorado Cup competition after it took last year off, with organizers deciding it would become a biennial event after being held every year from 1971 through 2017. And this was the second time the Colorado Cup rosters have not included any college players — a mainstay for the amateurs in previous years — because the event was moving from summer to during the college season.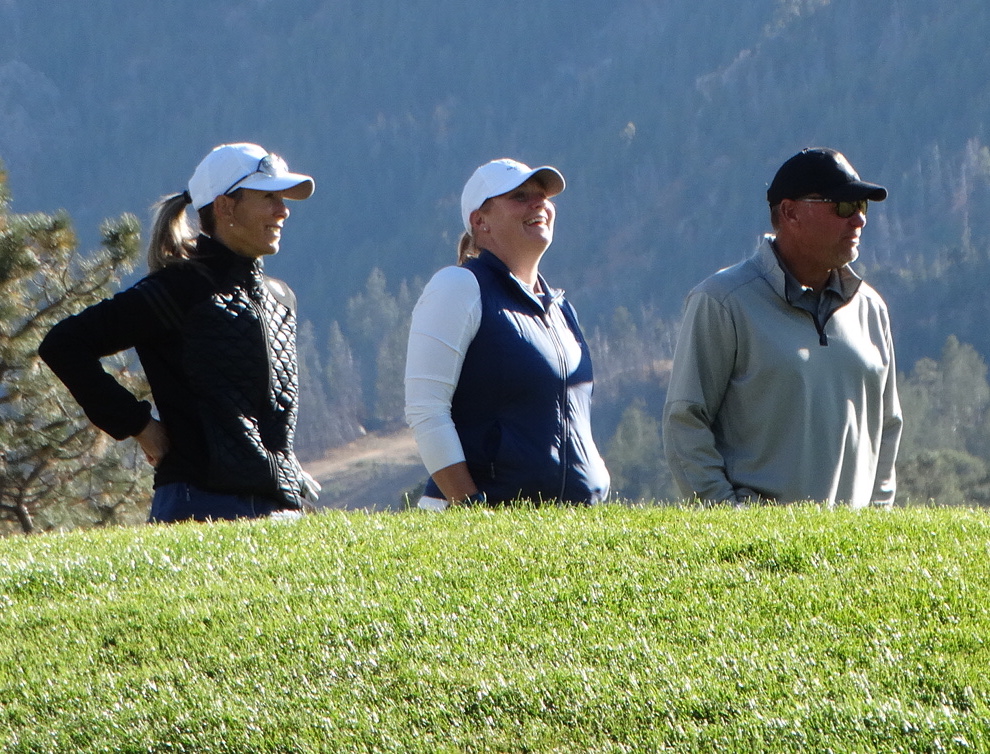 "This event is so awesome," reinstated amateur Erin Houtsma, the 2005 CoBank Colorado Women's Open champion, said after competing for the first time. "I've never played in anything like this — a Ryder Cup/Solheim format. I can honestly say that never in a competitive setting have I played in alternate shot before. My partner (Kristine Franklin) and I played better in alternate shot than we did in four-ball.
"I feel lucky to be part of it. I think it's so neat to have the best amateur golfers in Colorado playing together."
After the Colorado PGA won both women's four-ball matches 1 up, the CGA female amateurs went 5-1 the rest of the way, with Houtsma, Franklin and Tiffany Maurycy chalking up 2-1 individual records for the day, and Colorado Golf Hall of Famer Kim Eaton going 1-2.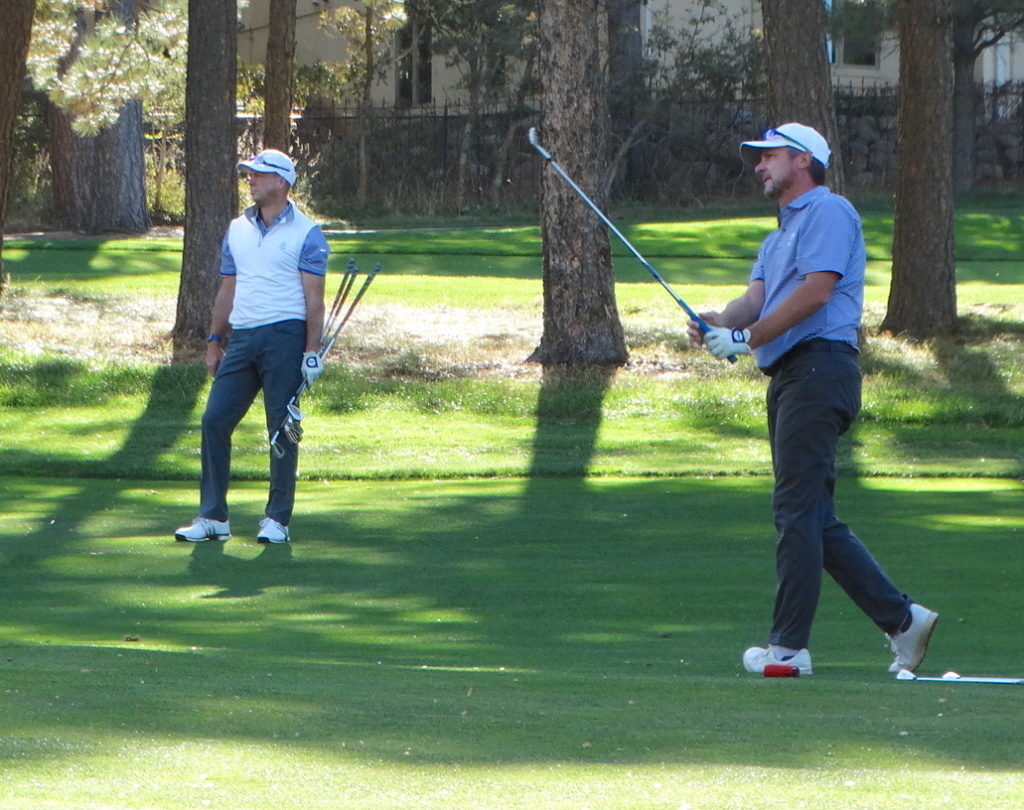 Joining Prater and Wonnacott with 2-0-1 individual records for the winning CGA squad on Wednesday were Lindstrom and Bradsby, two Lakewood Country Club members who teamed up in four-ball and foursomes, and Ryan Burke.
As noted, Wonnacott was competing in the Colorado Cup for the first time, and while it was fun to win, he would have enjoyed playing whatever the outcome.
"I think we played well and had a lot of fun," he said. "Win or lose, it was still going to be a blast either way. It was so much fun. I had a great time."
Meanwhile, going 2-0-1 for the pros on Wednesday were Mike Northern, Barry Milstead and Rick Cole.
Then, defying the odds, you had four players tie all three of their matches — amateurs Thomas Roos and Brian Woody, and pros Mike Zaremba and Scott Sommers.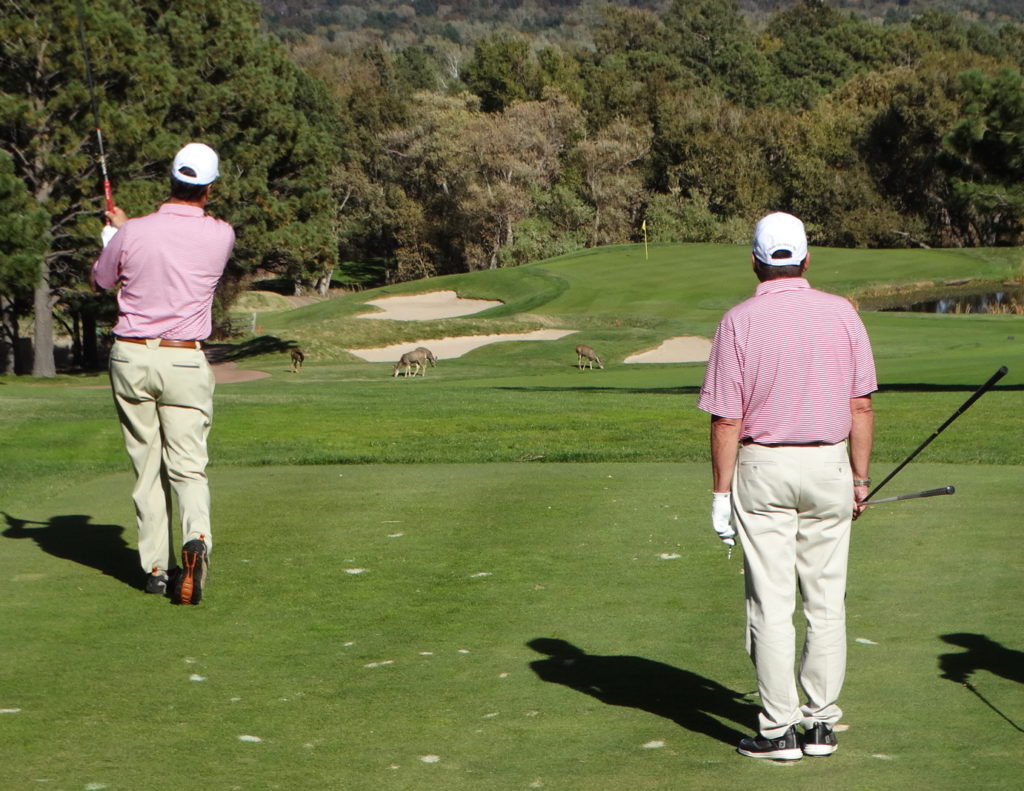 While playing in a setting like The Broadmoor is enough to put a smile on just about anyone's face, Prater perhaps had the biggest one of them all, given that this was pretty much home turf for him during all of his formative years, and that he had a certain advantage in the Colorado Cup for that reason.
 "I've played endless rounds here," he said after making seven birdies on Wednesday (including the three he and Wonnacott recorded in alternate shot). "The Broadmoor has always been tricky. It even causes some of the best players in Colorado problems. So it's a huge advantage. I've seen everyone's putt. I've seen that hole location 20 times. Every single shot that every guy hit today, I've hit it at least once."
Wednesday marked the record 14th time The Broadmoor has hosted the Colorado Cup Matches.

Colorado Cup Matches
At The Broadmoor's West Course in Colorado Springs
(P indicates pro; A indicates amateur)
(An individual win is worth 1 point; a tie is worth 0.5)
(OVERALL FINAL SCORE: CGA AMATEURS 23, COLORADO PGA PROFESSIONALS 17)
9-Hole Four-Ball (Colorado PGA 5.5, CGA 4.5)
Richard Bradsby/Jon Lindstrom (A) def. Geoff Keffer/Jason Witczak (P), 3 and 2
Colin Prater/Dylan Wonnacott (A) def. Eric Bradley/Ben Honaman (P), 2 and 1
Peter Norwood/Michael Weingartner (P) def. Josh McLaughlin/Chris Thayer (A), 2 up
Jeff Carter/Visanu Tongwarin (P) tie with Tyler Bishop/Ryan Burke (A)
John Hornbeck/Steve Ivan (A) def. Doug Rohrbaugh/Chris Johnson (P), 2 up
Mike Northern/Barry Milstead (P) tied with Keith Atkins/Guy Mertz (A)
Ron Vlosich/Rick Cole (P) def. Gary Driber/Victor Minovich (A), 5 and 3
Mike Zaremba/Scott Sommers (P) tied with Thomas Roos/Brian Woody (A)
Tara Morris/Kristyn Crippen (P) def. Kristine Franklin/Erin Houtsma (A), 1 up
Holly Champion/Liz McCabe (P) def. Kim Eaton/Tiffany Maurycy (A), 1 up
9-Hole Foursomes (CGA 5, Colorado PGA 5)
Geoff Keffer/Jason Witczak (P) tied with Richard Bradsby/Jon Lindstrom (A)
Colin Prater/Dylan Wonnacott (A) def. Eric Bradley/Ben Honaman (P), 1 up
Peter Norwood/Michael Weingartner (P) def. Josh McLaughlin/Chris Thayer (A), 1 up
Tyler Bishop/Ryan Burke (A) def. Jeff Carter/Visanu Tongwarin (P), 3 and 1
Doug Rohrbaugh/Chris Johnson (P) def. John Hornbeck/Steve Ivan (A), 2 and 1
Mike Northern/Barry Milstead (P) def. Keith Atkins/Guy Mertz (A), 2 and 1
Ron Vlosich/Rick Cole (P) def. Gary Driber/Victor Minovich (A), 2 and 1
Mike Zaremba/Scott Sommers (P) tied with Thomas Roos/Brian Woody (A)
Kristine Franklin/Erin Houtsma (A) def. Tara Morris/Kristyn Crippen (P), 2 up
Kim Eaton/Tiffany Maurycy (A) def. Holly Champion/Liz McCabe (P), 2 and 1
9-Hole Singles (CGA 13.5, Colorado PGA 6.5)
Jon Lindstrom (A) def. Geoff Keffer (P), 4 and 2
Richard Bradsby (A) def. Ben Honaman (P), 1 up
Eric Bradley (P) def. Chris Thayer (A), 2 up
Dylan Wonnacott (A) def. Jason Witczak (P), 1 up
Michael Weingartner (P) def. Tyler Bishop (A), 1 up
Ryan Burke (A) def. Visanu Tongwarin (P), 4 and 3
Colin Prater (A) def. Peter Norwood (P), 4 and 3
Josh McLaughlin (A) def. Jeff Carter (P), 1 up
John Hornbeck (A) def. Doug Rohrbaugh (P), 1 up
Steve Ivan (A) def. Chris Johnson (P), 1 up
Barry Milstead (P) def. Victor Minovich (A), 2 and 1
Mike Northern (P) def. Guy Mertz (A), 2 and 1
Gary Driber (A) def. Ron Vlosich (P), 2 and 1
Brian Woody (A) tied with Rick Cole (P)
Thomas Roos (A) tied with Mike Zaremba (P)
Keith Atkins (A) tied with Scott Sommers (P)
Erin Houtsma (A) def. Tara Morris (P), 3 and 2
Kristine Franklin (A) def. Kristyn Crippen (P), 2 and 1
Tiffany Maurycy (A) def. Liz McCabe (P), 1 up
Holly Champion (P) def. Kim Eaton (A), 2 and 1