After being in danger of missing cut, Denver native Hubbard jumps 91 spots on scoreboard; Ledesma retains lead
By Gary Baines – 07/12/2019
Denver native Mark Hubbard has his PGA Tour card locked up for next season and he's already won once on the Korn Ferry Tour this year, so it wouldn't have been the end of the world if he missed the 36-hole cut in the inaugural TPC Colorado Championship at Heron Lakes in Berthoud.
Still, even though he lives in Texas nowadays, the 30-year-old has a lot of family and friends in Colorado, so it wouldn't have been an ideal scenario. But through the first 20 holes of the tournament, it certainly looked like Hubbard would be spending the weekend off from competitive golf.
At that point, Hubbard was 3 over par for the tournament, with 1 under needed to advance to round 3. But quicker than you can say Korn Ferry Tour, the 2007 CJGA Boys Player of the Year did a 180-degree turn.
Despite a final-hole bogey on Friday, Hubbard played his last 16 holes on Friday in 6 under par and shot a 5-under 67 for the day, leaving him just one off the best score of round 2.
The result was that Hubbard jumped 91spots on the scoreboard, easily vaulting over the cut line and finishing at 3-under 141 for 36 holes, leaving him in 26th place, seven strokes behind leader Nelson Ledesma.
"When you're in that position (several strokes on the wrong side of the cut line), you can't really be thinking about score," said Hubbard, a veteran of three years on the PGA Tour before losing his card at the end of 2017. "I kind of knew the cut was going to be 1 under, so I knew I needed a good day. Even when I was 4 over at one point yesterday, for me I'm not thinking about a number. I'm just trying to hit the best shot I can hit on every shot. I know it sounds cliche, but you've just got to kind of reset in a way. The best way I know how to do that is trying to play as good a golf as possible and not really worry about anything.
"It helped when I was 3 over through 2 today that the next hole was a driveable par-4 and I had a two-putt birdie there. That helps right the ship pretty fast. I just kind of stuck to my guns. I felt like I hit it a lot better than 2 over yesterday, but I just didn't make anything. I kind of knew if I kept hitting it the putts were going to fall."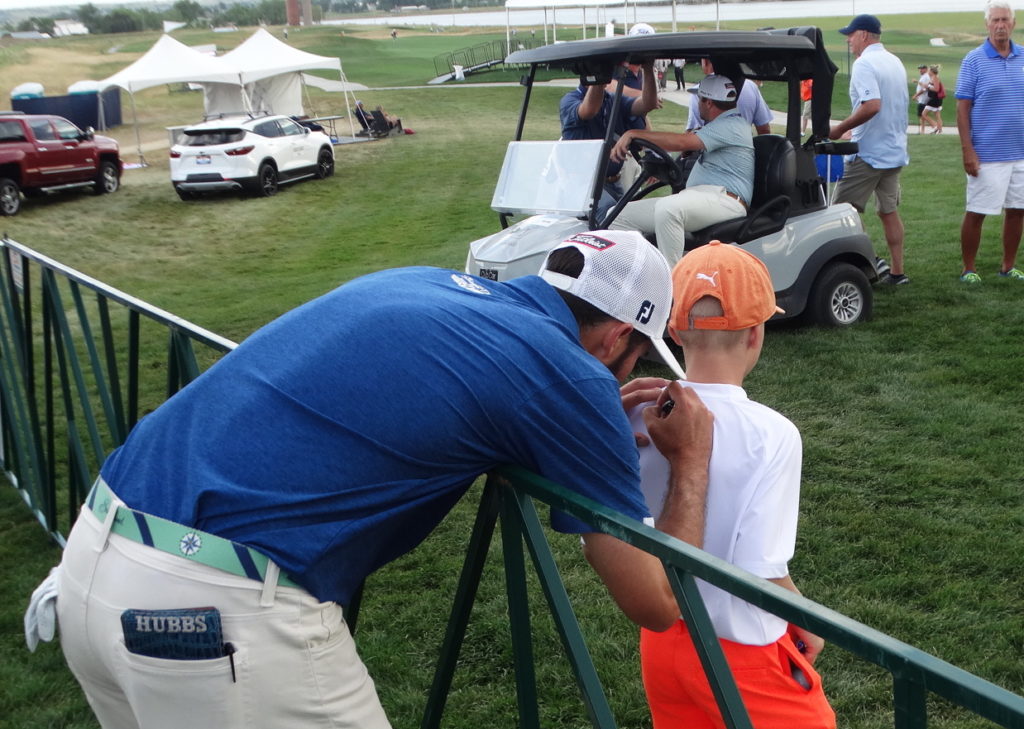 Indeed, they did, so Hubbard's loyal Colorado entourage will be able to follow him for two more days at TPC Colorado.
"I think I'm probably getting more publicity than I deserve for this being my 'home' event," he said. "This is the first time I've ever played this course. I grew up an hour and 40 minutes away and now my family lives an hour and 10 away and I live in Texas. But it is really nice to have the support and I want to play well for them. I didn't feel a whole lot of pressure, but you always want to play well in front of your fans."
Now, on the weekend, with his return to the PGA Tour already assured, Hubbard has no plans to have a conservative mentality on Saturday and Sunday.
"Being that far back and Saturday being moving day, I think this is a course you can definitely be aggressive off the tee with," he said. "At this point, I've got my card locked up. I think tomorrow I'm going to play pretty aggressively. I thought I drove it pretty well today, so if I can push some drivers up in the necks of some of these greens and try to get some easy up and downs for birdies, that's the plan."

Wild Weather: Welcome to Colorado, Korn Ferry Tour.
On Friday, folks at the inaugural TPC Colorado Championship at Heron Lakes encountered an oddity even by Centennial State weather starndards.
The second round was delayed by lightning for just over 45 minutes, which isn't unusual for Colorado this time of year. What was odd was that just 12 minutes after resuming play, it was halted again, this time by a surge of very strong wind that was buffeting large trailers and had flags whipping mercilessly.
Then within another 10 minutes or so, it was back to light breezes and play began again. Within the next half hour, it was almost dead still and hot.
"It was really weird," said Hubbard, who grew up in Colorado. "That windstorm, I've never seen anything like that. Me and (playing partner) Rick Lamb were joking that since that delay we literally saw every single wind direction, and I think we only played five or six holes. It was like a Tiger Woods video game where the wind arrow just goes in circles. It's pretty crazy, but I kind of knew just from being here at media day that wind was going to play a huge factor in this tournament — whether it means there's no wind and the scores are really low or there's crazy wind like there was this afternoon.
"For me, I kind of hope it stays like this because I'm a lower-ball hitter so normally I'm pretty good in the wind. I think that would give me an advantage to try to catch the leaders."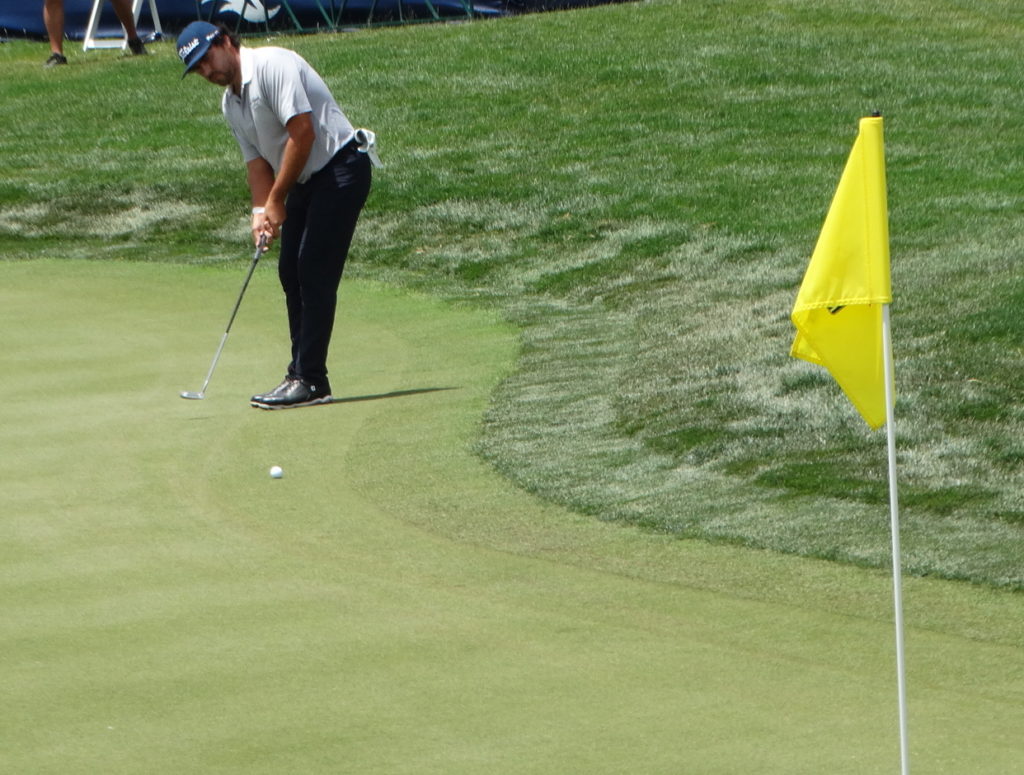 Argentines, including Cabrera, Having Strong Showing: There are just three golfers from Argentina competing in this week's TPC Colorado Championship.
One is the only player in the field with more than one major championship victory — Angel Cabrera, who won both the 2007 U.S. Open and the 2009 Masters.
Another happens to be leading the tournament at the halfway point — as he did after 18 holes — Nelson Ledesma.
Not surprisingly, the two know one another despite being 21 years apart in age (28 vs. 49). In fact, they played a practice round together at TPC Colorado on Tuesday.
"I know him pretty well," Ledesma said of Cabrera through a translator. "I had a practice round with him on Tuesday and so he helped me quite a bit. I rely on him quite a bit and he's a great leader and resourse for me.
"I'm very proud that we're both from Argentina. We rely on each other. We appreciate the respect we have for each other."
While Ledesma leads by two after rounds of 65-69 left him at 10-under 134, the 49-year-old Cabrera made the cut on the number as he sank a 5-foot bogey putt on the last hole to shoot 73 for a 143 total.
And the third Argentine competing whis week, Andres Gallegos, likewise made the cut, in his case also a 143 total.
Ledesma, winner of a Korn Ferry Tour event in 2018 and owner of four top-seven finishes in 2019, made four birdies and one bogey on Friday, giving him 13 birdies for two days.
The TPC Colorado course, at almost 8,000 yards, "is nice and long so I'm able to drive it well," he said. "It fits my (driving) game."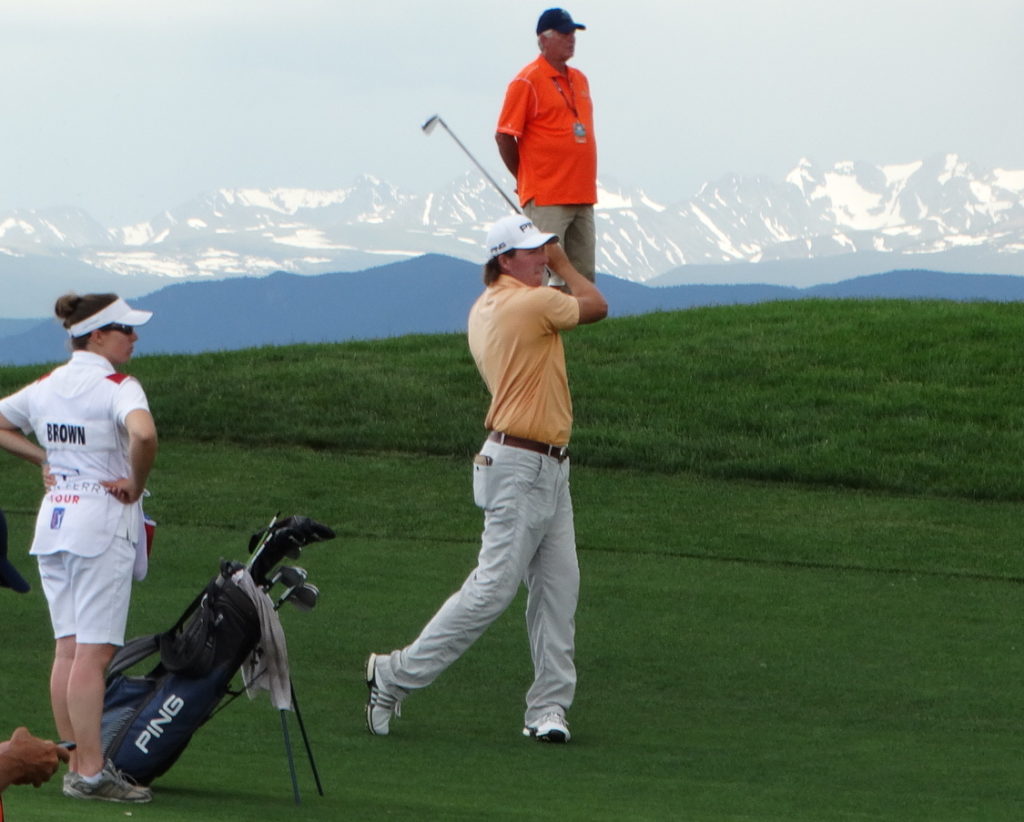 Brown, Love, Whitney Sticking Around for Weekend: Four players with strong Colorado connections made the 36-hole cut on Friday, with Hubbard being joined by three who advanced on the number as the field was trimmed to 65 and ties.
Moving on to the weekend with 1-under-par 143 totals were Golden resident and former Colorado State golfer Zahkai Brown, Denver resident and former University of Denver golfer James Love and former Fort Collins resident and Air Force Academy golfer Tom Whitney.
It was Brown's first made cut on the Korn Ferry Tour since 2013, Love's first KF made cut since 2012, and Whitney's first weekend on the KF tour this year.
Brown and Love, who were paired together for the first two rounds and will be again on Saturday, both Monday qualified for this event.
Here are the results at the TPC Colorado Championship for all the players with strong connections to the Centennial State:
26. Denver native Mark Hubbard 74-67–141
55. Golden resident and former CSU golfer Zahkai Brown 73
55. Denver resident and former DU golfer James Love 68-75–143
55. Former Fort Collins resident and Air Force golfer Tom Whitney 70-73–143
Missed 36-Hole Cut
Boulder native George Cunningham 72-74–146
Former Golden resident Andrew Svoboda 73-73–146
Cherry Hills Village resident David Duval 77-72–149
Cheyenne resident and former CU golfer Josh Creel 70-79–149
Denver resident Michael Schoolcraft 73-80–153
Lone Tree resident and former CU golfer Tom Gempel 73-80–153
Part-time Boulder resident and former CU golfer Jonathan Kaye 79-76–155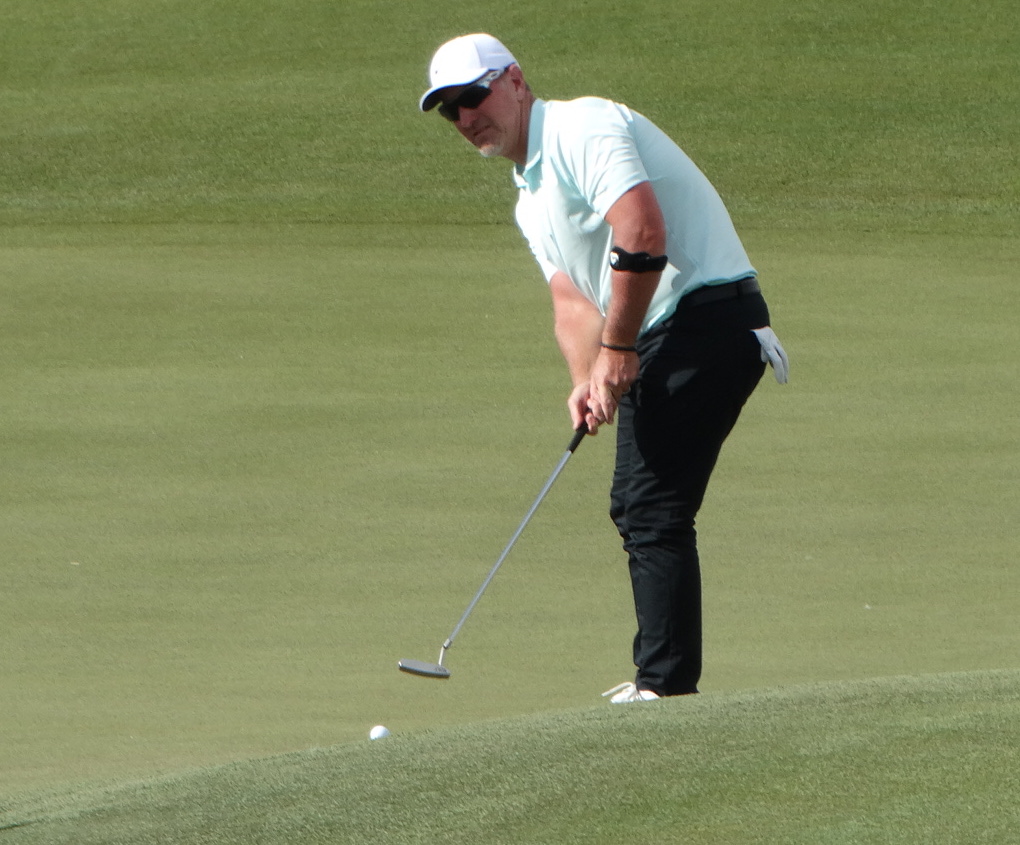 Missed Cut at TPC, No Colorado Open for Kaye: Two-time PGA Tour winer Jonathan Kaye competed on the Korn Ferry Tour for the first time in 2019 this week, largely because the event was being played within an hour of his summer home in Boulder.
"I just came out because it was close to home," the former University of Colorado golfer said. "That's it. It's a fun course. I guess they did set it up good because everyone else can play it. But I can't play it. It's not set up good for me."
For me it's too long. I can't play out here. Too long and too much rough."
The numbers back up Kaye's assessment. He finished 153rd out of 156 players, missing the 36-hole cut by 12 after rounds of 79-76.
And even though Kaye won the CoBank Colorado Open in 2017, this week will likely be his lone competitive appearance of July in his native state. Barring a change of mind, he said he isn't planning to play in the 2019 Colorado Open in two weeks. Kaye indicated there's a chance he'll get into the field for the PGA Tour's Barracuda Championship in Reno, Nev., that week, though it's far from a certainty.

Nice Consolation Prize: Chris Nathe of Timnath failed in Monday qualifying for the TPC Colorado Championship at Heron Lakes, but he still made a healthy check this week.
On Tuesday, Nathe competed in a contest sponsored by Michelob ULTRA called #ULTRAShot, and walked away with $95,000. The contest called for contestants to try to hit a target 240 yards away from atop the Anheuser-Busch Brewery just east of Fort Collins Country Club.
Nathe was the only one to hit the mark, earning him a very nice payday.
For all the scores from the TPC Colorado Championship, CLICK HERE.
For Saturday's tee times, CLICK HERE.