DU's Carson Griggs eagles two holes, including draining a 90-yard shot, to rally from big deficit and advance to final of CGA Match Play, where he'll face former pro Cole Nygren
By Gary Baines – 6/11/2021
Two golfers who had to successfully negotiate qualifying tournaments simply to get into the field for the 121st CGA Match Play now find themselves in the title match at Colorado Golf Club in Parker.
Cole Nygren of Lake Valley Golf Club, a former pro who was reinstated as an amateur last September, and University of Denver golfer Carson Griggs landed spots in the Match Play through qualifying June 1 at Broadlands Golf Course in Broomfield. And now, after both have won six matches this week, including two on Friday at Colorado Golf Club, they'll square off in Saturday's scheduled 36-hole final at CGC.
"I actually thought I wasn't going to qualify, but I snuck into this event — and snuck into the final," Nygren said.
Added Griggs: "For a while I was on the wait list for a qualifier because so many people had signed up. I got in off of someone else dropping out and I ended up winning my qualifier, then playing well enough to win my pod (earlier this week)."
Griggs, who comes from Sand Springs, Okla., but now spends about nine months a year in Colorado, beat Dillon Stewart of Ptarmigan Country Club 6 and 4 in the quarterfinals after Stewart had defeated defending champion Colin Prater on Wednesday. Then Griggs made two eagles in the afternoon semifinals to rally from being 3 down to beat 2019 CGA Player of the Year Davis Bryant from Green Valley Ranch Golf Club, 3 and 2.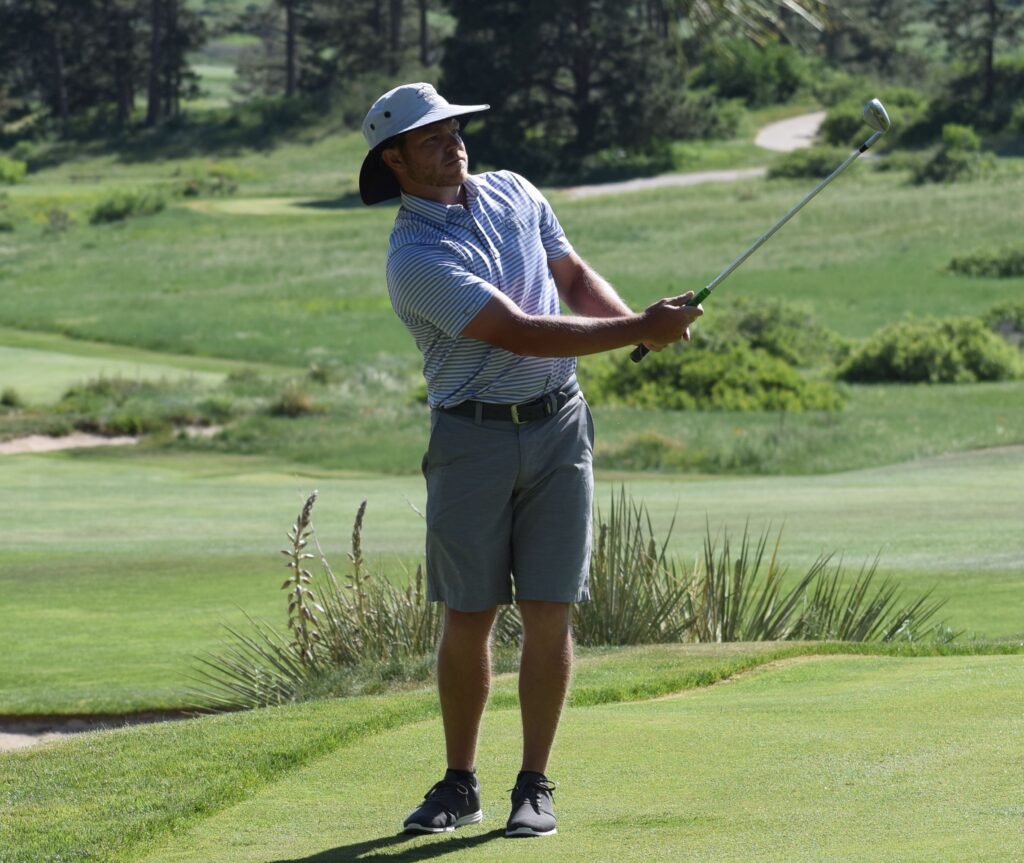 Nygren, a 27-year-old Longmont resident who now works in mortgage banking, will try to become the second straight mid-amateur (age 25 and older) to win the CGA Match Play. After beating 2020 Junior Golf Alliance of Colorado Boys Player of the Year Hunter Swanson from Green Valley Ranch 2 and 1 in the quarters, Nygren overcame three-time CGA Mid-Amateur champion Chris Thayer of CommonGround Golf Course 2 up in the semis.
"Experience definitely helps," Nygren said of his mid-am status. "We weekend warriors don't get as much time to play. This is the most I've played in a long time. But there's a little wisdom when you've played as many years as some of us have. I try to play smart and try to play within my means, knowing I'm not the player I was a year and a half ago when I was playing every day. I'm just trying to play my best."
Saturday's title match will begin at 7 a.m. at Colorado Golf Club, which has hosted the 2010 Senior PGA Championship, the 2013 Solheim Cup and the 2019 U.S. Mid-Amateur. But it won't be the first time Nygren and Griggs have played together this week at CGC. As fortune would have it, they teed it up together for a practice round on Thursday.
On Friday, in a battle of two Colorado-based college players, Colorado State University's Bryant was 3 up through five holes in the semis. But Griggs turned the momentum by hitting the flagstick with a 5-iron second shot from 254 yards on the par-5 seventh, settling for an eagle that won the hole. He also won the eighth hole with a par, the 10th with a birdie and the 11th with a par before Bryant tied things with a par on No. 12.
"It was definitely a momentum change for me because I was 3 down (going into No. 7)," Griggs said. "There was a time at the beginning of the match when I was 3 down, I was thinking, 'Is this it? Am I going to get absolutely blown out?' But I told myself, 'Let's not think that. Let's think positive.' I kept my head down and kept thinking positive thoughts. When I get over a putt or a shot, I'd tell myself 'I'm the best' because you have to believe it if you want it to be true. Ultimately, it's just believing in yourself."
And Griggs would win holes 14, 15 and 16 to prevail in the mach. With a 1-up lead going into the par-5 15th, Griggs proceeded to hole out from 90 yards for eagle, besting Bryant's birdie there. Then a par by Griggs on No. 16 ended the match, foiling Bryant's attempt to become just the sixth player since 1990 to win both the CGA Amateur and the Match Play.
"Hats off to (Davis)," Griggs said. "He made me fight like no one else has made me fight this week."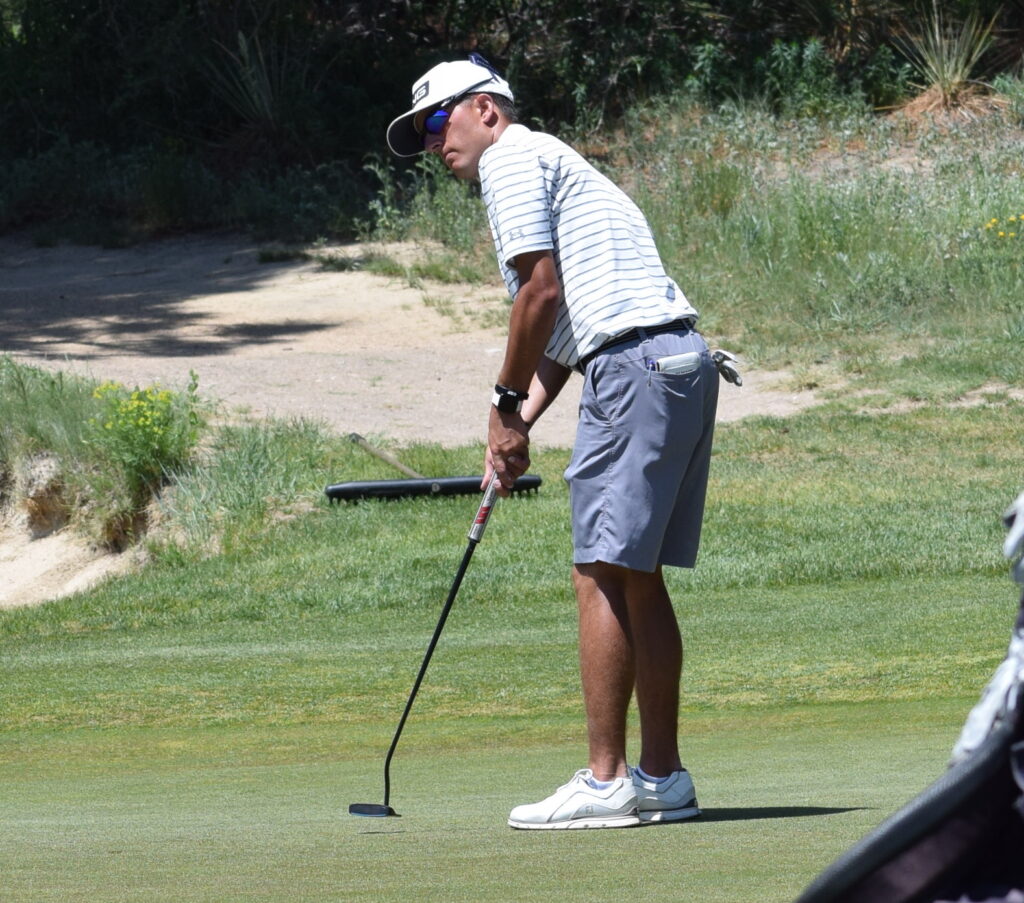 Griggs, 21, is trying to put a cap on a big week for the DU men's golf program as teammate Jackson Solem was named the Summit League Player of the Year and first-year head coach Trake Carpenter the league Coach of the Year. Solem caddied for Griggs during Friday morning's quarterfinals, while Griggs' girlfriend took over the duties for the semifinals.
Meanwhile, Nygren, a former player on PGA Tour Canada and PGA Tour Latinoamerica, prevailed in a very tight semifinal match with Thayer, a four-time CGA Mid-Amateur Player of the Year. Nygren took his first lead in the match when Thayer lost his ball on the tee shot on the par-4 13th. Both players made clutch putts for birdie on 16 and par on 17, leaving Nygren 1 up. And when Thayer three-putted from long distance from the back of the green on 18, he conceded Nygren's 5-foot par and the match.
"He made me play a lot better this afternoon than I did this morning," Nygren said of Thayer. "It was fun — a much higher quality of golf. It's good to see I can still play that a little bit."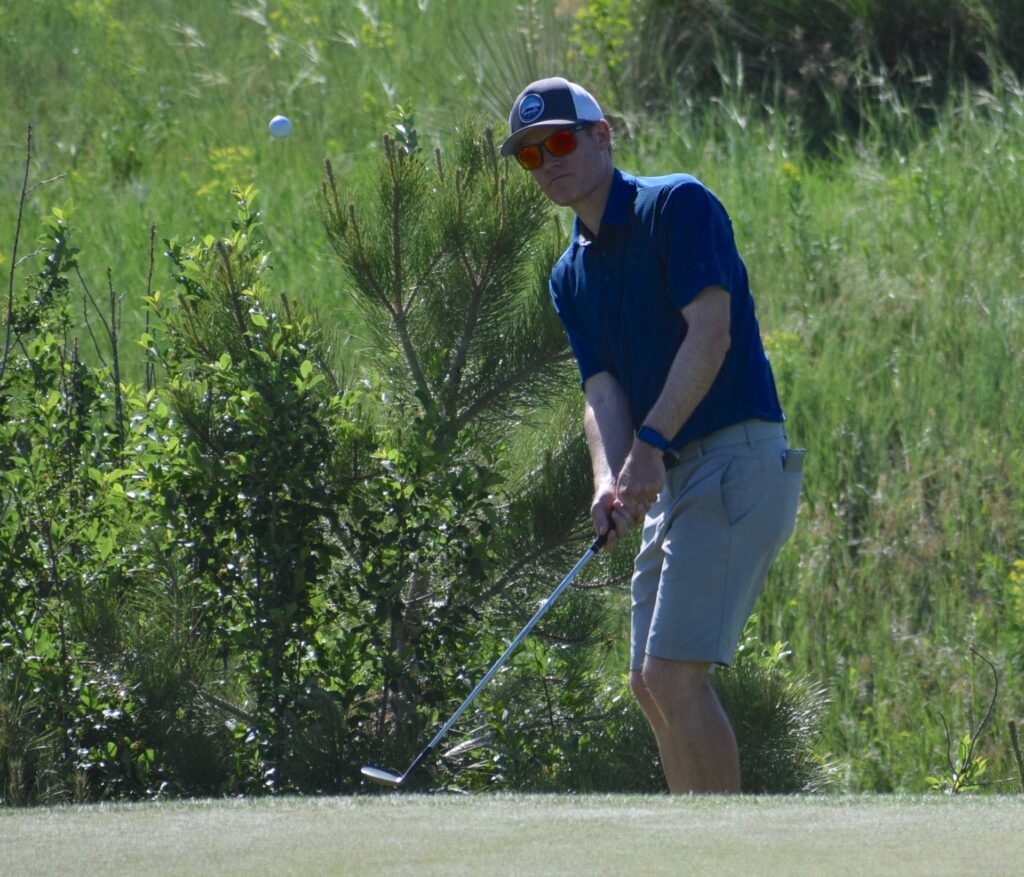 With the impending 36-hole final, both Nygren and Griggs will have played eight competitive rounds in six days at the Match Play — all while walking the distance.
But it wasn't a given that Griggs would make it through the week without a forfeit. You see, he had one of his final exams at DU on Tuesday afternoon, and was just fortunate enough that he drew an early tee time to make things work out.
"I actually finished up class on Tuesday," he explained. "Thankfully Tuesday I had an early match because I had a final at 4 p.m. that day. Ultimately school comes first. I was hoping I'd get an early tee time because I didn't want to have to possibly forfeit the match or anything like that. I was fortunate with that, and now I feel like I've got to take advantage of the opportunity."
This week marks the first time the CGA Match Play and Women's Match Play have been held concurrently and at the same sites. Utilizing pod play on the early days of the tournaments is also new for the championships — as is switching courses during the course of the competitions. CommonGround Golf Course in Aurora hosted the early portion of the championships Monday through Wednesday prior to Thursday being an optional practice day at Colorado Golf Club.
The Match Play (which debuted in 1901) and the Women's Match Play (1916) are the CGA's oldest two championships.

CGA Match Play Schedule
FRIDAY MORNING QUARTERFINALS AT COLORADO GC IN PARKER
Carson Griggs, DU Golf Club at Highlands Ranch def. Dillon Stewart, Ptarmigan CC, 6 and 4
Davis Bryant, Green Valley Ranch GC def. Matthew Wilkinson of Centennial, 5 and 4
Chris Thayer, CommonGround GC def. Cal McCoy Bear Creek GC, 2 and 1
Cole Nygren, Lake Valley GC def. Hunter Swanson, Green Valley Ranch GC, 2 and 1
FRIDAY AFTERNOON SEMIFINALS AT COLORADO GC IN PARKER
Griggs def. Bryant, 3 and 2
Nygren def. Thayer, 2 up
SATURDAY'S 36-HOLE FINAL AT COLORADO GC IN PARKER
Griggs vs. Nygren, 7 a.m.
For complete results, CLICK HERE.