Kupcho, Douglass named first recipients of Hale Irwin Medal, which recognizes outstanding Colorado golfers who exhibit competitiveness, resiliency and a proven winning record
By Gary Baines – 04/01/2019
Ed Mate is not at all certain that your average golf fan associates World Golf Hall of Famer Hale Irwin with Colorado in any meaningful way, and the CGA's executive director would like to see that change, at least incrementally.
"I don't think we've done a great job of connecting him to Colorado as well as we should," Mate said on Monday. "I don't know if you ask the average fan of golf, 'Where did Hale Irwin grow up(? that they'd know). Personally, for a homie of Colorado, I want them to know Colorado is where it was."
Though Irwin, who grew up in Boulder and played golf and football at the University of Colorado, is now 73 and competes just sporadically on PGA Tour Champions these days, his support of golf in Colorado in the last seven years may help cement his Centennial State roots in the minds of some.
After all, in addition to conducting a handful of junior clinics in the state in recent years, Irwin has lent his name and support for the Hale Irwin Player Program at the CGA-owned CommonGround Golf Course, and to the AJGA Hale Irwin Colorado Junior that annually draws many of the best young golfers from the state and region.
And on Monday at Meridian Golf Club in Englewood, Irwin was on hand as the CGA announced the first recipients of the newly-created Hale Irwin Medal, which recognizes outstanding Colorado golfers who "exhibit competitiveness, resiliency and a proven record of winning."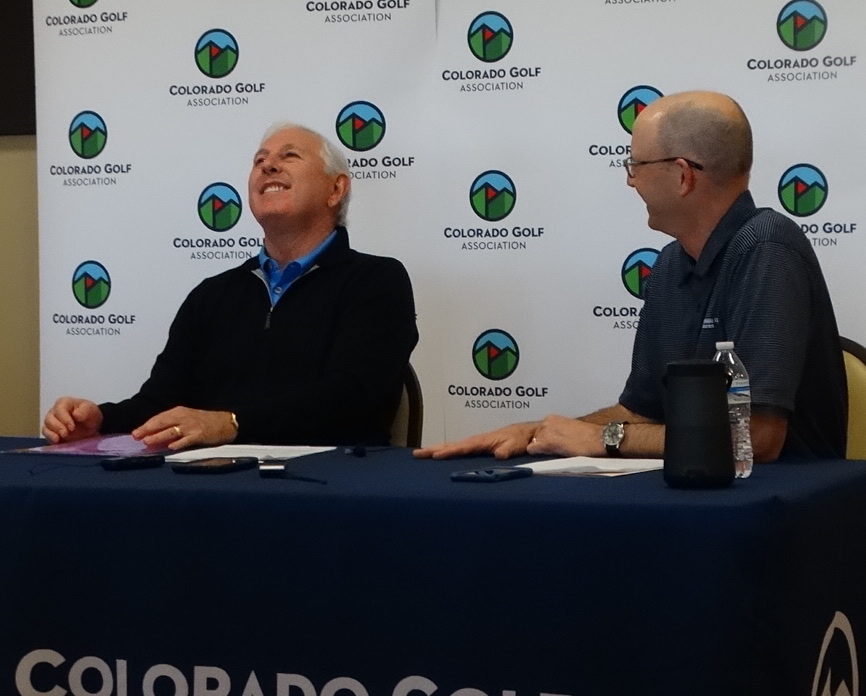 Of course, those were attributes Irwin had in abundance during his athletic career. And it was only appropriate that one of the first Irwin Medals will go to a player who many believe has similar promise as Irwin did in the 1960s — Jennifer Kupcho of Westminster — along with a golfer who preceded Irwin as a success on the PGA Tour, part-time Castle Pines resident Dale Douglass.
Appropriately enough, Kupcho was a product of the Hale Irwin Player Program, having participated in 2014. And, just as Irwin was the only golfer to grow up in Colorado and win the NCAA Division I men's individual title, Kupcho is his female counterpart in that regard, having earned the 2018 women's championship as a Wake Forest junior.
As for Douglass, who grew up in Fort Morgan, he played golf at CU roughly a decade before Irwin, then went on to win three PGA Tour events in 1969 and '70 combined.
The Hale Irwin Medal will be presented to Kupcho and Douglass at a Colorado Golf Foundation-sponsored dinner at The Broadmoor Hotel in Colorado Springs on Nov. 23. Proceeds from the event will go to the foundation in its efforts to support junior player development, caddie programs and community partnerships in the Centennial State.
"I think we've got two great people" as the first honorees, said Irwin, one of just six golfers to have won at least three U.S. Opens. "Jennifer Kupcho, my gosh you look at what Jennifer has done, it's absolutely terrific and well-deserved. When we first (thought about) who this award would go to, Jennifer's name just leapt out. But is there anyone more deserving than Dale because he was on the map long before I was — and really kind of established that Colorado did have a golfer who went out on Tour and succeeded. We've got two great recipients.
"Going forward, (the honor) will probably go to a singular person (and not necessarily every year), but we just couldn't pass up these two at the very beginning. They are terrific people. If you look at Jennifer's record, is there something she hasn't done? It's very impressive and I'm so proud of her."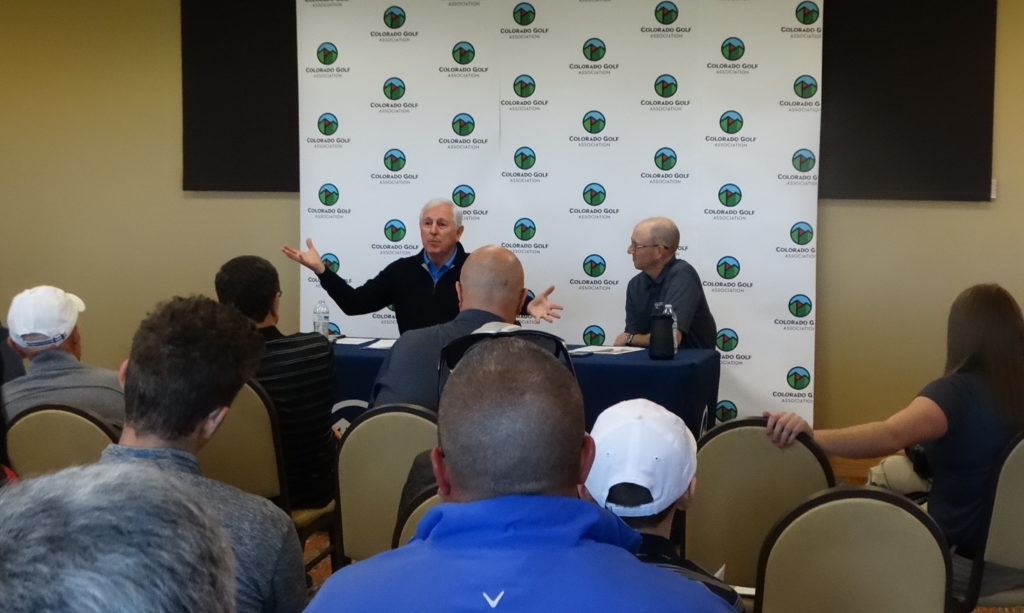 Given the exclusive nature and the high standards set for the Irwin Medal winners, the inaugural recipients felt very humbled by the honor.
"Hale Irwin is the greatest player to come out of the state of Colorado so to get this award with his name on it is just an incredbile honor," said Kupcho, the No. 1-ranked female amateur in the world. "I hope to be the best female to come out of Colorado one day, so it's great to be able to get an award named after him.
"Being as good a player as he is, probably one of the biggest things is the grit he has on the golf course. He probably never quit, never gave up. And I think that's one of my strongest qualities when it comes to being on the golf course. You always have to come back strong" no matter the adversity.
Said Dale Douglass in a brief phone chat on Monday: The Irwin Medal "is a great honor. I look forward to it."
Irwin is without question the most accomplished golfer who has grown up in Colorado. He's won 20 times on the PGA Tour — capturing the 1974, '79 and '90 U.S. Open titles along the way — and a record 45 times on PGA Tour Champions, including seven senior majors. He remains the oldest winner of the U.S. Open, earning the title at age 45 in 1990. Two years after that final Open victory, he was inducted into the World Golf Hall of Fame. He's also in the Colorado Sports Hall of Fame and the Colorado Golf Hall of Fame.
All told, Irwin has won tournaments on six of the seven continents — and there isn't much golf being played in Antarctica.
Irwin, who graduated from Boulder High School and CU, also won the men's NCAA individual title in 1967, and remains the only home-grown Coloradan to accomplish that feat.
In his younger days, Irwin claimed three victories in what is now known as the CGA Amateur, one in the CGA Match Play and one in the CGA Junior Match Play.
"We want to inspire the next generation of juniors by saying 'dream big'," Mate said of naming the medal for Irwin. "You can come from the little old state of Colorado and win three U.S. Opens and become a World Golf Hall of Famer. It can happen.
"… The impetus (for the creation of this honor) was, when Hale agreed to lend his name to the AJGA event, it sort of dawned on me that he's entering a new phase of his life. I just saw how much he enjoyed interacting with the kids. It just dawned on me that this guy is the greatest player ever (from Colorado). There's nobody that's going to be like Hale Irwin. So what can we do during this period of his life where he's in the giving-back mode to honor that — and not just take it for granted? When the history books are written and they look back on the history of golf in Colorado, and the next generation looks at Hale Irwin, let's honor that and cement it."
For his part, Irwin is happy to help out young Coloradans as others lent him a hand during his career.
"If I can help be a catalyst to the young people in particular coming up by doing this, then it's well worth it," he said. "I don't go out and solicit it — it's not who I am — but if I can help with these programs, if I can help with these initiatives through the game that has been so good to me, then why not? If these young people can have a 73-year-old guy influence them in some positive way, I'm all in. Count me in. If that's helpful, that's part of what I think is passing it on.
"There's too many good people in my life that have passed on to me the wisdom of living, many of them through the game of golf, and that have helped define who I am."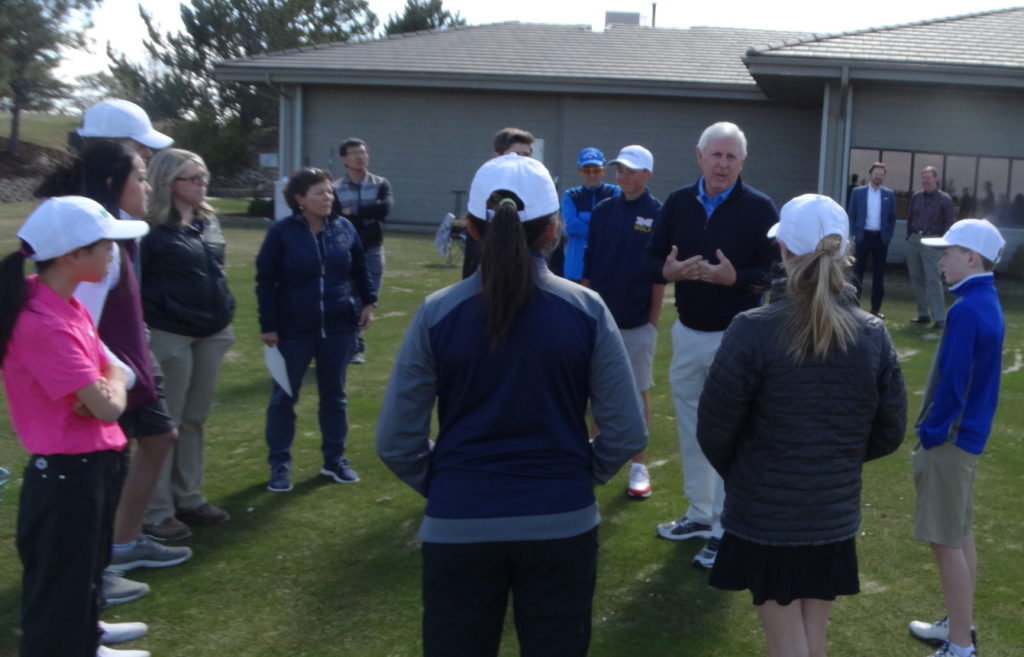 Appropriately, after Monday's press conference, Irwin worked on the practice range at Meridian with some of the current class of junior golfers in the Hale Irwin Player Program. Two juniors from that program — Caitlyn Chin of Greenwood Village and Chunya "Bead" Boonta of Centennial — will compete on Sunday in the Drive, Chip & Putt national finals at Augusta National Golf Club on the eve of Masters week. A third Coloradan, Grady Ortiz of Colorado Springs, is also headed for the finals. (Irwin is pictured with Chin at top.)
Designed to nurture the budding careers of promising junior golfers in the state, the Irwin Player Program grants those selected — all age 18 and under, of either gender — free unlimited use of the practice range and Kids Course at CommonGround Golf Course in Aurora — and of the championship course on a space-available basis. Participants also receive help with their games on a variety of levels.
Here are some of the career highlights for the two inaugural Hale Irwin Medal recipients that will be honored on Nov. 23:
— Jennifer Kupcho, a 21-year-old Colorado native, has been the No. 1-ranked women's amateur golfer in the world for 25 weeks. The Wake Forest senior will defend her NCAA Division I individual title in May before turning pro. The Westminster resident finished second in the eight-round LPGA Q-Series in the fall, easily earning her LPGA Tour card, which she will utilize immediately after concluding her college career.
Kupcho, winner of three CWGA Stroke Play Championships (by margins of 21, 19 and 13 shots) and two CWGA Match Plays, has been a stellar college player. She's won nine individual titles in 40 tournament starts and has finished sixth, second and first in the NCAA Championship finals, with last year's individual title being the first won by a Colorado female.
In 2017, Kupcho captured the Canadian Women's Amateur title. Last summer, she competed for winning U.S. teams in the Curtis Cup, Arnold Palmer Cup and the World Amateur Team Championship, and placed second individually in the world event. She's qualified for two U.S. Women's Open, placing 21st in 2017, and finished 16th in the 2018 LPGA Marathon Classic.
Last year, Kupcho became the first American woman to win the Mark H. McCormack Medal as the top female player in the World Amateur Golf Rankings as of the conclusion of the U.S. Women's Amateur. And at the end of last year, she was named the world's female Amateur of the Year by Global Golf Post.
And Kupcho can add to her list of accomplishments this week when she competes in the inaugural Augusta National Women's Amateur.
— Dale Douglass, 83, grew up in Fort Morgan, played golf at CU and has lived in Colorado during the summers and Arizona during the winters for most of his life. He won three times on the PGA Tour and 11 times on PGA Tour Champions, including the 1986 U.S. Senior Open where he beat Gary Player by a stroke the year Douglass turned 50. His last Champions victory came at age 60 at the 1996 Bell Atlantic Classic.
Douglass played on the U.S. Ryder Cup team in 1969, a year he won twice on the PGA Tour. He's been inducted into the Colorado Golf Hall of Fame, the Colorado Sports Hall of Fame and the CU Athletic Hall of Fame.