Nicklaus' appearance gives spark to Denver Golf CyberExpo; live portion of virtual show drew 5,714 unique visitors and 24,211 total visitors
By Gary Baines – 3/15/2021
Jack Nicklaus wasn't physically in Colorado on Saturday for the Denver Golf Expo, but that didn't keep him from adding some pizzazz to the show, which looked unlike any of its predecessors.
Nicklaus, owner of a record 18 titles in professional majors, lent his gravitas to the CyberExpo and, specifically, to the Doubles Golf seminar — via live video for a little more than 20 minutes on Saturday. (See below for how the CyberExpo played out in general.)
Of course, the Golden Bear doesn't lack for history in Colorado. The first and last of his eight USGA championship titles came in the Centennial State — at the 1959 U.S. Amateur at The Broadmoor and the 1993 U.S. Senior Open at Cherry Hills Country Club. He also finished second — as an amateur — in the 1960 U.S. Open at Cherry Hills. And he won the inaugural Jerry Ford Invitational in Vail in 1977.
In addition, he and companies he's headed have designed a dozen courses in Colorado (including Trinidad-based Cougar Canyon, which has since closed). Most notably, he was the architect at Castle Pines Golf Club, which hosted the PGA Tour's International for 21 years.
In a seminar with Colorado PGA executive director Eddie Ainsworth and Bob Longmire, who co-founded Doubles Golf with Nicklaus, the Bear spoke about several topics during the Denver Golf CyberExpo. Here are some of the highlights from his conversation:
— First, on the main subject Nicklaus was there to discuss: Doubles Golf, which is a rebranding of a two-person scramble format. Doubles Golf can be played casually or in leagues and other competitions over nine holes by teams that can be a mix of genders and ages, competing in various divisions and flights without handicapping. (Nicklaus serves on the U.S. Doubles Golf Committee with Annika Sorenstam, PGA Tour commissioner Jay Monahan and PGA of America CEO Seth Waugh): "First and foremost, Doubles Golf is the kind of format that brings people into the game. You can be a virtual beginner and go out and play with somebody who's a decent player, play Doubles Golf, and you don't get intimidated because you're not having to play your golf ball all the time. You'll learn how to play, you'll learn to have fun, you'll learn camaraderie. …
"The game is about fun. It's a game; have fun with it. However you play, make it fun. Doubles Golf will make it more fun for a lot of people. It doesn't work for everybody, but it will work for a very high percentage of our golfers."
— How, at age 81, Doubles Golf appeals to Nicklaus, who some people consider the greatest golfer in history: "I'm done playing singles golf. If you've seen the way I play … (People say) they've always wanted to play like I do. Well, now they can. (He laughs.) My golf game is not very good and for me to get a partner who can play, it actually makes it more fun for me. I don't hit it very far anymore, I don't hit it very straight anymore. (So) it's actually good for me. … Why wouldn't it be good for other people who are struggling who don't play very much?"
— On defeating Charlie Coe in the 36-hole final of the 1959 U.S. Am at The Broadmoor, sinking an 8-foot putt on the final hole for a 1-up victory: "I made the putt for birdie. I thought that was probably the most important putt that I ever made in my life. The reason for that is that it sort of taught me and made me believe that I could make it when I had to make it."
— On challenging to win the 1960 U.S. Open at Cherry Hills as a 20-year-old amateur, finishing second, two behind Palmer: "I always kidded Arnold. 'Palmer, if I hadn't shot 39 the last nine holes, nobody would have ever heard of you.' And he said, 'If I hadn't three-putted (so many times at Oakmont in the 1962 U.S. Open, where he lost to Nicklaus in a playoff, with Jack winning his first major), nobody would have ever heard of you either.' So we had a lot of fun about that, but Cherry Hills was something that was very special to me. I played very well, but just didn't quite get it done. But it was probably the best thing that ever happened to me because I probably would have been scratching my ears out here like this if I had won that golf tournament and maybe never improved because I learned a lot from it."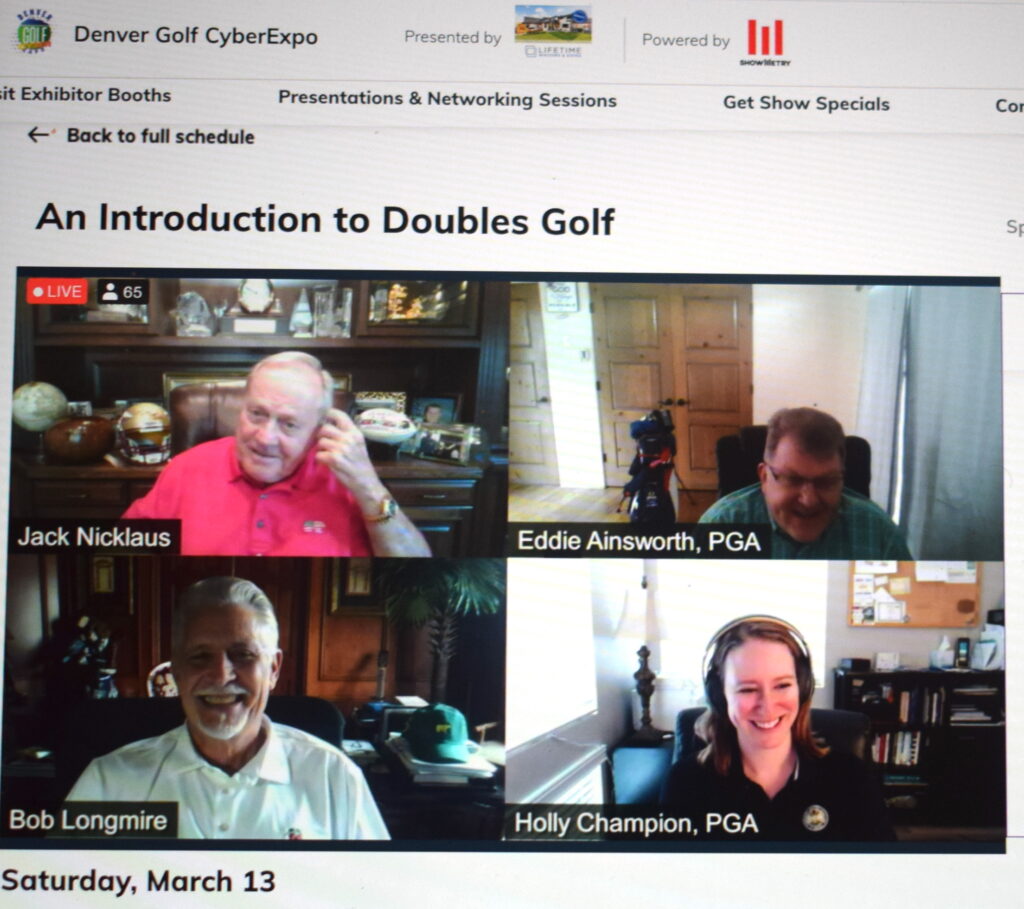 — On his many accomplishments in the Centennial State: "Colorado has been good to me. Not only have a played a lot of golf in Colorado, but I've also designed a lot of golf courses in Colorado. I've been very blessed to have been asked to do a lot of courses in the great state of Colorado."
— As a golf course designer and once one of the longest hitters on the PGA Tour, how he views Bryson DeChambeau: "When you have a guy like Bryson who has figured out that he can hit it further and that the rough is not that big a deal to him, and he's successful with it, you've got to give him credit. I think he's done a great job of figuring that out. As a designer, do I like seeing the golf courses taken apart in that fashion? No, I don't like to see it. But if Bryson figures it out, there will be others who figure it out.
"One of the things I do when I design a golf course is I try to take into consideration Bryson and Dustin Johnson. But I also want to take into consideration the Fred Funks and the Deane Bemans and the Jackie Burkes and Gary Players — guys who didn't hit the ball a long way. I'm trying to make sure we take the driver out of the long hitter's hand maybe three or four times in a round. And have three or four narrow holes where the shorter hitter can have his advantage. You try to balance out your golf course for everybody. That's what I try to do from a design standpoint."
— On speculation on what the USGA and the R&A will do regarding possibly rolling back the distance the golf ball travels: "I don't know that the USGA will do. I think they will bring the ball back. I don't know how far they'll bring it back, but they'll bring it back to a level that doesn't make every golf course in this country obsolete. In Colorado you have more issues because the ball goes further (at altitude). They've got to make it so it works everywhere. The USGA and the R&A have been good stewards of the game for a long time, and I think they will continue to be so. So let's give them a chance to do what they think is right."
To listen to the entire Doubles Golf seminar that featured Nicklaus on Saturday, CLICK HERE.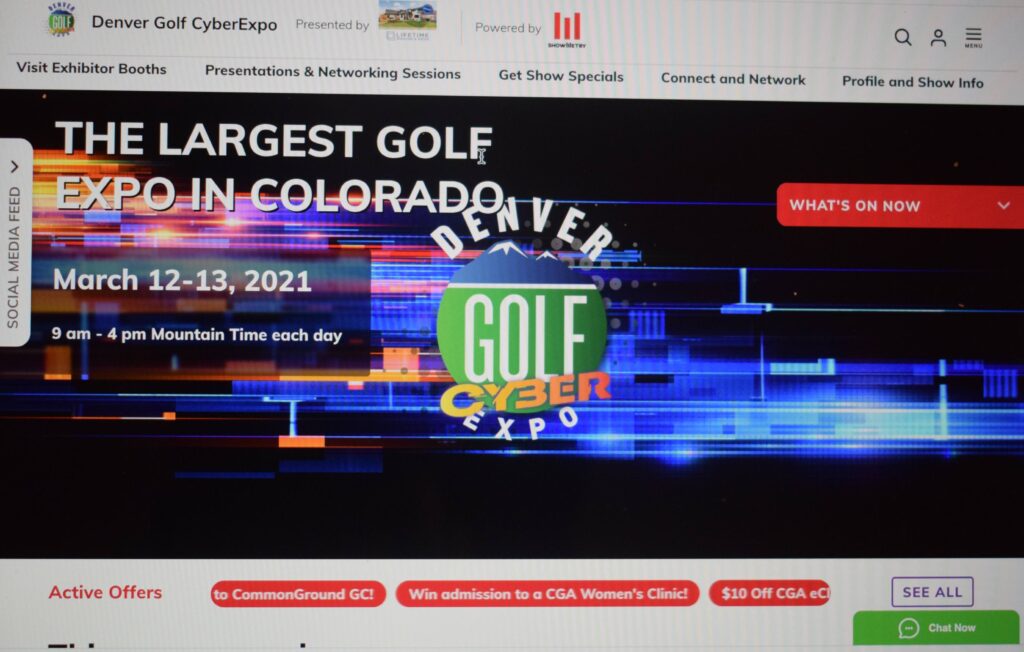 After Nicklaus left the session on Saturday, Longmire further espoused why he thinks Doubles Golf will become popular. Longmire also helped found another initiative that utilized the scramble format: PGA Jr. League, which nearly 100,000 youngsters currently play. Longmire noted that the Colorado PGA owns "Doubles Golf" in Colorado.
"When you click (while playing) Doubles Golf, it's like nothing else," Longmire said. "If you're a bogey golfer, your Doubles team will be making pars and birdies. If you're a par golfer, your Doubles team will be making birdies and eagles. There's nothing more fun than that. …
"The day is effortless and enjoyable. And the main thing is it's an hour and a half, an hour and 40 minutes (to play nine holes). … You get away after work and you play a round of Doubles Golf with your partner, your wife, your son or daughter. You can do it once or twice a week in addition to your normal round of singles golf."
For more about Doubles Golf, CLICK HERE. 
As for this past weekend's Denver Golf CyberExpo in general, it obviously was much different than any of its previous Denver Golf Expo brethren. All of the previous 25-plus Expos were held in person. This one was an online-only affair as Covid-19 safety concern nixed a traditional show.
Other changes were that the Expo was held roughly a month later than usual and was a two-day affair instead of the usual three.
"When you try to compare an in-person show to a virtual show, you can't because they're so completely different," said Lynn Cramer, who with husband Mark owns and operates the Denver Golf Expo.
"But from my perspective, it was a huge accomplishment, a huge endeavor and undertaking. With that, we feel really good about what we've accomplished."
The in-person Expo typically draws about 10,000 people over three days, with an emphasis on golf deals, contests, educational seminars and disseminating information. The emphasis was no different this time around, but it certainly had a different feel with the tactile part of the show missing.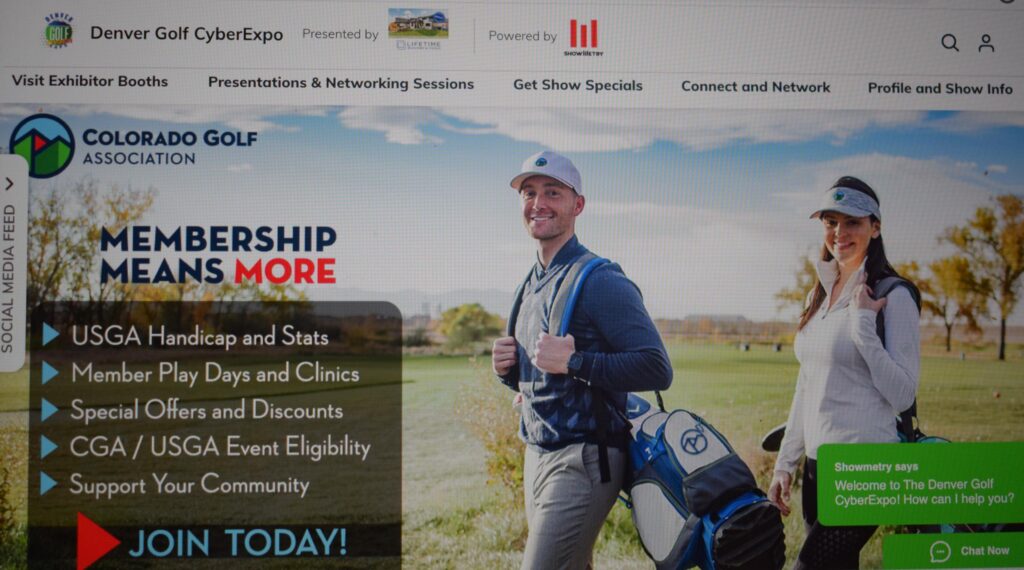 Nevertheless, the CyberExpo attracted a fair amount of attention. And, with many aspects of the show remaining online at DenverGolfExpo.com through April 13, it's likely to continue to gain traction.
The Cramers reported on Monday that the 14-hour live portion of the CyberExpo drew 5,714 unique visitors, and 24,211 total visitors for the two-day show.
"It's not over yet," Lynn Cramer said. "We have the show up for another 30 days, and people can continue shopping, planning vacations, (etc.). They can go and watch all the recorded sessions, which will remain up there for 30 days. That's why the numbers are not final. And you can't compare two days (of the CyberExpo) to two days of a live show because we're still running this one."
Among the 65-plus exhibitors over the weekend were the statewide golf associations — the CGA, Colorado PGA, the Junior Golf Alliance of Colorado and the Colorado Golf Hall of Fame — along with numerous golf courses, equipment manufacturers, etc.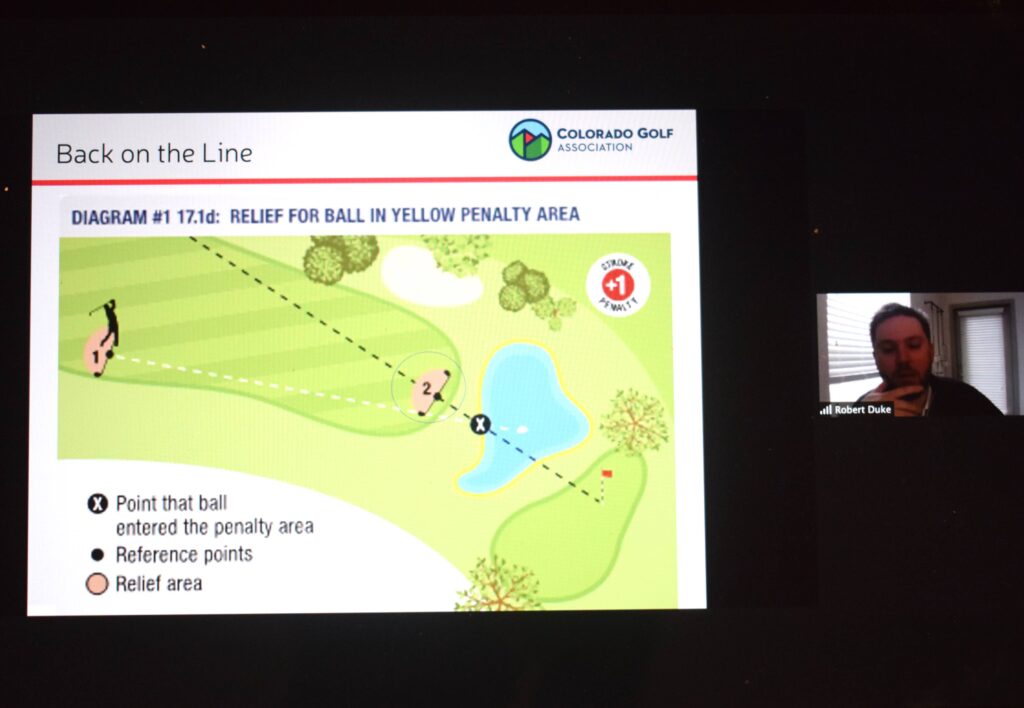 The live presentations included one on the Rules of Golf (by the CGA's Robert Duke); six Colorado PGA educational seminars, including the one on Doubles Golf, and ones by each of the equipment manufacturers. The presentations drew anywhere from a few dozen people to around 150 when Nicklaus was on video live beginning at 11 a.m. on Saturday.
"That was pretty cool," Lynn Cramer said of Nicklaus' presence. "Those are the kind of things that can happen with a virtual (show). We couldn't have flown him in — he wouldn't have had time or wanted to do that or whatever, so that was definitely huge (to have him participate live)."
And the equipment manufacturers' sessions proved so popular that the Cramers decided after day 1 to lift the audience limit on each session. Mark Cramer credited Nick Nosewicz, the 2015 CGA Match Play champion and son of Lenny Nosewicz, who owns Lenny's Golf, a major exhibitor at the Expo over the years and the sponsor of the manufacturers' sessions.
"I'd like to give a nod to Nick Nosewicz from Lenny's Golf," Mark Cramer said. "Nick did an awesome job. He lined up all the (manufacturers') seminars. Nick did an outstanding job putting together the giveaways, the prizes (from the manufacturers), which added to the excitement as well. I was really impressed. And Nick also hosted the (manufacturers') seminars as well, and he was a natural at it."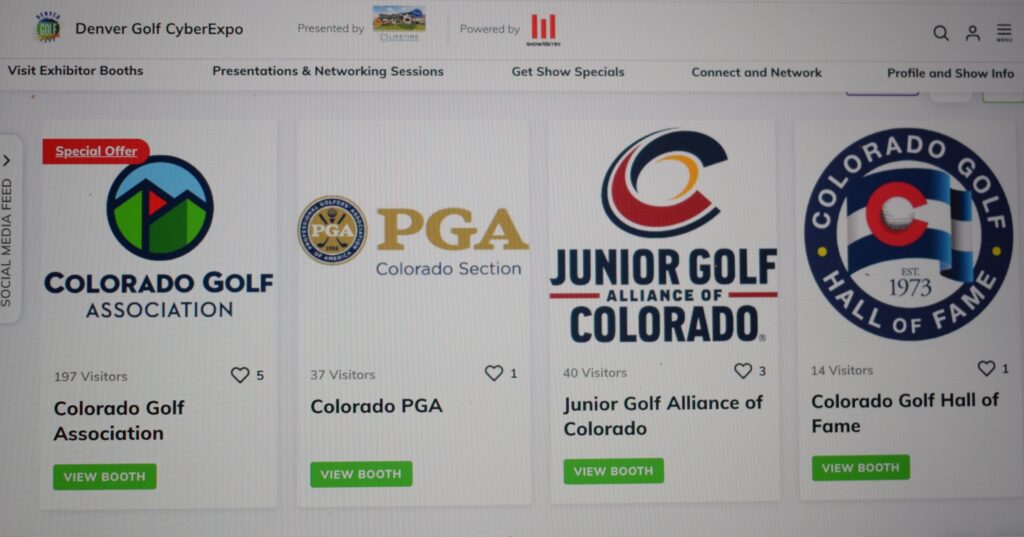 Added Lynn Cramer: "We had a huge turnout on the sessions — both the PGA sessions and the manufacturers' sessions that were sponsored by Lenny's. Those were like 4-6 times the attendance we would have (for those) at an in-person show. The interaction at those sessions was awesome. It was really cool to see that."
And Mark Cramer likewise gave a shout out to his wife Lynn, who did much of the heavy lifting when the Cramers decided go to a virtual show instead of in-person.
"I'm really, really proud of Lynn," Mark said. "She's carried all the water on this thing. From the very beginning, she's the one that (selected the virtual platform that was utilized at the CyberExpo, Showmetry).
"As far as we know, we were the only consumer golf trade show that even tried it to the extent (we did) this last year."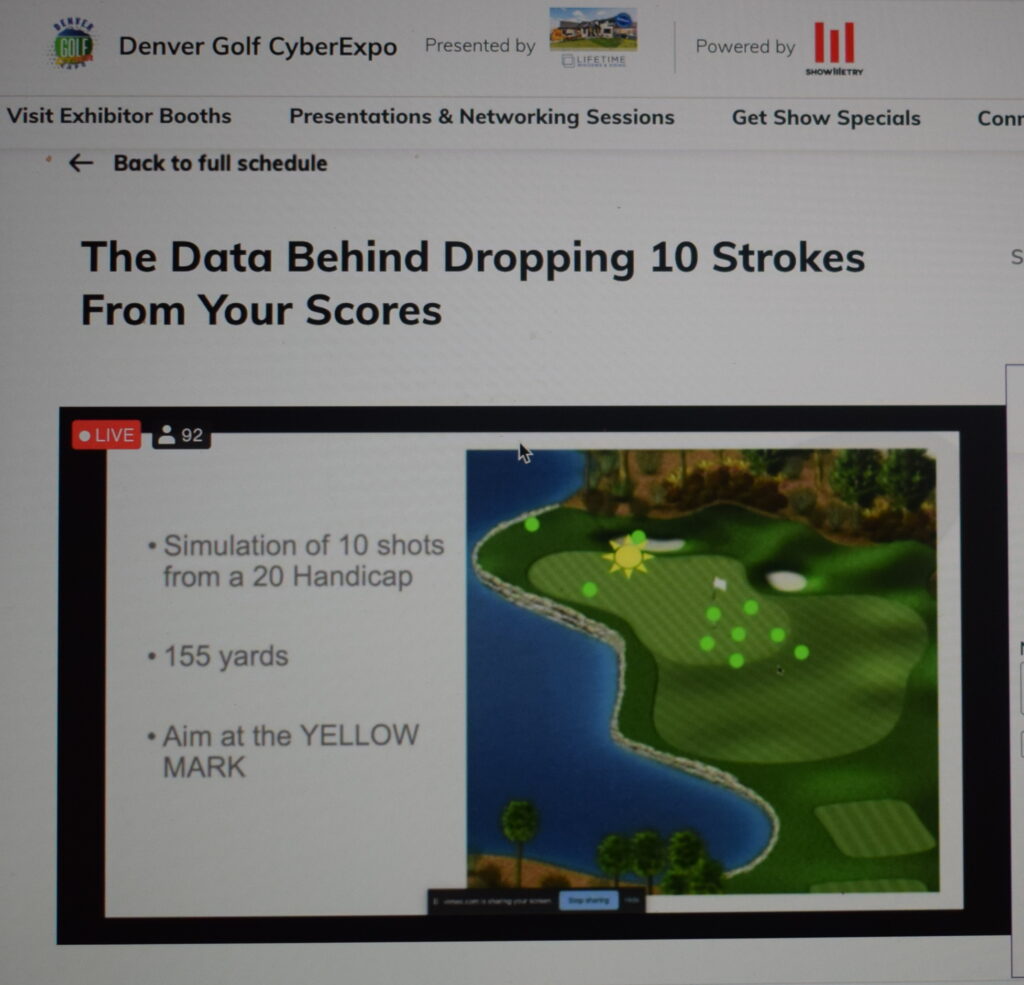 As for the CGA portion of the show, its Season Kick-Off Silent Auction — which began March 1, continued through the CGA Women's Golf Summit and the CyberExpo, and ended today (March 15) — raised close to $42,000 as the bidding was closing. The proceeds benefit CGA Community Outreach Programs — such as Big Brothers/Big Sisters, Special Olympics, Girl Scouts and LPGA*USGA Girls Golf — along with the Solich Caddie & Leadership Academy and the Hale Irwin Player Program. To see items that have been up for bids, CLICK HERE.