Colorado Sports Hall of Famer Peyton Manning will return to partake in another edition of 'The Match'
By Gary Baines – 10/20/2020
Longtime golf fans — at least those of a certain age — will remember a popular off-season made-for-TV golf event called the The Skins Game.
The competition, which featured four big-name players, took place from 1983 to 2008, normally on Thanksgiving weekend. The first one included Jack Nicklaus, Arnold Palmer, Gary Player and Tom Watson.
Though the Skins Game is long gone, a golf event along similar lines will take place this coming Thanksgiving weekend. And it will involve a player with strong local ties — Colorado Sports Hall of Famer Peyton Manning.
Roughly six months after the five-time NFL most valuable player teamed with Tiger Woods to defeat Phil Mickelson and Tom Brady in a comparable event, Manning will pair with two-time NBA MVP Steph Curry in a match against Mickelson and Naismith Memorial Basketball Hall of Famer Charles Barkley. Dubbed "Capital One's The Match: Champions for Charity", it will take place Nov. 27 at 1 p.m. (MT) in Oro Valley, Ariz., and be televised by TNT.
"Capital One's The Matchin May was such a memorable experience for me – not just competing against rivals and friends but, more importantly, contributing to Covid-19 and food insecurity relief efforts," Manning said. "I'm proud of the work the PeyBack Foundation has done to support (Historically Black Colleges and Universities) students in both Louisiana and Tennessee, and I'm looking forward to helping raise additional funding and awareness for HBCUs through Capital One's The Match."
On Nov. 27, Champions for Charity will benefit Historically Black Colleges and Universities.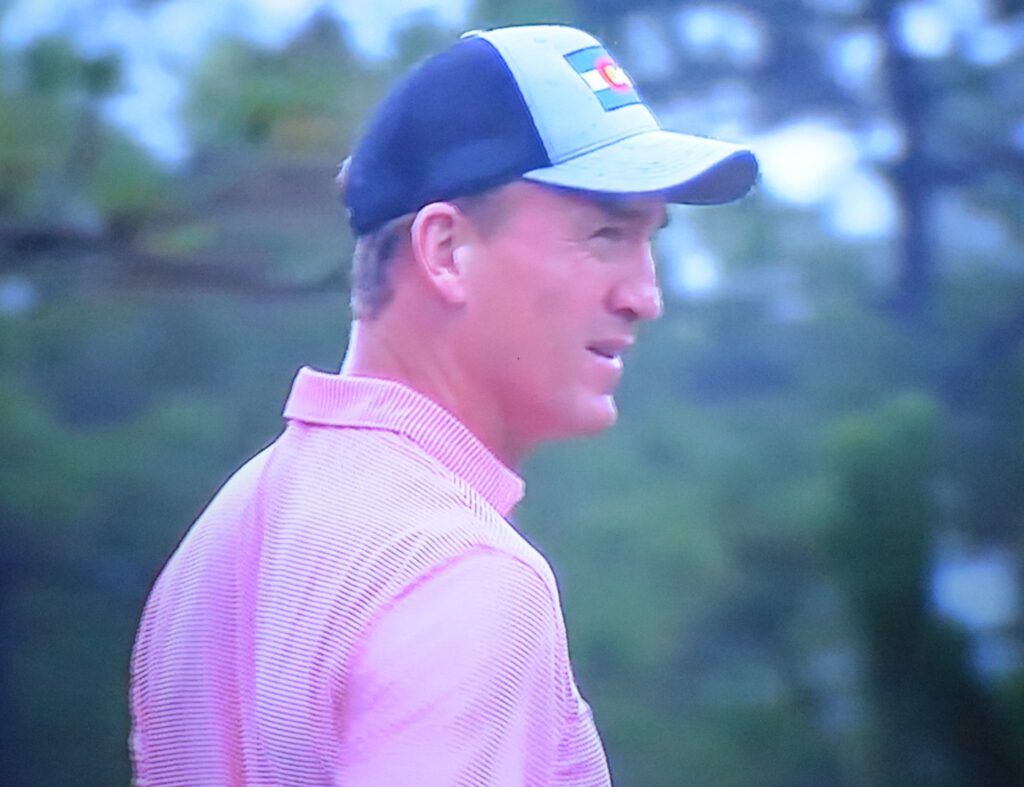 In last May's The Match in Florida, Manning wore a Colorado cap for part of the competition and proved very entertaining at times during the telecast. He contributed three best-ball birdies — one natural and two net after getting a stroke — in helping himself and Woods prevail 1 up over Mickelson and Brady.
Manning, who won his second Super Bowl title at the helm of the Broncos in February 2016, currently owns a 4.7 USGA Handicap Index while playing out of Cherry Hills Country Club and Castle Pines Golf Club.
"To go behind the ropes in these guys' world, to be in the arena with them, was really a special experience," Manning said in May regarding Woods and Mickelson, in a post-round interview with Turner Sports. "I was not comfortable the entire time, from the first tee all the way down here (to 18). But knowing $20 million was raised and helping people going through tough times, it was an honor for Tom and I to play in this match. It's something I'll always remember and cherish."
Next month's match will be contested at Stone Canyon Golf Club, which is owned by Mickelson Golf Properties
"While we may need a handicap for Chuck, I'm looking forward to playing with Peyton and Stephen and to help raise money for another important cause," Mickelson said. "It's also going to give fans and viewers an up-close look at Stone Canyon Golf Club, a place that I'm extremely proud of and excited to show how special it is."
The format on Nov. 27 will be modified alternate-shot match play.
As was the case was the previous two iterations of The Match, all the players will wear a mic, they'll communicate directly with their fellow competitors and the broadcasters, and the carts will be fitted with cameras.