Our list of the most notable quotables in Colorado golf for 2019
By Gary Baines – 12/19/2019
People say the darnedest things. Or the strangest. Or funniest. Or the most poignant. Or memorable. Or perhaps insightful.
In any case, there's enough of all of the above to make for a list well worth remembering. That's even the case when you're limiting the subject matter to the current year and to Colorado golf.
Which brings us to one of our traditional year-end features: notable quotables from the world of Colorado golf, in this case for 2019.
Here are the selections for this year:
— When John Hornbeck opened up a six-stroke lead in the CGA Senior Amateur, fellow competitor Robert Polk couldn't resist joking with the Wyoming resident:
"I told him that with me being chairman of the (CGA) Tournament Committee, we were going to have an emergency meeting last night and we were going to bar all Wyoming players. And I said, 'We're not singling you out. Everyone from Wyoming is going to be barred, not just you.'"
— CGA board member Sandy Schnitzer, on the reaction she received when calling rules official Peggy Coleman and telling her she was receiving the Jim Topliff Award:
"When I called her, I said you're going to be awarded the Topliff Award for outstanding rules officiating. And she said, 'the Topless Award? How did I win that?' It just cracked me up."
— Kevin Laura, CEO of the CoBank Colorado Open Championships, on the death of Robert Kirchner, the tournament founder: "Colorado lost a golf icon in Mr. Kirchner. The courage he had and risks he took creating a state open golf tournament to support a charity as a means to promote and sell real estate at Hiwan was quite visionary.
"He got the Colorado club pros to support and play in it, and they contacted their tour pro friends and national amateurs to come and play as well. He was bigger than life in his heyday, and I'm proud that we honor his legacy by bestowing the Robert M. Kirchner Award annually to an individual or entity that has his kind of impact on golf in our great state."
(Pictured above, in a photo taken by CoBank Colorado Open staff, is CoBank Colorado Senior Open winner Britt Pavelonis being interviewed during the tournament.)
— Parker resident Shane Bertsch, on earning his PGA Tour Champions card for 2020 by winning the final stage of Q-school:
"It's really kind of still surreal. To think that only five guys in the world qualify and I was the top guy, I'm pretty proud of that."
— Westminster resident Jennifer Kupcho, on Twitter, writing about her first season as an LPGA Tour player after finishing 39th on the season-long money list:
"And just like that, my rookie season on the @lpga_tour is complete! 2019 has been quite the year. Looking back on it now, I'm happy to say I'm really proud of myself & what I've accomplished. Lots of incredible highs & some lows, but overall an awesome year of learning & growing."
— Fairview High School senior Ryder Heuston, on competing at an elite level less than a year after a major ski accident led to him spending 36 days in the hospital after breaking three vertebrae and suffering a traumatic brain injury:
"I try my best to remind myself that I'm just lucky to be out here, I'm lucky to be alive, I'm lucky to be able to walk again."
(Heuston helped lead Fairview to the 5A state high school boys team title in October.)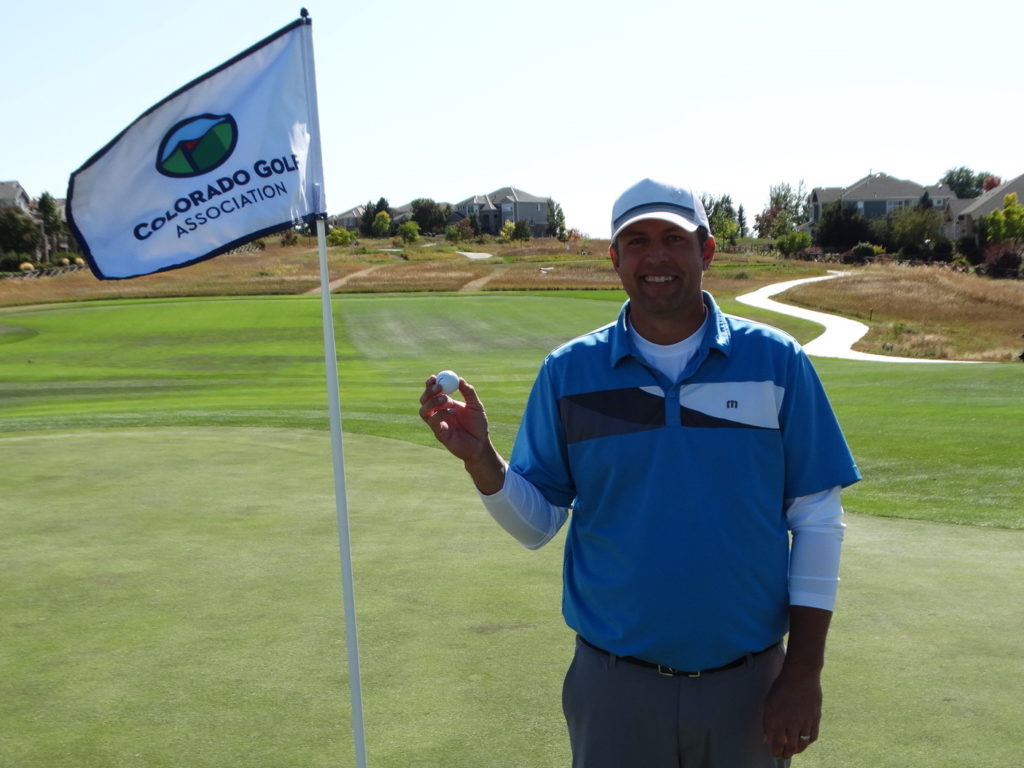 — Ryan Axlund on acing the third-to-last hole of the CGA Mid-Amateur — his ball flew straight into the cup from 245 yards with a 3-iron — en route to victory:
"I was so excited to see it go in, I just lost it. It was disbelief that it actually disappeared. But I absolutely flushed it and it was right on the flagstick the entire way. To see it disappear, it was a second of shock, then 'Holy Crap!' That was an unbelievable break."
— Colorado PGA executive director Eddie Ainsworth, a former longtime PGA general manager at Eisenhower Golf Club, on the facility at the Air Force Academy being named host course for the 2020 U.S. Girls' Junior Championship:
"I'd be lying if I said it wasn't a special moment. For me, I still bleed Air Force blue. I'm the son of a retired Air Force chief master sergeant for 30 years. I managed this place for 10 years. When we were looking at sites, I was adamant that this should be where we do this. I've known the golf course superintendent here for 20-plus years, so I know what product he and the PGA head professional here will put together. To do it here, in my hometown, at the foot of America's mountain — all those things give me special pride."
— Mike Schultz, president of the Junior Golf Alliance of Colorado, on the JGAC being named the host group for the 2020 U.S. Girls' Junior at Eisenhower Golf Club:
"It's an honor to be part of a national championship. I have a soft spot in my heart for junior golf. I have a soft spot in my heart for girls junior golf.
"This is the next logical step for the Junior Golf Alliance of Colorado. We've hosted many championships (including) AJGA championships. Now we have the opportunity with the USGA and the Air Force Academy to host the 2020 U.S. Girls' Junior Championship. It's a phenomenal opportunity.
"The exposure is a big deal, but our mission is to grow the game — for junior boys and for junior girls — so it's all part of our core mission and all part of the process. I can't think of a better way to do it."
— Hale Irwin, a Boulder High School and University of Colorado graduate, on a year in which he received the prestigious Payne Stewart Award, attended Wimbledon with Jack and Barbara Nicklaus, and presented the inaugural Hale Irwin Medals to Dale Douglass and Jennifer Kupcho:
"This has been an unbelievable year. It's just been a fabulous year."
— Chloe Bowden of Castle Rock, on receiving a full-tuition and housing Evans Scholarship through caddying:
"It completely blew my mind. It's given me dreams, given me hope."
— CGA executive director — and Evans Scholar alum — Ed Mate, on the rebound of the scholarship at the University of Colorado, where the number of Scholars has more than doubled over the last decade-plus:
"I'll never forget (an Evans Scholars-related meeting held more than 10 years ago). I was painting a doom and gloom picture of the state of the caddie (in Colorado). And I was like, 'We're circling the drain here, folks.' I didn't have an answer. But if I had a crystal ball to look to the year 2019 to see where we're at and to see that (2018-19 CU Evans Scholar photo) composite, I'd be like, 'Holy moly, what happened?' It's an amazing thing."
— Cherry Hills Country Club head professional John Ogden, on the 2023 U.S. Amateur coming to the venerated club that has hosted three U.S. Opens and two PGA Championships:
"It's fabulous. It's nice that the USGA and the state of Colorado is a good partnership, just like the USGA with Cherry Hills. The USGA understands how this state embraces championship golf and how much (Coloradans) enjoy it no matter what level it is — the juniors, the amateurs, the professional ranks."
— Former CWGA and CGA president Juliet Miner, on the integration of the two organizations into one:
"At the time of the integration, everyone was worried that we would lose the traditions of the Colorado Women's Golf Association. We haven't lost them. We've perpetuated them and made them better."
— CGA board member and Ptarmigan Country Club member Greg With, on fellow member Jim Eyberg, who has eagled every hole at Ptarmigan over the years:
"It's incredible. Eagling par-5s for a really good player is no big deal. But every other eagle is a big deal. To put things into perspective, I've eagled 1, 2, 4, 14 and 18 and I have probably played close to 2,000 rounds of golf there. Obviously he's a much better golfer than I am with my 10 handicap compared to him being a scratch player. But that's just phenomenal.
"How many holes-in-one have you had in your life? How many eagles have you had in your life? For mooks like us, those are big deals. And here he's done it on every hole on the golf course. That's uncanny. It's just hard to believe."
— Dana Murray, the 2018 CGA's Women's Volunteer of the Year, on what appeals to her about the volunteer work she does in golf:
"Some time ago I read that Winston Churchill made a comment that goes, 'We make a living by what we get, but we make a life by what we give. Because golf is such a passion of mine, it's a perfect match. It's the greatest game ever played."
— CGA executive director Ed Mate, on CGA-owned CommonGround Golf Course in Aurora, which has been a co-host for the stroke-play portion of two USGA national championships, the 2012 U.S. Amateur and the 2019 U.S. Mid-Amateur:
"If you had said to me that 10 years into CommonGround's life we're gong to have been a part of two national championships, I would have said, 'I don't think so', but we just had the good fortune. And Tom Doak and company designed a golf course that's not only fun for the average player but it's a pretty darned good test. too."
— CGA managing director of programs Erin Gangloff on the association hosting a Western Slope Golf Summit:
"We do represent the whole state. That's the biggest thing. We don't want people to think, 'Oh, we're just in the Denver metro area.' We want them to feel just (as served) as anyone in Denver. … We are the Colorado Golf Association, not just (for) Denver."
— Westminster's Jennifer Kupcho on her remarkable experience en route to becoming the inaugural champion at the Augusta National Women's Amateur:
"It's unbelievable just to be able to say that I hit the opening tee shot of the tournament, then holed the last putt at Augusta National. That's never happened before, and to be the first person to do that is unbelievable. To be able to do that with all the support that we've gotten … We have a big movement going for women's golf and I think it's going to get even greater."
— And Kupcho on winning the tournament after originally planning to turn down an invitation to the ANWA:
"To turn down the original invitation and now to be the champion of the first one, it's just unreal. I don't think it's fully hit me yet. It's an amazing feeling to be here and have won."
— NBC's Gary Koch, on Kupcho playing her final six holes in 5 under par to prevail at Augusta National:
"It's what great champions do. They come through in the clutch, and that's what (Kupcho) did."
— Steven Kupcho, Jennifer's older brother, on his late decision to attend the final round of the ANWA:
"In the afternoon, the crowd was insane. There had to be 10,000 people there. It was 30 people deep on 18. It was so emotional with the swings of what happened — Jennifer getting the migraine on the eighth hole and having blurry vision for three holes, and battling back once her vision cleared up, hitting some incredible shots.
"The spectators that were around us, people were absolutely in awe of what was happening literally right before their eyes. I don't think anybody expected it to be so thrilling and so entertaining. A lot of people probably got tickets through the lottery and wanted to go for the Augusta experience, and they ended up getting what I imagine was some great television — one of the best final-round duels I've ever seen, even talking PGA Tour. That was something spectacular."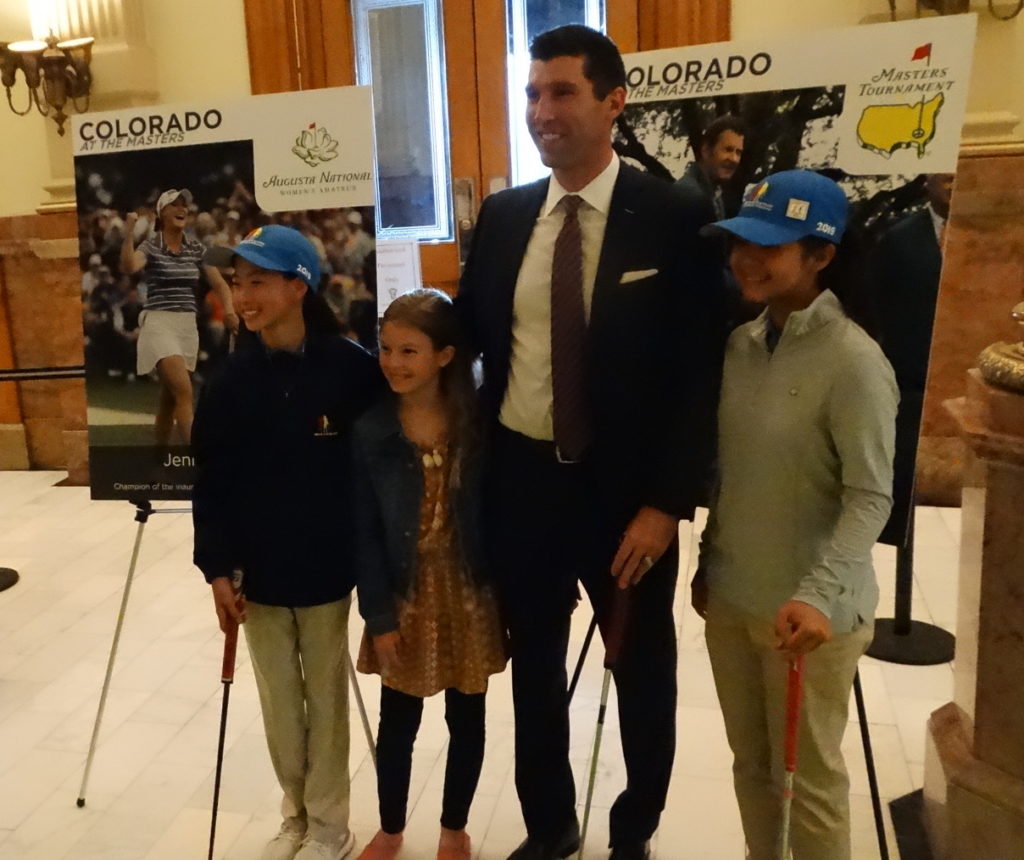 — Chunya "Bead" Boonta of Centennial, a runner in the National Finals of the Drive, Chip & Putt Championship, during an appearance at Golf Day at the Capitol in Denver:
"Golf is a wonderful sport, and I think more people should be playing it. It's really fun and it builds up your confidence and your mental game."
— CGA executive director Ed Mate, on the CGA teaming up with World Golf Hall of Famer Hale Irwin to present Hale Irwin Medals to outstanding Colorado golfers who "exhibit competitiveness, resiliency and a proven record of winning."
"I don't think we've done a great job of connecting him to Colorado as well as we should. I don't know if you ask the average fan of golf, 'Where did Hale Irwin grow up (that they'd know). Personally, for a homie of Colorado, I want them to know Colorado is where it was."
— At 62 years old, amateur Robin Bradbury of Superior thought his window of opportunity to qualify for the U.S. Senior Open might have closed. But then he earned a spot in the 2019 national championship:
"I was getting to the point like I didn't feel like I needed to play these anymore because I didn't think I could compete. I was ready to say this is probably beyond me at this point."
— Former CGA president Bill Fowler, on he and son Will winning the CGA Parent-Child in their 14th consecutive year competing in the event:
"The first few years we played, we were just hoping not to finish dead last. And to finally win it is a really awesome feeling.
The last (title) is always the best one because you never know if you're going to win another one. But this is certainly the best because it was with Will."
— Jack Hughes of Snowmass Village, on becoming only the third Coloradan — boy or girl — to win the AJGA Hale Irwin Junior title:
"It's one of a kind in Colorado. I think every golfer in Colorado kind of looks at this tournament like the Masters — the Masters of Colorado. It's very special, and I'm very grateful."
— Coloradan Becca Huffer after winning her second CoBank Colorado Women's Open, this one in a playoff after going into the final hole of regulation three out of the lead:
"It's kind of a shock in a way. You go from thinking, 'OK, solid second (place)' to winning the $50K, which is just awesome."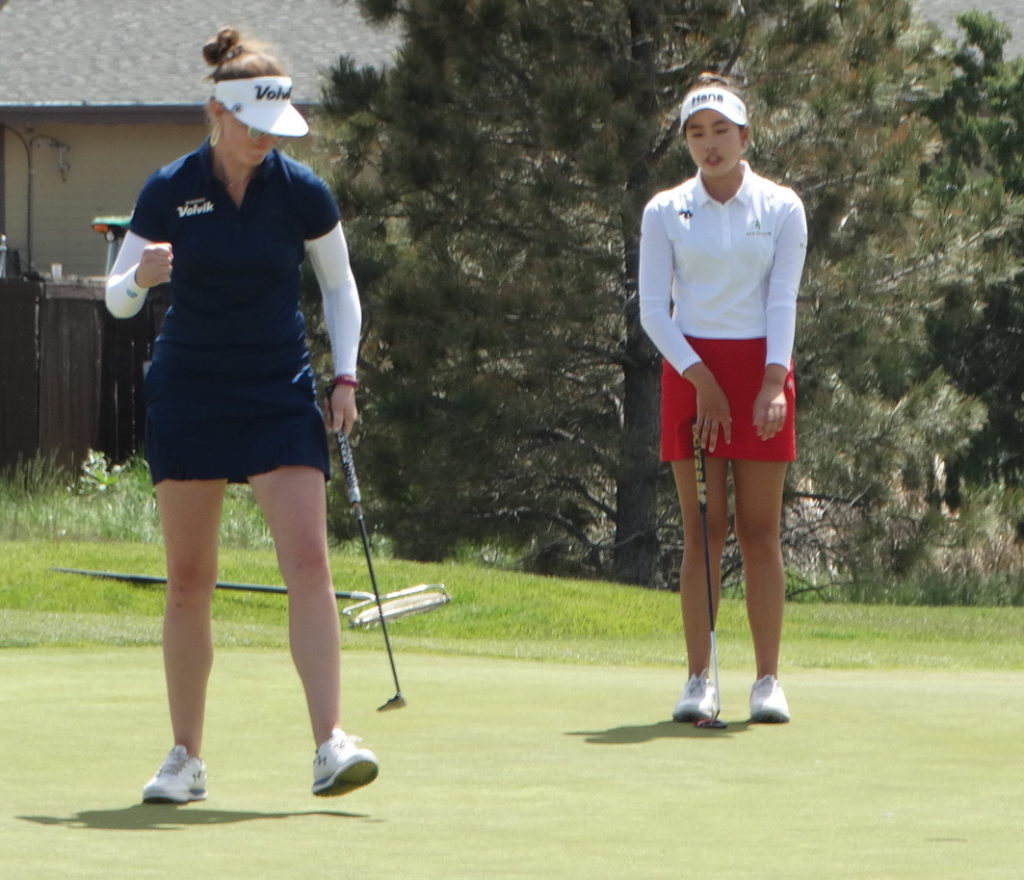 — Colorado Women's Open runner-up Yealimi Noh, who took a quadruple-bogey 9 on the final hole of regulation and lost in a playoff to Huffer:
"I was kind of in between (on the two shots she hit into a penalty area). I knew I should have just laid up, but … I don't know what I was thinking."
— Denver native Mark Hubbard, on how having gone from PGA Tour Canada in 2012 and 2013 to the Korn Ferry Tour in 2014 to the PGA Tour for three years, then back to the Korn Ferry circuit for the past two has given him some invaluable perspective:
"I think it makes me appreciate it more and want it more. What I will say is when I first got my (PGA Tour) card I think I was talented enough to be up there, but I don't think I was ready as a golfer. I think I needed to come back down to the (Korn Ferry) to figure out how to get myself in contention and figure out what my game is.
"When you're growing up dreaming about being on the PGA Tour, you're dreaming about making the putt for the win. You're not dreaming of tapping in on 18 for 45th place. The money is great, everything is great, but that's not what you dream of. When I was up there the last time, I was ready to be there, but I wasn't ready to win and compete. I know the next time — hopefully this coming year — when I do get back up there, I will be ready to compete."
(Note: Hubbard has won more than $1 million in his first three-plus months back on the PGA Tour.)
— Former USGA president Judy Bell on the death of Joan Birkland, a fellow Colorado Sports Hall of Famer:
"She was a prize — a Colorado prize. That's for sure. She was a wonderful player, but even more than that she was a mentor to younger players and got kids involved (in the game). I know a lot of kids that got their encouragement from her. I can't think of something she didn't do."
— Mary Weinstein, on winning the CGA Women's Stroke Play 14 years after her coach at the University of Denver, Lindsay Kuhle, claimed the same title:
"I didn't know that she won this. That's so awesome. She was a great player. To see how well she did in junior golf, in collegiate golf and now for me to be on the same trophy as her is such an honor."
— Josh McLaughlin, on overcoming steady rain and wind and cool temperatures to rally to win the CGA Match Play final over Cal McCoy:
"When I'm playing with buddies and stuff, I never shy away from playing in rain or wind or anything like that because I know the conditions could be like that in tournaments. I was really in my comfort zone. I didn't really miss a beat with it.
"I feel like playing in conditions like that — whether it's wind or rain — it gives me an advantage over really anybody, I think."
— Westminster resident Jennifer Kupcho, on her whirlwind 2019, when she won the Augusta National Women's Amateur and had to quickly adjust to life on the LPGA Tour:
"It's kind of crazy to see it all happen. It's definitely really busy and kind of stressful at some points. But it's been a lot of fun and it's great that people are looking up to me and want to be where I was. It's hard to get used to, but it's definitely cool."
— Korn Ferry Tour rules official Pete Lis, a former CGA staffer, on the 13th hole at TPC Colorado, which played as long as 773 yards for the inaugural TPC Colorado Championship at Heron Lakes:
"I think the players may have a little sticker shock just seeing that number."
— Zahkai Brown, on learning during the third round of the TPC Colorado Championship at Heron Lakes that he and playing partner and fellow Coloradan James Love shared a birthday that day:
"He looked right at me and said, 'It's your birthday too?' I said, 'Yeah it is. Is it yours?' So it's his and my birthday and we've played together the last three days so I thought that was funny."
— Robert Polk on winning the CGA Super-Senior Amateur for the second time:
"They're more special now because as a good friend of mine says, 'Robert, we're on the back nine of life, but let's still hope we're closer to 10 tee than we are 18 green.' The same thing is true of my golf game. I still can hit it, so hopefully we can fight the old-age stuff for a little longer. And hopefully there's still some more left in me."
— Colorado Sports Hall of Famer Hale Irwin on receiving the Payne Stewart Award:
"It's just awesome, it's absolutely awesome. My goodness, how good can it get? If you have character, charity and sportsmanship, what do you have when you mix it all together? I think you have the Payne Stewart Award. That's the definition of this award, and hopefully for all of us who have been the recipient of that, fulfill that obligation, that demand."
— Irwin, using Payne Stewart as an example of a person who truly embodied the values that his award espouses:
"We hear a lot about success. How do we define success? Is it money winnings? Tour rankings? Is it the zip code in which you live? Is it the brand of automobile that you drive? Maybe it's the membership at the club you belong to? Could it be the number of trophies and titles? Who it is that we know? Maybe it's what school did we attend? All those definitions of success. But what really tips your measure meter when it comes to that definition?
"I propose a better definition of success might include what we have done in our lives to help humanity by paying it forward or extending a helping hand to those in need or expanding the realm of positive thoughts or using just good common sense. (Those) might be some of the ingredients in that definition."
— Tiffany Maurycy on qualifying for the U.S. Senior Women's Amateur:
"I love any USGA event. It's like you've made it to the arena. You're in the arena here (in qualifying) because you've got to pay your admission to go. But when you're there (at the national championship), it's just the ultimate."
— Champion Sam Saunders, on winning the CoBank Colorado Open a year after finishing second in a playoff:
"I think this is the best golf I've ever played. That's awesome. I just love this golf course. I just sort of continued my great play from last year."
— Davis Bryant, who won the CGA Amateur in his first try after capturing titles in four junior majors in Colorado:
"I feel really confident. There's a difference between cocky and confident. I believe in myself and I believe in my ability. I want to play against the best players and today I beat a lot of the best players in the state. It feels really good after four long days of a marathon to get the job done."
— Geoff "Duffy" Solich, who along with younger brother George have lent their name and support to the Solich Caddie & Leadership Academy, which surpassed the 10,000 mark in all-time loops since its founding in 2012:
"The scope of what this thing has grown to and the lives it's changed and the impact on the kids is way more than we ever envisioned. It's true. Who knew this would take off and be a model for other programs? We have one at Meridian and we have one at Grand Junction (in addition to the chapter at CommonGround Golf Course). It's not something we envisioned."
— Montrose boys golf coach Dave Woodruff, on senior Micah Stangebye repeating as individual state high school champion in Class 4A, with his nine-stroke victory helping lead the Indians to their third straight team title — this one at their home course at The Bridges:
"He's been a machine the last few days. … The pressure of repeating shows that he's got some fortitude up there." 
— CGA board member Robert Polk, one of the original members of Colorado Golf Club and a current member of its board, on the club becoming the first Colorado site for a Drive Chip & Putt Regional:
"This is the best thing Colorado Golf Club has ever done. I'm on the board here and if they'll allow us, I'd vote for this every single year. This is so spectacular. For the future of the game; that's why this is so exciting. It's so much fun and these kids are so good. And they all seem like really good kids."
— Colorado Golf Hall of Famer Ron Vlosich, who became the oldest (age 62) winner of the Colorado PGA's most prestigious tournament — its Professional Championship:
"There's not much to say. It was a miracle."
— Fellow competitor John Ogden, on Vlosich being nine years older than the previous oldest winner of the Colorado Professional PGA Championship:
"It's unbelievable. I mean, it is unbelievable. Ron Vlosich is one of the 10 best players ever to play in this state, I guarantee you. He is so talented. For him to go out and win this Section championship at his age is unbelievable."
— Nick Nosewicz after holing out — on his birthday — for eagle from 115 yards on his final hole of stroke play to earn one of the final spots in match play at the U.S. Mid-Amateur in Colorado: (Note: Nosewicz almost didn't find his drive in the allotted three minutes earlier on the same hole.)
"It was as intense as it can ever get. … I couldn't believe it. (For my final shot) to go in is incredible. My mom was there jumping up and down. That was a great birthday present to continue playing. … But what a stressful 18th. That's why I look 55 and I'm 36 today."
— Australian Lukas Michel, on coming to Colorado and becoming the first non-American to win the U.S. Mid-Amateur:
"A spot in the U.S. Open and an invite to the Masters hopefully. Pros can play their whole life and not get that opportunity. Nothing gets better than that, I don't think. … Being the first international to win, it's a massive thing."
— Bill McCarthy, the championship director for the U.S. Mid-Amateur for the last decade, on the 2019 tournament, held at Colorado Golf Club and CommonGround Golf Course:
"I think this was one of the more successful Mid-Am Championships. This is my 10th that I've been in charge of — and probably my 17th or 18th that I've worked — and I'm hard-pressed to find two courses that complemented each other as well and challenged our field as well.
"The folks at Colorado Golf Club have been incredible. It's just a wonderful facility. The CGA and their staff and everybody over at CommonGround were spectacular. I don't think a single player — even those that missed the cut — had a complaint, other than their level of play maybe. They just had an absolute blast, and so do we as a staff (at the USGA). Personally I can't thank either organization more."
— Dillon Stewart, on following some wisdom imparted by his college golf coach, Oklahoma State's Alan Bratton, in winning the Colorado Junior PGA Championship by eight strokes:
"What coach Bratton says is 'You've got to be a dream-crusher.' His example of that is beating somebody by so much that they never want to play again. That is what he tells me. So that's what I want to do every single time I tee it up and play."