After an off-beat year, Colorado-based golf radio shows starting to return to a sense of normalcy in 2021
By Gary Baines – 3/18/2021
Last year at this time, Covid-19 was adversely affecting so many things in our lives. It even took its toll on the niche market that is Colorado-based weekend morning golf shows on the radio.
One program that had been on the air each year for more than a quarter-century did just one show on the radio in 2020 — that coming in February, before the pandemic took hold in the U.S. As a fallback position, "In the Fairway" was relegated to Facebook Live for the great majority of its 2020 season.
Another show, a year-round weekly affair, ran reruns (rather than live programs) for seven consecutive weekends during the early spring as The Broadmoor, where "Tee to Green" originated, was shut down at the time.
And, even when live shows did happen as scheduled, there was often a big void as large stretches of high-level tournament golf — fodder for much of the radio talk — were canceled due to safety concerns.
Suffice it to say it was anything but ordinary.
But, as the golf season gears up in Colorado for 2021, getting back to a sense of normal will be welcome in many respects, particularly for the program's hosts.
This year, "Tee to Green" continues to air year-round on Sunday mornings. "Morning Cup of Golf", which began its season on March 6, broadcasts on Saturday mornings.
Meanwhile, "In the Fairway", which is scheduled for its 2021 debut on April 4 (Easter), moves from its traditional Saturday slot to Sunday in order to accommodate a two-hour show.
Here's a brief rundown on the three Colorado-based golf shows on the radio, and their plans for 2021: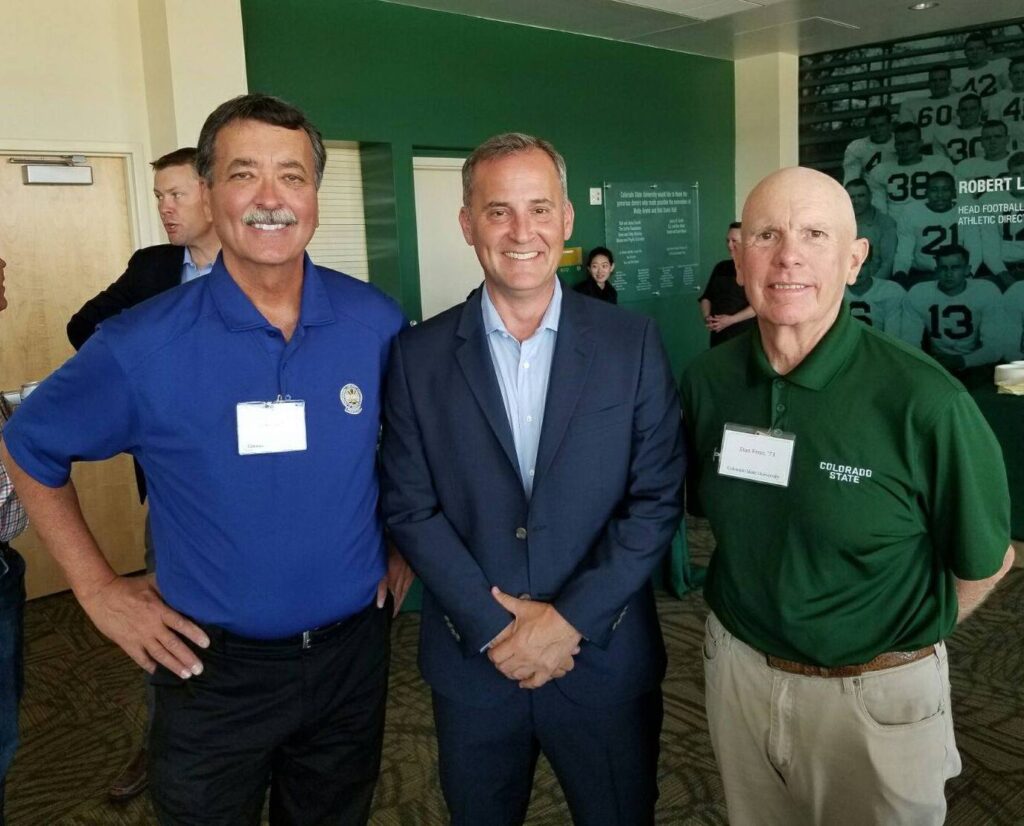 — Morning Cup of Golf, 7-9 a.m. on Saturdays, KCOL (600 AM) and iHeartRadio: Fort Collins-based Colorado PGA professionals Stan Fenn and Doug Perry are back for their sixth season on the radio.
Morning Cup of Golf ran a full season worth of shows in 2020 despite the pandemic, originating half the season from the team lounge for the Colorado State University golf squads.
This year, the MCOG season will last from March 6 to Aug. 28, during the PGA Tour's FedExCup playoffs.
Among the guests lined up for 2021 on Morning Cup of Golf are PGA, LPGA and Korn Ferry Tour players — several with Colorado connections — along with top golf executives and other prominent people in the golf world, including Golf Channel/NBC broadcaster/interviewer and CSU alum Steve Sands.
Locally, CGA executive director Ed Mate and guests from the Colorado PGA are among the regulars.

— In the Fairway, 8-10 a.m. on Sundays, 104.3 FM The Fan: Jerry Walters, who started hosting a golf radio show in Colorado in 1993, and parter Mike Castorino return to the radio on April 4 after roughly 14 months since their show last aired on The Fan. In the meantime, though, they did 25 programs on Facebook Live from Walters' house last year.
"I have mixed feelings about going back to the radio format," Walters said in an email this week. "We were able to keep some of our quality guests, i.e., Joe LaCava (Tiger's caddy), Bones MacKay and Paul Tesori (Webb Simpson's caddy) on with us last year for as long as they wanted to talk without a commercial break. That's not possible when broadcasting from the station. However, for as many loyal followers as we have, we always reach a larger audience at The Fan than we did on Facebook Live."
In the Fairway will air weekly from the Sunday before the Masters until roughly the end of September.
Walters, who will be honored on Aug. 29 at Colorado Golf Club with the Colorado Golf Hall of Fame's Distinguished Service Award, and Castorino typically chat about a mixture of content, emphasizing tour golf along with local topics. And guests run the gamut. Traditionally, In the Fairway features a weekly Rules segment, though plans for 2021 are still being finalized.

— Tee to Green, 8-9 a.m. on Sundays, XTRA (1300 AM in Colorado Springs), Sirius Channel 217/XM Channel 203 and the Sirius/XM app, iHeartRadio, SportsByLine.com, TuneIn and Stitcher Radio and American Forces Radio: This Colorado Springs-based show has more of a national scope — given all of the outlets noted above and the fact that it's syndicated — and attracts a more geographically diverse audience.
Tee to Green aired from The Broadmoor through March 15, 2020, but hasn't since as the resort closed for roughly three months last year due to the Covid-19 pandemic.
After the live show went on a seven-week hiatus last spring, it returned on May 10, originating from host Jay Ritchie's home, where Tee to Green has been broadcast since. Jerry Evans serves as Ritchie's radio partner.
Ritchie said in an email that he hopes to take the show on the road — around Colorado and the region — more later this year, but much depends on how things go on the Covid-19 front and thus how willing sites are to host Tee to Green.
Like Morning Cup of Golf and In the Fairway, Tee to Green draws a variety of guests — some with ties to Colorado and others more international. For example, in the past year Gary Player, Jennifer Kupcho and Shane Bertsch have come on.
Ritchie has hosted Tee to Green since 1993, with the exception being a stretch from 2002-06 when it was off the air.