Dedication is the name of the game for rules official — and retired ICU nurse — Rick Rosemeyer, the latest winner of Jim Topliff Award
By Gary Baines – 11/29/2022
Rick Rosemeyer has been serving as a golf rules official for less than three years, but he's very dedicated to the cause.
Just how dedicated?
Enough that "my wife thinks I work too much — which is probably fair," he said. "Next year, she said I should try to be Husband of the Year (rather than) Rules Official Volunteer of the Year."
Rosemeyer's devotion has been such that, despite being relatively new to this avocation, he was recently named the 2022 recipient of the CGA's Jim Topliff Rules Official of the Year Award.
The honor — named for Topliff, a longtime tournament director for the CGA who passed away in 2007 — has been given out annually since 1995 to a volunteer rules official who typically works an extensive schedule and makes a particularly positive impression while conducting his or her duties.
"Rick was unanimously selected by the CGA's Rules of Golf Committee for his commitment to the Rules of Golf and for the many tournaments and championships he works," Greg With, chairman of the committee, said in an email.
All told in 2022, Rosemeyer said he worked about 25 different tournaments as a rules official, taking into account CGA, college and junior/state high school events, plus Colorado Open championships. That translated into close to 40 days on the "job". And, for the record, he said that was down a little from his 2021 total.
"We'll have to see. I might not be working quite as much (in 2023)," the 69-year-old Lakewood resident said. "But I see these open shifts and I sign up. I think, 'It's an uncovered shift. Somebody has to work it.' So I sign up for it on the website. I feel bad if there's not going to be somebody there. So I signed up for a lot of stuff. And I thoroughly enjoy doing this."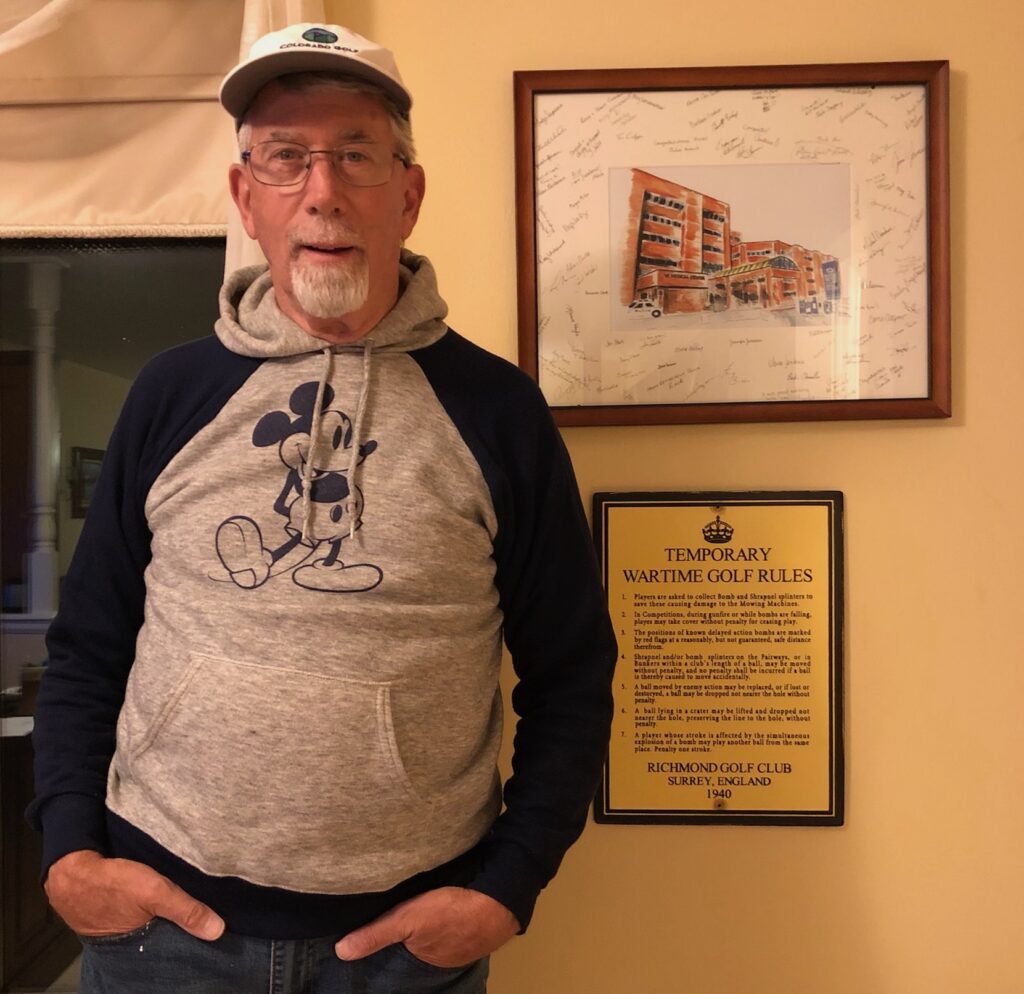 And, based on receiving the Topliff Award, Rosemeyer and his work hit the mark in terms of all-around effectiveness.
"Learning the Rules of Golf is only one component of being a great rules official," noted With, the 2011 Topliff Award winner. "Being able to apply them to a variety of situations is what takes skill.
"A very important element is having positive people skills. An official can be the smartest rules person in the world, always scoring high on rules examinations, but if they lack situational awareness and tact, they won't be respected by players, spectators and their peers. The delivery of the rules to players is so important. Rick excels as that. He is so positive with players and his peers."
No doubt that has something to do with Rosemeyer's background. Before retiring in October 2018, he spent 48 years working in the health-care industry, the last 13 as a nurse after decades as a respiratory therapist and initially putting himself through college while working at a hospital in Chicago. Since 1996, he worked with the Veterans Administration. He was based at what is now called the Rocky Mountain Regional VA Medical Center, which since 2018 has been located near the site of the former Fitzsimons Army Medical Center.
"I have this urge to help answer questions," said Rosemeyer, who worked as a nurse in the intensive care unit down the home stretch of his career. "I've kind of always been that knowledge reference in my other jobs.
"I was the senior nurse where I was. People would go, 'What's wrong with the guy?' They'd go, 'I don't know, go ask Rick.' I really was that kind of person, and that's a very flattering role, but it made me work to get it right because you had to actually know stuff in order to answer those questions. It's an intensive care unit so it's important that you get it right."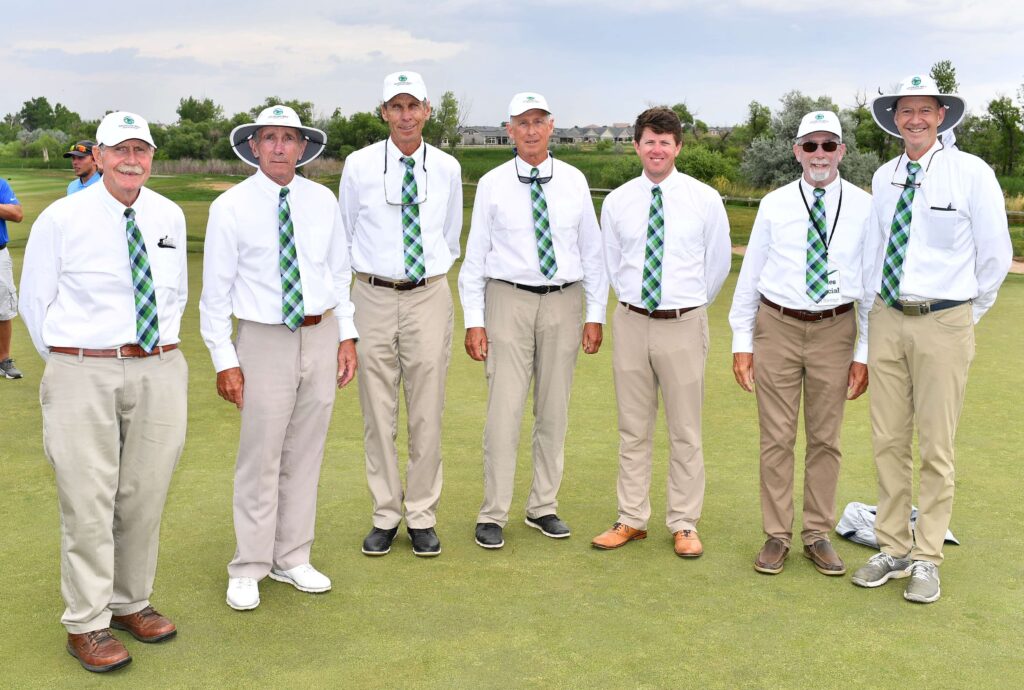 But there's one notable difference in that regard between being an ICU nurse and a rules official, as Rosemeyer is quick to acknowledge.
"One of the things that's nice about being a rules official compared to my old job is that if I am wrong — and I have been wrong; I remember all nine of my bad rulings over three years, and I haven't made the same mistake a second time — but in my old job if you got it wrong (collectively as a staff) somebody died," he said. "Whereas if I screw up this ruling, we're playing an artificial game, with artificial rules, and even in a Colorado Open nobody's grandkids are going to need shoes based on what I say or don't say. It's nice to be able to know that, because I'm going to screw it up occasionally — and we all do (on occasion). But it's nice to know that nobody is going to die if I miss the ruling."
Indeed, Rosemeyer is the first to admit he's still "very much a work in progress" regarding rules officiating. His top score to date on the USGA Rules of Golf examination is 89 percent, but he's planning on doing another rules workshop next week, then will take the exam again in January.
"It's important to me that I try to be good at this," he said. "And I'm not there yet. But I want to be, so I keep working at it."
Rosemeyer has played golf on and off — current USGA Handicap: 15.2 — since his days as a caddie in Chicago while in the seventh and eighth grades. After dropping out of the men's club at Fox Hollow Golf Course for a time, he returned upon retiring in 2018. And, as it turned out, it was some Fox Hollow regulars who also happened to be veteran rules officials — people such as Mike Boster and Mike Rice — that planted the seed that led to Rosemeyer getting into the trade.
"I sincerely believe you need something to do in retirement," Rosemeyer said. "People who sit around and do nothing die sooner than people who don't. That's what the medical literature says. So you need a retirement 'job' — an avocation. And I had always been on the rules committee at the clubs where I've joined. I was at the Meadows for a long time, then Fox Hollow.
"For me the rules committee consisted of, 'Read the rule book once in the spring, then think of yourself as being the rules expert.'" But working tournaments as an official in 2020, '21 and '22 made it clear to Rosemeyer that there was much more to it than that. However, on-the-job training and the mentorship of officials such as With, Brad Wiesley, Karla Harding, Dave Herrick, John Sova and Leo Barabe — along with Rice and Boster — have been ever so helpful.
"Exceptional rules officials who commit to being the best don't go out looking for the Topliff Award; it finds them," With noted. "They just want to be the best rules official that they can be. Rick personifies that."
But Rosemeyer, like any experienced rules official, knows their title is a little misleading, inferring that they spend the majority of their time making rulings. That's far from the truth.
"Officiating isn't all the constant barrage of doing rulings," said Rosemeyer, a Colorado resident since 1975. "Officiating, as I've tried to tell someone in my men's club, is like 40-45 percent ball searches, 40-45 percent time-keeping (to help with pace of play), and 5-10 percent rules questions. (Every once in a while) you get to do a ruling. But the juniors and high school, there's a lot of things to do, if you like rulings."
While Rosemeyer was surprised to be receiving the Topliff Award given that he's only been a rules official for three years, he was understandably very grateful for the honor.
"It's really nice — the best honor that a volunteer rules person can get," he said. "It's very flattering."