Hillary prevails in playoff for fourth JGAC major title; Wardynski's first JGAC victory comes in Colorado Junior Amateur
By Gary Baines – 7/8/2020
One winner of the Colorado Junior Amateur on Wednesday not only captured a Junior Golf Alliance of Colorado title for the first time, but scored his breakthrough victory in no less than a JGAC major championship.
The other champion is no stranger to success at the highest level of junior golf in Colorado, as Wednesday marked her fourth title in a JGAC major. And the victory may have come in her final time competing in a JGAC tournament.
Either way, Wednesday's wins at CommonGround Golf Course in Aurora were very meaningful for Bo Wardynski of Parker on the boys side and Charlotte Hillary of Cherry Hills Village on the girls.
Hillary, who will play golf at Northwestern University beginning in the fall, very well may have been bidding adieu to JGAC tournament action on Wednesday, though there's a small chance she'll compete in the Colorado Junior Match Play late this month.
If the Colorado Junior Am was indeed her JGAC finale, "It feels good that I left Colorado on a good note and I left junior golf in Colorado on a good note," said Hillary, the JGAC Girls Player of the Year in 2019. "Looking back on it now, I'm really happy."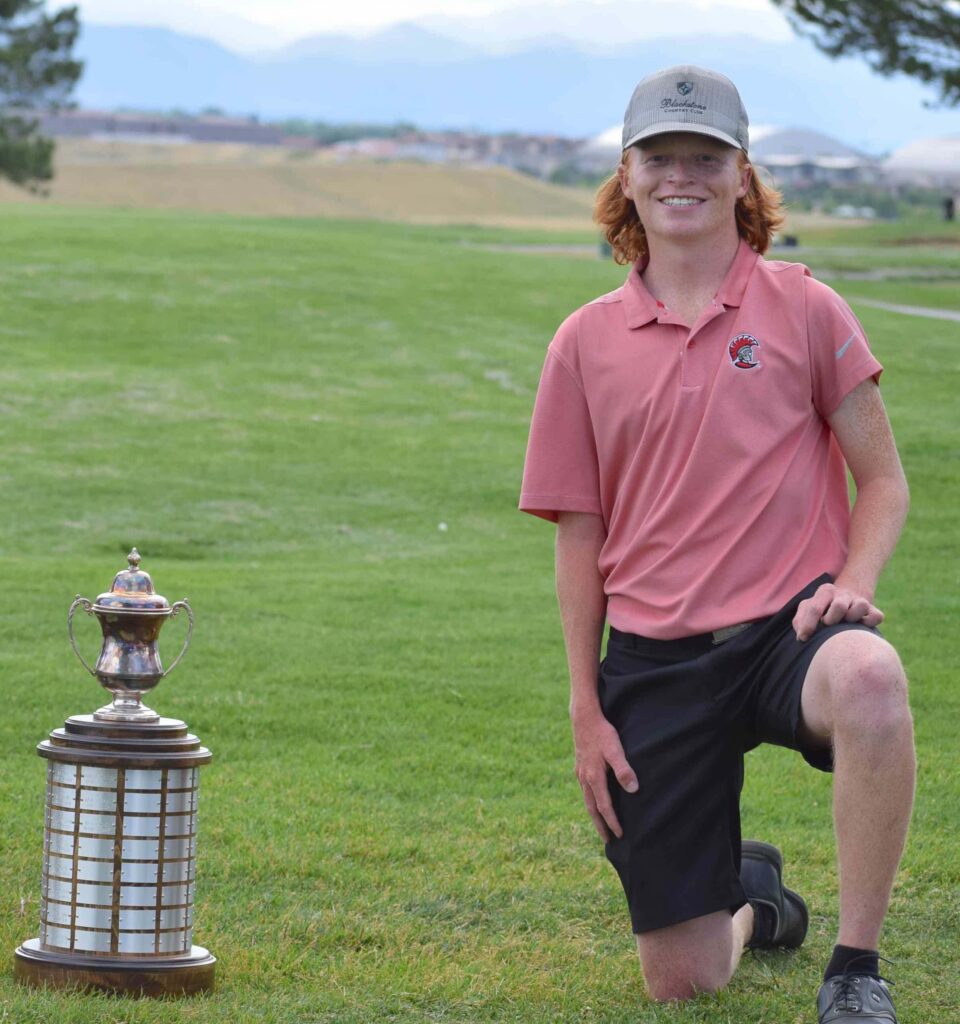 Wardynski likewise is nearing the end of his junior career, though he'll likely compete in the Colorado Match Play. The 18-year-old recently graduated from Regis Jesuit High School and plans to play golf at NCAA Division II University of Tampa beginning in a couple of months. But before he departs, it was satisfying to notch a big junior victory in Colorado.
"It's my first JGAC win ever," the red-head said. "I haven't won a (JGAC) Tour event or any little event. Nothing. It's my first win, and it's nice that it's a major.
"This means the world to me. Before this season I told my dad I wanted to win a major before I go off to college. I was happy I could do that."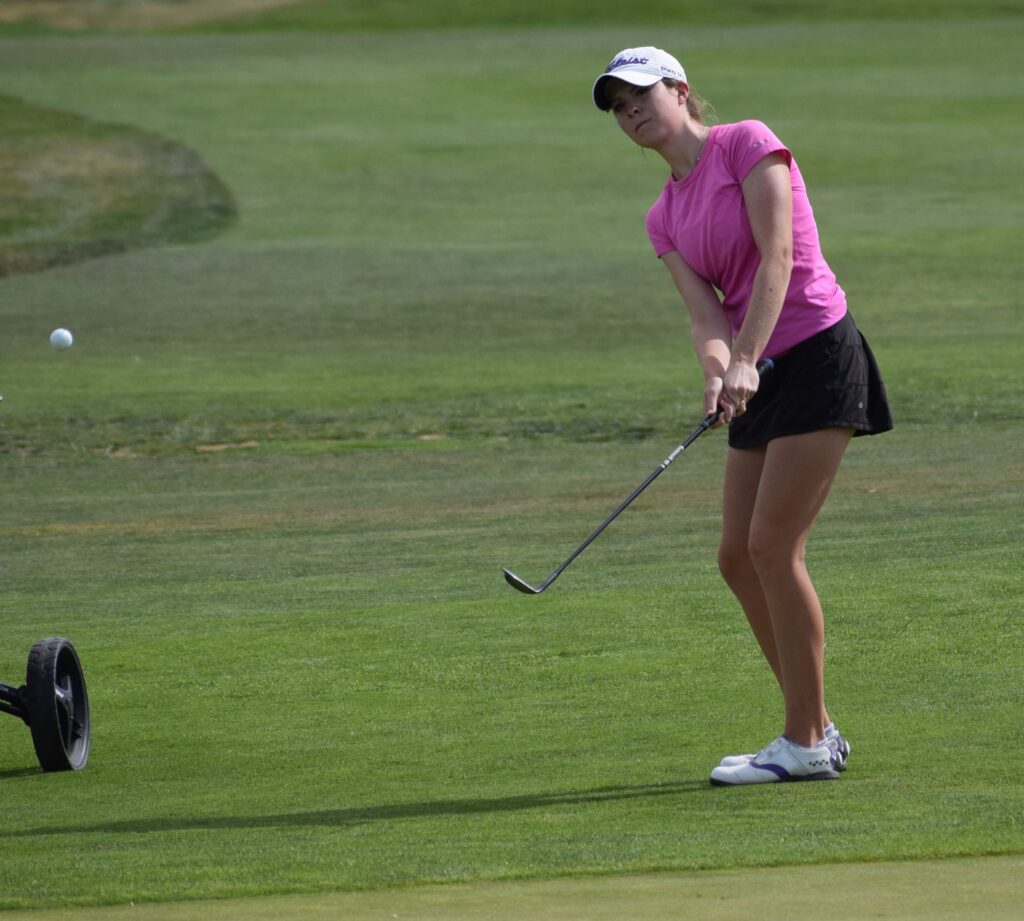 The girls tournament went down to the wire and beyond on Wednesday. Aubri Braecklein of Northglenn and Hillary, who finished 1-2 two weeks ago at the CGA Women's Stroke Play, ended up tied after 54 holes of regulation after a back-and-forth battle on the back nine at CommonGround.
Hillary grabbed a two-stroke lead with a three-shot swing on 14-15-16, where Braecklein three-putted twice and Hillary sank a 3-foot birdie putt on the 15th. But Braecklein responded with a 12-foot birdie on 17, while Hillary needed an 8-foot par putt to salvage a bogey after short-siding herself on her tee shot and watching her second roll back into a bunker.
The two were tied going into the par-5 18th, but Hillary had a chance to win it in regulation. However, she missed a 4-foot birdie attempt.
After both finished at 1-over-par 214, Hillary redeemed herself on the first playoff hole, hitting a 115-yard approach shot from the rough with a wedge that she intentionally bounced onto the green, and she drained an 8-foot birdie putt after Braecklein had missed from 25 feet.
"It's just so funny how golf does that, right?" said Hillary, a recent Kent Denver graduate. "I had that one on 13 from 5 feet (that I missed, along with the short one on 18). I never miss those, but it's so funny what nerves do to your putting.
"My mindset going into the day was every new hole is an opportunity and I wanted to have at least 10 birdie opportunities. Then if I make 50 percent of those … And when I wasn't making them, my mindset was, 'I'm going to make the next one.' So that's what I was thinking going into that (playoff) hole. 'Because I didn't make that one (on 18), I'm going to make this one.'"
So it took 55 holes, but Hillary recorded her fourth victory in a JGAC major. She previously won the JGAC Tour Championship three times — every time she competed in it — in 2016, '18 and '19.
After trailing by two going into Wednesday, Hillary shot a 1-over-par 72 in regulation and made the birdie in the playoff. Braecklein, no worse than a co-leader after rounds 1 and 2, closed with a 74. Defending champion Kaylee Chen of Denver carded Wednesday's best round on the girls side — a 69 — to finish in third place, a stroke out of the playoff at 215. Emma Bryant of Aurora, the 2018 5A girls state high school champion, checked in fourth at 219 after a 74.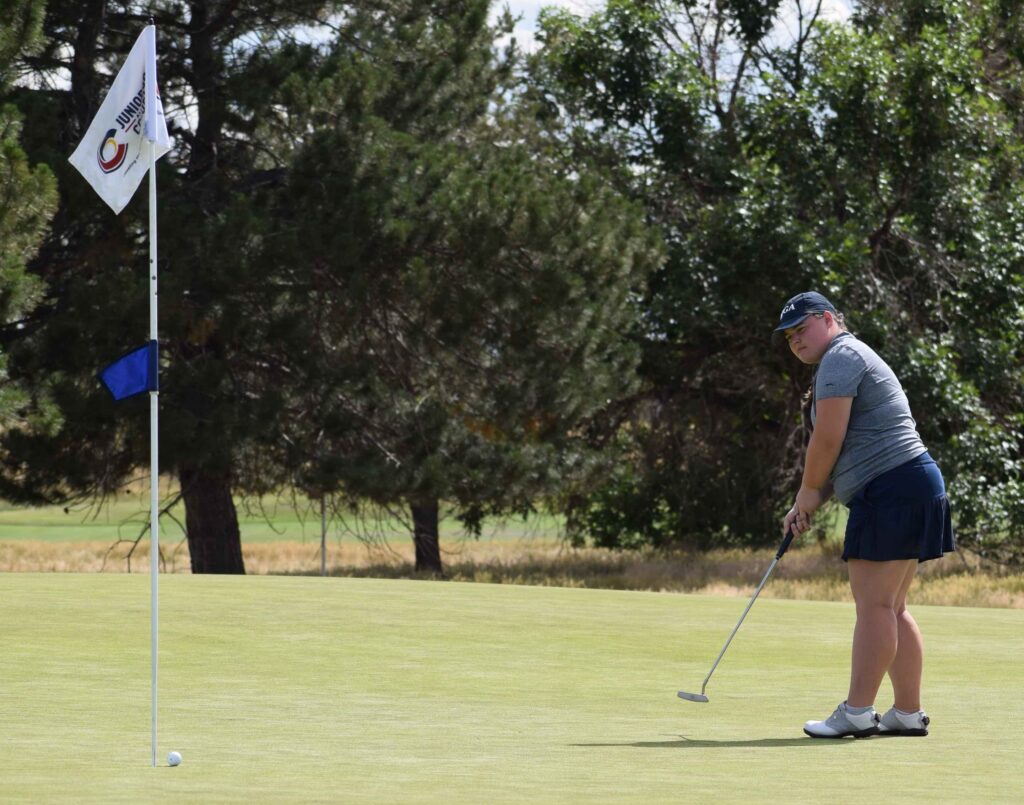 "I didn't play as good as I wanted to today, but everything happens for a reason," Braecklein said. "I was a little disappointed I hit it into the water (with her second shot) on 11" en route to a bogey. "That kind of bummed me out and derailed me a little bit. But I worked back."
And though another win wasn't in the cards on Wednesday, in the last three weeks Braecklein has won the CGA Women's Stroke Play at age 17 and placed second twice in JGAC majors.
"I've definitely been playing great," she said. "I've been learning every week and trying to get better every week. I definitely had a great first round (a 68) and I'm excited to get better."
Meanwhile, Hillary found coming into the final round in second place — like she did on Wednesday — preferable to leading, like she was at the CGA Women's Stroke Play, where she placed second.
"Being the leader, you have a burden, kind of, going into the last day," Hillary said. "It's almost nice not having that. But it's fun being neck and neck with (Braecklein) and going back and forth."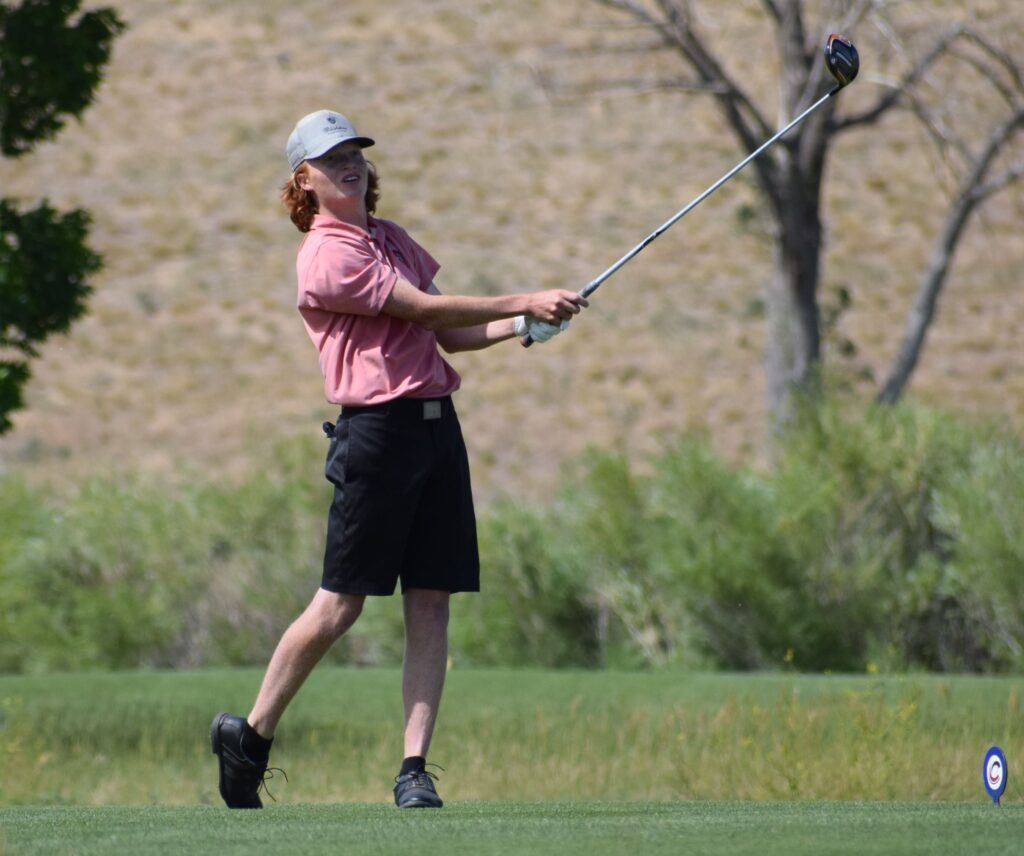 In the boys tournament, two players who started the final day tied for 13th place put a scare into the leaders, but couldn't overtake Wardynski for good.
Hunter Swanson of Denver and University of Colorado-bound Jacob Mason of Westminster were in the same group on Wednesday and posted scores of 6-under-par 65 and 5-under 66, respectively. But Wardynski's second straight 68 was too good to overcome.
"It was definitely exciting," Wardynski said. "I had never shot under par at a JGAC tournament either (until Tuesday) so to go 3 under yesterday and 3 under today was pretty exciting. No matter what the outcome was going to be, I played well. But I'm glad I could come out here and win it."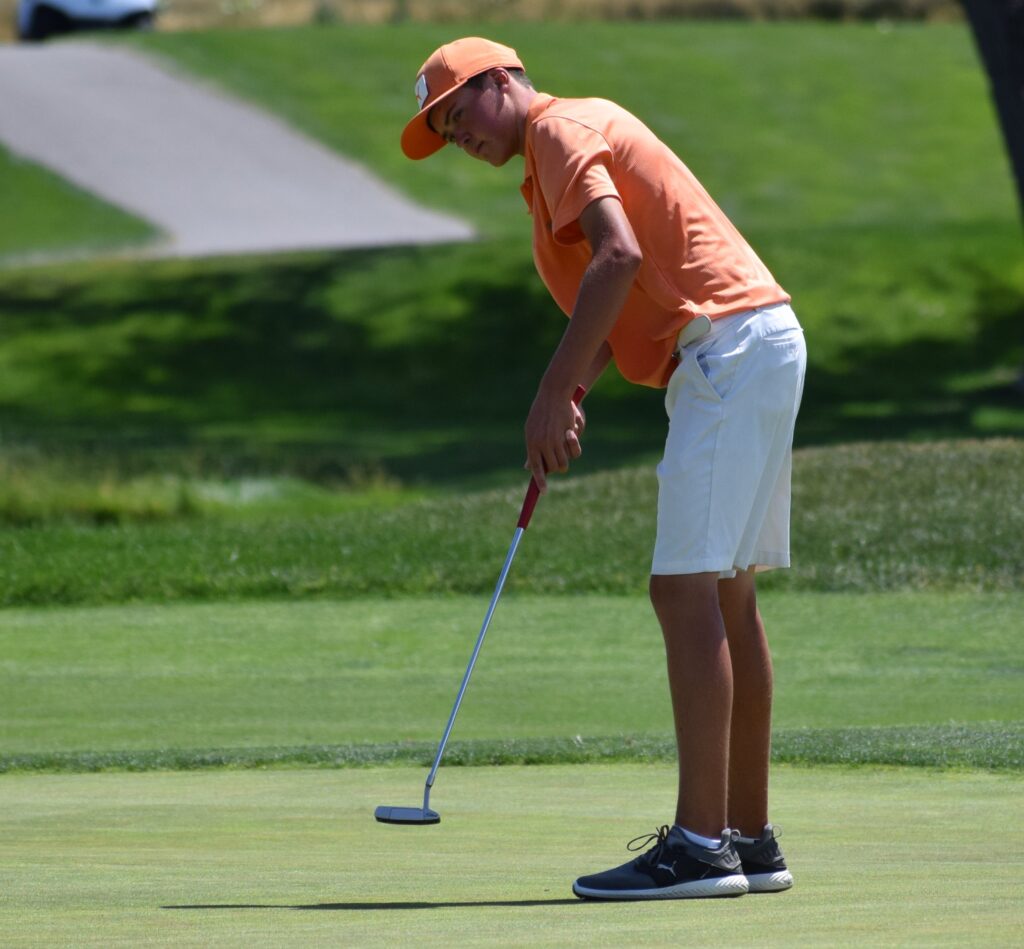 Wardynski finished with a winning 54-hole total of 4-under-par 209, which was good for a two-stroke victory. With his best singled-round tournament score ever — which included six birdies and no bogeys — Swanson placed second. Mason was the only other player to match or better par for 54 holes, finishing at 1-under 212. But a four-putt on No. 15, including taking three to get down from 2 feet, took the wind out of his sails after being 7 under par through 13.
"I was kind of mad at myself after the first two days, but I feel like I showed a lot of determination (today)," Swanson said. "I did not quit. I wanted to prove that I should have been up there (in contention for the title)."
Wardynski was even-par for the day through six holes, but played his final dozen holes in 3 under and didn't make a bogey in that stretch.
"I looked at the leaderboard a couple of times and I saw Hunter and Jacob 5 or 6 under at one point (for the round) and with a two-shot lead over me," said Wardynski, who calls Blackstone Country Club his home course. "That's a little scary to see when you have more holes to play. I'm just glad I could keep it together. I made a big 15-foot putt on 11 for birdie and a bunch of key up and downs coming down the stretch, making 4-5 footers that were little knee-knockers."
For the final scores from the Colorado Junior Amateur, click on the following: BOYS, GIRLS